Complete Preview of the 2012-13 New York Knicks Season
Rich Barnes-US PRESSWIRE

The New York Knicks are preparing themselves for a title run in 2013-13.
For the first time, the "big three" have had a full offseason and training camp together, readying themselves for the huge challenge that lies ahead.
The offseason has been an eventful one, and some big changes have gone down in the Mecca of basketball. There are plenty of new faces for the Knicks—nine to be exact—and there's also a new team to compete with over in Brooklyn.
With some big storylines including age, chemistry and Carmelo Anthony's pursuit of a ring, it's shaping up to be an intriguing season for the Knickerbockers.
Let's go through all you need to know ahead of the upcoming Knicks campaign.
Begin Slideshow

»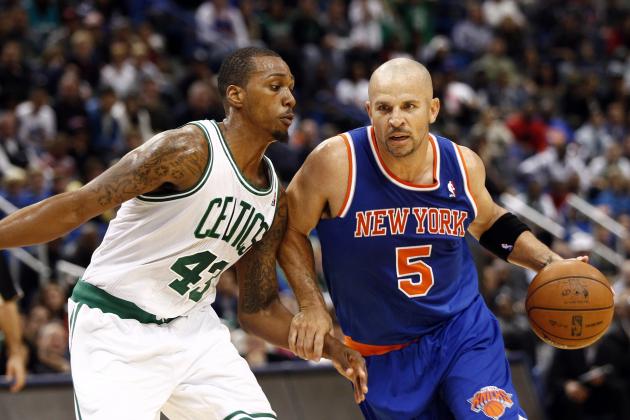 Mark L. Baer-US PRESSWIRE

After struggling with depth for much of last season—especially crunch time in the playoffs—the Knicks decided to revamp their supporting cast over the summer. The big three now have nine new teammates to help in their quest for a championship, and here they are:
Jason Kidd, PG
At 39 years of age, Jason Kidd was a questionable signing for the Knicks. A three-year deal for a player of his age is not ideal, but there's no doubt that he can bring some much-needed experience and leadership to New York.
Amar'e Stoudemire and Carmelo Anthony have struggled to bond on the court recently, but Kidd is the type of point guard that can help to fix that. His lights-out three-point shooting should be huge for the Knicks as well.
Raymond Felton, PG
With New York not wanting to match the Houston Rockets' poison pill offer for Jeremy Lin, a new starting point guard was needed. Enter Raymond Felton.
The UNC product was fantastic during his first stint with the Knicks in 2010-11 and will be looking to emulate his performance on a much different roster this time round. He struggled with fitness last season, but appears to be in shape and ready to give the Knicks exactly what they need out of the position.
Pablo Prigioni, PG
Out of Argentina, Pablo Prigioni rounds out the Knicks' three-headed monster at point guard. Though he was relatively unknown when signed, Prigioni has built a name for himself in the Olympics and preseason and should see serious minutes at the point.
Prigioni is as pure a point guard as there is, and his sole purpose on the court is to find his teammates—something that will be invaluable for a team that was starved of playmakers in 2011-12.
Ronnie Brewer, SG
With Iman Shumpert out injured, Ronnie Brewer was signed to make up for the big loss on the defensive end of the floor. Brewer is an underrated player and will quietly be a very important player on the Knicks' starting lineup during the first half of the season.
Rich Barnes-US PRESSWIRE

James White, SF
Playing in the Italian League in the last few years, James "Flight" White has earned a reputation as a thunderous dunker. Don't expect to see too much of that, though, as his horrible Summer League and preseason play should keep him out of the rotation.
Chris Copeland, PF
Another former European league player, Chris Copeland was the Belgian League's MVP last year. His scoring form from Belgium has stayed with him throughout Summer League and preseason, and he could be a surprisingly important member of the Knicks bench as the season progresses.
Kurt Thomas, PF
A former Knick, Kurt Thomas returns to give the Knicks a little bit of defense and physicality off the bench. At his age, the team isn't expecting much from him, but he'll be solid and consistent in the 15 or so minutes he gets each game.
Rasheed Wallace, PF
Sheed has been out of the game for two years, but was convinced to return by Mike Woodson to help out on the defensive end. When everyone's healthy, he won't play a big role on the court, but he's a guy who'll have a huge locker room presence throughout the season.
Marcus Camby, C
Though he'll inevitably miss some time with injury, Marcus Camby makes the Knicks defense that much better. Now, when Tyson Chandler leaves the floor, the lineup will still include an elite defensive presence in the middle, a luxury that very few teams possess.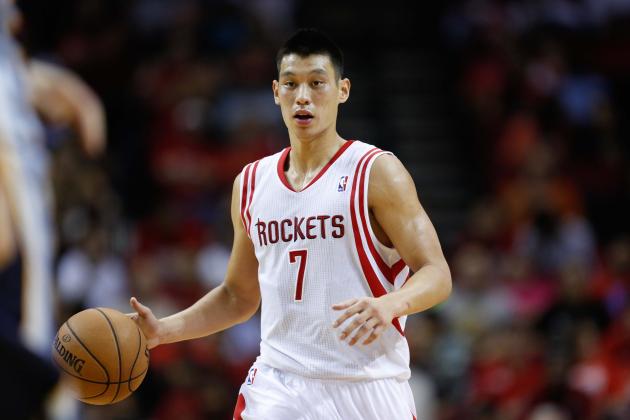 Thomas Campbell-US PRESSWIRE

With so many players coming in, just as many had to be on their way out for the Knicks. Five of the Knicks' departing players don't actually have teams for the upcoming season (Mike Bibby, Renaldo Balkman, Dan Gadzuric, Jerome Jordan and Bill Walker), which just shows how strong an offseason they've had. Here's a look at those who have found a new home:
Jeremy Lin, PG (Houston Rockets)
The departure of Jeremy Lin was the story of the offseason for the Knicks, but it was made to be a much bigger deal than it really was. As a young player, Lin could have played a role in the Knicks' future, but as far as the present is concerned, the Knicks are hardly losing out with their new trio of point guards.
It will be interesting to see how Lin fares in Houston, especially now with the arrival of James Harden, but expectations shouldn't be too high with such a weak roster surrounding him.
Toney Douglas, PG (Houston Rockets)
After starting on opening day, Toney Douglas completely fell out of the Knicks rotation by the halfway mark of the season. In theory, Douglas could earn the backup role in Houston, but shouldn't play a particularly big role.
Baron Davis, PG (New York Knicks/Advisory Role)
Baron Davis suffered a horrible injury in the playoffs that will keep him out of action for a good 12 months. In the meantime, he returned to the Knicks in an advisory off-court role, but is not officially a member of the playing roster.
Landry Fields, SG (Toronto Raptors)
There's no question that Landry Fields is overpaid after the Raptors gave him a huge deal in an effort to stop the Knicks from shipping him to Phoenix in exchange for Steve Nash.
With Nash moving to LA, the Raptors are now left with an unfavourable contract, but it's not too bad. With the chance to start anew, Fields should return to his rookie form and be a solid member of Toronto's starting five.
Jared Jeffries, PF (Portland Trail Blazers)
Shipped away as part of the sign-and-trade that brought Raymond Felton back to New York, Jared Jeffries now takes his place on the Trail Blazers bench. He was never a particularly great player, but his heart and effort will certainly be missed in New York.
Josh Harrellson, C (Miami Heat)
"Jorts" Harrellson was an interesting prospect, but the Knicks had no qualms letting him go with Marcus Camby taking his role off the bench. On a Miami team short of centers, Harrellson could see some serious minutes, and ironically, will probably get a ring before the Knicks team he leaves behind does.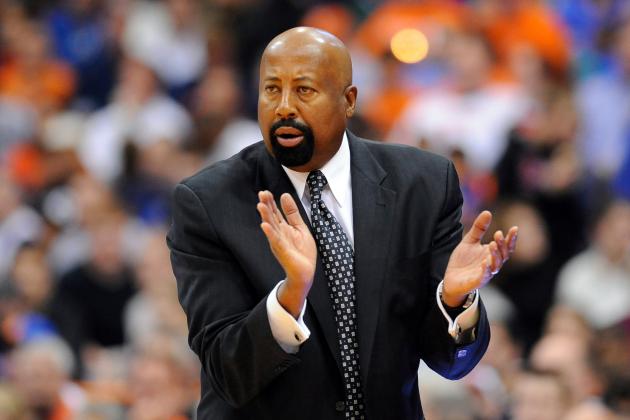 Rich Barnes-US PRESSWIRE

With all the new signings, the Knicks have built themselves a pretty deep roster, much deeper across the board than anyone could have imagined it being when they traded for Carmelo Anthony in 2011. Here's a look at what the three-deep depth chart will be to start the season:
Point Guard
1. Raymond Felton
2. Jason Kidd
3. Pablo Prigioni
Shooting Guard
1. Ronnie Brewer
2. J.R. Smith
3. Iman Shumpert (injured, out until midseason)
Small Forward
1. Carmelo Anthony
2. Steve Novak
3. James White
Power Forward
1. Amar'e Stoudemire (injured, out for six weeks)
2. Kurt Thomas
3. Chris Copeland
Center
1. Tyson Chandler
2. Marcus Camby
3. Rasheed Wallace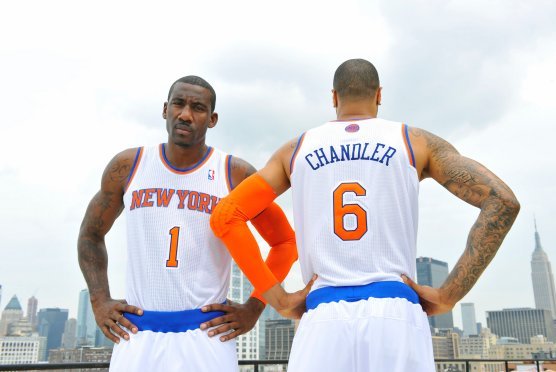 (Image via: nymag.com)
This new-look Knicks roster will have a genuine new look going into the season, as back in September, the team tweaked the uniforms ahead of the upcoming season.
Essentially, it's gone for a throwback look, eliminating black and reverting to a style similar to the uniforms it wore for its two title-winning seasons in 1970 and 1973.
There are some notable differences, though, including the addition of silver to the collar and sleeve holes and a new logo on the back of the jersey.
Another more discrete touch are the words "Once a Knick, Always a Knick" on the inside collar, which is fitting considering the return of former fan favorites Marcus Camby, Raymond Felton and Kurt Thomas this summer.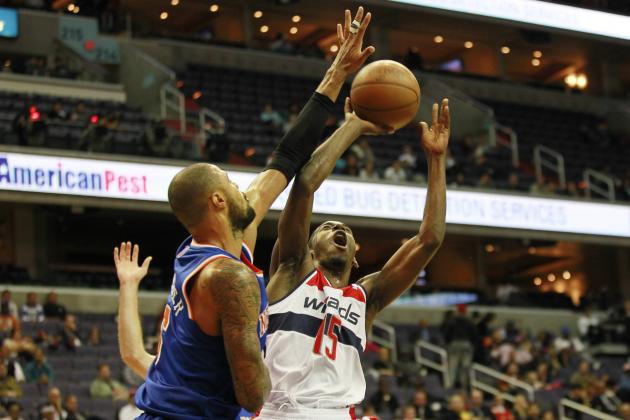 Geoff Burke-US PRESSWIRE

After a frankly horrible half-season with Mike D'Antoni as head coach last year, the Knicks have gone in a new direction, naming former defensive assistant Mike Woodson the full-time head coach for 2012-13.
The former Hawks head coach took over for the Knicks midway through the last campaign, leading them to an 18-6 record to close out the season.
It was Woodson's defensive mentality that did the trick for the Knicks, and once again, this will be the priority for the upcoming season.
With Defensive Player of the Year Tyson Chandler leading the way, the Knicks finished fifth in defensive efficiency last season, and with their offseason additions, will be looking to take that even further moving forward.
Marcus Camby now takes the role of Chandler's backup, providing the team with another feared defensive presence in the middle when he's off the court.
Jason Kidd and Ronnie Brewer too join the team, and their ability to guard multiple positions will undoubtedly play a big role early in the season.
The Knicks have had a worryingly disjointed offense since Carmelo Anthony arrived in town, but at least they now know that defense is no longer a concern.
The thought process is that, so long as they can keep the other team to around 90 points, there should be enough offensive talent to get by and win 50 or so games in the regular season.
Time will tell whether or not this philosophy will work, but if defense wins championships, the Knicks are finally on the right track.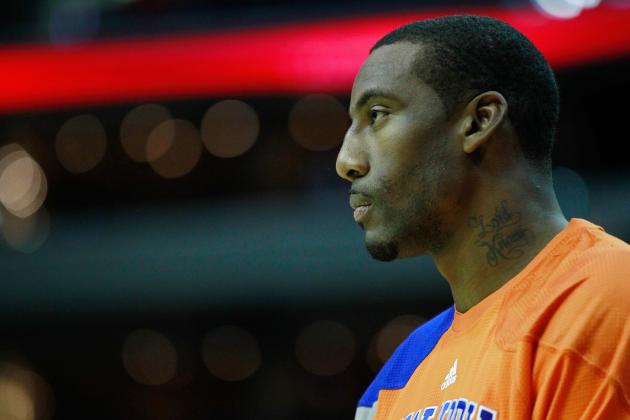 Geoff Burke-US PRESSWIRE

On the surface, when you look at this Knicks roster, it's easy to see them as one of the league's top teams. There are household names throughout, and on the whole, there aren't many deeper squads in the Eastern Conference.
The roster includes everything—playmakers, shooters, defensive specialists, you name it—but unfortunately, it's not that easy.
The Knicks by far have the oldest bench unit in the league, and on average, actually have the oldest roster in league history.
Considering how small a role the older guys are going to have, this isn't too bad, but once you factor in how injury-prone some of their younger and more important players are, this is definitely a cause for concern.
Already, Amar'e Stoudemire and Iman Shumpert are going to miss extended time, with STAT out for at least six weeks with an injury to his left knee. Shumpert's not expected to return from the ACL tear he suffered in the playoffs until January.
Beyond these two major injuries, the preseason has been littered with health worries, as Tyson Chandler, Marcus Camby and J.R. Smith have all missed time, too.
Outside of the Miami Heat, this is going to be the biggest obstacle for the Knicks this season, and the most worrying thing is that they can't really do anything to help—they just have to hope for the best.
Keeping Stoudemire on the court has to be the main concern. He and Carmelo Anthony have struggled to build chemistry over the last 20 months, and they'll struggle even further if they don't get enough court time together early in the regular season.
To an extent, the Knicks can survive without a depleted supporting cast, but there's no way they can realistically compete for a title without their $100 million man.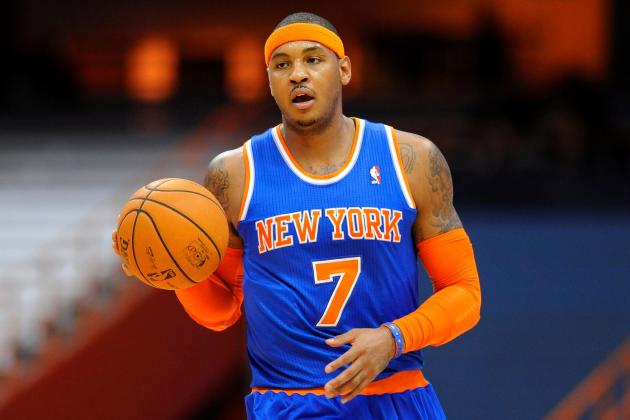 Rich Barnes-US PRESSWIRE

It took a blockbuster trade in February 2011 to bring Carmelo Anthony to New York, and now entering his first full season with the team, it's time to prove he was worth the hefty price the Knicks paid for him.
The 2011-12 season was a poor one for Melo, but he ended it on a strong note, winning the NBA Player of the Month award for April and leading the Knicks to their first playoff victory since 2004.
Melo continued his form into the summer with a record-breaking performance at the Olympics and also lost some significant weight beforehand.
Now, Anthony needs to carry this form through an entire regular season and playoffs if the Knicks are to truly compete in the Eastern Conference.
One of the main questions about Anthony's game has been whether or not he can adapt to a team-based offense, but he showed us at the Olympics that he's perfectly capable of doing so with players that he trusts.
With former USA teammate Jason Kidd on the roster—along with plenty of former Nuggets teammates—Anthony should now be in that same position on the Knicks; surrounded with players he knows he can work well with.
If Melo can also continue to work on his defense—which was much improved when Mike Woodson took over last year—he can certainly step up and be the leader the Knicks need him to be.
There are no excuses for Melo anymore. He's in shape, has a talented roster around him and is playing under a head coach that will play to his strengths. What it really comes down to is whether or not he is mentally ready to be who the Knicks need him to be.
Based on the following quote from media day, it looks like he's there (via Newsday):
At the end of the day, it's about winning basketball games. I'm done trying to score 30, 35, 40 points for us to win a basketball game. I don't want that role anymore. It's what I do best. But in order for this team to be successful with the guys that we have, we need a more well-rounded team. So if I have to sacrifice on the offensive end, I'm willing to do it.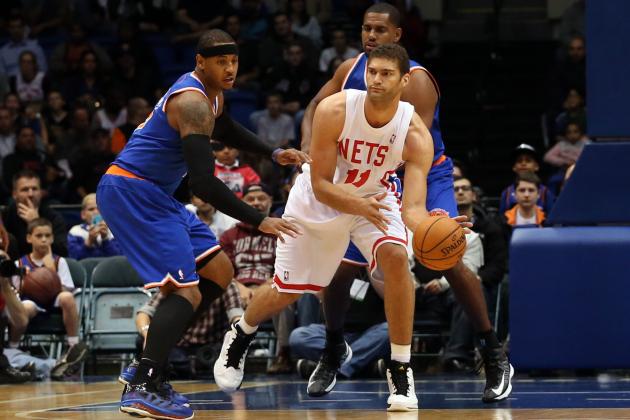 Anthony Gruppuso-US PRESSWIRE

As per usual, the NBA's 82-game schedule has given us some exciting games in relation to the New York Knicks. With 25 nationally televised games (the league maximum), the 'Bockers will have plenty of opportunities to show the world of basketball just how good they can be. Here are the top five:
Opening Day—Knicks at Nets (November 1, on TNT)
The NBA's newest rivalry will officially begin on Thursday night. The Nets have been doing a lot of talking ahead of the game, but in reality, these are two evenly-matched teams. As the first game in league history between two New York sides, this should be a great watch.
Home Opener—Knicks vs. Heat (November 2, on ESPN)
Following Thursday's clash, it doesn't get any easier for the Knicks. Without Amar'e Stoudemire, the Knicks will have a tough task exacting revenge on the Heat for knocking them out of the playoffs last season.
Linsanity Returns—Knicks vs. Rockets (December 17, on NBA TV)
Linsanity was the biggest story in basketball for much of last season, and it will have one last showing in New York in mid-December. It will be interesting to see what kind of reception Jeremy Lin gets after leaving in controversial fashion over the summer.
Christmas Day—Knicks at Lakers (December 25, on ABC)
The Knicks made a big run at Steve Nash over the offseason, but eventually, he spurned them to join what is now a stacked Lakers team. You know the Knicks will be looking to stick it to him at his new home on Christmas day.
Melo Returns to Denver—Knicks at Nuggets (March 13, on ESPN)
It's been a long wait, but this season will finally give Melo his chance to return home to face his former team. A lot of time has passed, but that won't necessarily make the Denver faithful any happier about the way he forced himself out of town in 2011.
Mark L. Baer-US PRESSWIRE

We're almost done here, but first, let's go through some various predictions for the season ahead:
Knicks' Record: 51-31 (second in Atlantic Division, fourth in Eastern Conference)
Points Leader: Carmelo Anthony (24.7 points per game)
Assist Leader: Raymond Felton (6.6 assists per game)
Rebound Leader: Tyson Chandler (9.8 rebounds per game)
MVP: Carmelo Anthony
Rookie of the Year: Pablo Prigioni
Best Bench Player: J.R. Smith
Most Improved Player: Raymond Felton