WWE Hell in a Cell 2012 Ringside Review: To Hell and Back in Atlanta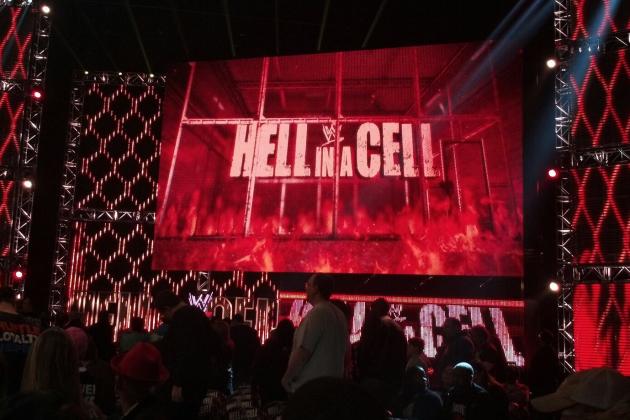 Micheal Robinson (Bleacher Report)
First off, let me say, I had a great time at last night's Hell in a Cell pay-per-view.
I was a bit skeptical on the event with days leading up to the show, but for the most part, it delivered.
You can't please everyone with these shows, and you will never satisfy the fan completely. However, in my humble opinion, that is what it is all about.
You want to leave the fans wanting more, and I do.
In the following slides, I want to list a few slides for the good, bad, and ugly of last night's event.
While mostly good, there were a few things that left me a bit confused.
Begin Slideshow

»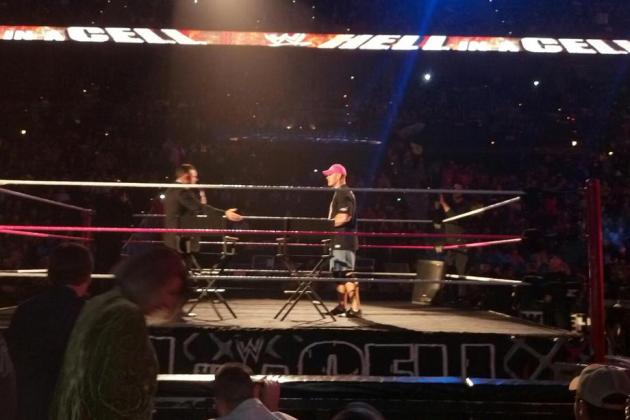 John Cena photo by Micheal Robinson (Bleacher Report)
Now before I say anything, just be clear that I don't dislike John Cena by any means.
That doesn't mean I am a big fan, but I do respect the guy.
Last night was a good thing for John Cena and his Cenation. Think of it as a breath of fresh air.
Cena, who is nursing an arm injury, really needed to sit this one out.
Could the WWE and Cena forced the issue and had him compete last night? Of course. But, why would they?
It can get really stale seeing Cena out there every pay-per-view, competing in the main event and defending or winning the WWE Championship.
As a WWE fan looking at the big picture, CM Punk holding the WWE Championship this long is a good thing.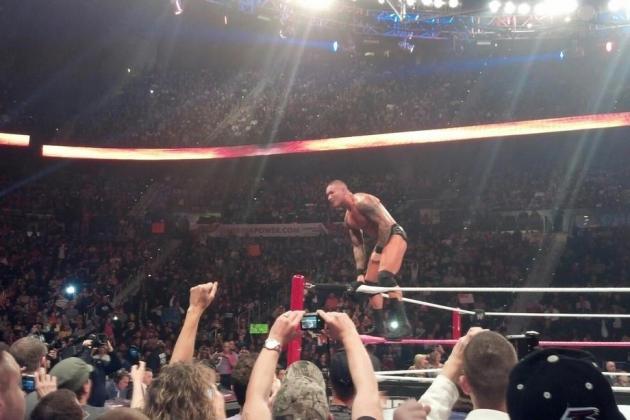 Randy Orton photo by Micheal Robinson (Bleacher Report)
After a hair cut and a swift RKO off the ropes to Alberto Del Rio, Randy Orton had a huge win in Atlanta at Hell in a Cell.
Orton hasn't competed for a major WWE Championship at a pay-per-view in over a year.
However, yours truly can only hope that last nights victory will bring Orton a bit closer to main-eventing a pay-per-view once again.
I wouldn't count out on Orton having his sights set on the Royal Rumble either and the prize ticket to WrestleMania that the winner to the Rumble gets.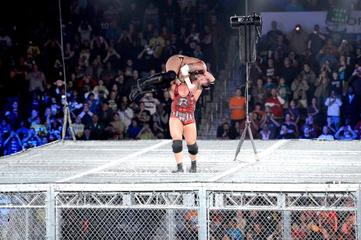 Image courtesy of WWE.com
While I may of not liked how the match ended, having CM Punk and Ryback go to the top of the cell was quite the site to see.
Earlier in the night, I noticed holes cut into that side of the cage. I didn't think about it being for an easy climb, and low and behold, that is exactly what happened.
I am sure the cage was reinforced so the wrestlers wouldn't fall through, but as soon as Ryback started carrying Punk, I couldn't help but have images of King of the Ring in my head.
Awesome moment last night, awesome.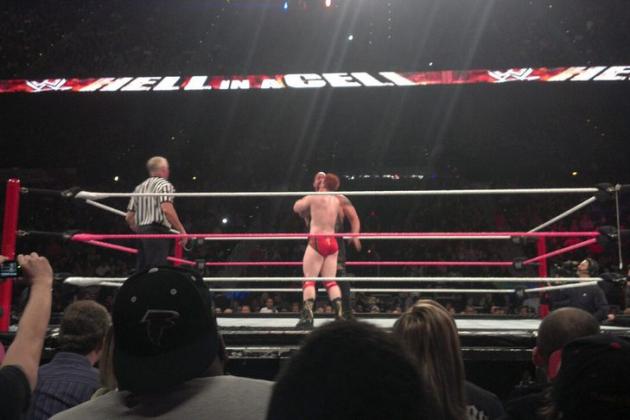 Big Show & Sheamus photo by Micheal Robinson (Bleacher Report)
While I was hoping that Big Show winning the title wouldn't be the last time that the World Heavyweight Championship changed hands last night, I had to take it for what it was.
We haven't seen a major championship in the WWE change hands since Daniel Bryan was Brogue Kicked out of his maroon tights at WrestleMania XXVIII in Miami this past April when Sheamus won the prestigious strap.
It took two punches from Show (and these babies are real) to finally knock out Sheamus for good and end the match.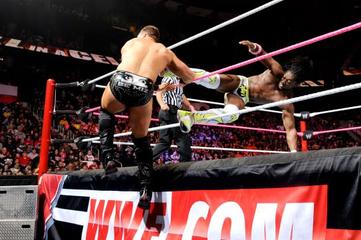 Courtesy of WWE.com
Call me biased since I am a fan of The Miz or call me crazy for saying that is is a good thing for this match to steal the show, but I think it did steal the show and I am ok with that.
I have longed for the days that the WWE Intercontinental Championship was brought back to it's late 80s and early 90s form.
The Miz and Kingston have helped pave the way after last nights back and forth contest.
Counter after counter and high risk after high risk, Kingston finally landed a swift kick to The Miz's skull for the victory.
Even not appreciative of the outcome of the match, I did appreciate the contest as a whole.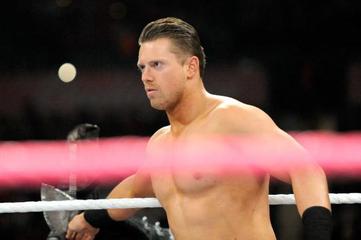 Courtesy of WWE.com
Wearing my Haters Love Me T-shirt proud, I was really hoping The Miz would once again secure the WWE Intercontinental Championship.
Instead, Kofi Kingston had his first successful title defense as champion.
Nothing against Kingston, I just want to see The Miz pushed back to main-event status in the near future.
I would really like to see him carry the Intercontinental Championship a bit more and maybe even have a classic champion vs. champion match (ex. Ultimate Warrior vs. Hulk Hogan) at a future pay-per-view.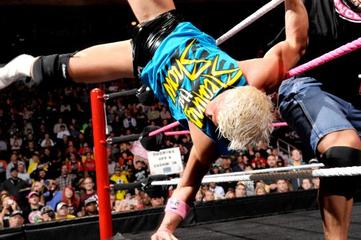 Image courtesy of WWE.com
Maybe since WWE realized that half of the world watching was anticipating a cash-in that they threw a curve ball at the WWE Universe last night.
Wishing for a cash-in last night was a dreadful outcome.
Instead, the only time we got to see the show-off Dolph Ziggler was when he was thrown out of the ring by John Cena on a pre-show interview.
Without cashing in last night, how long to you think it will take before he tries something against Big Show?
Having Big Show say that he dares someone to take it from him only makes me think he was referring to Ziggler.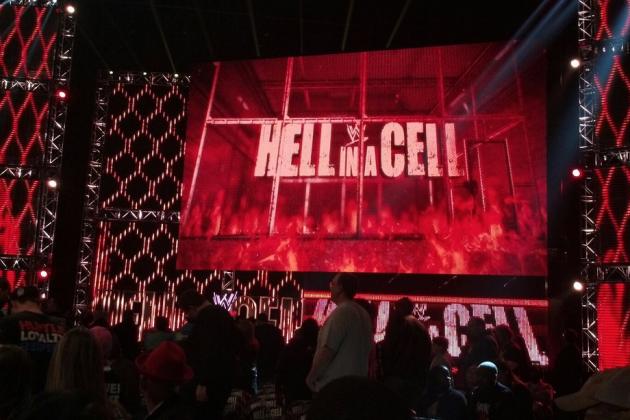 Image by Micheal Robinson (Bleacher Report)
Going into the night, only six matches were on the official Hell in a Cell card.
A United States Championship match was added, which I fully expected. However, so was a throw-in tag team match between the team of Rey Mysterio & Sin Cara vs. Prime-Time Players.
With no disrespect to any of the wrestlers who competed in the add-on matches, I just think more time needs to be placed in other big ticket matches (World Heavyweight Championship, WWE Championship, Intercontinental Championship)
Between the lowing of the cage, the long entrances and the ring announcer talking up the match, the WWE Championship match seemed like it was over before I could say, "Feed Me Mo.."
I should be used to this by now, because WWE seems to be doing this at most of the pay-per-views, more matches, less quality.
I hate being a negative ned, but while I am at it, why doesn't WWE do a full three hours of a pay-per-view anyways?
You mean to tell me that WWE Monday Night Raw is longer than pay-per-view's now? That is a head scratcher.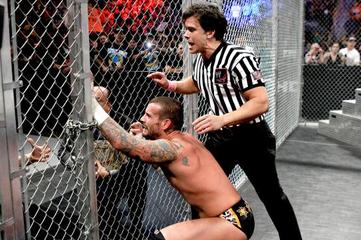 Photo courtesy of WWE.com
You could of had this match end in a lot more creative ways than a bogus referee ending the contest.
A Brock Lesnar run-in, a Mark Henry run-in, or even a clean CM Punk win for that matter.
Instead, we get an Eric Bischoff looking zebra to trip Ryback and quick count him for the CM Punk victory, really?
I would of rather had nWo come out and spray paint some new artwork on Ryback's back, I would of even succumbed to that outcome.
This was awful, just awful.
Image by Micheal Robinson (Bleacher Report)
Thinking I was going to get some chairs to add to my growing collection, when I arrived at my seat, I realized that only fans in the first four rows got to take home their chairs.
I was in dreaded row five.
However, when the show ended and fans starting having their chairs cut away, my fiance thought we should try to grab some ones that no fans were sitting in (a lot of good unsold tickets in Atlanta last night) and give it a shot.
So we grabbed up the chairs and headed towards the exit. The guy in a suit working for WWE looked at our tickets, turned them over, checked them off and let us have the chairs.
Either he didn't know what he was doing or realized that we sat right behind a row that was empty for the entire night and knew someone had to take the chairs home.
While it isn't an impressive collection, I am proud to add these to my WWE chair collection.
Already in the collection: Legends of WrestleMania PPV Promo Chair (Had to send off in mail for it), 2 Royal Rumble 2010 Chairs, WrestleMania 27 Chair
Follow me on Twitter @nyyrobinson.