New York Yankees Rumors: Latest Chatter Around Offseason Moves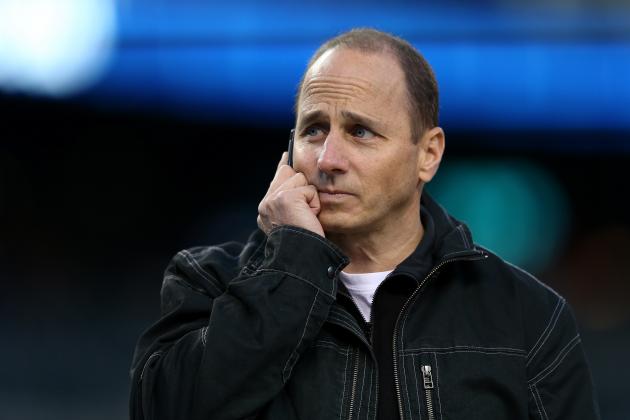 Leon Halip/Getty Images

The World Series is over and that means the MLB offseason is officially underway. The New York Yankees have a ton of decisions to make this offseason, but there are already some clues out there regarding how they will act.
Some players on the Bombers roster are as good as gone, while others have earned a spot with the team next season.
Let's take a look at some of the latest rumors surrounding the Yankees' offseason plans.
Begin Slideshow

»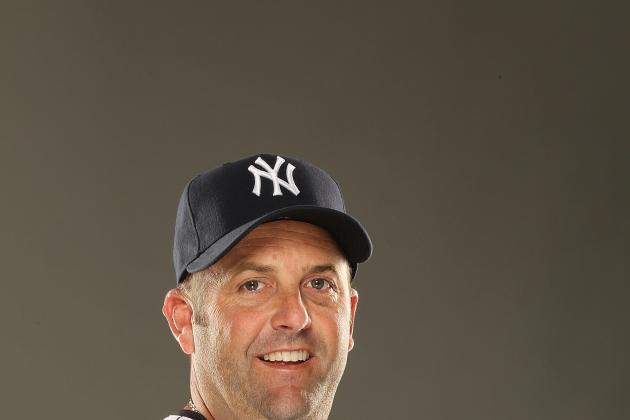 Al Bello/Getty Images

The Yankees postseason struggles were surrounded by their hitting woes as a team and a lot of blame has been shifted towards the team's hitting coach, Kevin Long, and manager, Joe Girardi.
But according to Jon Heyman of CBS Sports (via Twitter), general manager Brian Cashman feels that all the Yanks coaches are safe:
cashman: "as far as i'm concerned, all the coaches are safe. theres no blame game taking place here.'' #yankees

— Jon Heyman (@JonHeymanCBS) October 19, 2012
I tend to agree with Cashman on this one, despite the fact that I'm not a huge fan of Girardi's. At the end of the day, neither Long nor Girardi can swing the bats for this team and that was the Bombers' ultimate downfall in the playoffs.
It is perfectly clear that Girardi must make adjustments to help this team score runs more easily with some small ball, and those should be expected next season.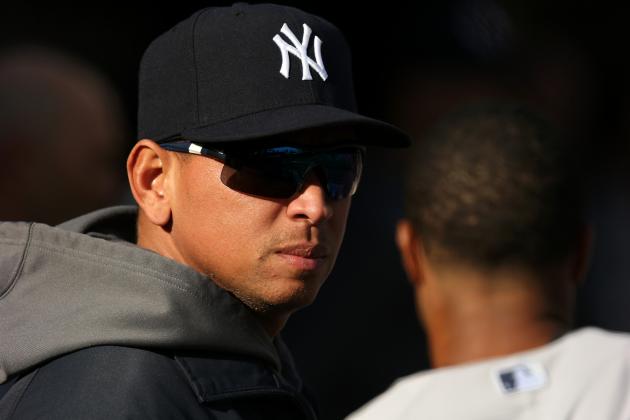 Jonathan Daniel/Getty Images

There's nothing the Yankees and their fans would love more than to see A-Rod shipped out of town to any team that would take him, but chances are that won't happen with his bloated contract.
Conflicting rumors have swirled about the Yanks third baseman since New York's season ended early, with the first coming in an interview Cashman did with Ian O'Connor on ESPNNewYork 98.7 FM (per ESPNNewYork.com):
"It's not like I'm going to hang phones up on anybody who wants to make any overtures about anything," Cashman told O'Connor. "You're talking about realistic stuff and unrealistic stuff. I don't think it's realistic at all for us to be moving forward with anything but Alex Rodriguez at third base."
So while Cashman doesn't rule out the possibility of trading A-Rod, he does believe it is an unrealistic notion.
On the flip side, Girardi was a bit more certain with his response about A-Rod's future, per Andrew Marchand of ESPNNewYork.com:
"I expect Alex to be our every-day third baseman," Girardi said during his end-of-the-year news conference. "What is he going to have to show me? That he is healthy and ready to go.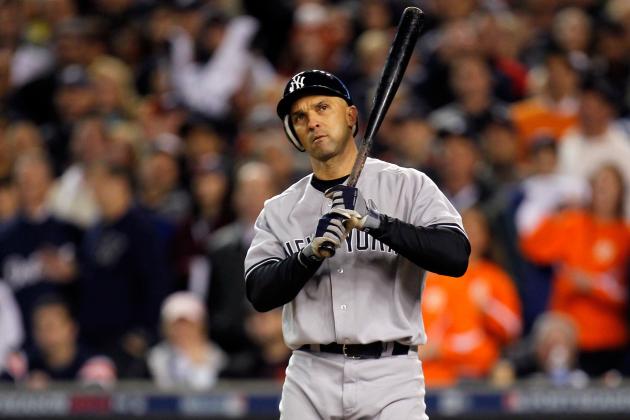 Gregory Shamus/Getty Images

Nobody had a more exciting postseason than Ibanez, with the many heroics he provided against both the Baltimore Orioles and Detroit Tigers. The memory of his time in New York will forever be positive.
But the Yanks got Ibanez for a cool $1 million during the offseason, and that number figures to go way up after the 40-year-old's 2012 campaign. Adding to that is the possibility that Ibanez retires.
Here's what Cashman had to say about Ibanez in an interview with Mike Francesa on WFAN in New York (per Kristie Ackert of the New York Daily News):
Cashman said Ibañez, who had three home runs in the playoffs in the ninth inning or later, was a great one-year signing Yankees this year but does not expect him to be as cost effective as he was last spring training coming off a poor season with the Phillies.
I don't think anyone will have a problem bringing back Ibanez next season, but his price will have to be reasonable if the Yanks are to do so.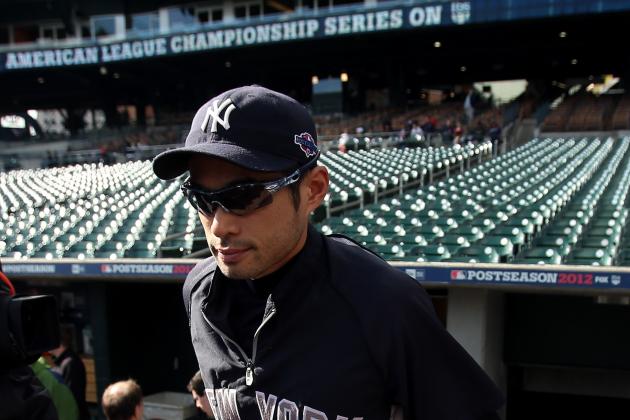 Jonathan Daniel/Getty Images

It seemed like Ichiro was on his last legs in Major League Baseball as a part of the dead-end Seattle Mariners, but after joining the Yankees, Ichiro had a resurgence.
The Yankees lineup would be awfully attractive with a full season of Derek Jeter and Ichiro at its head.
Good news for the supporters of that scenario is that Suzuki is reportedly interested in rejoining the team next season, according to Joel Sherman of the New York Post:
The Giants were working hard to obtain Ichiro Suzuki before the Yankees did in late July and probably would have interest in the free agent this winter. But a person close to Ichiro told me he strongly wants to stay with the Yankees because he so enjoyed playing in a professional, winning atmosphere with so many contemporaries near his age.
Ichiro is perfect for what the Yanks want to do. With cutting payroll in mind for 2014, Ichiro will command a short-term deal, perhaps one year with an option for a second, giving the Yanks full control of what happens with the outfielder.
This move makes too much sense not to get done. Ichiro has made his money—now it's time for him to win some championships. New York should have no issue signing him for a reasonable price.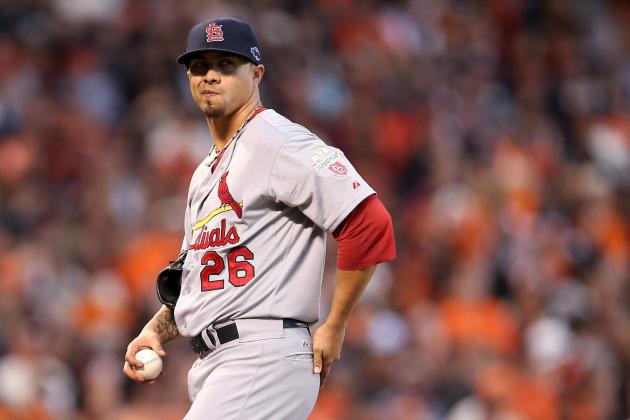 Christian Petersen/Getty Images

Kyle Lohse had a great 2012 season in a contract year, but the Yankees would be wise to be cautious in making any deals with Lohse.
According to Wallace Matthews of ESPNNewYork.com, the Yanks could be players for the right-hander this offseason:
But, one starter who is expected to be shopped hard to the Yankees is righthander Kyle Lohse, who took the loss in last night's NLCS Game 7 for the St. Louis Cardinals. Lohse, who has had two excellent years in St. Louis -- 14-8, 3.39 in 2011 and 16-3, 2.86 in 2012, is a Scott Boras client and Boras is expected to give the Yankees the hard sell on him over the winter, especially since the Yankees have concerns about CC Sabathia's elbow, don't expect Michael Pineda back until next June and have both Andy Pettitte and Hiroki Kuroda heading into free agency. Plus, they have doubts about Ivan Nova.
While it might seem like a nice idea, clearly there is no concrete evidence that either side is interested in the other. This just seems like a lot of speculation, with Scott Boras' maniacal free-agent contract mind being the one who will push this.
If Boras is pushing anyone, it's likely the price is high and that's not what the Yanks are looking for at the moment. Unless he is at a reasonable price, I doubt Lohse will be wearing the pinstripes next season.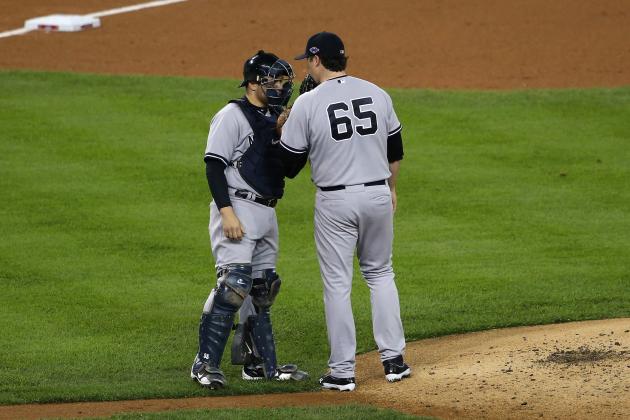 Leon Halip/Getty Images

Brian Cashman also spoke about the team's catcher, Martin, in an interview with Mike Francesa on WFAN in New York (per Kristie Ackert of the New York Daily News):
Cashman also said he likes catcher Russell Martin, "but me liking him doesn't guarantee us keeping him."
Martin did a great job in handling the Yanks pitching staff last season, but it's clear that despite being able to hit the long ball, Martin can't hit a lick.
The Yanks' backstop did turn down a contract offer before the season started, so it remains to be seen just what kind of money and deal he is seeking. Chances are that if all the numbers add up realistically, Martin should be back with the Yanks in 2013.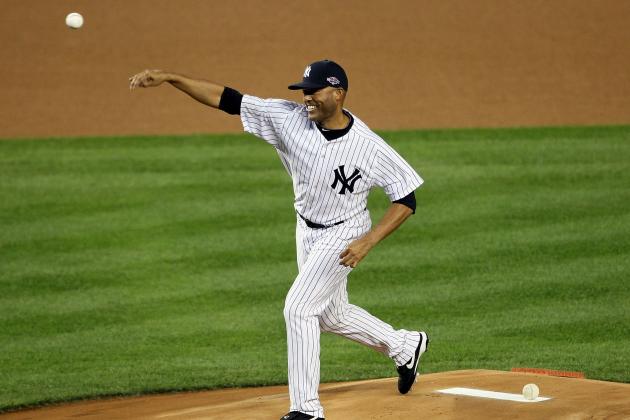 Alex Trautwig/Getty Images

After Rivera suffered a season-ending injury in May, it was thought that we had seen the last of the greatest closer of all time. But Rivera quickly dispelled those rumors at the time, per Wallace Matthews of ESPNNewYork.com:
"I am coming back," Mariano Rivera said Friday afternoon in the New York Yankees' clubhouse. "Put it down. Write it down in big letters. I'm not going down like this. God willing and given the strength, I'm coming back."
Yankee fans' collective sigh of relief could be heard around the globe upon Rivera making that statement. However, as of late, it seems Rivera could be mulling retirement more than returning, according to Andrew Marchand of ESPNNewYork.com:
New York Yankees general manager Brian Cashman said closer Mariano Rivera informed him earlier this week that he is unsure if he will play again or retire.

Cashman told ESPN New York that on Tuesday he and Rivera had a conversation in which Rivera said he does not know yet if he will return for a 19th season.

"He wasn't certain on what he is going to do," Cashman said.
As a Yankee fan, you just couldn't imagine the greatest closer of all time's career ending in centerfield in Kansas City, but it appears that may be the case.
While it is a sad way to end such a great career, it will never erase all the incredible things Rivera has done for the team during his Hall of Fame campaign. Let's just hope it doesn't end the way it did last May.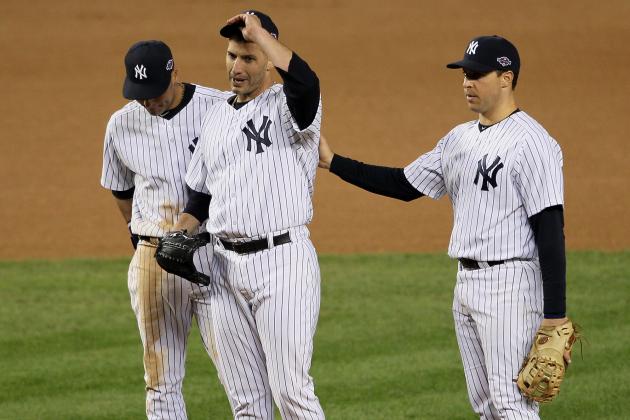 Alex Trautwig/Getty Images

Also in an interview with Ian O'Connor on ESPNNewYork 98.7 FM (per ESPNNewYork.com), Cash spilled the beans on what he thinks Pettitte will do after the 2012 season:
On a potential Andy Pettitte return: "It's hard to say. I don't want to speak for Andy, but I know Andy loves what he does and he's obviously great at what he does. He can keep doing it if he so chooses. I wouldn't be surprised if he wants to keep going, but I just don't know."
Like Ibanez, Pettitte was a steal for the cheap price he came with. After a great 2012 season that was cut short due to a freak injury, Pettitte showed he can still be a very effective pitcher, even at the age of 40.
There's no doubt Pettitte still has what it takes to compete in this league, it's just a matter of if he still wants to compete. If he decides to return, the Yanks should welcome him with open arms and an open checkbook, because Pettitte will command much more money than he did last season.
I think Pettitte knows he's still got it, and he also knows it would be foolish to walk away from the game considering that fact.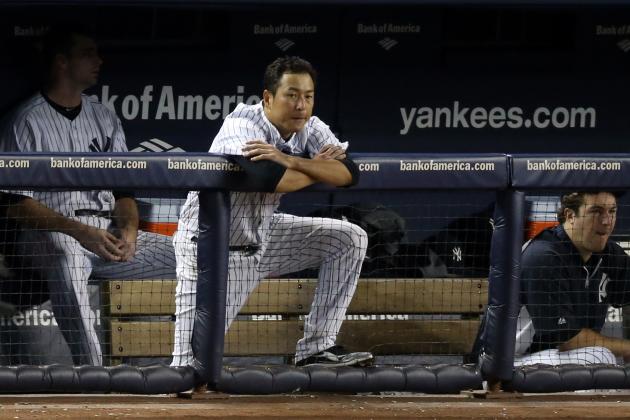 Bruce Bennett/Getty Images

Not much has been said about Kuroda thus far, but it's obvious the Yanks would like to bring back their best pitcher from 2012. Any concerns about his adjustment from the NL West to the AL East can be put to bed.
Kuroda fits into the Yanks' plans perfectly. At age 37, Kuroda won't garner a long-term deal, and despite the fact that he will command a raise Kuroda could be off the Yanks' roster by 2014, maybe 2015 if an option is present in his deal.
I fully expect Kuroda to return in 2013 because it just makes sense, but only time will tell.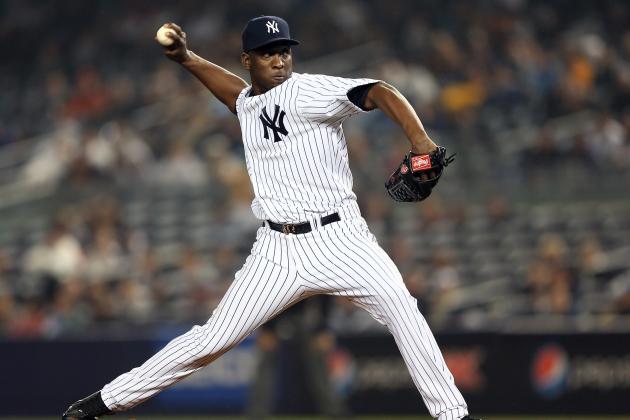 Elsa/Getty Images

Soriano did a stellar job replacing the injured Rivera in 2012, but with the closer likely to opt-out (per D.J. Short of NBC Sports) of his current deal, Sori could be playing for another team in 2013.
Normally the Yanks would be happy to let Soriano and his big contract walk, but 2013 presents a different scenario should Rivera retire. It isn't totally clear whether the Yanks would feel safe with David Robertson closing games, but if not, Soriano could be back with the Yanks next season.
If Rivera does return, Soriano is as good as gone. The Yankees' 2012 closer isn't happy being in a seventh inning role, and that's exactly where he'd be if the greatest closer of all time comes back and D-Rob remains as the team's setup man.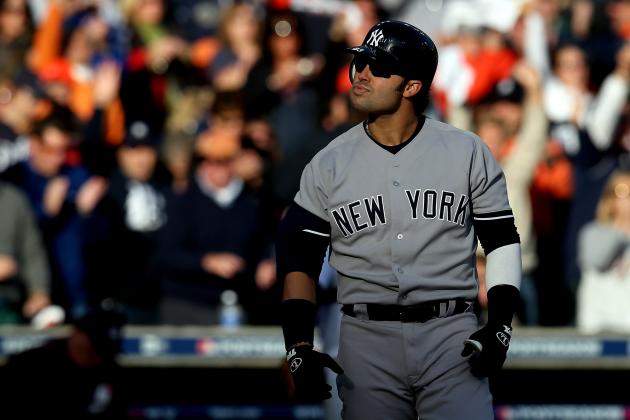 Jonathan Daniel/Getty Images

According to Jon Heyman of CBS Sports, the Yanks have no interest in bringing back playoff no-show Nick Swisher. Their only interest in Swisher is the potential draft pick the Yanks could get in return for him.
The Yankees are still planning to make a qualifying offer of about $13.5 million to free agent Nick Swisher, but only to protect the draft choice, not with any hope or expectation he'd accept the offer and return to the Bronx.
When news broke that Swish might be seeking a Jayson Werth-type deal, that pretty much sealed it that Swish wasn't coming back. Add in a terrible playoff showing and his complaints about the fans, and it's clear that Swisher's ticket out of town is already punched.