Giants vs Cowboys: Winners and Losers from G-Men's 29-24 Thriller Win in Big D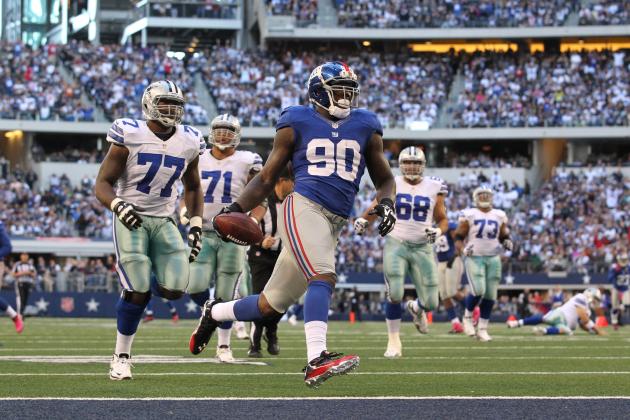 Matthew Emmons-US PRESSWIRE

Halfway through the 2012 season, I think it's safe to say Sunday afternoon's game was one of the most heart-pounding yet for any Giants fan.
The New York Giants had a 23-0 lead that they gave away to the Dallas Cowboys and trailed 24-23 heading into the fourth quarter.
Two Lawrence Tynes fourth-quarter field goals gave the Giants a 29-24 lead, but Dallas still had a chance to come back in the game.
Tony Romo threw a fourth interception to Stevie Brown with 1:14 left in the game, but the Giants were forced to punt on a three and out, giving Dallas the ball back with 44 seconds left.
Dallas nearly pulled the game off when Romo threw a 37-yard pass to Dez Bryant in the back of the end zone, which was initially called a touchdown. But after the referees reviewed it, it was clear that Bryant's hand touched the white line in the back of the end zone, which meant an incomplete pass.
Romo failed to lead Dallas back, and the Giants held on to win 29-24 over their hated NFC East rivals.
The Giants improved to 6-2 and have a commanding 2.5 game lead in the division over Dallas and the Philadelphia Eagles.
Many fans' hearts are still pounding from that finish at Cowboys Stadium.
Let's break down the winners and losers for the Giants from Sunday afternoon's thriller in Arlington.
Begin Slideshow

»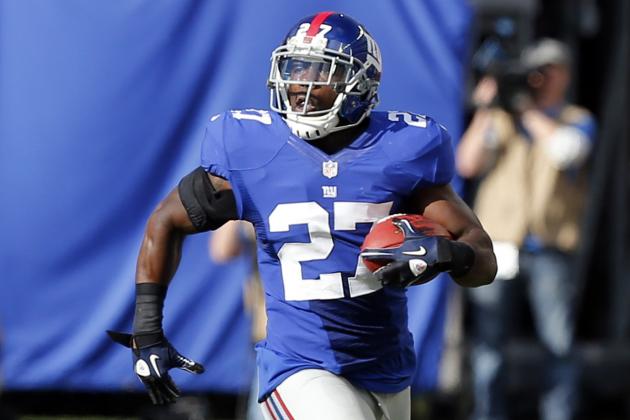 Jim O'Connor-US PRESSWIRE

With Kenny Phillips out for a fourth straight week, Stevie Brown continues to impress in his short time as a starter.
On Dallas' first offensive drive, Brown stepped in front of a pass intended for Dez Bryant and took an interception 37 yards all the way down to the Dallas 27-yard line.
The interception led to a Lawrence Tynes field goal, making it 6-0 Giants.
Late in the fourth quarter on a fourth and one play, Romo was being chased by three Giants defenders and wildly threw the ball up in the air.
But Brown was waiting for it and picked Romo off for a second time in the game.
Not only did he have two picks, Brown also had a fumble recovery in the fourth quarter.
Cowboys running back Felix Jones fumbled the ball after his own lineman knocked into him, and Brown was able to recover it, setting up another field goal for Tynes, which made it 29-24 with 3:37 left.
Six tackles, two interceptions and a fumble recovery: a fine game for Brown.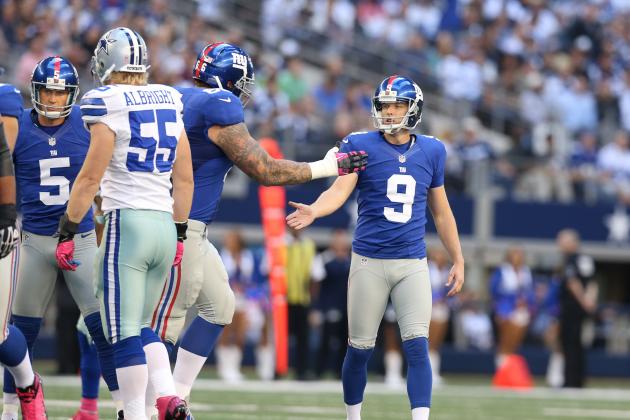 Matthew Emmons-US PRESSWIRE

The Giants place kicker sure got a lot of chances to kick on Sunday.
In the first quarter, Lawrence Tynes made a 41-yard field goal that made it 3-0 Giants. Then he made a 37-yarder that made it 6-0.
In the second quarter, Tynes made a 26-yard chip shot that made it 16-0 Giants.
In the fourth quarter, Tynes made a 43-yarder that gave the Giants the lead back and made it 26-24. He then made another 37-yarder, which increased the Giants' lead to 29-24.
Tynes was 5-for-5 on the day and continues to be very reliable for the Giants in 2012.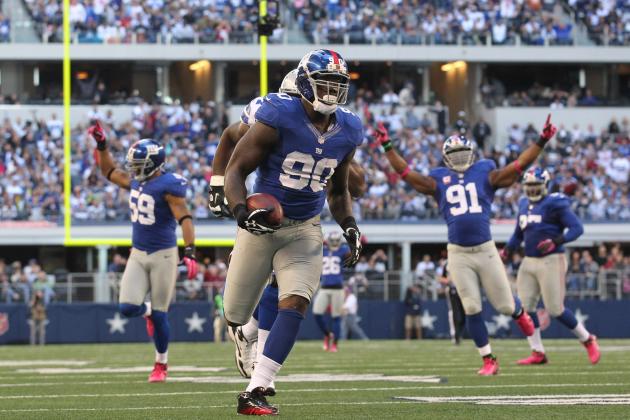 Matthew Emmons-US PRESSWIRE

On Sunday, it was a first for Jason Pierre-Paul.
He had three tackles and one sack of Tony Romo, but the biggest play from JPP came early on in the second quarter.
Romo attempted to throw a screen pass, but JPP read it very well, jumped up and picked off the pass and returned it 28 yards for a touchdown.
That interception for a touchdown was the very first of his career, the first of potentially many more.
Last year in Dallas, JPP blocked an attempted field goal by Dan Bailey that gave the Giants a win in December.
This year, he returned a touchdown off a pick. In Cowboys Stadium, JPP finds ways to make plays.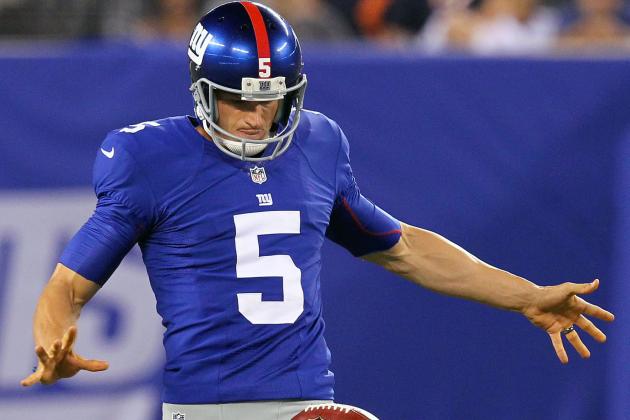 Brad Penner-US PRESSWIRE

Special teams is a major factor in any game, and sometimes people can take it for granted.
Sunday's game showed just how valuable Steve Weatherford is to the Giants and why they gave him a five-year extension this winter.
Weatherford had six punts for an average of 47.8, with his longest punt being 59 yards and two of them ending up inside the 20-yard line.
His most important punt came at the end of the first quarter.
With 1:08 left in the first quarter, Weatherford kicked the ball 53 yards to Dez Bryant, who played the ball very shallow and had to retrieve to get it, which caused him to drop it.
Bryant was able to pick up the ball and run with it, but Zak DeOssie knocked the ball loose from Bryant, and the ball was recovered by Michael Coe.
That turnover set up a Lawrence Tynes field goal that made the score 16-0.
If Weatherford wouldn't have kicked the ball where he did and how high he did, Bryant wouldn't have screwed up the play and allowed his teammates to cause the fumble.
In a game of field position, Weatherford continues to be an asset to the Giants special teams unit.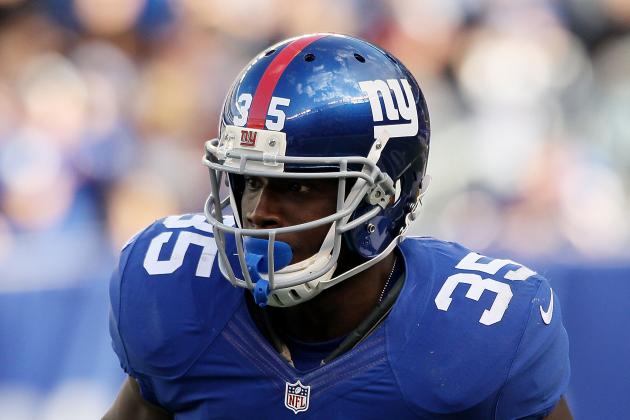 Alex Trautwig/Getty Images

Andre Brown was used as the second running back in the Giants offense on Sunday.
He didn't see that many carries, but in the first quarter, he was able to get into the end zone, scoring on a one-yard counter play to the left side of the end zone that put the Giants up 13-0.
It was one of the few touchdowns that the Giants actually scored on Sunday. In fact, it was the only touchdown the Giants scored on offense, as Jason Pierre-Paul scored the other one on an interception return.
With the touchdown on Sunday, it was Brown's fifth of the 2012 season. In the five games where he has gotten at least one carry, Brown has scored a touchdown in four of them.
At his current pace, Brown could end up having a 700-800 yard season with eight to 10 touchdowns, which would surpass any expectations that anyone had for Brown.
Just to show what kind of production Brown has given the Giants: The guy he replaced, Brandon Jacobs, who is now with the 49ers, had yet to record a single carry this season.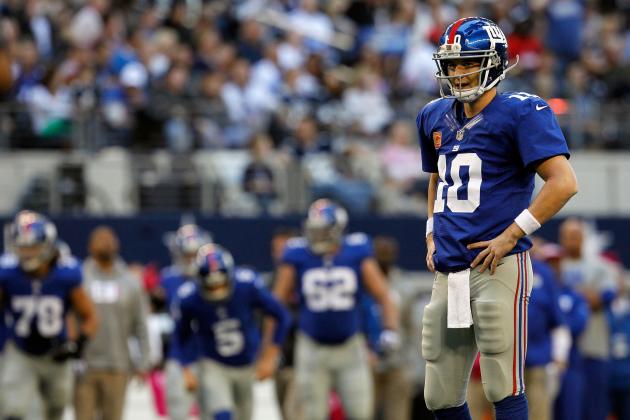 Tom Pennington/Getty Images

Sunday's game against the Cowboys was not one of Eli Manning's best of the season.
Manning went 15-for-29 with 192 yards, no touchdowns and one interception.
The interception happened because he threw a pass to Victor Cruz, who was left in the middle of the field as a sitting duck and got clobbered by Gerald Sensabaugh. The ball popped out, hit off a Dallas defender's butt and into the hands of Danny McCray.
Aside from the interception, Manning never really got the offense going after Dallas' turnovers and could have scored more points for the Giants offense.
On third down, the Giants were 3-for-15, which explains why the Giants only won by five and not 25.
If Manning was more sharp and on his normal game, the Giants really could have taken off and scored a lot of points.
If the Giants had lost the game, his bad game would have been a main focus, but instead, it'll be forgotten about by Tuesday.
However, Manning will have to play better if he wants to keep the Giants on their current winning streak.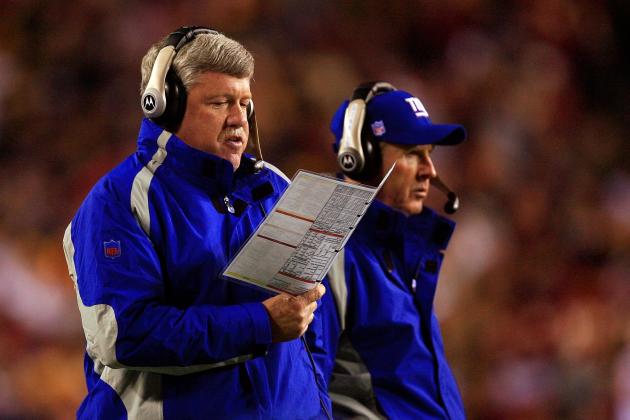 Jamie Squire/Getty Images

If you are a Giants fan, at one point or another, you have complained about offensive coordinator Kevin Gilbride.
He calls the plays of a very explosive offense; the Giants have scored 234 points in 2012, which is the most in the NFC and the second most in the entire NFL.
But Gilbride's play-calling can be frustrating, just like it was on Sunday against Dallas.
The worst was Gilbride's play-calling on third downs, on which the Giants were 3-for-15.
In the first quarter, on a 3rd-and-two from the 19 yard line, Gilbride called a direct snap to Ahmad Bradshaw, which the Cowboys were ready for.
Instead of calling something like a screen pass, it was a run that fell short of the first down, setting up a field goal.
He also called a lot of short passes from Eli Manning to Hakeem Nicks and Victor Cruz, many of which were incomplete.
I know Nicks and Cruz can use their skills to make plays in open space, but a lot of plays that are made short of the first down marker end up not making the yardage.
Gilbride needs to call better plays on third down, ones that have receivers catching the ball past the first down marker.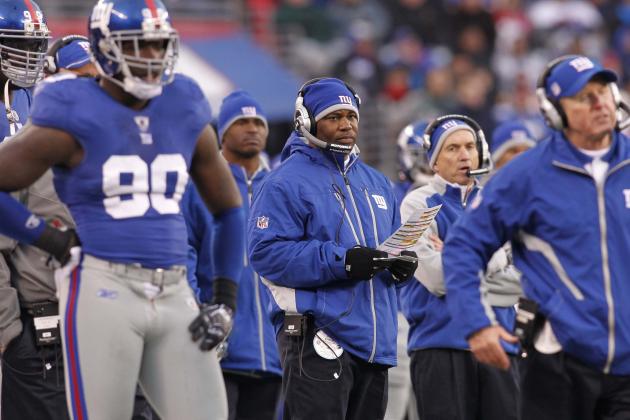 The Star-Ledger-US PRESSWIRE

Normally, I wouldn't put a defensive coordinator on a losers list after his defense creates six turnovers.
Fewell's defense did just that, intercepting Tony Romo four times and recovering two fumbles.
However, I put him on here because the Giants defense did nothing to slow down Romo and his receivers in the game.
Romo went 36-for-62 for 437 yards and a touchdown. The yards are good along with the touchdown, but the interceptions are what killed Romo on Sunday.
Despite that, Romo was able to get the ball down-field to three particular targets. Fewell had no answer as far as stopping them.
Jason Witten had 18 catches for 162 yards.
Miles Austin had nine catches for 133 yards.
Dez Bryant had five catches for 110 yards.
Fewell's defense really would have looked even worse if Bryant had caught the game-winning 37-yard touchdown in the fourth quarter, but because Bryant's hand was out-of-bounds, the Giants defense caught a huge break.
The Giants defense gave up a total of 434 yards, 415 of which were in the air.
That kind of poor play is something that needs to be addressed in practice this week by Fewell and his coaches.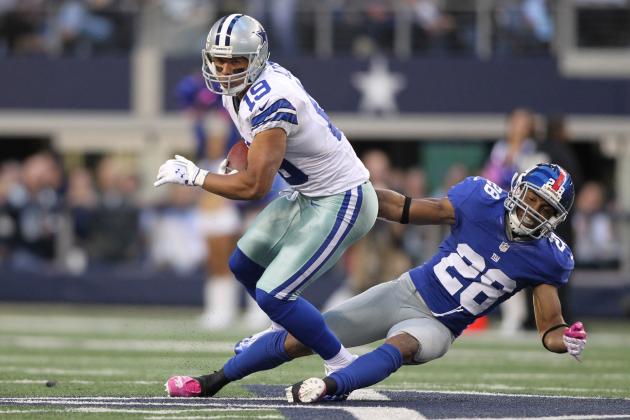 Tim Heitman-US PRESSWIRE

In the previous slide, I talked about how poor the Giants defense played despite creating six turnovers.
The secondary had a rough game, especially rookie Jayron Hosley.
The Giants committed five penalties in the game, three of which were by Hosley.
Whether he was trying to cover Miles Austin or Kevin Ogletree, Hosley had a lot of difficulty keeping up with them.
He was called for illegal contact twice and defensive holding in the fourth quarter on a play that would have been a sack for Justin Tuck.
I chalk up Hosley's poor game to being a rookie who is still going through the learning pains of being an NFL rookie cornerback facing quality receivers.
But as the season wears on, Hosley has to improve so opposing offensive coordinators do not make it a focus point to target Hosley on pass plays.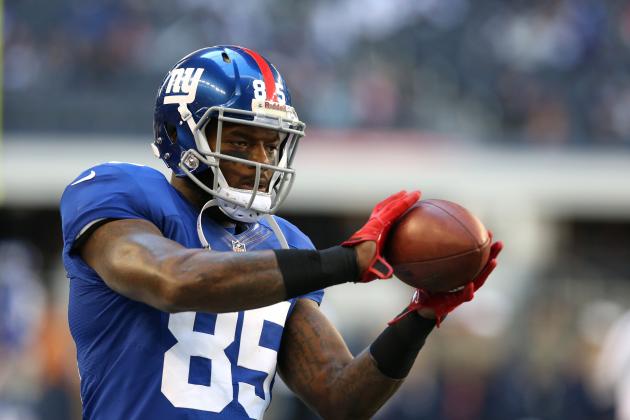 Matthew Emmons-US PRESSWIRE

In his first game back playing against his old team in the building he used to call home, Martellus Bennett had a lackluster game.
Bennett had four catches for 29 yards with no touchdowns.
Heading into the game, I honestly thought Bennett would look to upstage Jason Witten and try to have a big game against his former team, but he didn't.
In fact, Witten ended up out-playing and out-performing Bennett in Sunday's game, especially considering Witten set the Cowboys record for most receptions in a game with 18.
Bennett also had a drop on a 3rd-and-three in the second quarter that could have potentially been a touchdown, but he dropped it at the goal line, and the Giants had to settle for a field goal.
Thus far, Bennett has been a productive player in the Giants offense, but on Sunday against his old team, the guy who used to play in front of him at Dallas had a much better game.