Dallas Cowboys: Winners and Losers from 29-24 Loss to New York Giants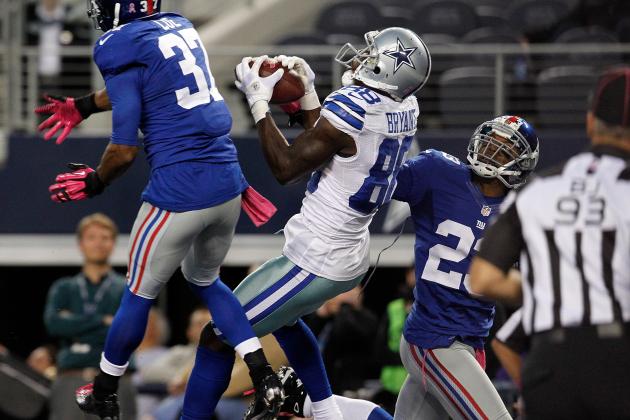 Tom Pennington/Getty Images

It was an exciting game to say the least.
However, when all was said and done, the Cowboys dropped to 3-4 and find themselves staring at a very tough stretch of their schedule.
This was a game that displayed the Cowboys' resilience, but unfortunately, it wasn't enough. The defense was phenomenal, and the team really came together to give the Giants a run for their money.
Here are the Cowboys who won and lost in their latest campaign.
Begin Slideshow

»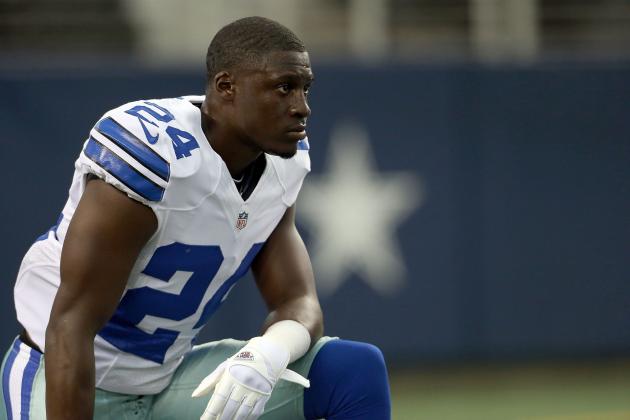 Ronald Martinez/Getty Images

Once again, the Cowboys secondary was able to contain the Giants' dynamic duo of receivers. Hakeem Nicks and Victor Cruz were held to a total of 75 yards receiving.
Much of that had to do with the nearly flawless coverage of Morris Claiborne.
Claiborne was a stud today. He plays man coverage so well that even when receivers do catch the ball on him, they have nowhere to advance the ball.
I thought Claiborne had two incredible plays. One was the pass defended against Nicks that would have resulted in a first down. The other was the tackle in the beginning of the fourth quarter on an underneath route to Domenik Hixon.
Claiborne continues to improve and answer challenges. If his development keeps progressing at this rate, he'll be a shutdown corner in no time.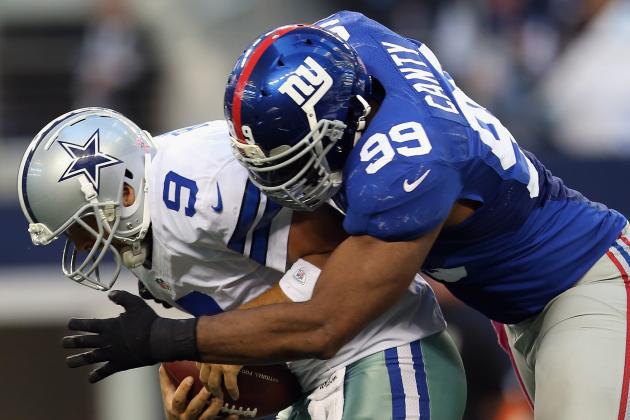 Ronald Martinez/Getty Images

Is this even news anymore?
I'm a pretty open Romo supporter, but I think it's finally time we all face reality. Romo is not going to lead the Cowboys to the Super Bowl. Not this year, not next year and certainly not any of the years after that.
Today was a huge game for the Cowboys. With the Eagles and Redskins losing, the Cowboys had an opportunity to make a significant jump into contention, but let it squander once again.
Despite three interceptions in the first quarter, the Dallas Cowboys were able to rally back behind an improved effort by Tony Romo in the second half.
This is a game the Cowboys really should have won. They outperformed the Giants in every aspect. Unfortunately, Romo wasn't able to come through when he needed to. On the final play of the game, Romo didn't even give his team a chance to win.
This game might have sealed Romo's fate going forward. It's hard to believe that Jerry Jones will give a lengthy extension to the gunslinging quarterback who has trouble finishing big games.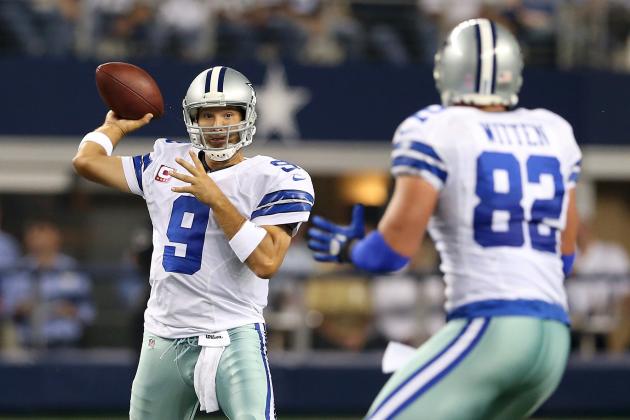 Ronald Martinez/Getty Images

If there was ever one player who didn't deserve to endure such disappointment, it's Jason Witten.
Today, Witten set the franchise single-game reception record when he caught 18 passes for 167 yards.
Witten is a true professional, and showed it today. After a Week 1 dud against the New York Giants, Witten was determined to play big at home.
He didn't disappoint.
As Romo was struggling, Witten was able to get him back on track and develop a rhythm. Witten offers the Cowboys a tremendous receiver. He can't be covered by any single person and makes spectacular catches in the clutch.
It's a shame the Cowboys didn't win, but for Witten, it was a solid effort for a future Hall of Fame player.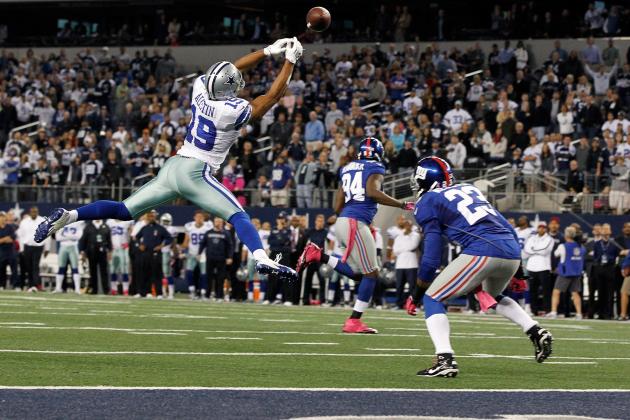 Tom Pennington/Getty Images

OK, I get that Bryant's unusually large hand went out of bounds, but that catch alone was phenomenal.
The truth here is that the two star receivers on this team have been challenged to step up.
They did.
Austin was near unstoppable today as he continued to find voids in the zone that allowed him large gains. Austin finished with nine receptions and 133 yards. This was a huge game for the guy despite being relatively consistent for this offense, and he continues to be the playmaker.
Bryant started off slow as a punt returner, but really showed why the Cowboys stick with him. His hands are so strong, and he is so physical that you can't go away from him in the game. Bryant only had five receptions but made them count for 110 yards.
If this game is a sign of things to come, there might be reason to think that this offense can get back on track.
My last statement is this: If any of you are blaming Bryant for this loss, then I assume you didn't watch the game at all. I'm very impressed that he sacrificed his body to make a touchdown catch, even if it didn't stand.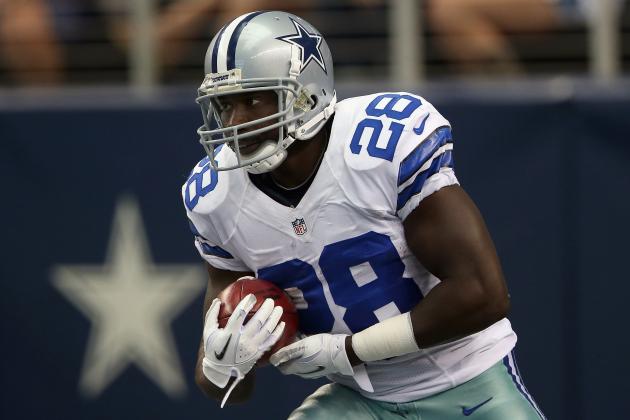 Ronald Martinez/Getty Images

The Cowboys expect big things out of Felix Jones, a former first-round pick, in the absence of DeMarco Murray.
Jones hasn't been able to deliver.
It's true that Jones scored a touchdown today, but that shouldn't blind everyone from his inability to be relied upon.
Jones was given 13 carries today and only gained 19 yards off of them. In addition to his 1.5 yard-per-carry average, Jones also gave up a critical fumble in the fourth quarter that allowed the Giants to kick a field goal to secure a five-point lead.
Simply put, Jones continues to prove that he's not an asset for this team. Jerry Jones is adamant about Jones keeping his role in the offense, but it's becoming a little ridiculous at this point.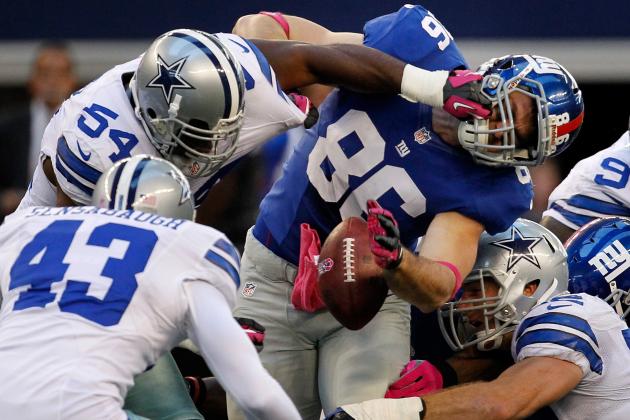 Tom Pennington/Getty Images

Sean Lee's absence is huge in this defense. The duty of defensive signal-caller has been delegated to Bruce Carter.
In his first game with the increased responsibility, Carter impressed.
Carter had four tackles, but was around the ball most of the day. He has great speed and athleticism, which makes him a very reliable and important inside linebacker in this scheme.
What I saw from Carter was inspiring. I always knew he was a solid coverage linebacker, but I saw some great explosiveness against the run from him.
If Carter can continue to play at this level, it'll soften the blow of losing Sean Lee and give the Cowboys confidence in 3-4 defense going forward.