Dallas Cowboys' Game-by-Game Predictions for Second Half of the Season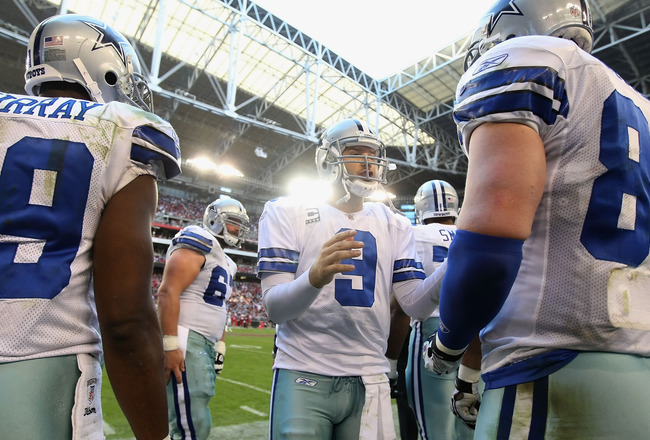 Christian Petersen/Getty Images
The Dallas Cowboys have one of the most grueling second-half schedules of any NFL team, and in a cluttered NFC East, they'll need to power through it to make the postseason. The Dallas faithful and team owner Jerry Jones cannot handle another season without a playoff berth, which means the pressure is on in Big D.
Here's your game-by-game predictions for the rest of the Cowboys' schedule this year.
Week 9: At Atlanta Falcons
Ronald Martinez/Getty Images
Prediction: Falcons 28, Cowboys 17
Gone are the days of the Falcons offense being centered on running back Michael Turner. Atlanta quarterback Matt Ryan has been making his case for league MVP, as his team remains the only undefeated team in NFL.
The Falcons have not scored less than 20 points all year. This fact is likely due to Ryan already closing in on 2,000 yards passing and 14 touchdowns heading into Week 8.
Some would say that Ryan's team doesn't have many quality wins to its name, and that could play in the Cowboys' favor.
The Falcons' biggest wins have been against the Denver Broncos, Washington Redskins and San Diego Chargers. All of those aforementioned teams are less than or equal to Dallas' talent level.
Dallas head coach Jason Garrett will need his offense to be on point in this contest, because it's likely his defense isn't going to be able to slow down Atlanta.
Ultimately, it wouldn't be surprising to see Dallas pull off the upset, but the Falcons are the more complete team so far this season. Because of Atlanta's completeness and consistency, the Falcons should be able to defeat Big D.
Week 10: At Philadelphia Eagles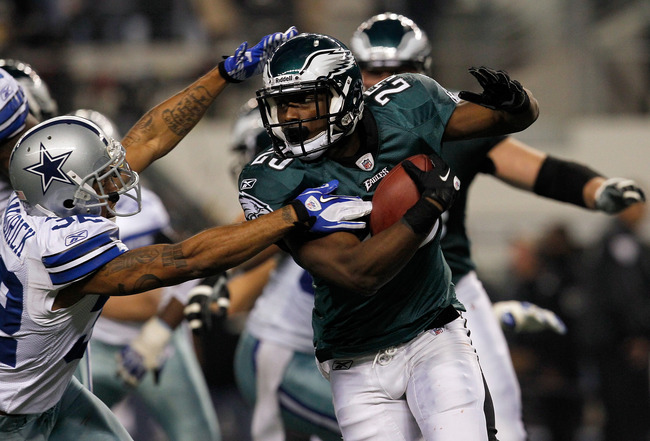 Tom Pennington/Getty Images
Prediction: Cowboys 31, Eagles 23
The Cowboys are known for being in the spotlight, but they've arguably been overshadowed this season by the Philadelphia Eagles.
The Eagles' season has been surrounded by questions about whether or not Andy Reid should be fired, Juan Castillo's dismissal and Michael Vick's interception parade.
Philly has lost three straight games, and Vick already had thrown eight INTs entering Week 8. The Cowboys can't exactly say they've found their identity yet, but it seems as if the Eagles have, and it's called underachieving.
The Eagles and Cowboys always play each other close, but the latter has seemed to find itself in recent weeks. Despite the loss to the Ravens, Dallas was able to score 29 points and keep Ray Rice under 65 yards.
Against the Panthers, the Cowboys defense neutralized Cam Newton and kept his offensive unit under 20 points. The former Heisman Trophy winner threw just 233 yards on the day against the Dallas D.
Dallas is catching its NFC East foes at the right time and will pull off the victory on the road.
Week 11: Vs. Cleveland Browns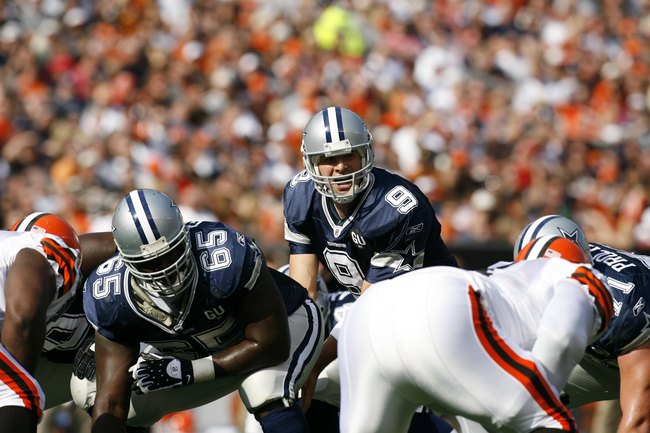 Kevin C. Cox/Getty Images
Prediction: Cowboys 28, Browns 14
After three straight weeks against NFC East rivals and the Falcons, Dallas will enjoy facing Cleveland at home.
It's true the Browns gave the Eagles fits to open the season and beat the Bengals, but Dallas could play at 80 percent and win this game.
The Cowboys defense should hassle rookie quarterback Brandon Weeden and force the team to rely heavily on Trent Richardson.
The Browns running back is a tremendous talent, but as Steven Jackson has learned in St. Louis, one man can't do everything on offense and win a whole lot of games.
DeMarco Murray will hope to be back in time to face the Browns' No. 24-ranked rush defense, while Tony Romo should have no trouble against this No. 26 Cleveland passing D.
Week 12: Vs. Washington Redskins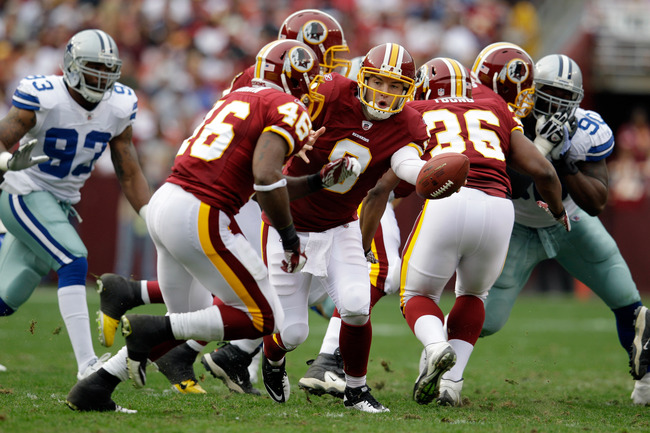 Rob Carr/Getty Images
Prediction: Cowboys 26, Redskins 17
Notice Rex Grossman in that photo above? Yeah, chances are he won't play in this game.
The Cowboys will get their first dose of Robert Griffin III in Week 12, but that's not exactly a bad thing. Facing the Redskins late in the year means that there is plenty of NFL tape for Jason Garrett and Co. to look at on the rookie quarterback.
Griffin III has jump-started the Redskins team, but he's stuck in a situation much like Trent Richardson and Steven Jackson. Pierre Garcon has been injured most of the season, and his other receivers, like Leonard Hankerson, have almost as many drops as catches.
Heading into Week 8, Hankerson alone had 11 drops compared to his 22 catches on the year.
RG3 has been on of the NFL's biggest stories thus far, but he can be stopped. The Steelers laid a nice blueprint on how to contain the QB in Week 8.
The former Heisman Trophy winner had just five completions through the first half against Pittsburgh and only three yards earned on the ground. Dallas will need to do the same when facing Griffin III for the first time.
This isn't going to be a cakewalk for the Cowboys, but they'll get a hard-earned win in Week 12.
Week 13: Vs. Philadelphia Eagles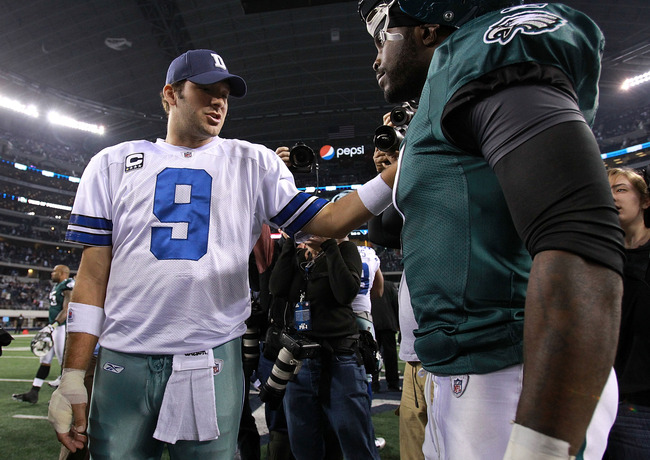 Ronald Martinez/Getty Images
Prediction: Cowboys 29, Eagles 21
Michael Vick is saying Andy Reid might want to make a quarterback switch. Bleacher Report's own Matt Miller said he wouldn't be surprised if the Eagles made a coaching change. It's Bedlam in Philadelphia after the loss to Atlanta.
The Eagles are imploding as the season goes along, and with so many questions surrounding the club's future, the Cowboys should be able to sweep their rival this season.
Despite the loss to the New York Giants in Week 8, Dallas showed plenty of heart in rallying back into that contest. The Cowboys should have been blown out by the Giants on their home field once again. Instead, they found a way to have the game come down to the very last snap.
Right now, the Cowboys are more mentally tough between these two. By Week 13 this season, Vick and Reid might not even be playing vital roles for the Eagles anymore. That kind of instability makes them ripe for downward spiral to end the 2012 season.
Week 14: At Cincinnati Bengals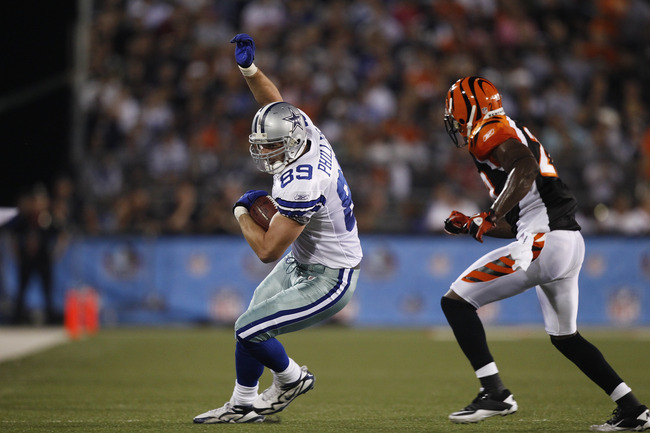 Joe Robbins/Getty Images
Prediction: Cowboys 24, Bengals 17
The Cincinnati Bengals' season got off to a hot start, as the team went 3-1 through the first quarter of the year. Since then, it's been nothing but defeats.
After defeating the Browns, Jaguars and Redskins, the Bengals have dropped three straight to the Dolphins, Steelers and Cleveland. While the Steelers are one of the best teams in the league right now, the Dolphins and Browns are far from that ball park.
Cincinnati has seen a bit of a sophomore slump from quarterback Andy Dalton, who had just 105 yards passing against Pittsburgh in Week 7. The TCU product has thrown at least one interception in every game played this season.
While Romo can't exactly say much better than Dalton in that department, the Cowboys offense has begun to find its way. The Bengals' unit is still very much running through the success of the Dalton-A.J. Green connection.
The No. 18 Bengals passing defense will have to combat a sure-handed Jason Witten and Romo's plethora of receiving weapons. Cincy will also be fielding former Cowboy cornerback Terence Newman pending his health, which means Romo should be able to exploit his former teammate's weaknesses.
The Bengals offense could find itself between this time and Week 14, but even at full strength, it'll have trouble matching points with Dallas. The Cowboys have the superior defense and offense, which will translate to a win in this game.
Week 15: Vs. Pittsburgh Steelers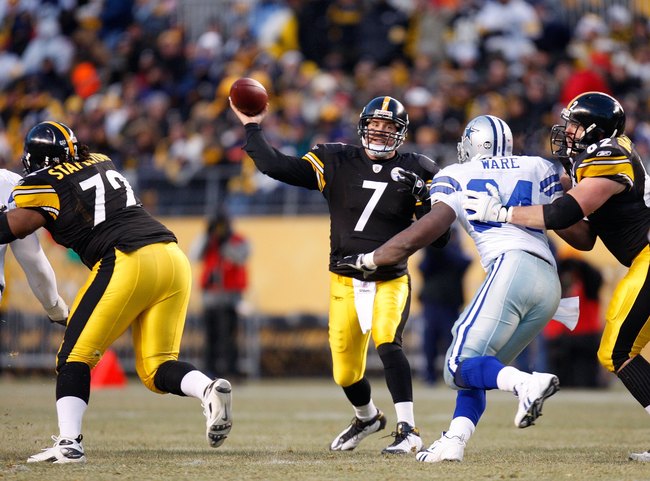 Gregory Shamus/Getty Images
Prediction: Steelers 23, Cowboys 17
The Cowboys may be able to win the first two December games, but their luck will change in the latter half of the month. The Steelers have discovered a new rusher in Jonathan Dwyer and will likely have their other backs healthy by this matchup.
The team will also have veteran quarterback Ben Roethlisberger and his collection of dynamic receivers on offense. Big Ben's unit is just as talented as the one Tony Romo has to offer, and the Steelers defense is just as good, if not better than, the Cowboys.
This Steelers team will be a tough challenge for Dallas, who has shown it can keep it close with the better teams its played this season.
Ultimately, this game is going to come down to a few key mistakes, and the Cowboys are the more mistake-prone and downright unlucky team this season.
Even in situations where it looks like Dallas will finally capture that big victory, the team finds a way to lose. The mismanaging of the clock against Baltimore and Dez Bryant's inability to stay inbounds on a Hail Mary against the Giants immediately come to mind.
Pittsburgh has won Super Bowls, while Dallas has been trying to live up to the smallest of expectations; the former is the more experienced club and is arguably the more complete.
Week 16: Vs. New Orleans Saints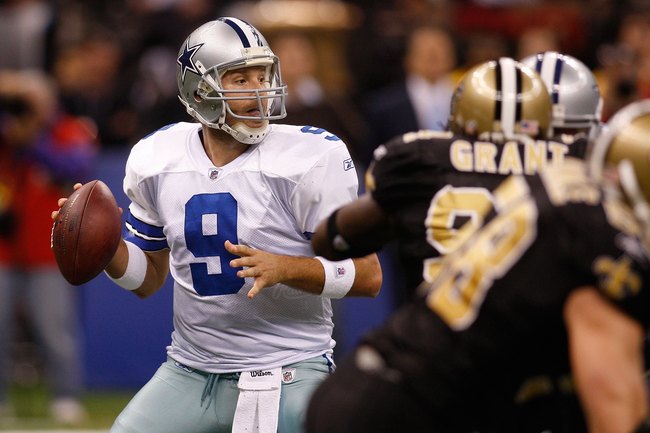 Chris Graythen/Getty Images
Prediction: Saints 31, Cowboys 28
Dallas will be at home for this contest, and the Saints could be well out of the playoff picture, but they'll play spoiler in Big D.
Drew Brees and the Saints offense have been their usual selves this season for the most part, but the defense has been their Achilles' heal in 2012.
New Orleans has scored 30 or more points in four of its seven games this season. Even when the team has scored under 20 points, it's won two of those three contests.
The Cowboys suffered a Thanksgiving Day loss to the Saints back in 2010 and will face similar heartbreak on the eve of Christmas Eve.
Even with Bounty Gate and the suspension of head coach Sean Payton, the Saints have never lost by more than one possession this season. The team may not have the record to reflect it, but the Saints have most certainly not laid down in a year where not much was expected from them.
Dallas will need its offense to live up to its potential in this one, which shouldn't be too difficult given the 30th-ranked passing D. Still, Brees has been able to crack open tough defenses in the past and should be able to do so against Rob Ryan's crew.
This will be a shootout down in Texas, but unfortunately for the home crowd, the Saints will channel their past winning ways and play Grinch to Dallas' playoff dreams.
Week 17: At Washington Redskins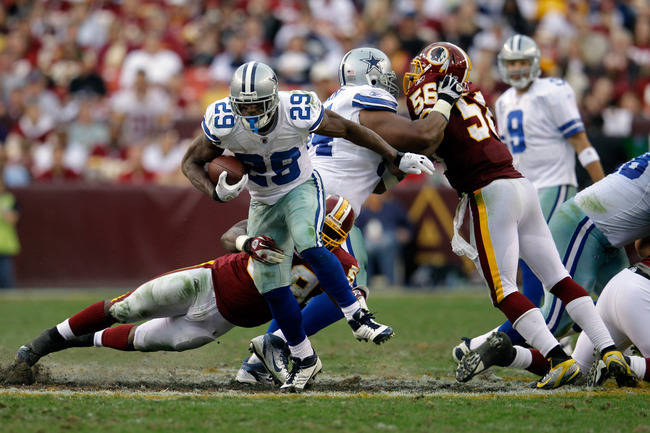 Rob Carr/Getty Images
Prediction: Cowboys 20, Redskins 14
The Redskins will suffer their second loss of the season to Dallas in the last week of 2012 regular season. By this time, Washington will be out of the playoff hunt and be looking towards next year, and playing football with no hope for the postseason can be demoralizing for a team.
Given that the Cowboys could be in this same boat in Week 17, a win on the road against their hated rivals would be a nice note to end the year on.
It's always difficult predicting matchups against NFC East rivals, but the Redskins are still in need of another full offseason to be true contenders in this division.
The Cowboys players could be playing to help their head coach keep his job, and there will be a great deal of pride on the line in this one. Expect Big D to come out, play with heart and put together one last win to end the regular season.
This game could easily go either way, but Dallas' defense will be too much for a developing Redskins offense, and the Cowboys have too much for Washington to handle defensively.
Keep Reading

Dallas Cowboys: Like this team?