Oakland Raiders vs. Kansas City Chiefs: Analysis and Post-Game Recap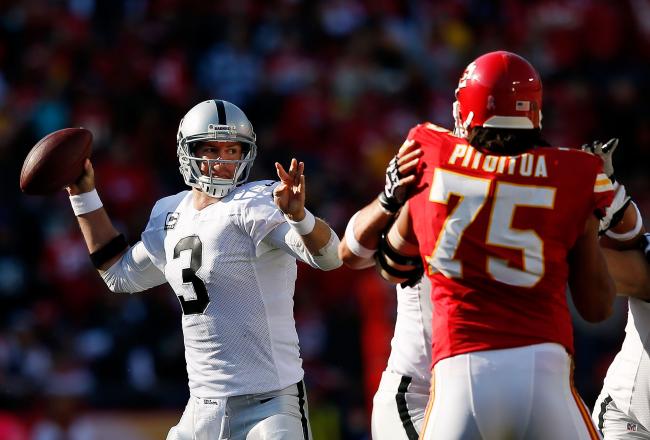 Jamie Squire/Getty Images
Final: Raiders 26, Chiefs 16
On Sunday, the Kansas City Chiefs' disappointing season snowballed into a sixth loss in seven games. The Oakland Raiders gashed the Chiefs defense with highlight-worthy plays throughout the game, and the Chiefs offense reeked with mediocrity.
A marriage of turnovers and inopportune penalties have evolved into open wounds for Kansas City, and Oakland doused them with salt.
Carson Palmer opened the contest with a poorly thrown interception, but the nine-year veteran mushed adversity and finished with a relatively decent stat line (14-28, 209 YDS, 2 TD, INT).
Brady Quinn left today's matchup with a head injury, and Matt Cassel operated effectively throughout the first half. However, a fumbled center-quarterback exchange was indicative of the offense's second-half (lack of) success. At certain points, Cassel (20-30, 218 YDS, TD, INT) provided the unit with a breath of new life, but the Raiders defense repeatedly countered by suffocating the opposition once it crossed midfield.
Darren McFadden looked revitalized in the second half and poured on 114 rushing yards before the final whistle. Denarius Moore helped relieve the pressure off of his running back by supplying 96 yards through the air.
The Oakland Raiders (3-4) will host the Tampa Bay Buccaneers (3-4) next Sunday. The Kansas City Chiefs (1-6) will travel out west to take on the San Diego Chargers (3-4) this Thursday night.
Season statistics provided by NFL.com. Box score provided by ESPN.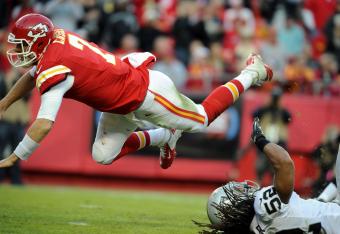 Final Thoughts
Two glaring distinctions emerged from Sunday's game: Kansas City is its own worst enemy (in terms of turnovers and penalties), and Oakland is a more fundamentally sound football team.
Kansas City was in position to share a tie heading into halftime, but Javier Arenas mishandled a punt which presented a golden opportunity—with a side of momentum—on a silver platter for Oakland. The Raiders pounced on it and never looked in the rearview mirror.
Oakland dictated the line of scrimmage and maintained gap discipline throughout the afternoon. Jamaal Charles was only handed the ball five times—four of which came in the first half—and repeatedly plowed head-first into a brick wall.
Kansas City's defensive line was continually dominated throughout the second half. Darren McFadden maneuvered through lanes and capitalized on his linemen's success.
Slowly but surely, Dennis Allen is steering the Raiders organization back on the path to success and righting the ship.
The opposite holds true for the Chiefs. There was no shortage of analysts picking this team to win the AFC West, but Kansas City's inexplicable knack for turnovers continues to haunt the club relentlessly.
The sweet music from the offseason has become a broken record of boos, and realistic aspirations have been unmasked as jokes.
April can't come soon enough in Kansas City.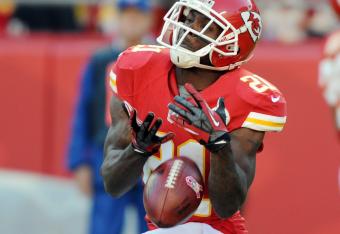 1:02, fourth quarter:
The CBS telecast just displayed a trivia tidbit: Kansas City is the only NFL team since 1940 to have never owned a lead throughout its first seven games.
There are statistics...and then there are statistics.
Wow.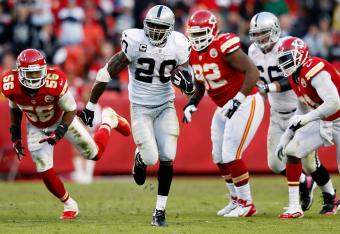 2:22, fourth quarter:
At halftime, Darren McFadden strutted out of the tunnel like a man possessed. He had a mission and has completed it throughout the second half.
McFadden was responsible for a measly total of 17 yards following the first two quarters of play. He just eclipsed the century mark (103) with his last carry.
5:00, fourth quarter:
The CBS play-by-play announcer, Kevin Harlan, just accidentally threw out a Brodie Croyle reference. Dating back to Trent Green, Kansas City's quarterback play has been so forgettable that the commentators are now jumbling the mediocrity.
He followed by saying, "I don't even know if Brodie Croyle is in football anymore."
Fitting. Croyle is only 29 years old and was Kansas City's starting quarterback just three seasons ago.
And for the record—no, he's not a member of the NFL any longer.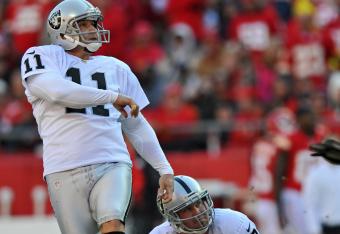 8:39, fourth quarter:
Unbelievable.
Janikowski misses a 37-yard field goal—something that occurs less often than (Tim) Tebow head-banging to Pantera—but Jalil Brown gives him an extra crack at it after committing an offsides penalty.
Kansas City is stubbornly loyal to its recipe of failure: turnovers and untimely penalties.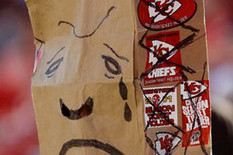 12:40, fourth quarter:
Kansas City's offense hasn't produced a touchdown in 34 consecutive possessions.
That kind of statistic inspires this kind of art (pictured right).
13:50, fourth quarter:
Yahoo! Sports tweeted an update regarding Brady Quinn's departure:
Chiefs QB Quinn sustains 'head injury' vs Raiders (Yahoo! Sports) yhoo.it/VVzKaH #NFL

— Yahoo! Sports NFL (@YahooSports_NFL) October 28, 2012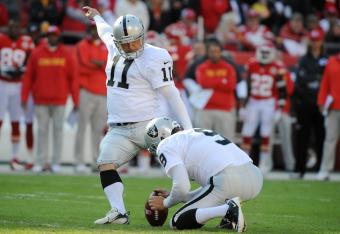 :22, third quarter:
Things are rapidly unraveling for the Chiefs.
If the fourth quarter's opening drive concludes with a third field goal by Janikowski, chalk another one up in Oakland's win column.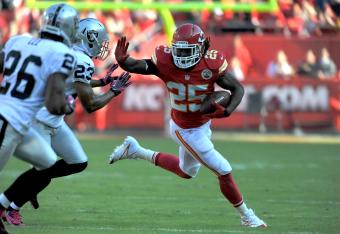 4:44, third quarter:
When Jamaal Charles isn't streaking down the sideline or creating blurs in the open field, the Chiefs offense is basically just a precursor for field goals.
Coming into today, Charles led the league by averaging 99 rushing yards per game. He now has racked up less yardage than attempts against Oakland.
Throughout the season, most of Kansas City's aerial touchdowns have occurred during garbage time.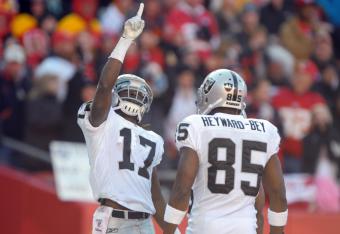 6:01, third quarter:
Oakland's wideouts are anything but conventional—it's a gift and a curse.
On this Sunday, it has proven to be a gift that keeps on giving. They're liable to drop a pass every once in awhile, but when the ball is in their hands, they're open-field magicians.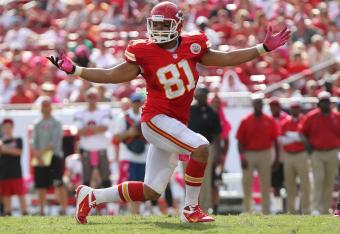 10:09, third quarter:
It has taken seven games, but Tony Moeaki has finally shown shades of the talented rookie from two seasons ago.
Steve Breaston has regressed to a non-factor this year—that dropped pass didn't help his cause.
12:33, third quarter:
The rapport between Ryan Lilja—who normally starts at guard—and Matt Cassel remains shaky.
Assign the blame whichever way that you want—there's no excuse for fumbling snaps at the rate that the Chiefs have this season.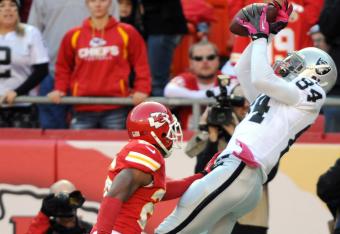 Halftime:
Oakland has swarmed Jamaal Charles, and the Chiefs' atrocious red-zone offense has reared its head again—Kansas City has only posted 10 touchdowns this season.
At times, Carson Palmer (9-17, 139 YDS, TD, INT) has looked methodical in dissecting the Chiefs secondary. The offensive line has kept Justin Houston and Tamba Hali at bay.
Cassel (7-10, 110 YDS) has effectively moved the offense into Raiders territory. However, at some point, Kansas City has to begin ending drives with exclamation points and stop resorting to its field-goal unit.
This tweet from Adam Teicher sums up the conversations echoing throughout Arrowhead at halftime:
For those wishing #Chiefs to get 1st draft pick, there's good news. Browns won, so list of 1-win teams down to Caro, Jax and probably KC

— Adam Teicher (@adamteicher) October 28, 2012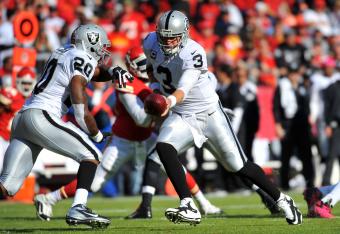 :27, second quarter:
Neither squad has sustained any success on the ground.
Darren McFadden has been held to 17 yards on 12 attempts, and Jamaal Charles has only managed six yards on four carries.
1:39, second quarter:
The normally sure-handed Javier Arenas muffed a punt deep in Kansas City territory.
Turnovers: same story, different chapter for the Chiefs.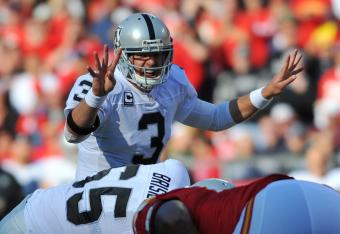 3:44, second quarter:
In 2012, Carson Palmer isn't the Pro Bowler from Cincinnati, but he looks infinitely better than he did last season.
The offseason allowed him to brush the rust off, and Palmer has taken full advantage of the opportunity.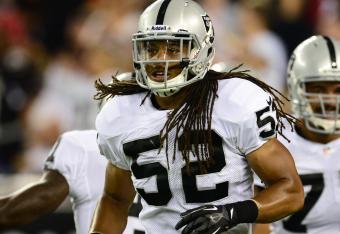 4:12, second quarter:
Oakland's front office struck gold with the offseason signing of Philip Wheeler.
The fifth-year linebacker has already forced two fumbles and defensed four passes this year. He just added his first sack.
6:33, second quarter:
Cassel deserves credit.
He lost his job amidst a flood of controversy, but a stagnant offense has progressed into a threat following his substitution.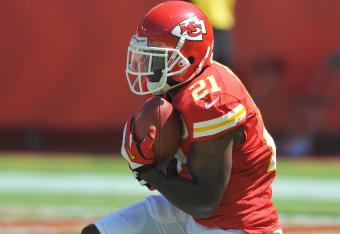 8:46, second quarter:
Javier Arenas has contributed a pair of nice punt returns today.
Although he's still looking for his first special teams touchdown as a pro, Arenas accounted for seven punt return touchdowns at Alabama.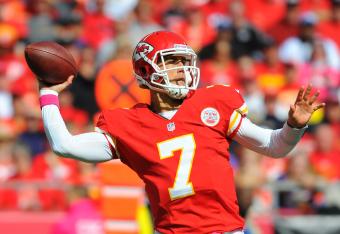 12:00, second quarter:
After deciding to start Quinn, Romeo Crennel was quoted as saying (Adam Teicher, The Kansas City Star), "I want (Quinn) to be the starting quarterback without having to look over his shoulder.'' The head coach elaborated, "There's going to be no quick hook or anything like that."
By the start of the second quarter, Matt Cassel was trotting onto the field.
14:23, second quarter:
Over the years, the Raiders have been criticized for placing a premium on speed when drafting wideouts.
Denarius Moore's game-breaking speed put the team in position for its first field goal, but his hands just cost Oakland a touchdown.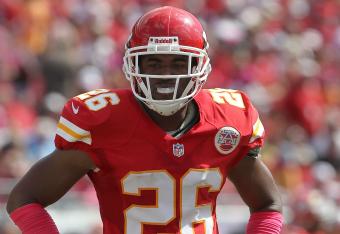 1:33, first quarter:
When Routt packed his bags for Kansas City, a lot of Raiders die-hards pointed out how penalty-prone the cornerback was.
They weren't lying.
Historically, the Chiefs have lined up aggressive, in-your-face defenders on the outside. Routt fits the bill, but he needs to tone it down a notch.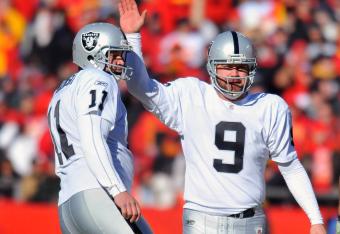 3:58, first quarter:
The game's still young, but it shows all the makings of the usual Raiders-Chiefs matchup.
In other words, a back-and-forth struggle that ends with a kicker waving his arms in the air.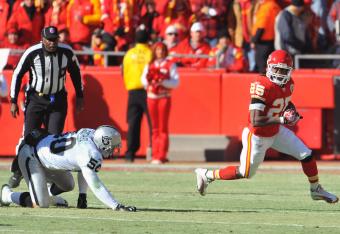 5:30, first quarter:
Jamaal Charles is public enemy number one in the eyes of Oakland's defense.
Charles is bound to break loose for a big play or two—it's like clockwork to him every Sunday—but the front seven will have to ensure that No. 25 doesn't chew up chunks of yardage on a regular basis.
So far, so good.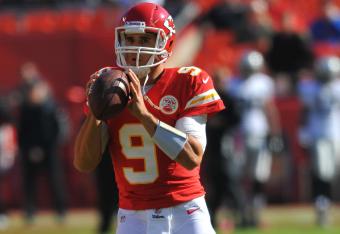 7:40, first quarter:
It will be intriguing to see how Brian Daboll calls this game. Matt Cassel's limited arm strength restrained the play-calling options.
Quinn's arm is more suited to take shots down the field via play-action.
This article is
What is the duplicate article?
Why is this article offensive?
Where is this article plagiarized from?
Why is this article poorly edited?

Kansas City Chiefs: Like this team?