Michigan Football: 10 Things We Learned from Wolverines' Loss to Nebraska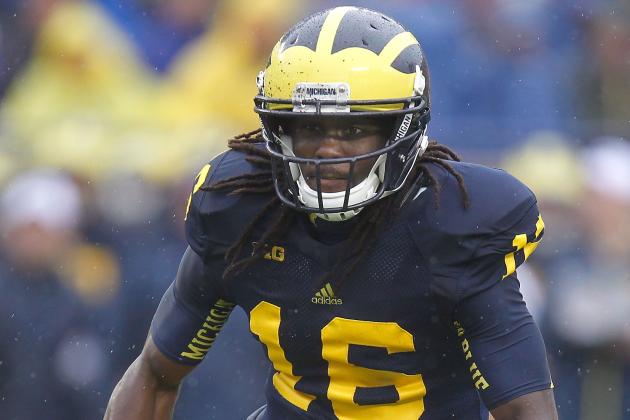 Gregory Shamus/Getty Images
Michigan's Denard Robinson is a game-changing player.
The Michigan Wolverines are a dangerous team when quarterback Denard Robinson unleashes his freakishly freaky athleticism.
However, the worst-case scenario for Michigan (5-2, 3-1) would be a Robinson injury—a scenario that played out Saturday night during a 23-9 road loss to the Nebraska Huskers (6-2, 3-1).
After leaving in the second quarter with reported nerve issues in his right elbow, Robinson never returned and Michigan was never the same.
Nebraska didn't need much from Taylor Martinez, though. He's the Huskers' most potent threat, but kicker Brett Maher kicked a career-high three field goals that equaled Michigan's point total.
Wait, the field goals equaled Brendan Gibbons' points total; he had three, too.
What did we learn about Michigan in the loss? Well, the lessons were pretty clear.
Begin Slideshow

»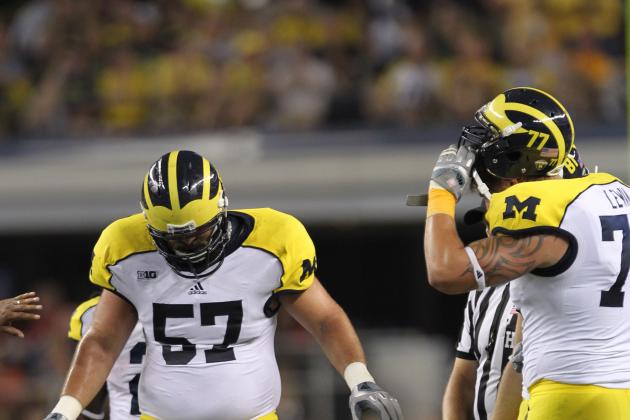 Matthew Emmons-US PRESSWIRE
Elliott Mealer (No. 57) showed his run-blocking prowess in the first quarter of Michigan's duel with Nebraska.
Whether it was apparent or not, Elliott Mealer proved that he's a pretty good blocker, evidenced by a great lower-body block on a Nebraska defender that allowed quarterback Denard Robinson to gain about five yards on a seemingly bound-for-negative-yards play in the first quarter.
Mealer's size makes him an asset. In order for Michigan to improve its running game this season, it'll need more blows like Mealer's first-quarter shot throughout the season.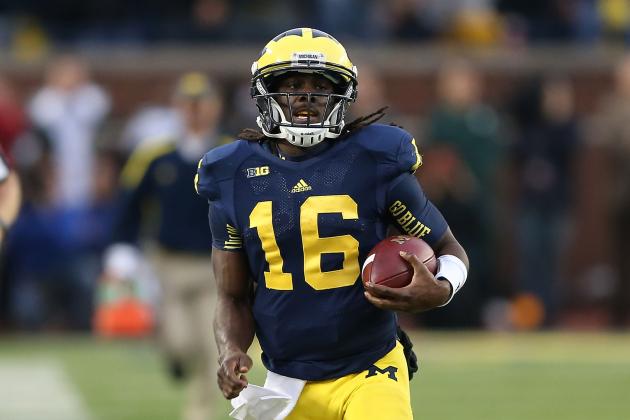 Leon Halip/Getty Images
Denard Robinson has improved his accuracy and throwing mechanics this season, despite the continued criticism of his arm.
Denard Robinson has routinely struggled to complete 50 percent of his passes. Even more distressing is the fact that he's not always entirely accurate when throwing the ball.
However, this season has been different for Robinson; he's actually thrown the ball quite well compared to previous years.
The Wolverines senior used a short-drop approach, most evident in the second quarter, when making throws. A flat-footed delivery serves Robinson well when he has the time to make the throw.
Sure, he's no deep-ball master, but the three-step drop, flat-footed toss worked well in the first half Saturday against Nebraska.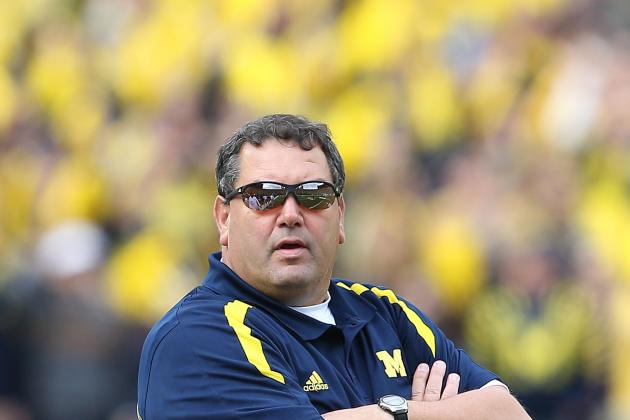 Leon Halip/Getty Images
Brady Hoke doesn't wear a headset. Alert the media!
OK.
We get it.
Michigan coach Brady Hoke doesn't like to wear a headset for whatever reason. But there are far more interesting things to discuss during games, like guys who make plays on the field.
Sure, it's a little out of the ordinary, but the talk of Hoke not wearing headgear gets tiring. Not sure if that's really something we "learned" after Saturday's game, but it's something that's been talked about to no end.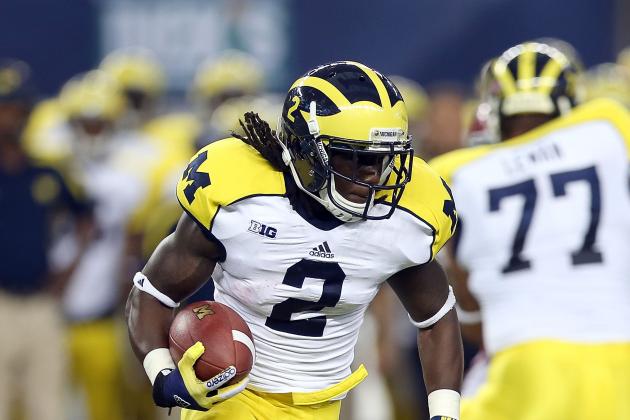 Ronald Martinez/Getty Images
Vincent Smith showed his good hands Saturday against Nebraska -- at least in the first half.
Vincent Smith hasn't seen a ton of action this season due to Michigan's switch to more of a power-run style, rather than last year's in-and-out spread look.
However, what Smith lacks in size (5'6", 175 pounds), he more than makes up for with speed and athleticism. Michigan quarterback Denard Robinson threw two screens to Smith in the first half. A 10-yarder resulted in a first down that appeared to have the Huskers defense confused and disoriented.
More screen passes to Smith might add another dimension to an otherwise one-trick-pony type of offense.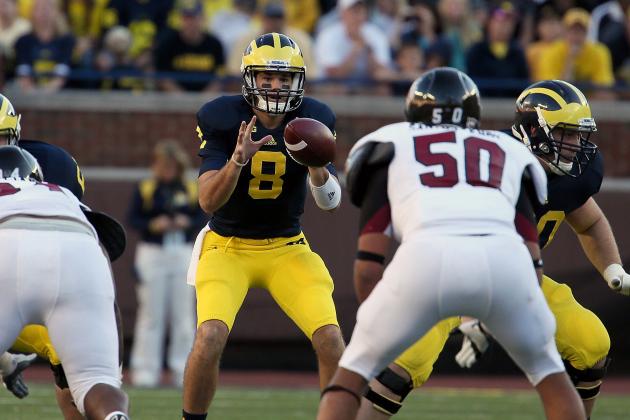 Dave Reginek/Getty Images
Russell Bellomy just isn't ready. Period.
This is a point I mentioned after the Alabama game, but redshirt quarterback Russell Bellomy needs a little more fine-tuning before he takes over the offense in Denard Robinson's absence.
Robinson left in the second quarter of Saturday's game with an apparent injury to his right elbow (nerves), giving way to Bellomy, who had just one prior completion to his credit.
Bellomy looked rushed, anxious and out of place. He couldn't deliver the ball on-target, nor could he escape pressure from the Huskers defense—a defense that allowed Bellomy to taste the turf at Memorial Stadium more than once.
The quarterback situation needs to be addressed if Robinson is to be sidelined for an extended period of time.
Bellomy isn't the answer.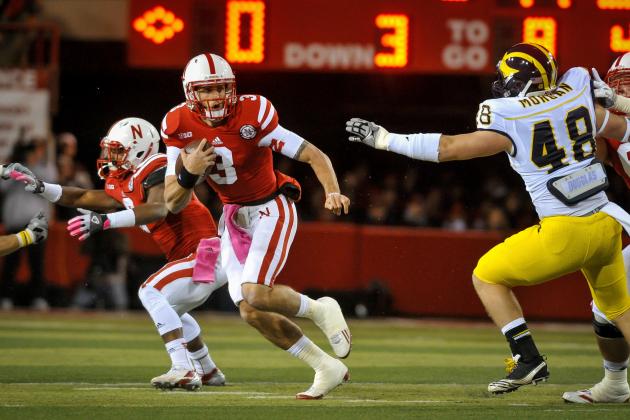 Eric Francis/Getty Images
Taylor Martinez ran for his life Saturday against Michigan, but he escaped more times than not.
After J.P. Smith's interception put Nebraska on the four-yard line in the third quarter, Huskers quarterback Taylor Martinez tried to rush for a touchdown, the keyword being "tried."
While he failed at his attempt, Martinez took yet another hard hit from the Wolverines defensive line. Martinez may not get enough credit for his strength. He was batted around by Jake Ryan and Will Campbell in the first half, but didn't appear to lose a step in the second half.
He's a tough kid who deserves a little respect.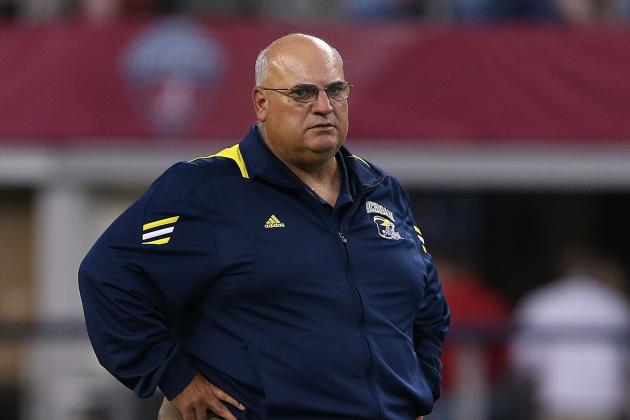 Leon Halip/Getty Images
What was going on, Al Borges? The use of Russell Bellomy was questionable, at best.
I've stated in past posts that I don't necessarily like singling out a coach for questionable play-calling. It appears "questionable," but the coaches know far more about football than we could ever imagine—that's why they're coaches.
However, I wasn't thrilled with the call made by Wolverines offensive coordinator Al Borges at the midpoint of the third quarter. The play had backup quarterback Russell Bellomy fake a hand-off, circle left and fire to Jeremy Gallon on the sideline.
Michigan was lucky that play didn't result in a pick-six. Devin Gardner has far more experience at quarterback than Bellomy. Why wasn't he put into action?
It was clear after the first series that Bellomy probably wouldn't take shots downfield; he was too busy running for cover. At least Gardner could have utilized his speed and 6'4", 205-pound frame to elude defenders.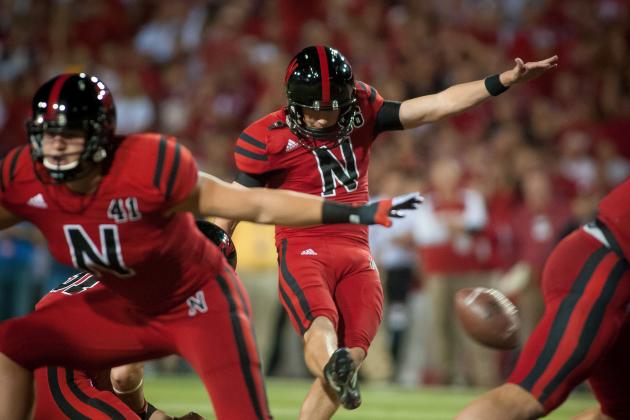 Eric Francis/Getty Images
Brett Maher's career-night helped Nebraska down Michigan.
When a field goal kicker can nearly decide a game, who needs a star quarterback?
That's meant to be taken as a joke, obviously, but Brett Maher almost single-handedly took care of Michigan after its quarterback, Denard Robinson, left the game with an injury.
It was all downhill from there for Michigan.
Maher's career-high field goals were a treat for a Nebraska, a cruel trick for Michigan.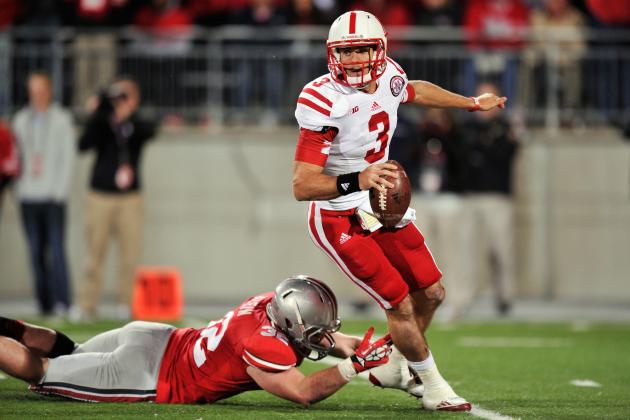 Jamie Sabau/Getty Images
Taylor Martinez didn't need to do a whole lot Saturday against Michigan (pictured here vs. Ohio State)
Taylor Martinez completed just nine of 23 passes during a 45-17 loss to Michigan in 2011.
That's a 39 percent conversion rate, for those counting at home.
While Brett Maher kicked his way to a record night, Martinez simply had to hold the offense together—an offense that didn't exactly capitalize on the absence of Denard Robinson. However, Martinez was effective enough to drive the ball downfield, which, in turn, set up Maher's field goals.
His 29-yard run in the fourth quarter set up a 12-yard, backbreaking touchdown run by Ameer Abdullah. That was it. Michigan was cooked.
Six one way, half a dozen the other. Martinez didn't have to control the game in order to have a say in its outcome. A 14-for-24 night was leaps and bounds better than 9-for-23.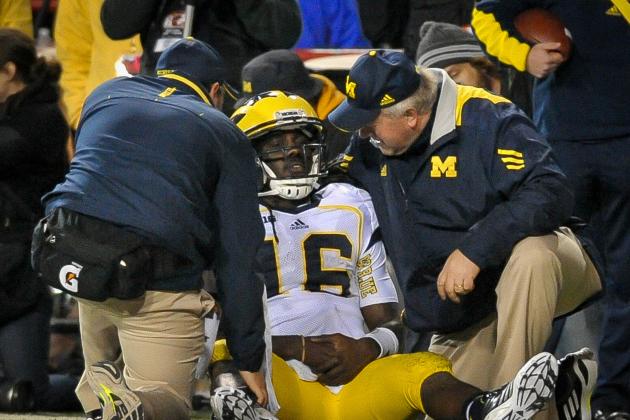 Eric Francis/Getty Images
Denard Robinson left in the second quarter -- Michigan was never the same.
Let's point out the obvious, just for the sake of covering all the bases and rehashing a fact that we all know to be true: Without Denard Robinson, the Michigan Wolverines go from a good team in an average conference, to a feeble offensive team with a pretty good defense that still plays in an average conference.
Kind of like Michigan State, in a sense.
If you're a Michigan fan, Saturday's loss to Nebraska was hard to watch. It would have been a much different game had Robinson not been injured, but that's the downside to having a one-dimensional offense that heavily relies on the contributions of one player.
Should we beat this point down further?
Na.
Let's end this show on a somewhat positive note.
Follow Bleacher Report's Michigan Wolverines football writer Adam Biggers on Twitter @AdamBiggers81