Michigan vs. Nebraska: Live Scores, Analysis and Results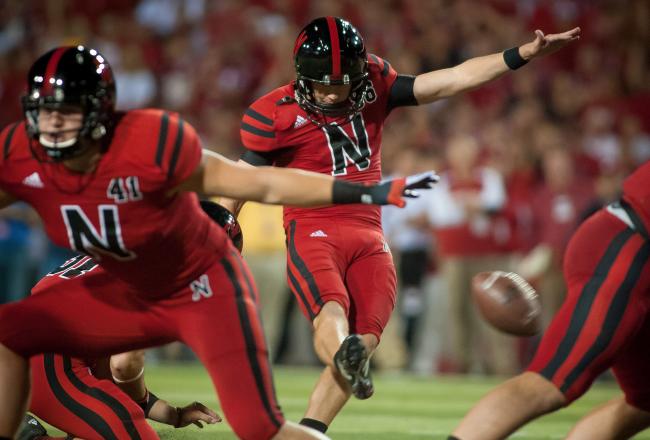 Brett Maher 9, Brendan Gibbons 9
Eric Francis/Getty Images
Nebraska 23, Michigan 9 — final

Without Denard Robinson, the Michigan Wolverines offense looks feeble and weak. However, a strong defense was the only thing that kept tonight's game from being a blowout, although it seemed like it when gauging momentum.
Credit goes to Nebraska kicker Brett Maher, whose career-high three field goals picked away -- three points at a time -- at Michigan tonight.
Be sure to check out my game lessons piece. If you watched the game in its entirety, you already know what we learned from Michigan's loss. And if you didn't watch it, you missed an impressive showing by Maher.
Have a safe weekend.
Follow Bleacher Report's Michigan Wolverines writer Adam Biggers on Twitter @AdamBiggers81
Score update: Nebraska 23, Michigan 9 -- final
Denard Robinson's absence most definitely left Michigan in the dark.
Let's see some victory formations. That's all. Nothing more to say, other than thanks for joining me tonight and making this live blog a huge success with over 4,000 hits and 25 comments.
Enjoy your weekend, and be sure to follow up by reading my follow-up piece. It'll be posted right after the game.
Bellomy has more completions to Nebraska than he does to Michigan.

— Chantel Jennings (@ChantelJennings)
Devin Funchess just can't catch a break. That's not all due to Russell Bellomy, though. He's essentially disappeared the past few weeks, but when he does emerge, he can't catch a ball.
And that interception seals it. Pack your bags, nothing more to see here.
Score update: Nebraska 23, Michigan 9
Taylor Martinez's 29-yard scamper set up a 12-yard touchdown run by Ameer Abdullah. This game is over. Michigan might as well twirl a white flag.
Another turnover will basically end any chance of Michigan coming back tonight. The Wolverines have no energy, other than on defense.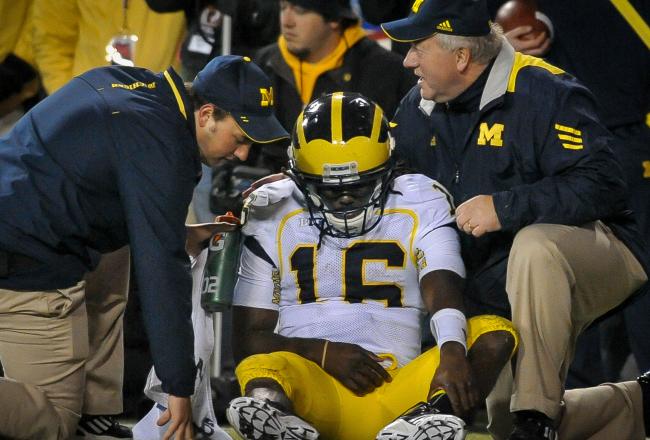 The fact that Michigan is holding Nebraska to field goals should be reassuring to Wolverines fans. While Michigan probably won't win this game, it doesn't mean it won't compete for a Legends Division/Big Ten title.
But a loss doesn't help.
Had Denard Robinson stayed in the game, this could very well be a game that Michigan controlled. Nebraska doesn't look too sharp on offense.
Score update: Nebraska 16, Michigan 9
Brendan Gibbons continues to be the offense with a 38-yarder. I'm not seeing a touchdown in the Wolverines' future unless some adjustments on offense are made.
At least Bellomy tried to take a shot downfield, but I don't understand why Michigan hasn't put in Devin Gardner; he's the closest thing to Denard Robinson -- and it's not like Bellomy is targeting him, so why not?
Scratching my head, here.
Score update: Nebraska 16, Michigan 6
Brett Maher has a career-high three field goals, his latest being a 31-yarder. With no offense to speak of, Michigan might lose this game because of Maher's right foot.
Other score: Maher 9, Michigan 6
JT Floyd knew it was either interfere or give up a touchdown; he was clearly beaten on that Taylor Martinez-to-Kenny Bell toss.
Michigan is sinking, and it's sinking fast.
According to ESPN announcers, Denard Robinson can't grip the ball due to nerve conditions in his elbow. The announcers aren't calling it an injury or nerve damage, so I wont' speculate. He can't play, that's the point.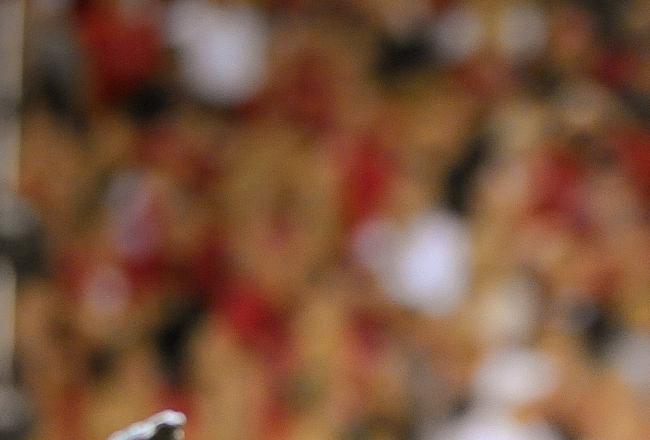 Score update: Nebraska 13, Michigan 6
Brett Maher's 51-yard field goal has all but shattered Michigan's confidence -- at least from my view point.
The Wolverines look scared on offense. This could get ugly if Michigan doesn't do something about Russell Bellomy.
Whatever that was, it was something that Michigan should never do again with Russell Bellomy under-center. He barely knows the offense, keep it simple and stay away from trickery.
Score update: Nebraska 10, Michigan 6
Nebraska likely wanted a touchdown after J.P. Smith's touchdown that put the Huskers on the five-yard line. Taylor Martinez tried to sneak in the end zone, but the drive ended with a 19-yard field goal courtesy of Brett Maher.
Still no word on Denard Robinson's status.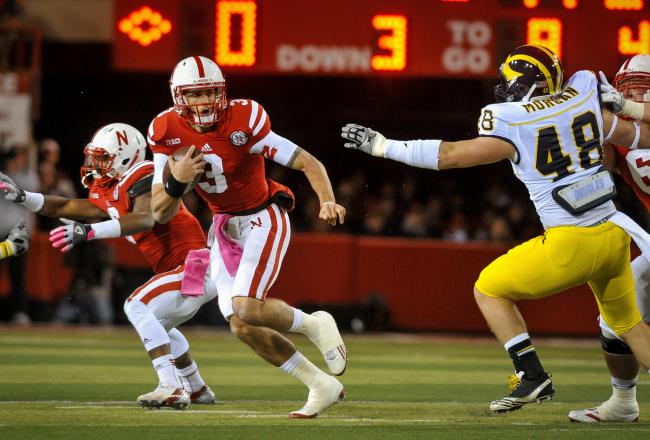 You have to give Nebraska's Taylor Martinez a little credit for taking that hit. Sure, he welcomed it by trying to rush in a touchdown, but he's been getting nailed all night -- keeps on ticking.
He should make watches after college if football doesn't work out to his liking.
At least Russell Bellomy tried to redeem himself on that interception. I said he should target Vincent Smith, but not on actual downfield routes, on screen passes.
Time for Devin Gardner at quarterback. That's all there is to it.
Michigan will need Jake Ryan and the defense to take over -- that's one of the only ways the Wolverines win this game without Denard Robinson. Ryan has consistently pressured Nebraska quarterback Taylor Martinez.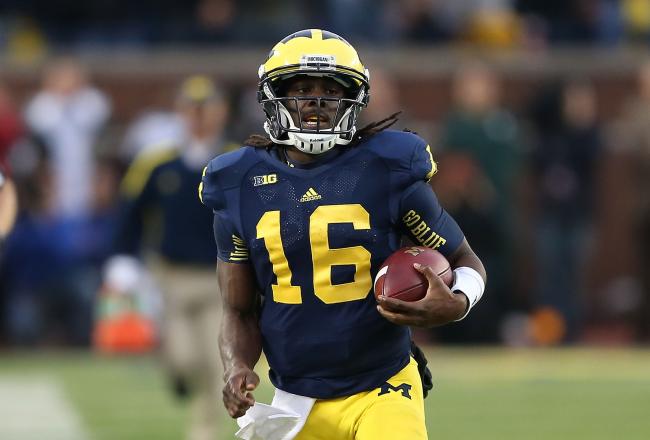 Halftime thoughts:
If Michigan back-up quarterback Russell Bellomy plays in the second half, he has to get comfortable and not force the ball into windows that he just can't hit.
Screen passes to Vincent Smith might be Michigan's best bet -- they worked OK with Denard Robinson in the game (one went for 10 yards and a first down, the other had potential but was stalled).
Nebraska's defense could take over the game with continued pressure on Bellomy, forcing offensive desperation moves on the part of the Wolverines.
Score update: Nebraska 7, Michigan 6
After a defensive struggle, both offenses found a way to get points -- Nebraska's Kenny Bell scored on a 32-yard touchdown pass from Taylor Martinez, while Michigan kicker Brendan Gibbons has two field goals, including a career-long 52-yarder.
Hoke on Denard: "He'll be alright..."
Hoke on Bellomy: "He's a good quarterback," when asked about his confidence in the redshirt freshman.
Who is Russell Bellomy throwing the ball to? He does know the guys in white jerseys are on his team, right? I hate to be hard on the kid, but he's just not cutting it.
What a huge forced fumble by the Michigan defense. Will it stand? The ball looked like it popped out while Taylor Martinez was turned into a pretzel (announcers used pretzel analogy as I typed this! But I'm not changing the reference).
Tough call -- the fumble, not the call to keep the pretzel analogy.
Score update: Nebraska 7, Michigan 6
A pair of Brendan Gibbons field goals are all that Michigan has at this point. His latest was a 24-yarder, which followed a career-long 52-yarder earlier in the second quarter.
Michigan quarterback Denard Robinson needs to return or the offense will cease to exist.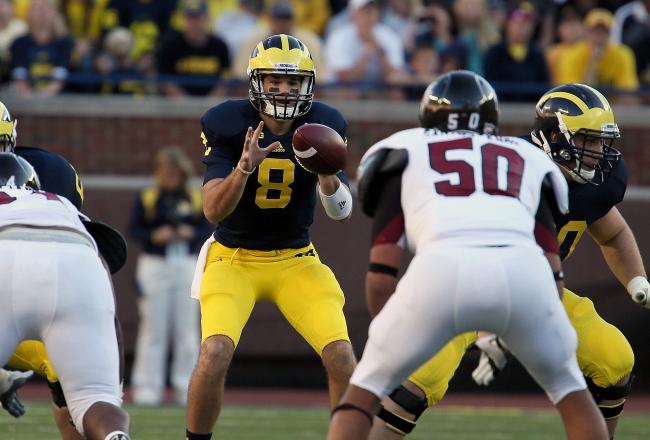 Devin Funchess' first drop probably wasn't his fault. Neither was his second. Had Russell Bellomy placed the ball in front of Funchess, Michigan would have six more points. Bellomy just doesn't look comfortable in these situations; he's basically killing time until Denard Robinson feels fit to return.
Bad news for Michigan: Denard Robinson is grabbing his right hand after being taken down -- the same hand he banged-up against Michigan State.
If Robinson leaves the game, Michigan's chances of winning dramatically decrease.
This article is
What is the duplicate article?
Why is this article offensive?
Where is this article plagiarized from?
Why is this article poorly edited?