New York Yankees: Backup Closer Options If Mariano Rivera Retires This Winter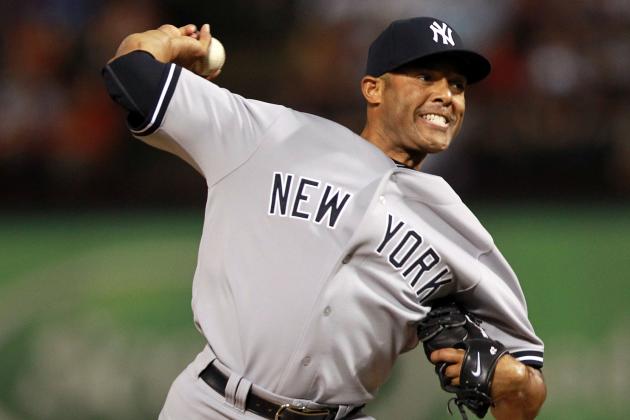 Ronald Martinez/Getty Images

In 2012, the New York Yankees were without the services of Mariano Rivera for most of the year.
Now, heading into 2013, they may be faced with the realization of finding his replacement.
Andrew Marchand of ESPN reported that he talked to Yankees GM Brian Cashman and he does not know whether or not his closer will return to the mound for one more season.
The soon-to-be 43-year-old tore his ACL while shagging fly balls back on May 4 at Kauffman Stadium in Kansas City and left a gaping hole in the back of the Yankees' bullpen.
Rafael Soriano was able to fill in and pitched well, saving 42 games, but Soriano is expected to opt out of his contract soon to become a free agent.
So, if Soriano opts out and Rivera retires, then Cashman needs to find a replacement, which is easier said than done.
How do you replace the greatest closer not only in Yankees history, but in all of baseball?
I really don't know if you can ever replace what Rivera truly brought to the Yankees, but if he in fact retires this winter, then they need to scramble to find the next closer.
Here are a few options that Cashman could look into for the closer role.
Begin Slideshow

»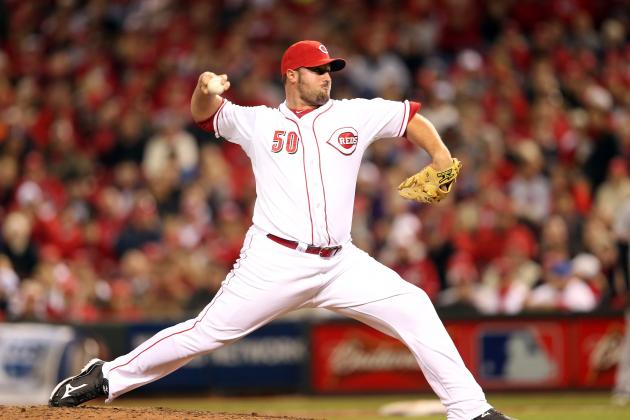 Andy Lyons/Getty Images

Originally, Jonathan Broxton had signed in 2012 to be the setup man for Joakim Soria.
But when Soria was injured, it put Broxton into the closer's role, and he did a terrific job.
With the Royals, Broxton was 1-2 with a 2.27 ERA, saving 23 games before he was dealt on July 31 to the Cincinnati Reds.
With the Reds, Broxton went used as the bridge to get to Aroldis Chapman. In 25 appearances, Broxton went 3-3 with a 2.82 ERA with four saves.
As a free agent again, Broxton has re-established himself as a top reliever who can be a closer again in the big leagues.
Last season, he made $4 million on a "prove yourself" type season, so he could get a better deal in 2013.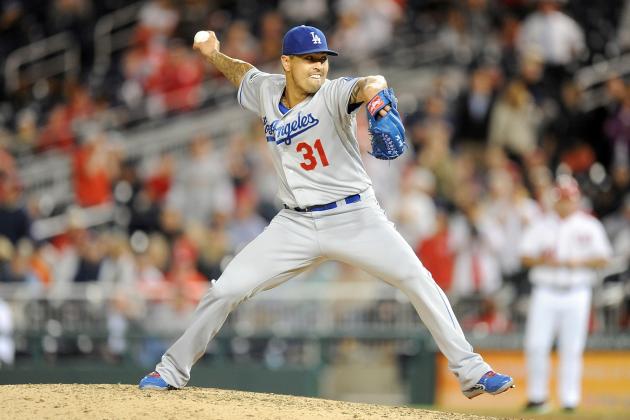 Greg Fiume/Getty Images

In 2011, Brandon League was an All-Star closer, saving 37 games for the Seattle Mariners.
However, in 2012, League only saved nine and the team went with Tom Wilhemsen as the closer over League, which meant League was trade bait.
League got dealt at the deadline to the Los Angeles Dodgers, but he wasn't traded to be the closer, as the Dodgers had found their new closer in Kenley Jansen.
League still posted solid numbers pitching out of the Dodgers bullpen; a 2-1 record with a 2.30 ERA and six saves in 28 appearances.
He's not a premier name on the market; in fact, I think he's one of the more underrated closers out there who could get a decent deal from a team looking for a fresh face as their closer.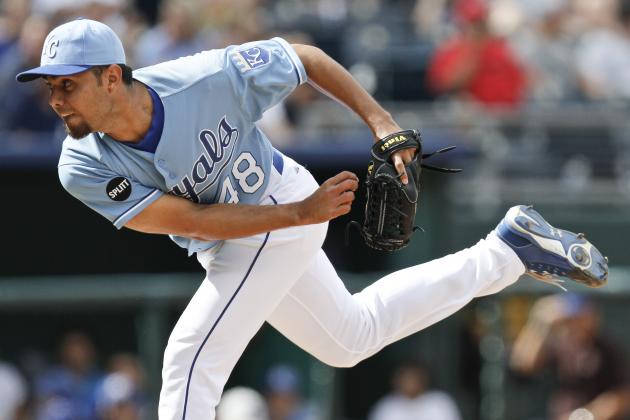 Ed Zurga/Getty Images

Joakim Soria could be looking for the "prove yourself" type deal in 2013.
The Royals' closer underwent Tommy John Surgery on April 3 to repair a damaged UCL in his elbow, which prompted them to use Jonathan Broxton as the temporary closer.
The Royals have an $8 million team option with a $750,000 buyout on Soria, and given his injury, I think the Royals will decline the option and make him a free agent.
With Kansas City, Soria had 160 saves in five seasons and was headed for a big pay-day before the surgery.
I could see Soria getting a one-year deal with an option from a team who is weary of the injury, yet in need of a closer.
If so, the Yankees could benefit from that if they want to land Soria to be the closer.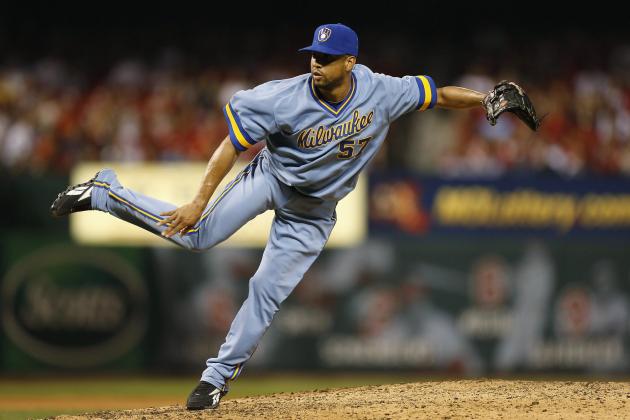 Paul Nordmann/Getty Images

This one is a stretch, but he has been a closer in New York before.
Before he got traded to be the setup man for the Milwaukee Brewers, Francisco Rodriguez was the closer for the New York Mets.
In the 2.5 years he was in Queens, K-Rod had 83 saves with a 3.05 ERA and was an All Star in 2009 before falling out of favor with the organization and was dealt in July of 2011 to Milwaukee.
In the year and a half he was in Milwaukee, he was John Axford's setup man and really didn't get too many chances to close games.
He won't earn anywhere near the $12 million like he did when he was the Mets closer and I don't even know if he'll get the $8 million he got in 2012.
Could he still close games? I think so, but what team is willing to give him that chance?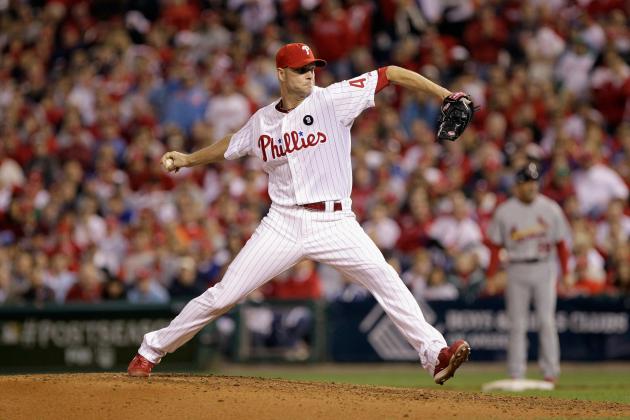 Rob Carr/Getty Images

Ryan Madson's situation is very similar to the one Joakim Soria is in.
Madson tore a ligament in his right elbow, which required Tommy John Surgery and forced him to miss the entire 2012 season.
The former Phillies closer signed a one-year deal for $8.5 million, but his injury made the team go with Aroldis Chapman as the closer, so there's likely no chance the Reds bring him back for 2013, especially with the $11 million option.
In his last season in the majors back in 2011 with Philadelphia, Madson went 4-2 with a 2.37 ERA with 32 saves.
Now, he'll likely be a free agent again once the Reds decline his option and he'll attempt to get a "prove me" deal for 2013.
In all honesty, he could benefit from being a setup man to build back his credibility and could be trade bait come July, but if a team wants a cheap closer with a lot to prove, Madson could be their guy.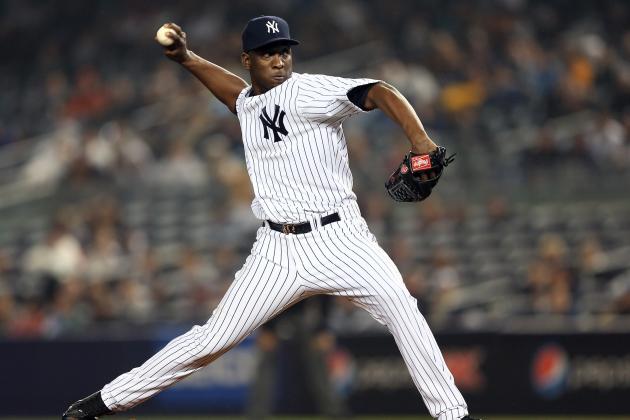 Elsa/Getty Images

Who better to replace the long-time than the Yankees closer from 2012.
Soriano was brilliant filling in for Mariano Rivera, as he went 2-1 with a 2.26 ERA with 42 saves and proved that he can close on the big stage.
We all know that he is likely opting out of his deal to test the free agent market one last time, as it was announced late last week.
But what if Rivera retires? Then the Yankees can actually bring back Soriano and make him the permanent closer.
Soriano still has a $14 million option for 2013 that he doesn't have to decline and he can still stick with the Yankees for another season.
But with Rivera's status up in the air, Soriano has three days after the World Series to opt out, which I think he'll do.
With all of the other options I have presented, if in fact Rivera retires, Soriano is likely the best option.
However, if Rivera does announce his retirement, will Soriano still be on the market if that happens?
Stay tuned, Yankees Universe.