10 Players Who Must Step Up for the Denver Broncos to Earn a Playoff Berth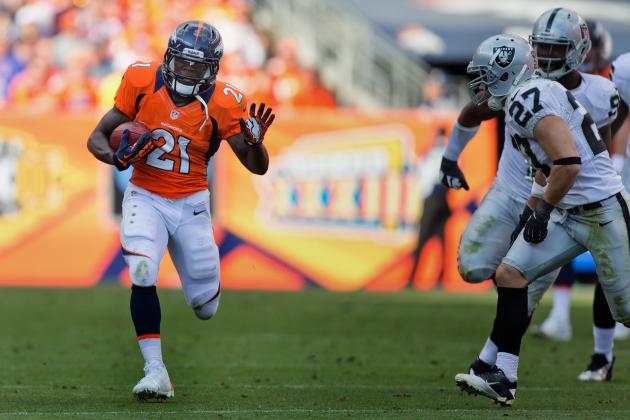 Justin Edmonds/Getty Images

Coming off their bye week, the Denver Broncos sit at 3-3 on the 2012 season and are preparing for a Sunday night home game with the New Orleans Saints.
While a dramatic come-from-behind victory over the San Diego Chargers on Monday Night Football may have turned around the Broncos' season, there is still work to do in order to get into the playoffs.
Here is a look at 10 players that need to step up and help the team achieve that goal.
Begin Slideshow

»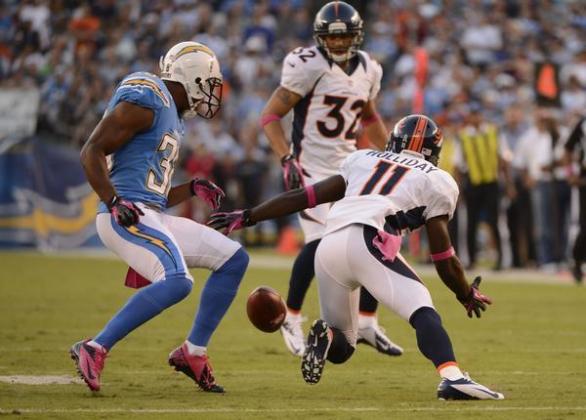 Photo courtesy of denverpost.com
Eventually, the Broncos have to get something out of the kick-return game. It is the most glaring weakness the team has, and that was never more evident than in the first half against San Diego.
The team brought in Trindon Holliday specifically for that reason. He was cut by the Texans due to ball security issues, but his talent was evidenced by the three kicks he brought back in the preseason.
If he can protect the ball, he is the type of player who could give the Broncos a huge spark in the return game, and at some point this season, he needs to.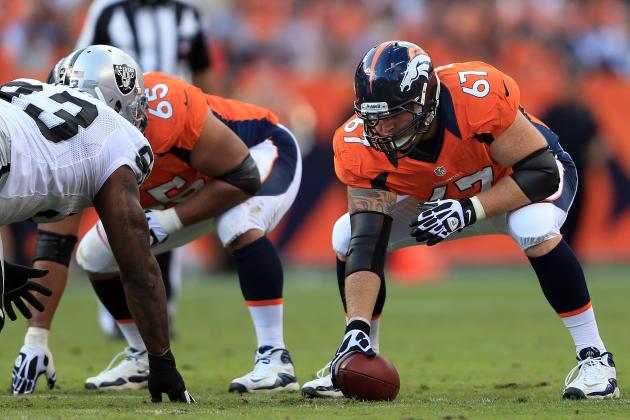 Doug Pensinger/Getty Images

The Broncos brought in Dan Koppen after the season opener, and that has proven to be a very good move.
Koppen spent nine seasons as part of a very good offensive line in New England and was thrust into the starting role when J.D. Walton went down in Week 4 with a broken ankle and will miss the rest of the year.
Koppen has done a good job so far and will need to continue to do so. Luckily, he has the experience of snapping the ball to one of the game's best quarterbacks in the past.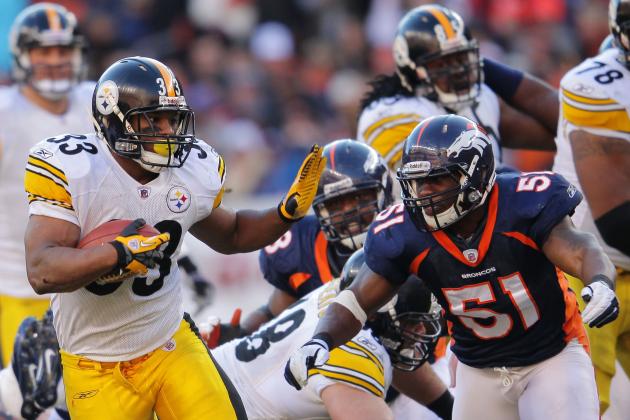 Doug Pensinger/Getty Images

Joe Mays has had a turbulent season so far.
Coming off a year in which he had 75 tackles, a lot was expected of the middle linebacker. But after this hit on Texans quarterback Matt Schaub in Week 3, Mays was suspended for one game and fined $50,000.
On top of that, he has now lost his starting position to Keith Brooking. However, Head Coach John Fox insists that the team "hasn't given up" on Mays and that he remains in the team's future plans.
Brooking has been a good player for a long time, but he will be 37 years old next Tuesday and he is not an every-down player. The team will need Mays to make plays in big spots over the course of the rest of the season.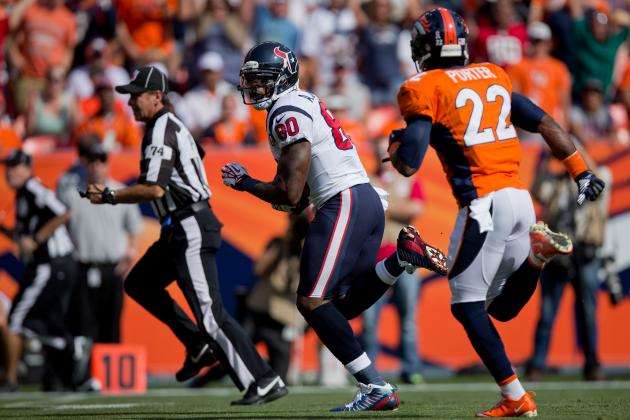 Justin Edmonds/Getty Images

Tracy Porter was one of the Broncos' big free-agent acquisitions this offseason, and when he returned an interception 43 yards for a touchdown in Week 1 against Pittsburgh, it appeared to be a great move.
But the Broncos have been burned by a lot of deep balls this season, mainly in the game against Houston.
With Champ Bailey on the other side of the field, teams are going to challenge Porter. He needs to be up to the task.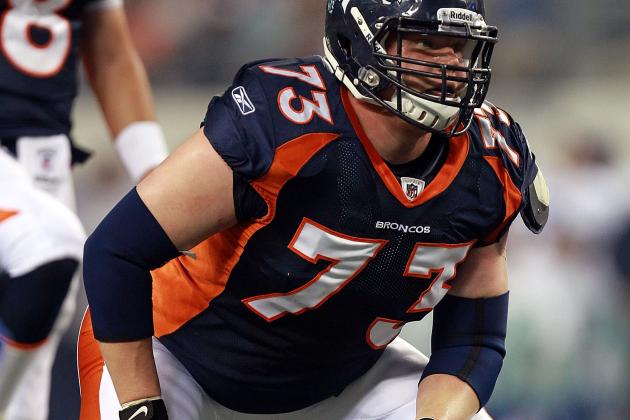 Ronald Martinez/Getty Images

Chris Kuper suffered a horrendous injury in the regular season finale against Kansas City last year and missed the first four games of this season.
He is now back in his starting role and needs to solidify his status as one of the games best guards and open holes for the running game to get going.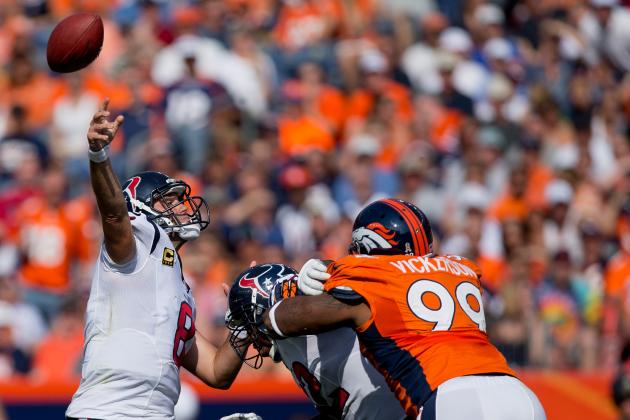 Justin Edmonds/Getty Images

The Broncos have one of the better outside pass rushes in the league with Elvis Dumervil, Von Miller and the emergence of rookie Derek Wolfe. It's the interior of the defensive line that needs to step up.
Vickerson is in his third year as a Bronco, and if he can be the main run-stopper and get a push into the backfield to pressure the quarterback here and there, it will make the defense very scary.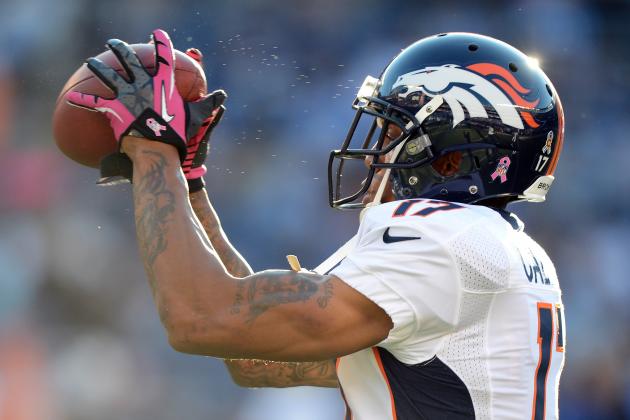 Harry How/Getty Images

Andre Caldwell was a great role player in Cincinnati. Halfway into his first season in Denver, he's been relatively non-existent.
His 2012 statline: one carry for 14 yards, zero receptions.
Peyton Manning has many weapons to throw to, but it wouldn't hurt to have another guy to make defenses focus on.
It's hard to imagine that Caldwell will be that guy, at least for this season.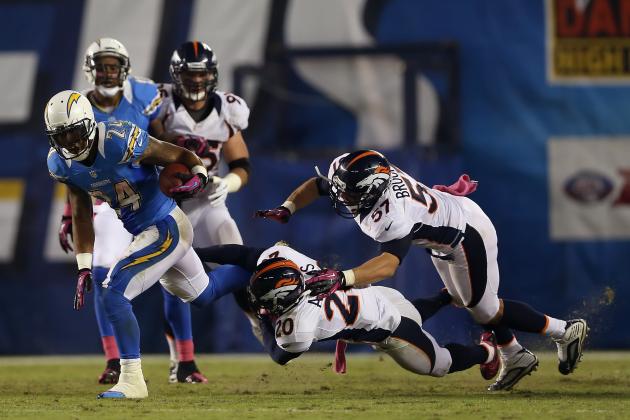 Jeff Gross/Getty Images

Keith Brooking is making the most of the opportunity he is getting in Denver.
After playing for 14 seasons for the Falcons and Cowboys, he wasn't even on the team until August.
Since then, he has gained the confidence of the coaching staff, so much so that he has supplanted Joe Mays as the team's starting linebacker.
He has 22 tackles and a forced fumble on the season, but he will need to continue to make big plays and, most importantly, be a defensive leader for the team.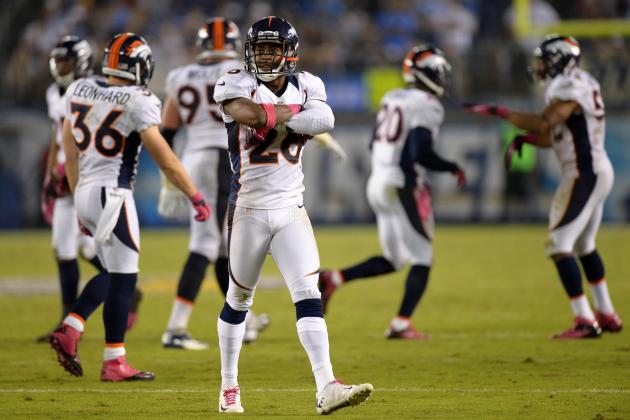 Jake Roth-US PRESSWIRE

Rahim Moore was a bit of a disappointment in 2011 after being drafted in the second round. But this year, he has shown signs of becoming a great player.
His 40 tackles are already more than he had all of last season and are third on the team. With fellow second-year safety Quinton Carter placed on injured reserve, it will be on Moore to team with Mike Adams or shore up the Denver secondary.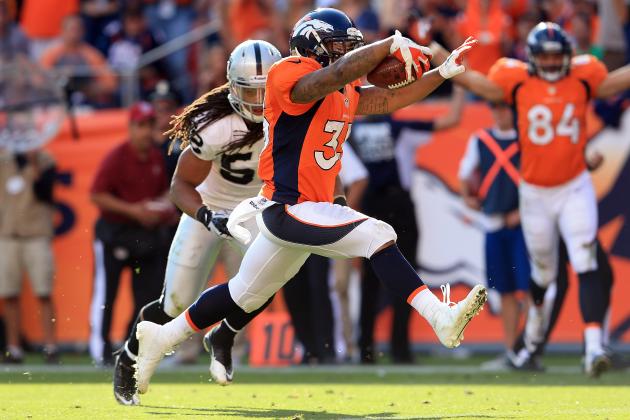 Doug Pensinger/Getty Images

Whether it be Lance Ball, Ronnie Hillman or heck, even Knowshon Moreno, the Broncos need to have someone other than Willis McGahee make plays out of the backfield.
Aside from McGahee, Broncos running backs have combined for 110 yards rushing this season and just one touchdown. Lately they have been trying to integrate Hillman into the system, but he has just 50 yards rushing on 17 carries, a 2.9 yard average.
Moreno has been inactive for the last four games, which is not a good sign for his future.
Right now, Ball seems to be the most capable of the backups, but he is averaging a mere 2.6 yards a carry. He does, however, have a receiving touchdown on the year.
Regardless of who it is, one of these guys needs to step up and complement McGahee and keep opposing defenses on their heels.