3 Players Who Must Step Up for the Washington Redskins to Earn a Playoff Berth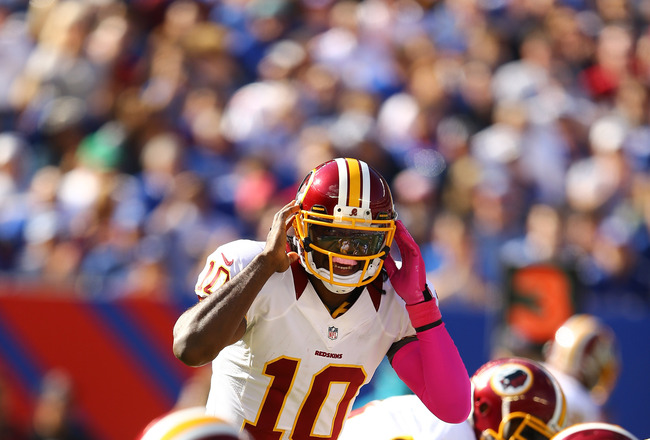 Al Bello/Getty Images
The Washington Redskins have reached the tipping point for this season and will shape their future these next few weeks. After a 3-4 start, the Redskins have shown flashes of greatness and complete failure. In order to reach the postseason, key players will need step up in the second half of the season.
Under rookie sensation Robert Griffin III, the Redskins offense has transformed into a dynamic attack that can score at any moment. The late drive against the Giants capped off by a Santana Moss touchdown is a perfect example of the offense's prowess. Despite all of RG3's talents, he will not be able to carry this team entirely; help needs to come in the form of other players.
If the Santana Moss touchdown is an example of the offense's new-found power, the following Victor Cruz touchdown is an honest depiction of the defense. Jim Haslett's defense, and particularly the secondary, have been a complete letdown so far. Currently, the Redskins pass defense ranks as the worst secondary in all of football.
Here we will focus on three key players who need to step up and increase their production. The Redskins have been riddled with injuries but these players will need to contribute if there are any hopes for the Burgundy & Gold to reach the playoffs.
Madieu Williams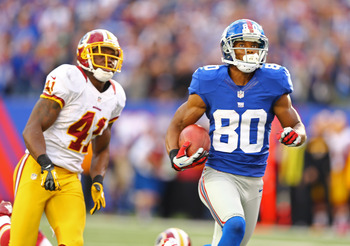 Al Bello/Getty Images
Madieu Williams needs to step up for the secondary, and this picture really says it all. Coming in to Sunday's game, Williams was the most consistent player in the Redskins' secondary, but this mistake cost them a win.
It is hard to know exactly who to blame for Cruz's touchdown without more information. Was this a blown assignment by Williams, or a poor coverage call by Haslett? Clearly, Josh Wilson lost Cruz right from the snap, but the question comes about over the top help.
Through seven games Williams is third on the team with 49 tackles and one interception (returned for a TD). Despite these numbers, the secondary has continued to look porous, giving up 328 pass yards/game.
At this point people know what to expect from Wilson and Hall at corner: good but not great. Improvements to this unit will need to come from the safeties. If this secondary is to rise from the dumpster, Williams will need to improve his consistency and become the reliable coverage player that is so desperately needed.
Tyler Polumbus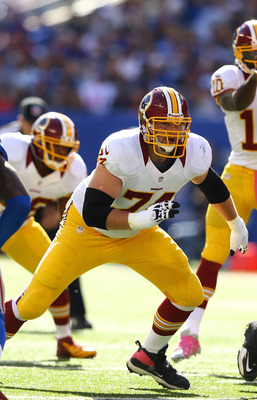 Al Bello/Getty Images
Tyler Polumbus is the biggest liability on the offensive line currently, and it's not close. Polumbus routinely gets mauled and beaten by pass-rushers. With many games against elite pass-rush defenses remaining on the schedule, Polumbus needs to rise to the occasion.
Heading into the second half of the season, the Redskins will need to face meat of their schedule. Six games against elite pass rush teams remain (Steelers, Eagles twice, Cowboys twice, Giants). With some of the NFL's best coming after RG3 (D. Ware, Harrison and JPP to name a few), Polumbus will certainly have is hands full.
The offensive line, as a whole, has surpassed expectations this year particularly in the run game. However, RG3 continually finds himself under pressure, and the right side is to blame.
Polumbus was not expected to be starting at right tackle for the Washington Redskins, but Jammal Brown's early injury forced him into action. With Brown not expected to come back until November, Polumbus needs to improve immediately. If Polumbus can provide a solid pocket along with Trent Williams, there is no telling how many plays RG3 can make and how far this team can go.
Pierre Garcon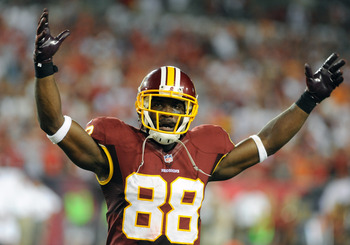 Al Messerschmidt/Getty Images
Pierre Garcon showcased his abilities in the Redskins offense Week 1 against the Saints. Since then, he has not been heard from, and it may be time to put out an Amber Alert. Garcon is missing, and fans are concerned or more likely frustrated.
Garcon was the monster free-agent acquisition this past offseason, signing a five-year, $42.5 million contract. However, Garcon has failed to live up to the billing this year, sitting out a majority of games with a nagging foot injury. The Redskins cannot get Garcon back fast enough, and hopefully this injury does not linger much longer.
The Redskins lost their leading receiver for the year on Sunday in Fred Davis. Chris Cooley has been brought back to replace Davis, but it is hard to now exactly what his role will be in this offense. Garcon needs to return to action and bring the receiving unit back to full strength.
Garcon was brought in to be the deep, No. 1 threat for the Redskins on offense. Leonard Hankerson and Aldrick Robinson have not shown themselves to be reliable deep threats, and the losses are beginning to pile up. If the Redskins hope to make a run at the playoffs this season, Pierre Garcon needs to step up and return to his electric Week 1 form.
Keep Reading

Washington Redskins: Like this team?