The San Francisco 49ers (5-2) will be looking to take a commanding lead in the NFC West when they face off with the Arizona Cardinals (4-3) on Monday Night Football. The teams split their two meetings last season.
While the 49ers still have a chance to run away with the division as expected, it hasn't happened yet. They are searching for the consistency that allowed them to become one of the league's elite teams last year, especially on defense.
It's a turning point game for the Cardinals. After a tremendous start, which featured victories over the New England Patriots and Philadelphia Eagles, they have faded quickly. If they don't end their three-game losing streak on Monday, the season will spiral out of control.
So there's clearly a lot on the line as the division rivals face off. Let's take a glance at all the vital information for the clash followed by some things to watch in the final game of Week 8.
Which team will pick up the key NFC West win?
Where: University of Phoenix Stadium in Glendale, Ariz.
When: Monday, Oct. 29 at 8:30 p.m. ET
Watch: ESPN
Listen: KNBR 680 AM (San Francisco) or KTAR 620 AM (Arizona)
Live Stream: WatchESPN.com
Betting Line: 49ers -6.5 (Vegas Insider)
Injury Report (via CBS Sports)
49ers: Mario Manningham (questionable, shoulder)
Cardinals: Beanie Wells (out, toe), Ryan Williams (out, shoulder), Kevin Kolb (out, ribs), Todd Heap (questionable, knee) and Kerry Rhodes (questionable, back)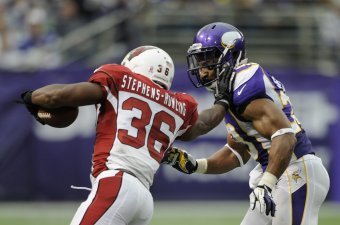 Hannah Foslien/Getty Images
What's At Stake?
Most importantly, the NFC West lead. Even though the season is only approaching the midway point, teams are already starting to jockey for playoff positions and the 49ers don't want the division race to stay close longer than it has to.
If Arizona can pull off the upset on Monday, it will not only give the team a tiebreaker edge but it should provide the fading squad with the boost of confidence it desperately needs. The Cardinals need to prove to themselves they can hang with the 49ers.
The other thing San Francisco is keeping an eye on is the race for a bye in the NFC. The Atlanta Falcons have the early lead for the top seed, but the second position is wide open. These are the type of games the 49ers must win to claim it.
Fantasy Player to Watch: Frank Gore
Gore has once again established himself as an elite fantasy running back. He's scored at least 13 fantasy points in all but two games, including an 18-point performance last week against a normally stout Seattle Seahawks defense.
The Cardinals represent a much easier matchup. Arizona's giving up more than 120 yards per game on the ground and have allowed opposing rushers to run wild in each of the past two weeks, which is one of the main reasons for the team's struggles.
Even though Gore isn't one of the most exciting options because he lacks big-play ability, he's certainly one of the most reliable. He should put together another solid performance this week. Perhaps even his first 20-point game of the season.
What They're Saying
49ers tight end Vernon Davis has watched his role in the offense dip over the past two weeks, leading to some frustration from the star, according to Eric Branch of the San Francisco Chronicle.
"I'm competitive," Davis said of his frustration. "I don't let that affect me. I don't let that affect the team. That's just something for myself. It's a good thing that I'm that way because it shows that I'm a competitive guy. If we win, then I'm all for it. I'm excited, man. I'll walk around here all day with a smile on my face."
Bob McManaman of the Arizona Republic reports the Cardinals have a firm understanding of how important this week's game will be. Offensive lineman Daryn Colledge summed it up well.
"This is going to be the eighth game of the year, we've got a chance to take the division lead and have the tiebreakers, and either we decide that this is the time for us to step up or we decide it's time for us to step down and make excuses."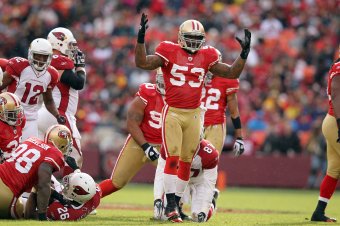 Ezra Shaw/Getty Images
49ers Key Player: NaVorro Bowman
Fellow insider linebacker Patrick Willis normally receives most of the attention, but Bowman has proven to be just as important to the success of the 49ers defense. The 2010 third-round pick has steadily developed into one of the unit's key cogs.
His numbers are actually slightly better than Willis' so far this season. He's already racked up 67 tackles, nine more than his superstar teammate. With those two manning the middle, it's no surprise the 49ers are giving up less than 100 yards per game on the ground.
The Cardinals had success running the ball last week with LaRod Stephens-Howling, who gained nearly 150 total yards. San Francisco, and more specifically Bowman and Willis, should be prepared for him to get a lot of touches again.
How many times will Skelton get sacked?
Cardinals Key Player: John Skelton
Skelton faces an uphill battle every week because the Cardinals offensive line is a disaster. It has allowed 35 sacks in seven games, including seven in Skelton's return to the starting lineup against the Minnesota Vikings.
Things aren't going to get any easier against the 49ers. Having seen what other teams have done, San Francisco will be in attack mode from the very first possession and that will likely lead to a lot of hits on the Cardinals quarterback.
He was able to pick himself up off the turf last week to throw for 262 yards and a touchdown. A similar performance will be necessary on Monday if Arizona has any chance to pick up the victory, It's definitely a long shot.
Prediction
49ers 21, Cardinals 10