Who Wears the Crown: Who Is the Cardinals Best Player at the Midseason Mark?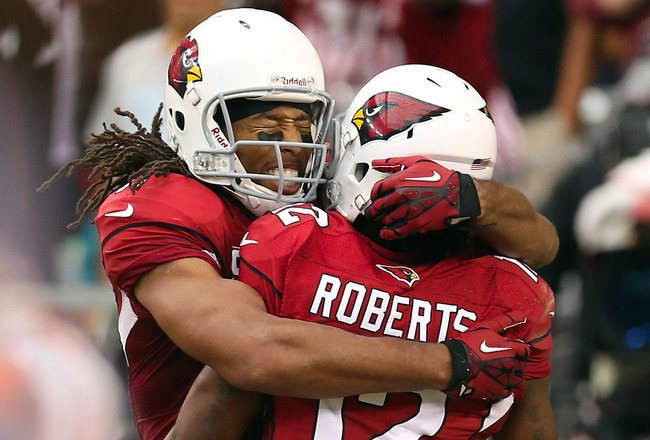 Christian Petersen/Getty Images
It is hard to believe that we are already almost half way through the NFL season. Most teams have played seven games so far and the pretenders and contenders are becoming more clear.
The Arizona Cardinals have put their fans through another crazy roller coaster ride. They have beat some of the best teams in the league, but have also kept it close and even lost to some of the worst.
This time last year the Cardinals were in a position to tank for Andrew Luck, but now they sit above .500 at 4-3.
Even though they have hit a rough patch in their season, this speaks volumes about how far this team has come in 12 months.
While it is a team sport, there are a handful of individual performances that should be looked at.
As we approach the middle of the season, it is time to recognize the players that have given Arizona a chance to win week in and week out.
Without the following five players, this team certainly wouldn't be in the position they are right now.
Highlighted over the next few slides are the five best players on the Arizona Cardinals at the midseason mark.
5. Adrian Wilson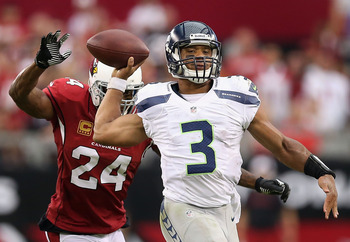 Christian Petersen/Getty Images
33-year-old safety Adrian Wilson is showing no signs of slowing down. He did miss a game in Week 3 due to injury, but has been stellar since then.
In just six games, Wilson has been all over the field, recording 26 tackles, a sack, an interception and a forced fumble.
While he is not the same guy he was back in 2005, he is still a great defender and has helped out the young corners a ton.
Wilson is proving week in and week out that he still has what it takes to be an elite safety.
4. Andre Roberts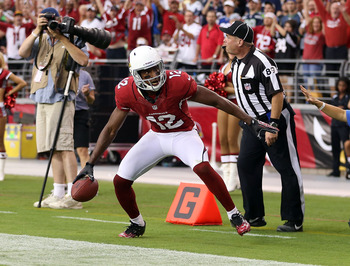 Christian Petersen/Getty Images
One of the biggest surprises this season has been the emergence of Andre Roberts. A lot of people were ready to trade him after the Cardinals drafted Michael Floyd.
At the time it made sense. Arizona still had a couple of pieces missing and with Floyd, either Roberts or Early Doucet was expendable.
Fast forward a few months and he is leading the team with five touchdown receptions. He is also second behind Larry Fitzgerald in receptions and receiving yards.
For an offense that has really struggled this season, it is great to see a guy like Andre Roberts step up. If he can keep this up, then his fantasy value and trade value will skyrocket heading into 2013.
3. Patrick Peterson
Dilip Vishwanat/Getty Images
From special teams star to shut down corner, Patrick Peterson has made quite the transition since entering the NFL last season.
His biggest area of concern heading into 2012 was his skill at the cornerback spot and he has certainly done his job so far.
Peterson has 21 tackles, eight pass defenses and three interceptions so far this season. All three of those picks were very clutch. Two came in the endzone and one was a diving catch that got Tom Brady and the New England Patriots off the field early.
Does he still have a couple of flaws in his game? Sure, but he has made some very timely plays this season and is still a huge threat on special teams.
2. Larry Fitzgerald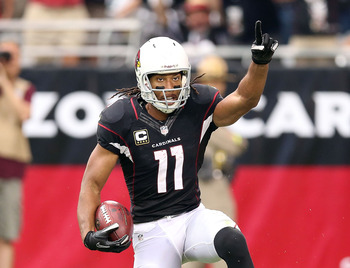 Christian Petersen/Getty Images
The first and quite possibly the only positive thing that comes to mind when people think of the Arizona Cardinals is Larry Fitzgerald.
Fitzgerald has spent his entire career with the Cardinals, breaking several NFL and franchise records. This season he became the youngest player to catch 700 passes and he also passed the 10,000 receiving yard plateau.
Despite being surrounded by subpar play, Fitz is on pace for over 90 catches this season. Even when he is not putting up numbers, he is still a big part of the offense.
Even though there are some players who may have better numbers than him, Fitzgerald is a game changer. He always finds a way to get involved and is worth every penny of his $120 million contract.
1. Daryl Washington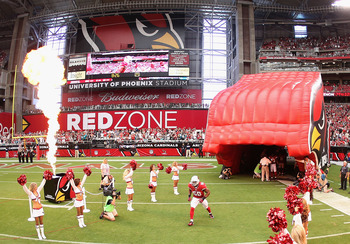 Christian Petersen/Getty Images
Many people outside of Arizona and some reading this article will be very surprised that Larry Fitzgerald is not at No. 1.
Although it was very tough to put someone ahead of Fitzgerald, Daryl Washington has stole the show this season.
The third year linebacker is the leader of a defense that is seven in yards per game and fourth in points per game.
In just seven weeks, Washington has already surpassed his sack total from last season. He has six on the year to go along with 62 tackles and two forced fumbles.
There was a lot of hype surrounding the 26-year-old heading into the season, but very few expected him to play this well.
Washington is playing at an All-Pro level. If he continues to play the way he has been, you could argue that he is one of the best at his position.
Keep Reading

Arizona Cardinals: Like this team?