Why OKC Shouldn't Worry About Harden's Deal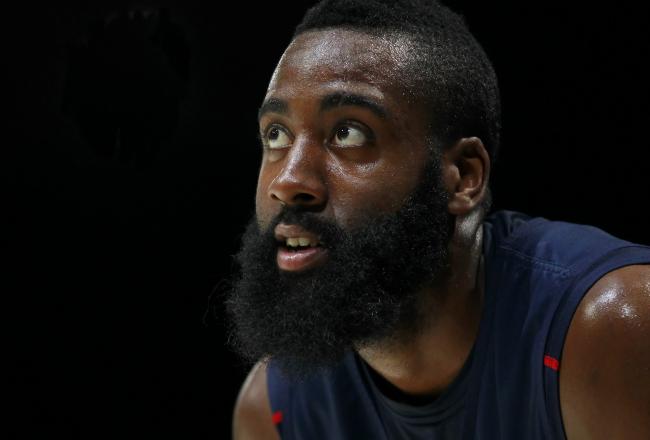 Geoff Burke-US PRESSWIRE
A lot has been written about James Harden and his possible extension with the Oklahoma City Thunder. The question is whether the Thunder can afford to extend him without going too far over the luxury tax threshold.
The financial information is already out there. If OKC amnesties Kendrick Perkins after the season, and gives Harden his expected annual salary in the $14-15 million range, then the Thunder will be around or over the luxury tax threshold for the foreseeable future.
So is it worthwhile for OKC to retain Harden, and is it really necessary? There is more to this question than meets the eye...perhaps.
The argument to keep Harden in Oklahoma City for the long term is rather easy to understand. It goes like this: The Thunder could annually have nine players on their roster making league minimum salaries—and still be among the favorites to win the championship every year. That is providing that their four stars stay together.
This seems undeniable.
Thunder management needs to fully accept this favorable reality, if they haven't already. Harden is not actually the potential financial problem, the rest of the roster is.
Every other player outside the four stars needs to be paid very little for the Thunder not to be seriously over the tax threshold. Fortunately for OKC, they are in a position to do this.
The Thunder have no large contracts outside of their stars, with the exception of Perkins. If he is amnestied, the only other significant contracts to worry about in '13-14 are Thabo Sefolosha ($3.9 million) and Nick Collison ($2.6 million.) These are serviceable, inexpensive players the Thunder would like to keep. But it seems vastly more important they keep Harden, even if it means trading Sefolosha or Collison during this season.
The most logical course of action for the Thunder would be to do everything necessary to retain Harden, and still stay away from a significant luxury tax payment in the coming years. If that means trading Sefolosha or Collison for expiring contracts in '12-13, so be it.
There is, however, a counter argument to this sound plan, and it has little to do with the luxury tax.
Usually in the NBA, it is a team's two or three best players that ultimately matter in winning a championship. That is what it really comes down to. The value of having a fourth exceptional player is if one of the other three star players is hurt, or playing terribly, the fourth player can pretty easily fill their place.
Having four great players is usually better than three, because it can provide a team with a level of insurance. It is not necessarily required, though, and it is not always advantageous.
When you have four star players, at least one of them will be somewhat marginalized, and unable to maximize their talent. This can cause problems, both on and off the court. The risk a star-laden team must deal with is the chance that not every exceptional player will be content with their role, and the team will suffer from this problem.
On these grounds, we can legitimately argue whether the Thunder need Harden going forward. Kevin Durant, Russell Westbrook and Serge Ibaka might be enough star power for the Thunder, especially as they evolve playing together.
We need to point out that serious chemistry problems between the four best players in OKC seems unlikely. However, team dynamics can change dramatically over the course of a few seasons. While not giving Harden an extension for basketball reasons seems unorthodox, there is some validity in that argument.
Stepping back into the present situation, Harden's current value to the Thunder is already proven. He has been phenomenal for them. If things change, the Thunder can always trade him away, or trade another of their stars.
This is why, in the end, we have to believe the Thunder will sign Harden, and if they don't that they are probably making a mistake. This is especially true if they end up going far over the tax threshold in the future by signing players worse than Harden.
Strangely, in the NBA, seemingly obvious decisions are sometimes the hardest to make.
It seems clear the young star core of the Thunder is too good to mess with. The abundant star power correspondingly means the rest of the roster does not ever need to be a significant concern. Cheap, decent veteran help and young draft picks will be glad to play for the Thunder at low salaries. In turn, that keeps luxury tax penalties against the Thunder relatively minor.
If Harden does not sign an extension with the Thunder, something seems off. Perhaps we can just blame the luxury tax. But the real culprit would probably be over-thinking a problem that has a rather obvious solution.
This article is
What is the duplicate article?
Why is this article offensive?
Where is this article plagiarized from?
Why is this article poorly edited?

Oklahoma City Thunder: Like this team?