Dispelling Major Myths About Blake Griffin Heading into the 2012-13 NBA Season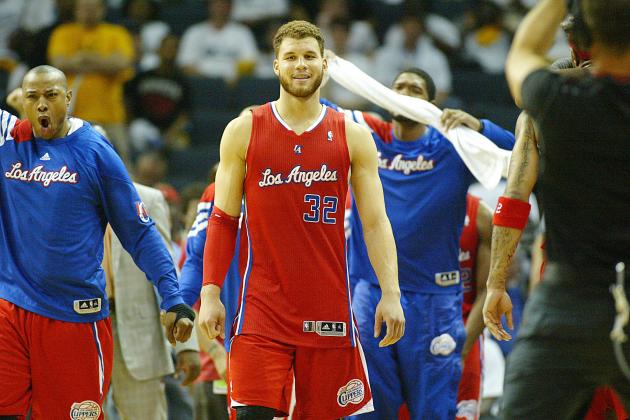 Spruce Derden-US PRESSWIRE

Blake Griffin has become one of the most misunderstood players in the NBA over the course of his very short career.
In just three years, Griffin has been a top pick in the NBA draft out of Oklahoma, sat out a season, been named Rookie of the Year, won over basketball fans for his YouTube-worthy highlights and then become one of the most hated superstars in the league.
That's an impressive list of achievements for a player with only two seasons under his belt, and it leaves the arc of his career impossible to truly predict.
His flopping, entitled attitude and limitations have made the once endearing dunk machine into a player who constantly draws criticism. As a result, a number of myths about his game have developed.
But are they all myths?
To find out, I've narrowed down the opinions about Blake's game to five main myths. I'll go through each of them in detail then give my own verdict at the end, revealing whether the prevailing opinion is a myth or a fact.
If you disagree, feel free to start some debates in the comment section. Before clicking on, though, I must urge you to free your mind and challenge yourself to think differently than you may be accustomed to thinking.
As sports fans, we often fall into the dangerous trap of groupthink. An opinion can propagate just through sheer volume. If enough people say it, then it must be true. Right?
Don't be afraid to challenge conventions. The traditional opinion is not always the correct one, and the majority opinion falls into the same category.
Now that I'm done with my soapbox, let's move on to the topic at hand: the misunderstood Staples Center resident.
Begin Slideshow

»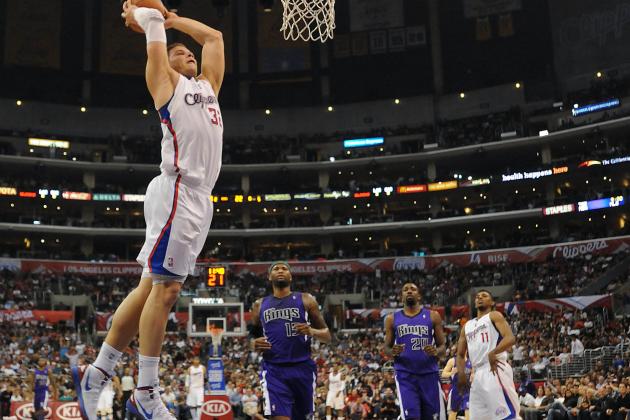 Jayne Kamin-Oncea-US PRESSWIRE

The biggest prevailing myth surrounding the Los Angeles Clippers power forward seems to be that he can only score on dunks. If the ball doesn't leave his hand after one or more of his fingers make contact with the rim, the rock obviously isn't going to find the bottom of the net.
Now if this was true, Griffin would have needed a ridiculous 684 dunks during the 2011-12 season to account for his 1,368 points over the course of 66 games.
Griffin had "only" 192 dunks on the season, thereby accounting for just 5.82 of Griffin's 20.7 points per game. Boom. Myth disproved.
Now, I'm well aware that I just destroyed a straw man, because any rational person would agree that Griffin's doesn't only score via the dunk. Instead, they think that dunking is the only strong part of Griffin's scoring repertoire. That's the real myth here.
Fortunately for Griffin, it's also one that can be rendered untrue if you look at the evidence.
According to Hoopdata.com, Griffin shot 36.9 percent from 16 to 23 feet during the 2011-12 campaign on 3.9 attempts per game. Over the lockout-shortened season, the league average was slightly higher, coming in at 38.2 percent, but the league did so on 1.8 attempts per contest.
At this stage of his young career, Griffin doesn't excel from mid-range, but he's by no means incompetent.
Then there's his post game. Blake still needs to add a number of moves, but his spin move is already terrific. In fact, "terrific" might be selling it short. When this power forward goes into whirling-dervish mode, he's sensational.
Everyone knows that it's coming, and he still manages to successfully pull off the move. When he adds different techniques to his arsenal, he's going to be truly deadly. And seeing as he's only 23 years old, there's still plenty of time for Griffin to do so.
This power forward isn't exceptional in any area of the scoring game except for dunking, but he still proves proficient in some of the other aspects. I'm not trying to say that Griffin is a complete scorer—not by any stretch of the imagination—but he isn't solely limited to dunking when the ball is in his hands.
Verdict: Myth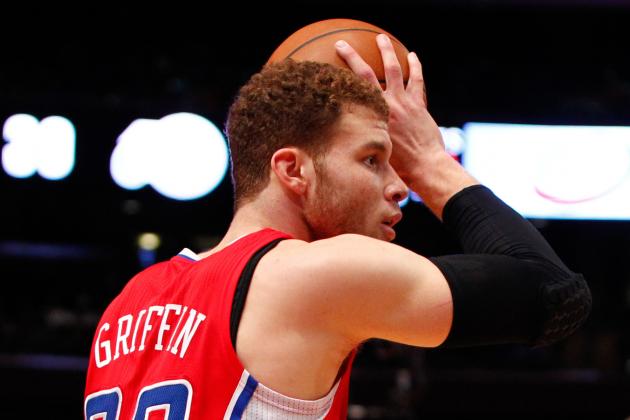 Debby Wong-US PRESSWIRE

We started out with a myth in this breakdown of Blake Griffin's game, but here's one that's certainly got some factual basis.
When Griffin gets the ball on the blocks, he's quite adept at hitting open teammates either if they're cutting to the basket or he's surrounded by two defenders. The power forward has surprisingly impressive ball skills, capable of both dribbling the ball well enough to fool defensive players and passing it well enough to average 3.5 assists per game over the first two years of his career.
Griffin is particularly effective when he kicks the ball out to three-point shooters, as evidenced by his 105 assists that resulted in triples during the 2011-12 campaign, according to 82games.com.
He does tend to get too aggressive when trying to hit teammates though. While he does rack up the dimes—for a big man at least—he also generates quite a few passing turnovers, 53 in fact during his sophomore campaign.
Griffin could stand to simmer down when he has the ball in his hands and simply kick it back to Chris Paul or one of the other primary ball handlers on the Los Angeles Clippers, but there shouldn't be any doubt that he is indeed a capable passer.
Verdict: Fact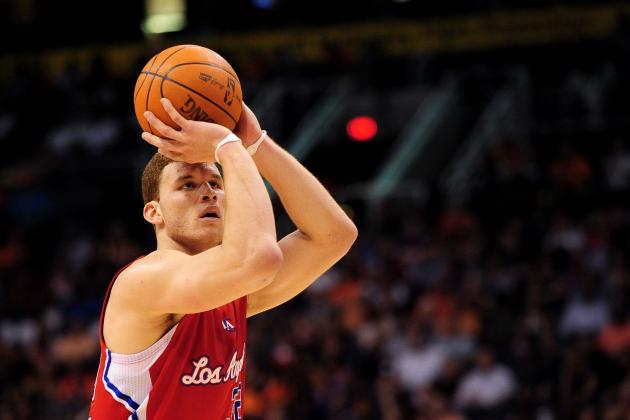 Jennifer Stewart-US PRESSWIRE

Let's stick with the statements that fit into the realm of facts rather than myths at this stage of Blake Griffin's career.
The main thing holding back this All-Star is his struggle to perform from the charity stripe. Actually, calling the free-throw line "charitable" to Griffin is grossly inaccurate. From this point forward, let's vow to never use "charity stripe" and "Blake Griffin" in the same sentence until he fixes his woes from the line.
Griffin shot 64.2 percent from the stripe during his first season out of Oklahoma, but then he took his struggles to another level as a second-year player for the Los Angeles Clippers. During the lockout-shortened season, the power forward hit only 52.1 percent of his free throws.
That was especially problematic for two reasons.
First, Griffin's playing style is extremely conducive to fouls. He draws a lot of contact and plays a supremely physical brand of basketball, which results in a lot of nerve-wracking trips to the free-throw line.
Therefore, his struggles during the most exposing play in basketball subconsciously make him less aggressive, particularly at the end of close games when he knows that one clang off the iron could result in a loss.
And that segues perfectly into the second problem.
If Griffin can't play to his strengths in crunch time, the Clippers have to adjust. And that means that Vinny Del Negro has to draw up different plays and possibly even bench his star power forward for the closing stretch. He can't risk a Hack-a-Blake strategy in a close game.
Verdict: Fact
Gary A. Vasquez-US PRESSWIRE

Most NBA fans seem to think that Blake Griffin is an absolutely terrible defender, and that's selling his talents a bit short.
Griffin isn't exactly going to challenge for the All-Defensive squads anytime soon, but he's also not hopeless on the less glamorous end of the court. He struggles with his intensity—which is surprising for such a high-energy player—and his help defense is terrible, but he's a fairly solid on-ball defender.
According to 82games.com, Griffin held opposing power forwards to a 13.7 PER during the 2011-12 campaign and played 61 percent of the Los Angeles Clippers' minutes at the position. Remember, the league-average PER is always 15.0.
When he played center—he played 33 percent of the team's minutes there—he was slightly below average, allowing the opposition to post a PER of 16.2.
If you look at NBA.com's advanced stats when Griffin was on the court versus when he was on the bench, you'll discover that Griffin was statistically a plus-defender during his second season in The Association.
With Griffin on the court, the Clippers allowed 102.2 points per 100 possessions, which would have given them the eighth-best defense in the league had he always been on the floor. However, L.A.'s defense allowed 105.0 points per 100 possessions when Griffin was resting on the pine, good for 15th in the league.
Now you won't hear me say this often, but the numbers do lie a little bit. As I said, he's not a terrible defender. He's just not a great one either because of his inability to truly shut down his man and play off-ball defense.
The ability to cover pick-and-rolls, to slide over and cover for another defender's mistakes and to constantly pester an opponent aren't things that manifest themselves in the stats. Although stats are also feeding the perception that he's an awful defender—steals and blocks, believe it or not, are not good indicators of defensive prowess—they're also covering his behind in a lot of areas.
Griffin's arms prevent him from ever making the ascent into defensive stardom, although he has enough offensive star power to get by. According to Ethan Sherwood Strauss, Griffin's standing reach of 8'9" was less than every other starting power forward's in 2011-12, and his 6'11.25" wingspan beat out only Trevor Booker.
That leaves Griffin as an undersized player, even if his height might not make that readily apparent. I feel his pain, seeing as most of my height comes from my giraffe-like neck.
By all means, say that Blake won't be a star on defense. Just give him some credit for being serviceable.
Verdict: Myth (but only kind of)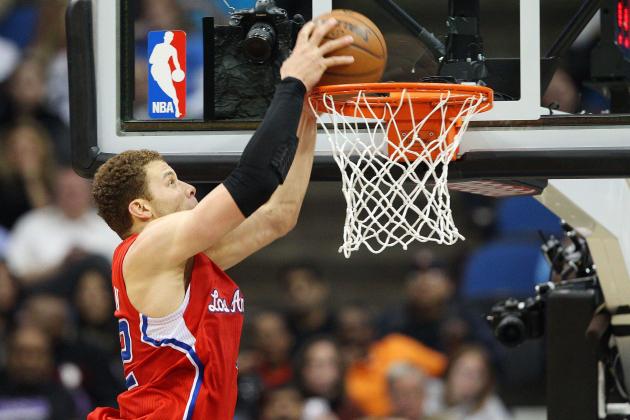 Jesse Johnson-US PRESSWIRE

For whatever reason, Blake Griffin is viewed as a lesser player because of his greatness at dunking the basketball.
Dunks are the easiest shots in the game for the lucky ones who are big and athletic enough to be able to pull them off. Therefore, players aren't viewed as favorably in terms of offensive prowess if they don't hit more difficult shots.
That's exactly why Kobe Bryant is still perceived as offensively great despite his declining efficiency. He misses a lot of shots, but the ones that he hits have off-the-charts difficulty levels.
Blake is in the opposite situation. But why?
If averaging 20 points per game with an offensive repertoire largely comprised of slams was so easy, then why don't more people do it? Why is Griffin so far ahead of the rest of the league in total dunks? Shouldn't that be considered an impressive accomplishment?
Over the course of the 2011-12 season, Griffin slammed the ball 192 times. JaVale McGee was second in the dunk leaderboard, trailing the Los Angeles Clippers power forward by 42. With only 66 games played, that's a pretty large margin.
It all boils down to the ability to put points on the scoreboard, and Griffin certainly keeps the scorekeepers busy. A dunk is worth two points. So is a shot hoisted up from 22 feet away.
However, a dunk is far easier to make than a long two-pointer. According to Hoopdata, the lockout-shortened campaign saw players make 38.2 percent of their shots from 16 to 23 feet, as opposed to 62.7 percent at the rim.
Instead of criticizing Griffin for his limited options on offense—which, as shown earlier, is steeped in mythology—we should be praising him for sticking to his strengths and using the most effective shot in the game successfully.
Verdict: Myth