5 Reasons to Believe Chicago Bears Are Super Bowl-Bound in 2013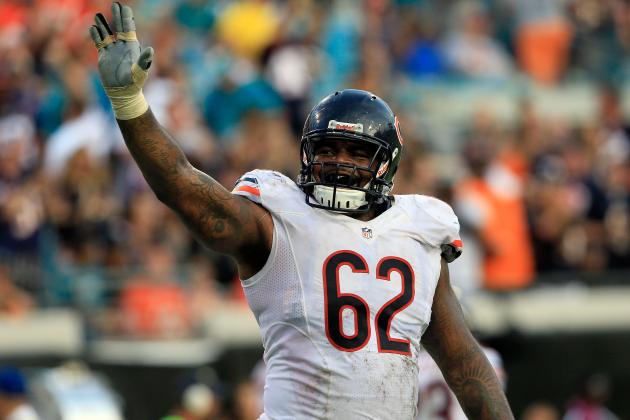 Sam Greenwood/Getty Images

Alone atop the NFC North, the Chicago Bears should be feeling very good about their standing at 5-1, good for the second-best record in the NFL.
The Bears' play in their last four games has proved their hot start not to be a fluke, but rather an on-going trend. When fully healthy, the Bears are an elite team, as shown by their 7-3 start last season prior to costly injuries to Jay Cutler and Matt Forte, which sidelined their season.
In 2012 the Bears are at full strength and ready to set their sights on New Orleans. But it won't be easy, considering that they play in the NFL's toughest division, with the upstart Minnesota Vikings and the reliable Green Bay Packers still nipping at their heels.
Despite this, the Bears have proved themselves to be the class of the NFL's classiest division. How have they done it, and why are they atop? Let's take a look at why the Bears are on their way to New Orleans come February.
Begin Slideshow

»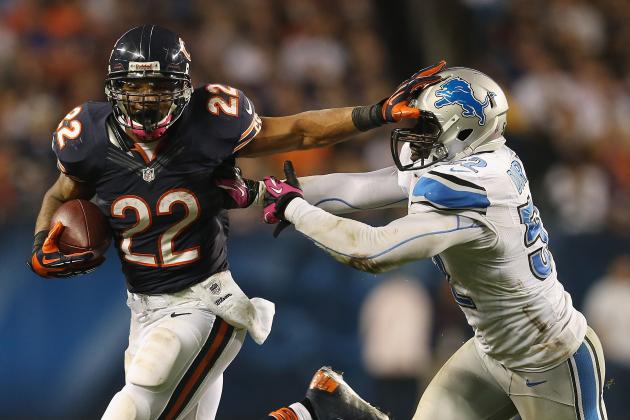 Jonathan Daniel/Getty Images

The Bears are still getting it done on the ground, rushing for 789 yards on 183 carries in their first six games of the season, for an average of 4.3 yards per carry and 131.5 yards per game.
Even better for the Bears is that it doesn't always fall on Matt Forte's shoulders to carry the load anymore (and he's doing it well with 366 yards on 80 carries for an average of 4.5 yards per carry), but he's had help from free-agent acquisition Michael Bush (who has 242 yards on 64 carries for an average of 3.8 yards per carry).
Splitting the load the way the two have (both players had 58 carries going into their Monday night game against Detroit) allows the Bears to keep both backs fresh throughout the duration of the season, leaving them ready for postseason action.
Postseason at Soldier Field with two stud running backs ready? Not a proposition I'd want to undertake if I were the opposition.
Many years ago, teams could rely on two great running backs in their backfield to carry their offense and just call it a day. This isn't the case in 2012, and the Bears know that.
In order to open up the running game, you need a top quarterback and great receivers. The Bears are fortunate to have that in the form of Jay Cutler and Brandon Marshall.
Cutler's time in Chicago has been a mixed bag prior to this season, with his first season ending out of the playoffs, while his second season ended in the NFC Championship game. His third season was on pace to be his best, but injuries cut short what looked like a tremendous run.
Season four, however, would see the addition of Brandon Marshall, and the stats on this combination would speak for itself. Marshall has brought down 41 catches for 577 yards and four touchdowns, proving that Chicago made a steal in the trade market by only giving up two third-round picks to the Miami Dolphins in exchange for the wide receiver.
Marshall hasn't just opened up the running game (and helped that aspect with his superb blocking), but also helped out the rest of the receivers, as illustrated in the next slide.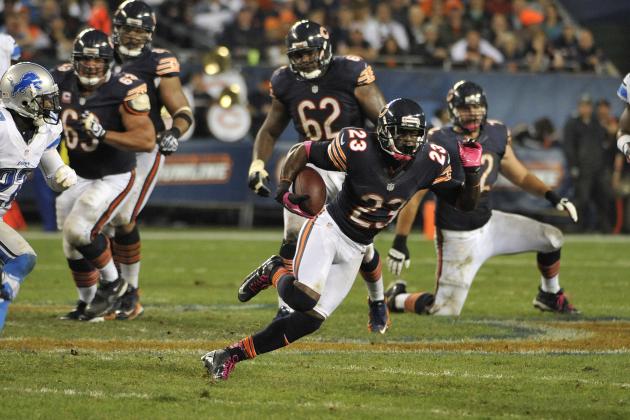 David Banks/Getty Images

Marshall hasn't been the only Bears receiver to make an impact on this team, as his presence has helped the rest of a Bears' receiving corps that in the last two years prior to the Marshall trade has been best described as uneven.
Devin Hester has been the perfect example of this.
While the Bears have attempted to get him going on offense to be able to include his speed and playmaking abilities, at times it has fallen flat. But this season while garnering less attention from corners, Hester has been able to perform much better in the Bears offense.
He only has 10 receptions for 152 yards and one touchdown, but also has gotten targeted more by Cutler and is beating cornerbacks with regularity.
Bears tight end Kellen Davis has also produced for Chicago when called upon, bringing in nine receptions for 132 yards and a touchdown. The tight end isn't used as much in Chicago as it is elsewhere, but when called upon, Davis has produced well.
It's interesting to note that we haven't truly seen the Bears receivers healthy at the same time, yet the passing game has still done well. Alshon Jeffery missed Chicago's Monday night game with a fractured hand and will likely miss three or four more games this season. However, in his first five games, Jeffery has 14 catches for 184 yards and two touchdowns.
Earl Bennett has only played in three games this season and has nine catches for 109 yards. As he gets healthier and works his way into the offense, Bennett will become an even bigger weapon for the Bears.
Once we do get to see this Bears offense in synch, Chicago won't just be a defensive juggernaut. This team can put points on the board on offense too, making their defense that much stronger and more effective.
If you were to give me a choice between the defenses of the Houston Texans, San Francisco 49ers and Chicago Bears, I'll take the Bears defense without any hesitation.
There is nothing exotic about what the Bears do on defense. It's the same Tampa-2 defense the team has used since Lovie Smith joined the Bears as their head coach in 2004. But what it lacks in flashy schemes, it makes up for in pure effectiveness, as the Bears have allowed only 13 points per game and forced 21 turnovers this season.
That is the very definition of an impressive unit, as the Bears rank first in both categories. Sure you might gain some yards against the Bears, but it will be short. They don't give up big plays, they make them, with 14 interceptions and seven fumble recoveries.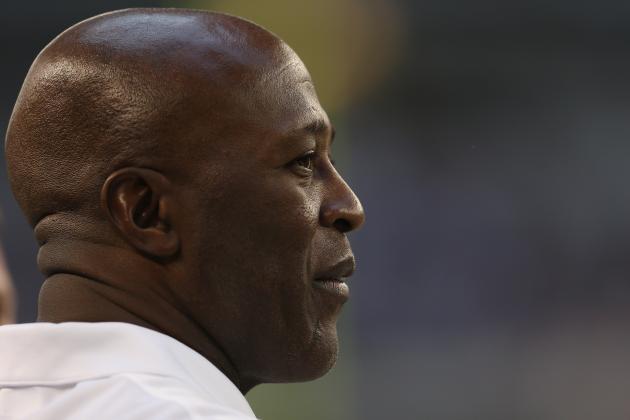 Ronald Martinez/Getty Images

The Bears are a team with discipline and leadership, and the leaders of this team start at the top and trickle down at the bottom, giving fans a very well-disciplined team that's always prepared for any game they play.
As coach of the Bears, Lovie Smith has made a mark in the NFL with three NFC North titles and an NFC Championship. He has also continued to improve as a head coach, as he seems to be making the right calls at the right time, something that Smith would have some issues with early on in his tenure with the Bears.
Chicago also has great veteran leadership on the field. The experience brought by Brian Urlacher, Lance Briggs and Julius Peppers has propelled the Bears defense from a very good unit to a great one. Chicago's defense ranks among the top of the NFL in both points allowed and in yards allowed.
The Bears are a seasoned team with plenty of years of experience, not only together but around the NFL. Combined with the coaching staff, they allow the younger players to flourish while remaining not only effective, but vital parts of the team.
This type of play on both sides of the ball comes from strong leadership, and the Bears have plenty of that to go along with talent, possibly even the best combination of both attributes in the league. A trip to New Orleans for the Bears is in sight barring an unfortunate repeat of 2011, as things are looking great down by Lake Michigan.