Steelers Midseason Report Card for Every Positional Unit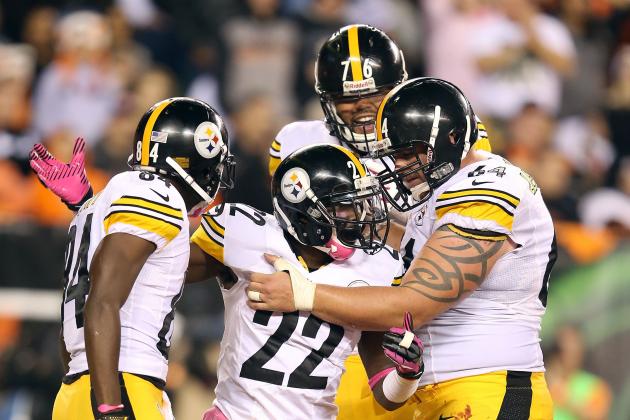 Andy Lyons/Getty Images

Three wins, three losses. It's not exactly how the Pittsburgh Steelers envisioned the first six games of the season going.
The Steelers' 2012 season has had some extreme highs and some extreme lows, but as we close in on the midseason point, Pittsburgh is only a game and a half behind the division-leading Baltimore Ravens, who have injury issues of their own.
Travel has killed the Steelers this season, as the team has recorded just one win in four road games. The good news is that Pittsburgh has six home games left, and just four away from the friendly confines of Heinz Field.
So, without further ado, let's take a look at the midseason grades for each positional unit.
Begin Slideshow

»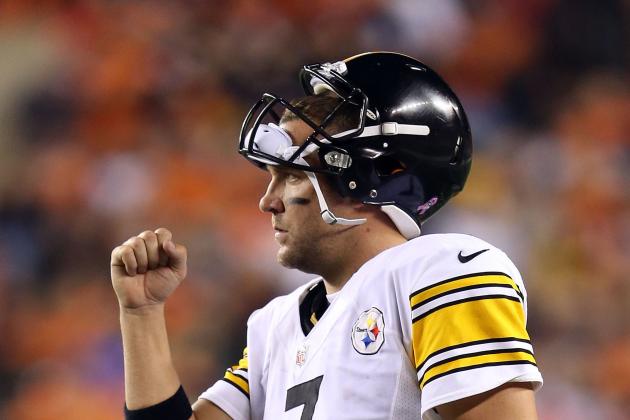 Andy Lyons/Getty Images

When we say quarterbacks, we obviously mean Ben Roethlisberger. He's been the only quarterback on the roster to take a snap so far in 2012, and the Steelers plan to keep it that way.
Ben has been off to one of the best starts of his exceptional career and (despite what Roethlisberger may tell you) new offensive coordinator Todd Haley has a lot to do with that.
This season, Roethlisberger has connected on two thirds of his 235 pass attempts for 1,765 yards, 11 touchdowns and just three interceptions in six games. His 98.6 quarterback rating ranks him among the league's top five.
As good as Ben's season looks, his real impact has come in some of the most important situations, especially third downs. Pittsburgh is tops in the league on third downs, converting over half of its attempts.
It's odd to see Roethlisberger playing so well and the rest of the team not following suit. The offense runs through Big Ben, and he needs to keep playing his game. If he does that, this team will always be in contention.
Individual Grades
BEN ROETHLISBERGER — A
- Been by far the teams biggest offensive threat and the best third-down QB in the game in 2012.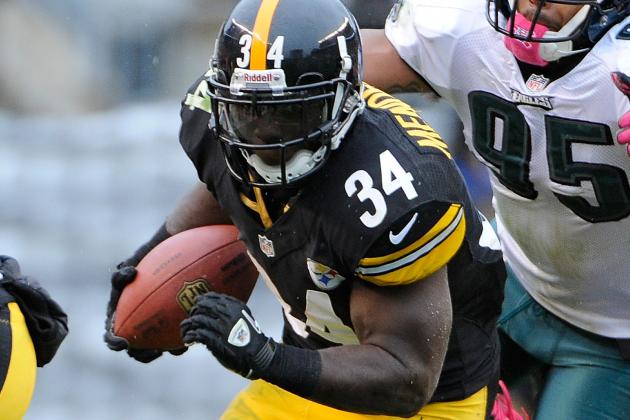 Joe Sargent/Getty Images

Contrary to the franchise's history, it's been a real struggle for the Steelers to run the football this season.
The Steelers have been amongst the league's worst ground attacks, currently placing them 26th in the NFL in rush yards per game. Their 3.5 yards per attempt is dead last in the league.
Starter Rashard Mendenhall has played in just two of the team's six games after missing the first three following offseason knee surgery and the team's last win with an Achilles injury. His impact has been limited to just 19 carries this season and one touchdown on the receiving end.
Behind him, the Steelers have used a combination of guys like Isaac Redman, Jonathan Dwyer, Baron Batch and Chris Rainey. Dwyer currently leads the team with 192 rush yards, and no back has more than one touchdown on the ground.
Pittsburgh did a great job of establishing the run last week, and it directly led to a win in Cincinnati. Dwyer is the hot hand and it'll be interesting to see who the team uses going forward.
Individual Grades
RASHARD MENDENHALL — B-
- He's played well coming off the knee surgery, but the injuries continue to pile up.
ISAAC REDMAN -- C-
- Redman leads the team with 50 carries, but has averaged just 2.5 yards per tote.
JONATHAN DWYER — B+
- Due to depth, Dwyer ended up inactive for a few games. But he's actually been the most consistent back for the team in 2012.
BARON BATCH — D
- Two YPC average and a bad game against the Bengals could have him inactive for a while.
CHRIS RAINEY — C+
- More of an impact in kick returns, but he's caught seven balls in limited time.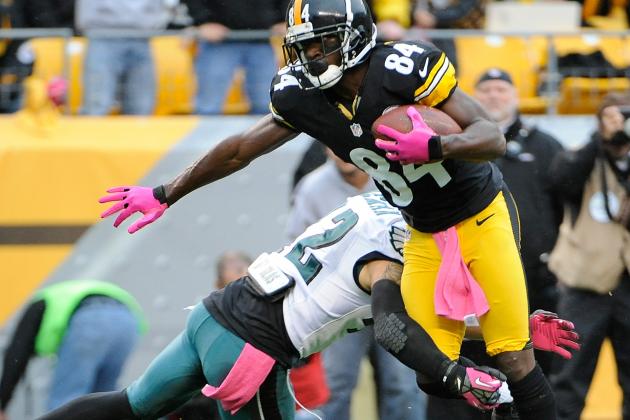 Joe Sargent/Getty Images

The Steelers passing game has been the best we've seen out of the team in years, and a lot of that has to do with a talented and deep receiving corps.
Antonio Brown got the big contract in the offseason, and has lived up to it. He's currently leading the team in targets, receptions, receiving yards and catches of 20-plus yards. Mike Wallace comes in second on the team in all those categories, and is also second in touchdown receptions, with four. Emmanuel Sanders and Jerricho Cotchery have played well also.
The receivers have hurt the Steelers at points, though. In the Oakland game, both Brown and Wallace fumbled in big situations, with Brown's resulting in a turnover and an eventual loss.
Wallace, especially, has struggled with drops, failing to haul in five on-target passes against Cincinnati alone.
The way the team looks so far, these receivers are in for a big season. They've just got to make the plays when they're presented to them. If they can do that, we could be looking at one of the league's elite passing attacks.
Individual Grades
ANTONIO BROWN — A
- Been hands down the team's best wide receiver in 2012, but has struggled to find the end zone
MIKE WALLACE — C+
- Might seem like a harsh grade for Wallace, but drops have plagued him and he's lacked the explosive plays we're used to seeing.
EMMANUEL SANDERS — B
- Never flashy but always reliable, Sanders is quietly on pace for over 50 grabs this season.
JERRICHO COTCHERY — C+
- Rarely used, but failed to make the most of a big opportunity against the Eagles.
Andy Lyons/Getty Images

The tight end position, as usual, has been great for the Steelers in 2012. But unlike during the Bruce Arians era, Todd Haley has found a way to utilize Heath Miller in the receiving game and, more importantly, the red zone.
Miller is fifth amongst tight ends this season with 31 receptions, and leads the team with five touchdowns. As usual, Miller is the quiet force who will put up plays for the Steelers without the recognition he deserves.
But it's not just the receiving game he's dominating. Miller has helped out an injury-plagued offensive line with his blocking, especially versus Cincinnati.
There's no doubt Miller has been phenomenal in 2012 and has shown his versatility. I see no reason that shouldn't continue in the second half of the season.
Individual Grades
HEATH MILLER — A+
- Miller is finally being utilized in the red zone, and it's paid off for five touchdowns on the season.
WILL JOHNSON — B-
- Been utilized more as a fullback, but has blocked well and averages 11 yards per catch.
Charles LeClaire-US PRESSWIRE

This season, like season's past, has been a bumpy and turbulent road for the Steelers offensive line.
Injuries have plagued the unit, forcing starters like Maurkice Pouncey, Marcus Gilbert and rookie first-rounder David DeCastro to miss extended amounts of time. But the results haven't really been that bad.
The offensive line has given up 13 sacks this season, averaging out to just over two per game. For a unit packed with late-rounders and journeymen, that's not half bad.
I've actually been pretty impressed with the offensive line so far. They're far from great, but if they can play this way until the starters return, consider that a big success for Pittsburgh.
Individual Grades
MAX STARKS — B+
- Not a whole lot to complain about, and Roethlisberger loves the guy.
WILLIE COLON — C+
- Transition to guard had its ups and downs, but he seems to be getting it.
MAURKICE POUNCEY — B
- Best lineman on the team, but continues to struggle with injuries.
RAMON FOSTER — C
- Stop-gap until the team gets DeCastro back. Been pretty average.
MARCUS GILBERT — B-
- Was probably the team's second-best lineman until the injury
DOUG LEGURSKY — B+
- As usual, phenomenal job in relief.
MIKE ADAMS — D
- Transition to the NFL hasn't been pretty, but looked much better in Cincinnati.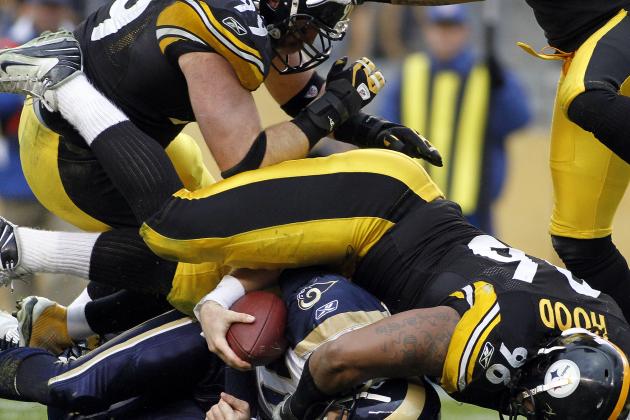 Justin K. Aller/Getty Images

The Steelers defense has been much maligned this season, and it all starts up front.
Over the years, this team has been known for its stellar three down-linemen. But in 2012, that isn't the case. Ziggy Hood, Casey Hampton and Brett Keisel haven't gotten the job done and are losing the battle at the line of scrimmage.
Pittsburgh may only be ninth in average rush yards per game against, but teams are gashing them for 4.1 yards per carry. That starts up front.
The unit got better as the Bengals game went on, especially Ziggy Hood. Questions have already started popping up about Casey Hampton, and my opinion is that the Steelers should start giving Steve McLendon a few more snaps a game.
Individual Grades
BRETT KEISEL — C+
- Been probably the best defensive lineman on the team this year. That's not saying much
ZIGGY HOOD — D
- Started to turn things around against the Bengals, but has never really developed into what they wanted.
CASEY HAMPTON — F
- A great career has pretty much come to a rapid close.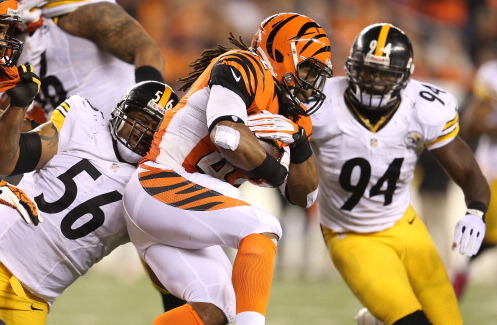 Andy Lyons/Getty Images

For a team that has been well-known for its linebacking corps over the years, this one has not taken the cake.
The pass-rushers on the outside, LaMarr Woodley and James Harrison, have been banged up all season long, and it's led to a rapid decline in the team's ability to pressure quarterbacks. The Steelers rank 24th in the league with just 11 sacks on the season.
But the unit has actually been very good against the run this season, and that starts with Lawrence Timmons. Timmons has finally stepped up and become the top-flight middle linebacker the Steelers hoped they were getting in the first round of the '07 draft.
Larry Foote has quietly put together as good a season as anyone of the team.
As the team continues to get healthy, the linebacker corps should return to form as the best unit on the team. The Steelers will need them if they want any shot at the playoffs and a Super Bowl run.
Individual Grades
LAMARR WOODLEY — C+
- Team's best pass-rusher when healthy, but hamstring injuries have slowed him down.
JAMES HARRISON — D
- Just doesn't look close to being healthy.
LAWRENCE TIMMONS — B+
- Second on the team in tackles and has lived in opponents' backfields
LARRY FOOTE — A
- Team leader in tackles; also has two sacks and two forced fumbles.
JASON WORILDS — B-
- Leads team with three sacks this year. Lacks consistency.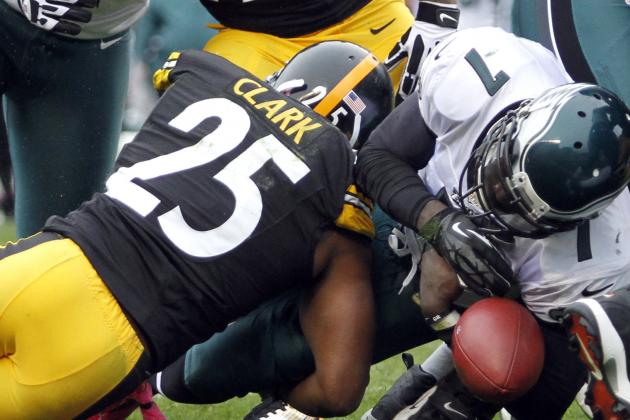 Justin K. Aller/Getty Images

The Steelers pass defense was the best in the league last season, just as it is again here in 2012. But those numbers seem to be a little bit deceiving.
Pittsburgh's secondary has given up most of its yards at the wrong time—when other teams need to make a play. The unit has struggled all season with the absence of All Pro Troy Polamalu, and they're unsure if they'll be getting him back any time soon.
Ryan Clark missed the game against Denver with a sickle-cell trait, but since his return he's been absolutely lights-out. He's been the heart and soul of the defense, and probably the defensive MVP so far.
The corners have been somewhat of an issue. Outside of a great game by both Ike Taylor and Keenan Lewis in Cincy, the cornerbacks haven't really been on-point, especially Taylor.
The Steelers need their secondary to get better, and that starts with getting Polamalu back. They've held together without him, but getting a player like him back at even 80 percent of his former self is better than what they're working with.
Individual Grades
IKE TAYLOR — C-
- Grade would have been an F had it not been for stellar performance versus AJ Green.
KEENAN LEWIS — B
- Been great against he run and has a team-high nine passes defended.
CORTEZ ALLEN — C
- Getting there in terms of development, but needs to be quicker.
RYAN CLARK — A
- Leader this defense was missing. 37 tackles, four passes defended and one INT in just five games.
TROY POLAMALU — C-
- Hasn't played much, but even when he has, impact has been minimal.
RYAN MUNDY — F
- Might be the worst player the Steelers have put on the field this season. Benched for Will Allen following two spot starts for Polamalu.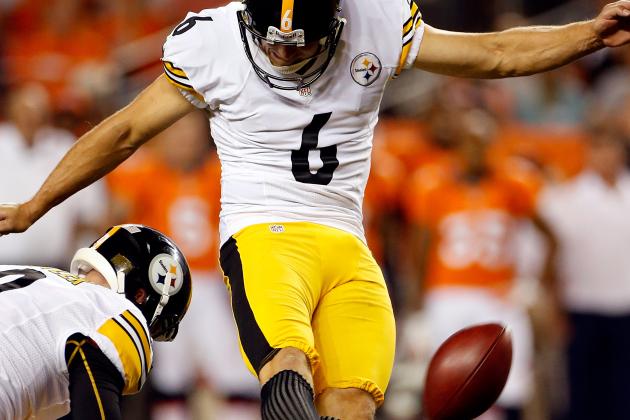 Doug Pensinger/Getty Images

Special teams has never been a strong suit for the Steelers. This year, however, might be a little different.
Many people were worried about kicker Shaun Suisham coming into the season, but all he's done is perform. He's nailed 14 of his 15 field goal tries, and has been perfect on extra points.
Rookie punter Drew Butler has held his own so far, averaging almost 43 yards per punt and pinning opponents inside the on nine of his 20 kicks this year.
The return game has been better this year, and a lot of that has to do with the addition of Chris Rainey. He's averaging 28 yards per return on kickoffs and, although he hasn't brought one to the house yet, he's getting closer and closer every week.
Individual Grades
SHAUN SUISHAM — A
- Been near perfect on his FG attempts this season (93.3 percent).
DREW BUTLER — B+
- Impressive hang time, pinning opponents inside the 20 nearly half the time he punts.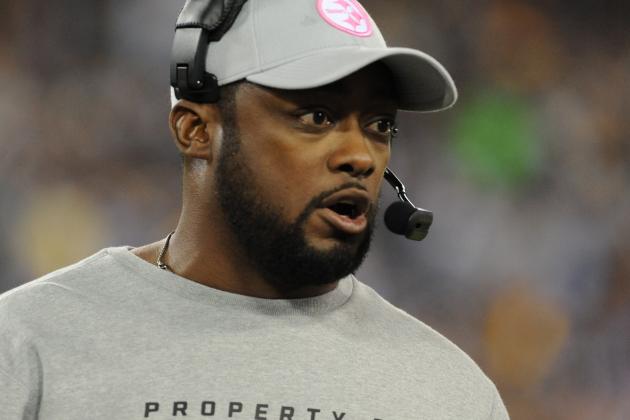 Al Messerschmidt/Getty Images

I'll be the first guy to put it out there: the coaching this season hasn't been great. The Steelers have the ninth-most penalties (46) in the league, and are fifth-worst in penalty yards (446). That is not typical Steeler football.
Mike Tomlin's coaching style has come under fire this season as the team continues to struggle with mental mistakes like false starts and drops. Personally, I questioned his decision to leave WR Mike Wallace on the field following a drop-filled game in Cincinnati.
Tomlin has to step up and put his team on notice. This team is 3-3 due in large part to mental errors and lapses. He's got to be the guy to let his team know that isn't going to stand any longer. If that means benching a guy for the rest of a game, so be it.
Individual Grades
MIKE TOMLIN — C+
- Has come under fire this season for being too player-friendly. Needs to correct disciplinary problems.
TODD HALEY — B
- Offense may look good, but currently ranks 18th in points per game. Passing attack is best in years.
DICK LEBEAU — B-
- Some schematic issues, but biggest problem is personnel injuries.