Winners and Losers from Week 3 of Miami Heat Preaseason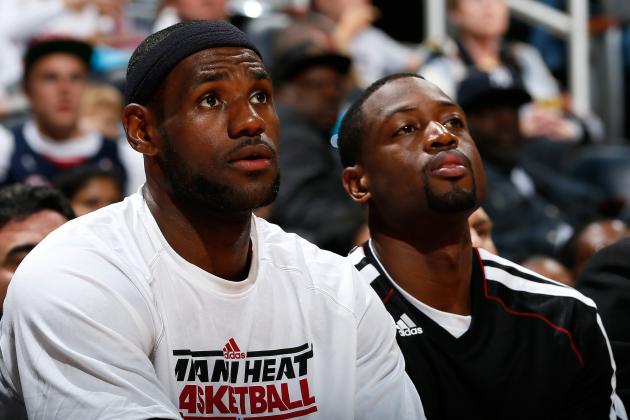 Kevin C. Cox/Getty Images

Patience is a virtue, but it would have been hard to wait much longer for some NBA basketball!
As we near the beginning of the regular season, the Miami Heat continue to cut down their roster, build team chemistry and establish roles for the new talent they were able to acquire during the offseason.
With games against the Detroit Pistons and San Antonio Spurs this past week, head coach Erik Spoelstra was able to try some different things with the new guys as the Heat prepare to embark on a quest to defend their title.
Begin Slideshow

»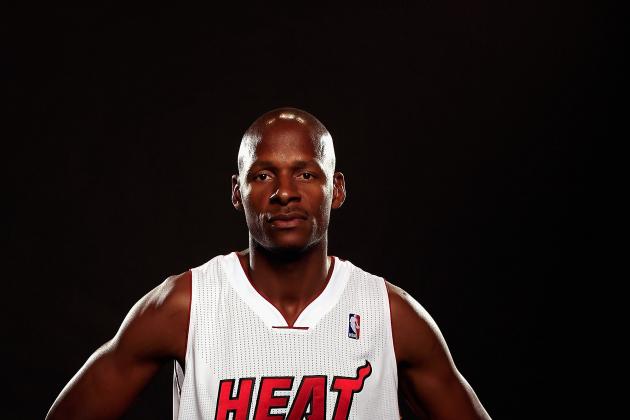 Chris Trotman/Getty Images

Aside from the first preseason game, Ray Allen has been struggling.
This is something Heat fans have to be concerned about considering his struggles during his last few months with the Boston Celtics.
All signs indicate that Allen is healthy and feeling good. But his shot looks far from it.
The thing about Allen is that he always seems to make them when they count. However, I'm sure that when Riley went out and recruited Allen he pictured a much more consistent shooter from behind the arc.
Even more importantly, he's being counted on by fantasy basketball fans across the world for some three-point shots and a good field-goal percentage.
Get it together, Allen, get it together.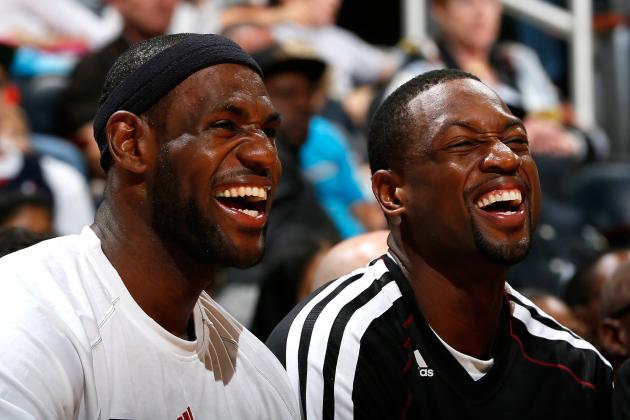 Kevin C. Cox/Getty Images

LeBron James was actually given the night off against the Spurs on Saturday. Needless to say, this does not happen too often, even in the preseason.
We oftentimes think of LeBron as this super being, but even King James needs a day off every now and then.
Let's not forget that he also didn't have the long summer like Chris Bosh and Dwyane Wade. He was busy winning a gold medal for our country.
If Spoelstra can get James some consistent rest this season, the results will be quite beneficial. But I don't blame him for being hesitant to sit the reigning NBA Finals MVP.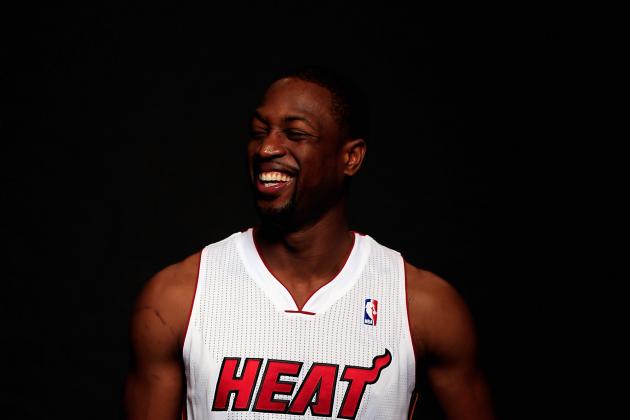 Chris Trotman/Getty Images

Dwyane Wade is ready to go after some offseason cleanup surgery and a long summer of rest.
Many people were ready to write him off as too old, past his prime and unable to produce like he used to. Well, of course he's not going to produce like he used to, playing on a team with two other superstars.
However, Wade has been playing great basketball on both ends of the floor. Especially on the night when LeBron was given the night off and the offense was once again flowing through Flash.
He looked explosive going both directions and was getting off the ground quickly and with ease. If the preseason has been any indication of what we can expect from Wade this season, watch out.
Let's just hope he stays clear of the injury bug, which he sometimes has a hard time doing.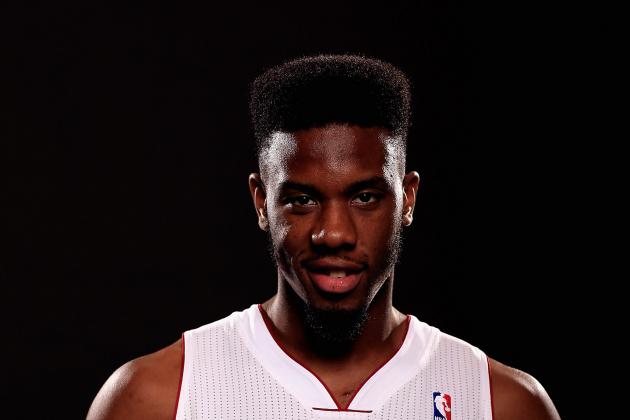 Chris Trotman/Getty Images

Norris Cole is shooting above 80 percent from behind the three-point line during the preseason thus far. He's clearly feeling it, and why not?
He's taken on the starting point guard role in the absence of Mario Chalmers, who has been sitting out with a minor hamstring injury.
Well, Mario might want to get back in there as soon as possible before he permanently loses his spot and is asked to "bring some energy off the bench."
The one knock on Cole was that he did not have the ability to stretch the floor as well as Chalmers. I think it's safe to say he's shut those critics up.
Whether he's coming off the bench or starting, Cole has got the confidence and game to be a huge contributor for the Heat this season.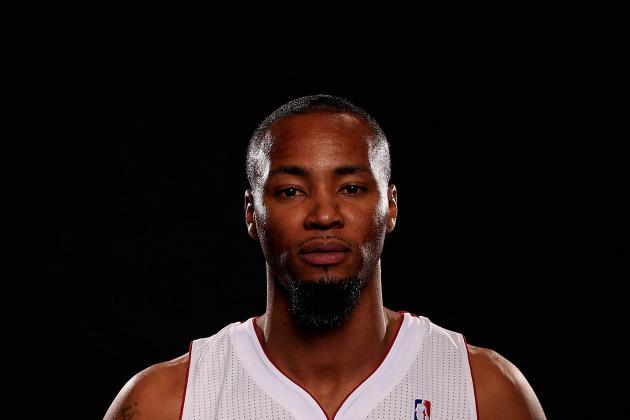 Chris Trotman/Getty Images

As I've stated plenty of times before, Rashard Lewis has the potential to be more beneficial to this Heat team than Ray Allen. Hear me out.
Lewis scored 11 of his 15 points in the fourth quarter on Saturday. This included three three-pointers. He is really beginning to show his worth.
Let's pretend Allen is struggling, in foul trouble, injured, etc. Think about a closing lineup of Wade, Battier, James, Lewis and Bosh.
You've got more size, but more importantly, you've still got two shooters surrounding the Big 3, a great defender in Battier and a big who can stretch the floor in Lewis.
Lewis may not play the best defense, but he has yet to be exposed as a horrible defender who shouldn't see the floor. As a matter fact, he had four steals just this past Saturday.
He could be the gem that takes the Heat to the next level. You heard it here first.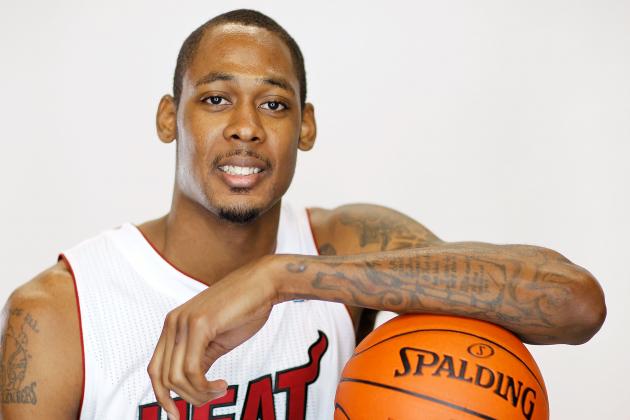 Mike Ehrmann/Getty Images

It was a surprise that Mickell Gladness made the cut last year for the Miami Heat. He should be forever grateful for the opportunities the Heat have given him over the years.
However, it doesn't get any worse than getting cut from the team that decided to take a chance on you.
Almost like a slap in the face saying, "It just hasn't worked out," "It's not you, it's me" or something along those lines.
Best wishes to Gladness, who will likely find himself on another NBA team soon enough. He's got the athleticism and size to be a good player in the league, but as of now, he's too raw to be on a team as talented as Miami.