Michigan Football: 10 Things We Learned from Wolverines' W Against Spartans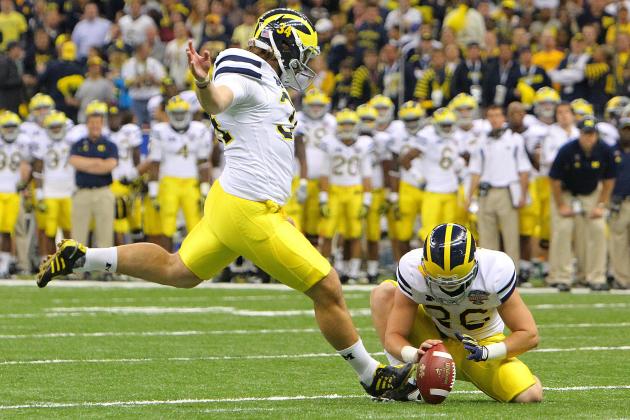 Spruce Derden-US PRESSWIRE
Brendan Gibbons' 38-yard field goal beat Michigan State (pictured in Sugar Bowl win over Virginia Tech)
Brendan Gibbons will be the most popular man in Ann Arbor Saturday night after nailing a 38-yard, game-winning field goal that helped the Michigan Wolverines defeat the Michigan State Spartans, 12-10.
It was Michigan's first win over the Spartans since 2007, and it was Gibbons' second humongous kick since the Wolverines' Sugar Bowl win over Virginia Tech.
While some—mainly myself—anticipated a lopsided win in Michigan's favor, Saturday's game didn't disappoint those who crave defense and hard hits.
It was Big Ten football. Nothing more could really be said.
The Spartans kept the game close thanks to a fake punt run by punter Mike Sadler—the call was vintage Mark Dantonio, as the Spartans coach loves to get tricky in key situations. However, the Spartans had to settle for a Dan Conroy field goal, taking a 10-9 lead instead of rolling the dice and going for it on 4th-and-goal.
We learned the Spartans defense was as billed—relentless, tough and highly skilled. We also learned that Michigan can't score points unless Denard Robinson fuels the effort.
But we already knew that, right?
Let's take a look at other lessons from the Wolverines' win over the Spartans.
Begin Slideshow

»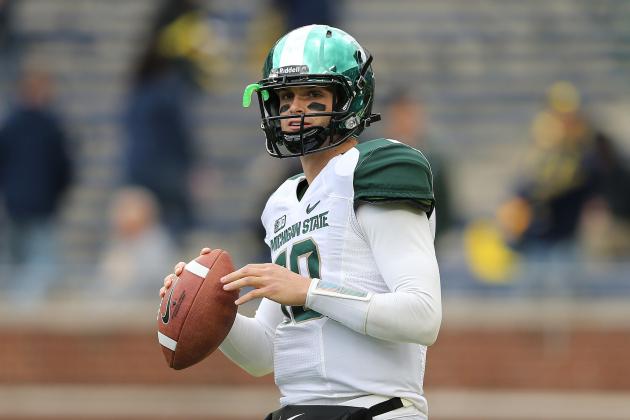 Leon Halip/Getty Images
Despite critcism, Andrew Maxwell played well Saturday against Michigan.
His stats weren't gaudy, but Andrew Maxwell proved that he could be effective in a big game.
The highly criticized successor of Kirk Cousins has battled inconsistency, some of which has been his doing, some the doing of his receivers.
Maxwell threw for 192 yards (21-of-34) and a touchdown, but he also threw an interception and averaged just 5.6 yards per completion. The former Midland High star managed the offense well enough to put Michigan State in position to win, something that he's had trouble doing for most of the season.
Maxwell definitely took a step forward; he looked sharp with accurate throws to receivers like Tony Lippett, Bennie Fowler and Aaron Burbridge.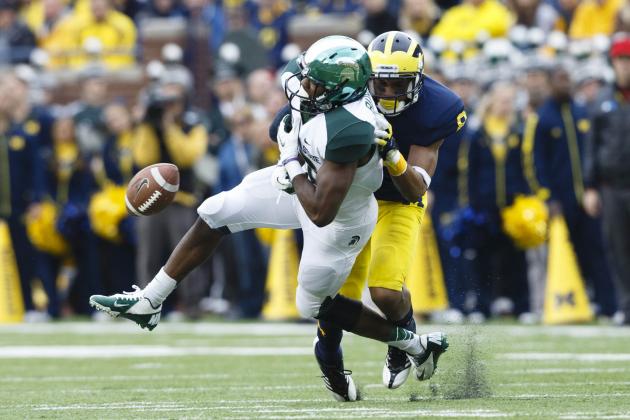 Rick Osentoski-US PRESSWIRE
Michigan State's Aaron Burbridge had six catches Saturday in a 12-10 loss to Michigan.
The Spartans receiving corps has been the subject of scrutiny this season, and for good reason.
Too many dropped balls, too many blown routes—the youth has certainly reared its ugly head when referencing the performance of Michigan State's young but talented group of wideouts.
However, Aaron Burbridge cast a little positive light on himself and his fellow receivers with six catches and 51 yards in Michigan State's 12-10 loss to Michigan.
Burbridge is, without a doubt, the Spartans' top receiver—at least when looking at potential.
Tony Lippett and Keith Mumphrey deserve recognition, too.
Lippett broke open for a huge run during a blown reverse play that set up a two-yard Paul Lang touchdown grab.
Mumphrey ran a nice reverse earlier in the game, too.
Even Bennie Fowler made his presence felt with two catches for 59 yards (45-yard long).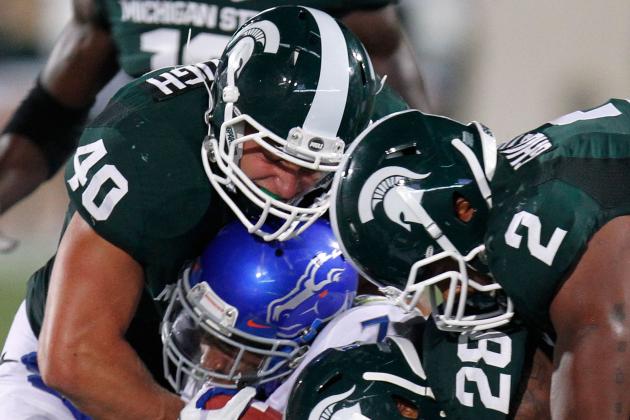 Gregory Shamus/Getty Images
Max Bullough (No. 40) anchors a potent Spartans defense.
Considering the fact that the Michigan Wolverines have steamrolled their competition the past two weeks, giving up just 12 points in a loss shouldn't seem so bad for Michigan State.
Michigan tallied 326 total yards of offense, about 80 less than its average of 408. But what was more impressive was the way the Spartans kept the Wolverines out of the end zone—Michigan averages 33 points per game, the fourth-highest clip in the Big Ten.
Max Bullough was everywhere with at least 12 tackles Saturday in the loss. Cornerback Johnny Adams had two key pass deflections late in the game, and Darqueze Dennard continues to show that he's developing into a premier cover man in the Big Ten.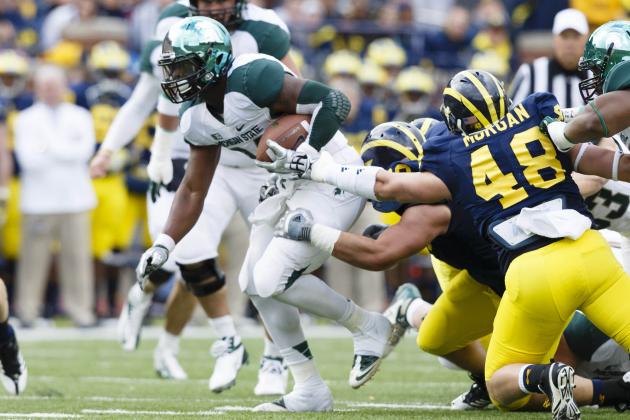 Rick Osentoski-US PRESSWIRE
Spartans running back Le'Veon Bell was handcuffed Saturday.
During the past 42 previous games, the winner of Michigan-Michigan State won the ground game 39 times.
Well, make that 40-of-43, since Michigan outrushed the Spartans, 163-104.
Wolverines linebacker Jake Ryan was a key element in Michigan's attack on Spartans running back Le'Veon Bell, the Big Ten's second-leading rusher who produced just 68 yards on the ground Saturday.
Hold Bell, beat the Spartans. That's a recipe for success.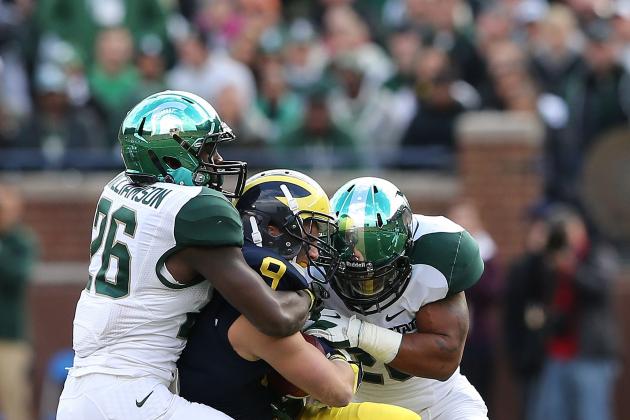 Leon Halip/Getty Images
Which defense is better? Flip a coin or something!
Earlier this week, I asked B/R readers a question: Which defense was better, the Spartans or Wolverines defense?
Well, after Michigan's 12-10 win Saturday, deciding that is basically a coin-flip scenario, one where personal feelings would come into play, rather than looking at raw numbers.
It all depends who you root for. Maybe you like Michigan's Jake Ryan because he reminds you of Clay Matthews (the hair, obviously). Maybe you like Max Bullough because he a fourth-generation Michigan State football player.
Maybe you prefer the Spartans secondary over Michigan's secondary.
Have it your way.
However, as both teams entered Saturday's game with nearly identical numbers in most areas, it's clear that those number were similar for one reason, and one reason only: Both defenses are good, and one isn't really leaps and bounds better than the other.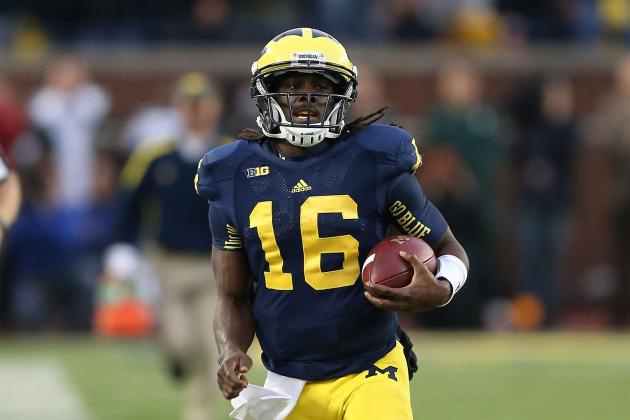 Leon Halip/Getty Images
Notch one for Denard Robinson.
We'll get into legacy talk later in the year, but let it be known that no other player on the Wolverines' roster wanted a win against Michigan State more than Denard Robinson.
Not. One. Player.
Why?
Robinson was the scapegoat in two Michigan losses, berated and ridiculed for throwing untimely interceptions (not as if there are "timely" picks) and turning over the ball. Robinson didn't have his best day Saturday, but he was good enough to put his team in position to win (just like Andrew Maxwell did for Michigan State).
"Shoelace" threw for 163 yards, his third-lowest total of the year, and rushed for 96 yards. Surprisingly enough, he didn't score a touchdown. The only other team to hold him touchdown-less this year was Notre Dame, which beat Michigan 13-6 earlier in the fall.
Even if his record against the Spartans is under .500 (1-2), Robinson absolutely needed at least one victory over Michigan State to complement an incredible collegiate resume.
Doesn't hurt when it comes as a senior, either.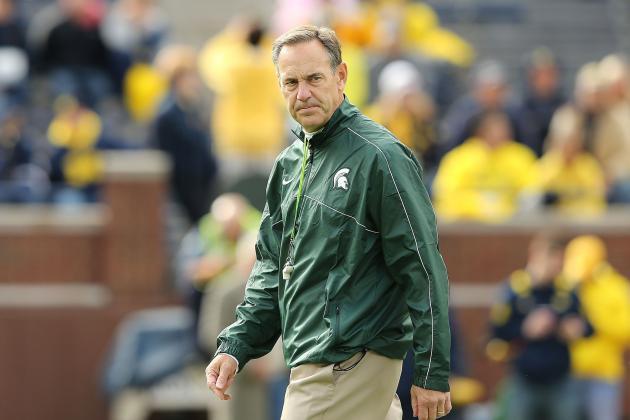 Leon Halip/Getty Images
Mark Dantonio knows when to play 'em.
He's tricked the Notre Dame Fighting Irish and dooped the Northwestern Wildcats.
And Saturday, Spartans coach Mark Dantonio pulled a fast one against Michigan.
Trick plays aren't really a staple at Big Ten schools, but Dantonio has mastered the art of surprise, further evidenced by his fake-punt call in the fourth quarter. Punter Mike Sadler scampered down the right sideline, extending the Spartans' drive and setting up a Dan Conroy field goal.
However, the Spartans shouldn't have walked away with just a field goal. We'll hit that next.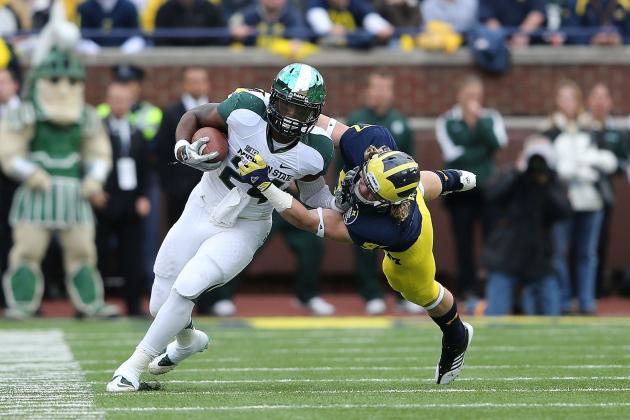 Leon Halip/Getty Images
Spartans star running back Le'Veon Bell should have gotten the call on 4th-and-goal.
On 4th-and-goal from the 2-yard line, the Spartans opted for a Dan Conroy field goal after marching down the field after a fake-punt run by punter Mike Sadler.
Had the Spartans went for it, they could have actually scored a touchdown, which has been rare this season. A 15-9 lead would have, in theory, been enough to beat Michigan, which won in the final 10 seconds via a Brendan Gibbons 38-yard field goal.
Hindsight is always 20/20. But Michigan State should have rolled the dice after catching Michigan on its heels with a fake punt. The worst-case scenario would have been Michigan putting together a 98-yard, game-winning drive.
Le'Veon Bell most certainly should have gotten the call.
Just a thought.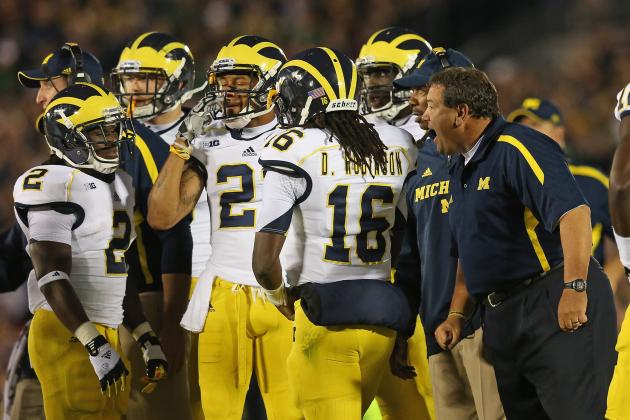 Jonathan Daniel/Getty Images
Michigan couldn't afford another loss to Michigan State.
Winning Saturday wasn't an option for Wolverines coach Brady Hoke; it was a must.
The Wolverines couldn't let the Spartans get a fifth straight win, and there would have been a media onslaught directed at Hoke had Michigan lost.
Hoke saved himself a ton of grief and finally put the Spartans' four-year streak to an end. Granted, a 12-10 win wasn't all that impressive, but a win against an in-state rival is never a bad thing.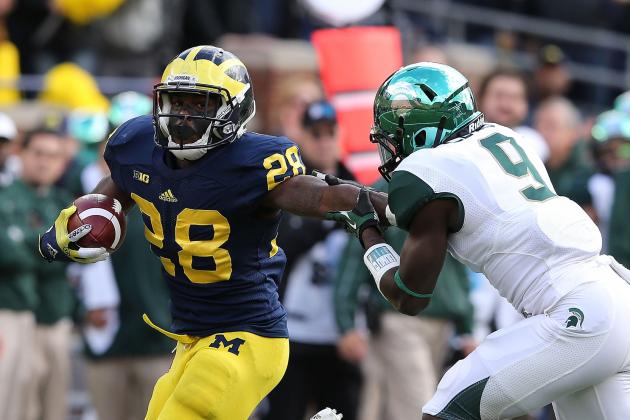 Leon Halip/Getty Images
Michigan can run away with the Legends Division if it continues its current pace.
Michigan is now 3-0 in the Big Ten Legends Division, and the division title is Michigan's to lose.
Look at the schedule—with the exception of Ohio State, the Wolverines have a favorable trail to the top, especially after knocking off one of the Legends' contenders in Michigan State.
The Spartans are our of the race, barring unforeseen meltdowns by Iowa, Nebraska and Michigan. Although the Wolverines have Nebraska and Northwestern on the horizon, a win over the Spartans that followed two decisive conference victories should be enough to fuel Michigan down the stretch.
Follow Bleacher Report's Michigan Wolverines football writer Adam Biggers on Twitter @AdamBiggers81.