Michigan State vs. Michigan: Live Scores, Analysis and Results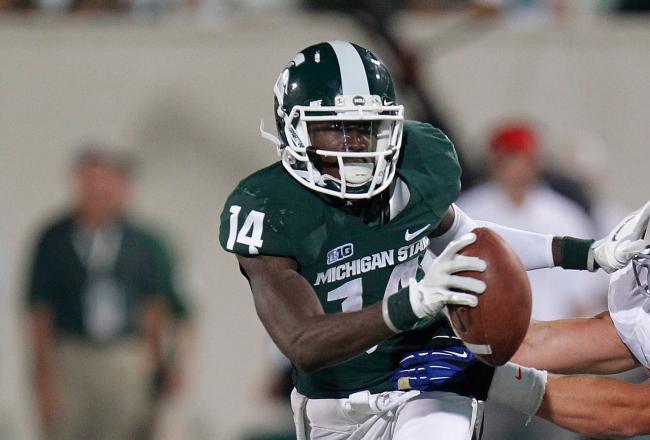 Michigan State's Tony Lippett
Gregory Shamus/Getty Images
Michigan 12, Michigan State 10 -- final

Brendan Gibbons' 38-yard field goal just made him a campus legend at Michigan. Both defenses played well, but it was the lack of offense that forced Gibbons to win the game for the Wolverines.
Follow this live blog throughout the game for commentary, analysis and game-related content.
Read my follow-up piece mulling over the 10 things we learned from today's contest.
Thanks for reading and following my live blog. See you next week.
Follow Bleacher Report's Michigan Wolverines football writer Adam Biggers on Twitter @AdamBiggers81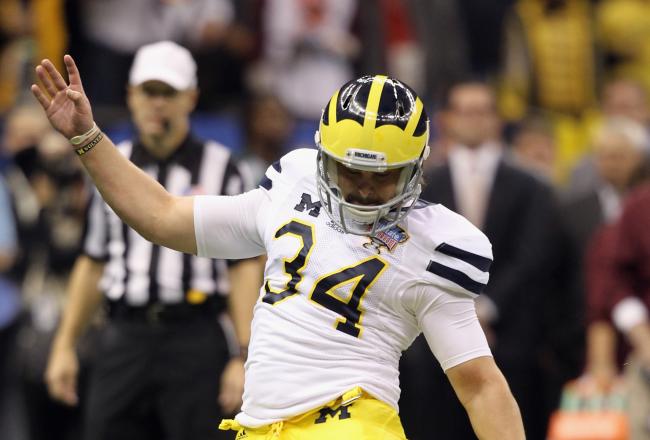 Score update: Michigan 12, Michigan State 10
Brendan Gibbons' 38-yard field probably just gave Michigan its first win over Michigan State in four years.
No pressure here, Gibbons. None.
I won't post anything else about how Drew Dileo ate his Wheaties today. Not one more thing about that.
Looked like Denard stretched far enough to get the first.
Looks like this will come down to Brendan Gibbons' leg; he's 8-for-10 this season. I'd say that's reliable, for the most part.
Aaron Burbridge may have saved the game for Michigan State with that fumble recovery. Larry Caper has to hold the ball during that situation; he was caught looking upfield.
Apparently there is a reason why Denard Robinson rarely throws to Jeremy Jackson -- that was the second horrible route and pass the two tried connecting on this game.
Spartans defense has really pressured Denard Robinson. Former Goodrich star Kyler Elsworth nearly sacked Robinson, but Johnny Adams came up with yet another big pass deflection.
The Spartans have been saved by their defense. But what's new?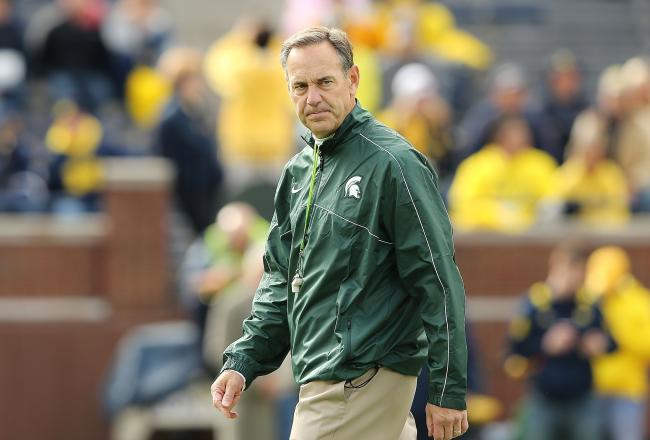 I said it earlier, but I'll say it again: Next touchdown wins this. Michigan State needed to get six on that last drive, not a field goal.
Score update: Michigan State 10, Michigan 9
Mike Sadler's run on a fake punt helped the Spartans take the lead, but poor execution near the goal line cost Michigan State six points.
Dan Conroy's field goal gave the Spartans points from a drive that should have been stopped 70 yards prior, but I would have liked to see them go for it on that situation.
Not smart, Will Campbell. Penalties while Michigan State knocks on the door is a bad look. But Thomas Gordon made up for the poor decision with a huge pass deflection on 1st-and-goal.
That may have been the best catch of any Big Ten receiver this year. What a grab by Bennie Fowler. Spartans receivers are showing out against Michigan.
Aaron Burbridge continues to look like Michigan State's best receiver. Despite all the mishaps this year, the Spartans wideouts have performed well today.
Vintage Mark Dantonio on that fake punt call. Vintage.
Le'Veon Bell hardly ever fumbles. Had Michigan State lost that fumble, it would have been disastrous. Points are at a premium today, and the Spartans offense struggles to get in the endzone.
Score update: Michigan 9, Michigan State 7
Hello, Jeremy Gallon. You're supposed to catch wide-open touchdown passes from Denard Robinson. No one was near you in the back of the endzone, kid.
Is this really a 9-7 game? Crazy.
This is probably an obvious statement, but I say the next touchdown wins this thing.
What. A. Throw.
Denard Robinson continues to impress me with his arm, but Roy Roundtree couldn't haul the pass in for Michigan.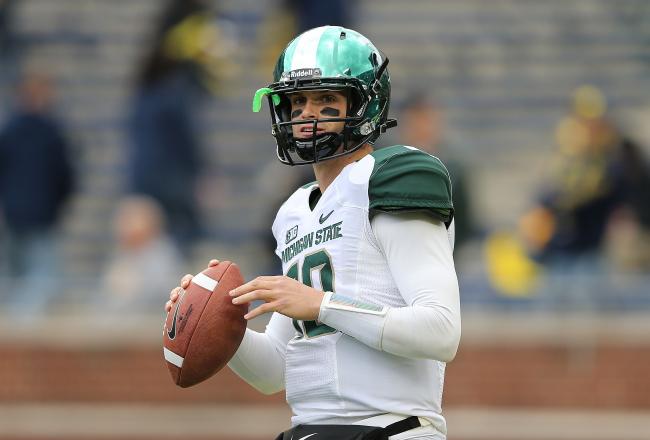 Michigan State's last drive has quietly shifted the momentum in its favor. I'd like to see something from Andrew Maxwell right now; he has the arm to do it with.
That pass was intended for Jeremy Jackson, but not the Jeremy Jackson on the field in Ann Arbor -- the Jeremy Jackson in Windsor.
Let's see if Larry Caper can come up with play to remember like he did in 2009's 26-20 overtime win over Michigan.
#CampusLegend
I've watched Darqueze Dennard since he's been at Michigan State; he's so underrated. Great cover guy, and he's developing into a star.
Temper, temper. I love this emotion, no harm done by a little shoving.
Score update: Michigan State 7, Michigan 6
What a way to make something out of nothing by Tony Lippett. That was a blown play, but he made sure he got positive yards. However, he just stalled at the end. That should have been a touchdown -- but Paul Lang rectified the situation with a four-yard touchdown catch.
Great play call, going to Keith Mumphrey on the reverse.
This article is
What is the duplicate article?
Why is this article offensive?
Where is this article plagiarized from?
Why is this article poorly edited?

Michigan Wolverines Football: Like this team?