5 Things the New York Mets Can Learn from the Washington Nationals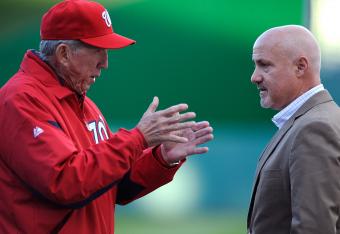 Nats manager Davey Johnson and GM Rizzo have have built a solid foundation in Washington
Patrick McDermott/Getty Images
Historic playoff collapse aside, the Washington Nationals now officially set the pace in the National League east. As the New York Mets look to get back into contention and regain a place at the top of the division they would be well served to rebuild themselves following a script that has the Nationals poised to dominate for the next decade.
Hit Rock Bottom
Sometimes it's best to go from bad to worse.
In 2008 and 2009 the Nationals had the worst record in baseball, but it paid dividends. Those 59-win seasons led to the top picks in consecutive amateur drafts, which turned out to be Stephen Strasburg in 2009 and Bryce Harper in 2010.
There's never a guarantee that the top pick in the baseball draft will reshape and transform the organization. However, it appears Washington's growing pains have turned into cornerstones for their future. Perhaps the Mets would be well served to tank a season to get the No. 1 pick.
Superstar Drafts
The Mets need their scouting department to land franchise-changing players from the amateur draft. Sandy Alderson has to tap into his Frank Cashen inner child to find the next Darryl Strawberry and Dwight Gooden-types who develop into All-Stars they can build around and market to their fan base.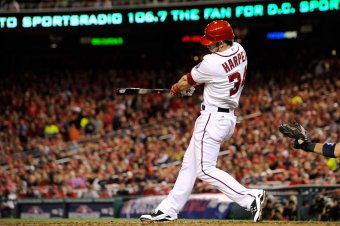 Patrick McDermott/Getty Images

Scouting was replaced by spending in Queens and that led to the Mets demise. However, Alderson's "money ball" experience finally brings the expertise to put an emphasis on drafting and developing.
But in the immediate gratification world of New York the patience of the Mets fan base will be tested as they rebuild the minor league system.
Forget The Back Page
Washington is a town with two newspapers, two regional cable sports networks, two sports talk stations and the team next door 30 miles north. New York has four papers, three regional cable sports networks, two sports talk stations, countless blogs and their next door neighbor is arguably the greatest franchise in sports.
The Mets can't be pressed to draw attention away from the Yankees with flashy signings designed to get back page headlines in the various tabloids. They have to be frugal with any jump into free agency and must resist the temptation to sign a player for the sake of making news.
They must remain committed to rebuilding from the ground up, which means the laborious task of waiting for the farm system to bear fruit. That may not sit well with fans in the high rent district of box seats at Citi Field. However, it is the way that today's contenders are built.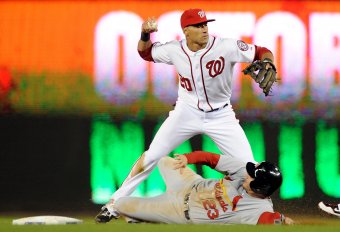 Patrick McDermott/Getty Images
Commit To Arms Race
When Stan Kasten was president of the Nationals, his first charge was to stockpile arms throughout all levels of the minor league system. Nearly every transaction that was made under his watch included a pitcher that may not have figured into the long-range plans but bought them enough time to develop young arms throughout the organization.
The Mets have to orchestrate deals that will replenish the dearth of quality young pitching in the lower levels of their farm system. It would also be smart for them to consider moves that would include trading either David Wright or Johan Santana for young prospects they can groom in the system to add long-term depth to their starting rotation if they can get those contracts off the books.
Patience With Prospects
The Mets must identify the untouchable players in their farm system and resist any temptation to trade them if a deal is presented to them. Through the Nationals' two years of being the worst team in baseball they remained committed to several players that other teams coveted in proposed deals.
Mike Rizzo resisted the temptation to move Ian Desmond and Danny Espinosa when suitors came calling. Desmond emerged as an All-Star at shortstop, and Espinoza was the finishing touch as they finally cured their middle infield defensive problems that plagued them since moving from Montreal.
The Desmond Espinosa combination speaks volumes about the Nationals patients with their prospects. They could have very easily shipped either or both to bring in a veteran bat or dominant arm. Instead they waited patiently for the duo to develop and it now has they chance to be as productive as Morgan and Concepcion was in Cincinnati or Trammel and Whitaker in Detroit.
This article is
What is the duplicate article?
Why is this article offensive?
Where is this article plagiarized from?
Why is this article poorly edited?

Washington Nationals: Like this team?