Previewing the Yankees Offseason; Who Will Remain in Pinstripes in 2013?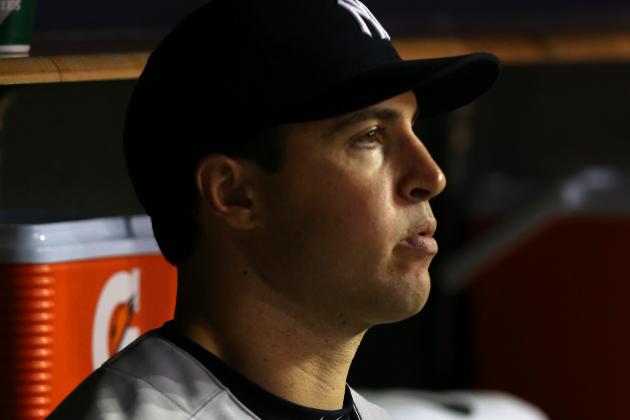 Jonathan Daniel/Getty Images

The 2012 season for the New York Yankees ended on a very sad note. They scored six total runs in a four game sweep at the hands of the Detroit Tigers.
This marks the second year in a row that the Tigers have knocked the Yankees out of the playoffs.
Knowing the Yankees reputation, there will be plenty of changes this offseason. Many decisions have to be made and there may be a lot of new faces come the 2013 season. In this slideshow, I will preview what I believe will go down in the Bronx in the months to come.
Begin Slideshow

»
Elsa/Getty Images

Out of all of the players who disappointed in the playoffs, Curtis Granderson may have performed the worst.
In his 30 postseason at bats, he struck out in more than half of them. Granderson had only three hits and, while usually a great defender in the outfield, had a few costly defensive mistakes as well.
The Yankees hold a $13 million club option on the 31 year old centerfielder and, according to CBS Sports' John Heyman, the Yankees plan on picking up the option.
Personally, I think it's time to trade Granderson while he still holds some value. The Yankees would most likely have to pay some of Curtis' remaining $13M salary in any trade. I would have rather just taken the $2 million buyout, but Brian Cashman must either believe in Granderson's ability or feels he can get something on the trade market.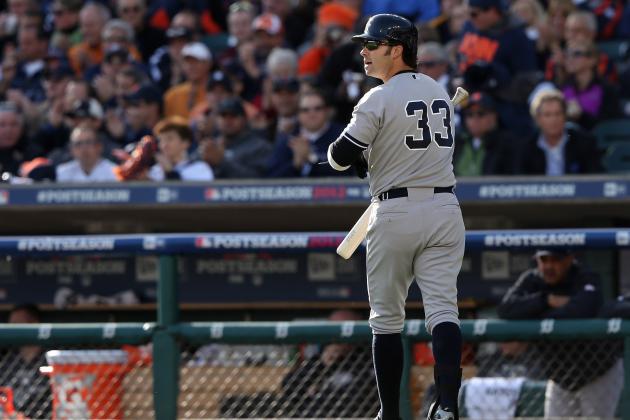 Leon Halip/Getty Images

Nick Swisher has been a fan favorite since he was traded to the Yankees in 2009. He has been a solid regular season performer with the Bronx Bombers, hitting 23 home runs and 82 RBIs in all four years with the club.
The biggest Achilles heel for the Yankees' right fielder has been his postseason performance.
In 130 playoff at bats with the Yankees, Swisher is batting .162, with only 7 RBI and 38 strikeouts.
Now a free agent, all signs point to the Yankees letting Swisher find a new team.
His agent is reportedly looking for a $100 Million contract and this may put the Yankees, who are looking to cut payroll this winter, out of the market for Swisher's services.
Swisher has had his moments in pinstripes, but I think it's about time that the two sides part ways.
The Phillies, Cubs, and Mariners could be possible landing spots.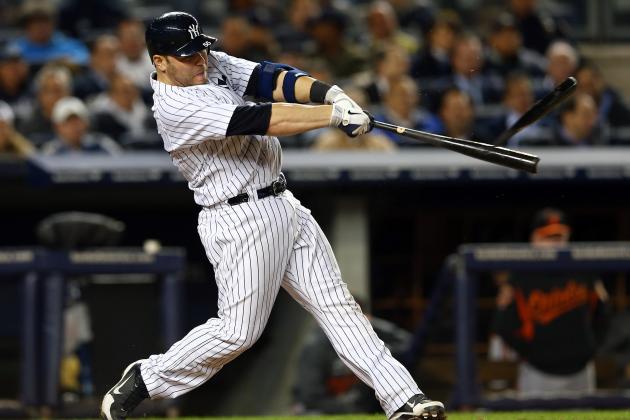 Elsa/Getty Images

Russell Martin had a very rough start to the 2012 season. However, he turned things around starting in September. The Yankees' catcher hit .256 with six homers and 16 RBI, while blocking almost every ball in the dirt.
His defense in the postseason was flawless, blocking almost every ball that he needed to get in front of and showing off his fairly strong arm.
Martin also hit a go-ahead home run off of Jim Johnson in Game 1 of the ALDS. Aside from his defense, the one thing Martin did consistently all year long, was hit in the clutch.
The 29 year old is set to become a free agent and I expect the Yankees to resign him to a two or three year deal.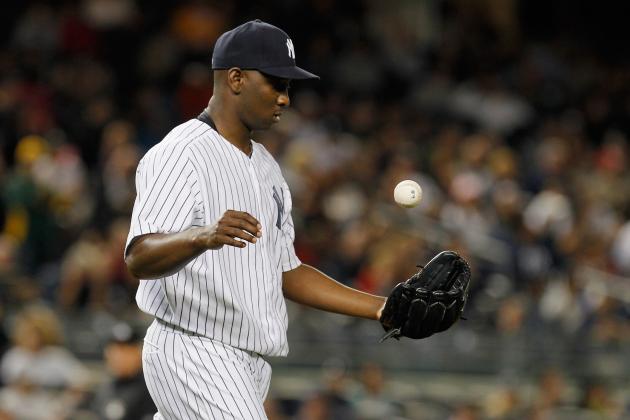 Mike Stobe/Getty Images

Before the 2012 season, most people thought that the Yankees' signing of Rafael Soriano was a terrible financial commitment.
However, after the great Mariano Rivera went down in early May, Soriano stepped up and showed that he was worth the $35 million.
The 32 year old, in his tenth year in the MLB, put up arguably the best numbers of his career. He saved 42 games, striking out 69 in 67.2 innings pitched.
Soriano never got a chance to save a playoff game and he probably won't next year if he decides to come back. Mariano Rivera is most likely going to come back and retain his closer role, leaving Soriano to go back to pitching in middle relief, where he isn't as effective.
Luckily for him, Soriano has an opt-out clause that many speculate he will use. If he opts out of the contract, he can go look for a closing job elsewhere.
Would he be willing to walk away from $14 million?
I know for a fact that he won't make that much on the open market. This decision depends on what Soriano would rather have; the money or the closing gig.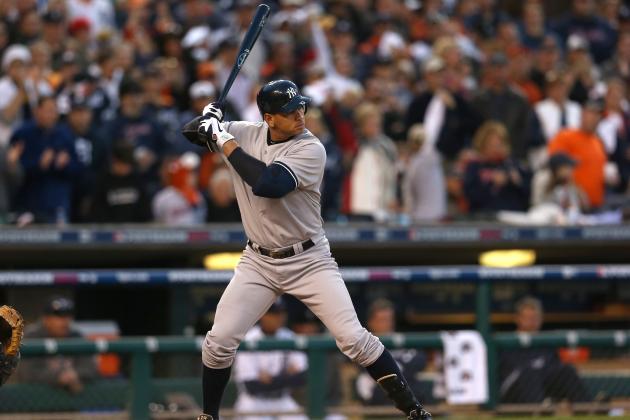 Jonathan Daniel/Getty Images

Aside from 2009, Alex Rodriguez has been an awful postseason hitter.
A-Rod has hit under .130 the past two postseasons and has started to see the displeasure from the fans.
After Joe Girardi controversially benched the super-star in Game 3 of the ALCS, there has been a lot of speculation that the Bronx Bombers may trade him this offseason.
If the Yankees can find a suitor for A-Rod, they would trade him in a second,. But I don't think anyone out there is interested.
Plus, there are reports on the internet stating that the star third basemen wouldn't waive his no-trade clause to leave New York.
Rodriguez is 37 years old, has been banged up with injuries the past few years and is not getting any younger. His power numbers have greatly declined due to his hip injuries and he can't catch up to a fastball anymore.
The Yankees owe Rodriguez $28 million for the 2013 season and $114 million through 2017.
Brian Cashman is in a pickle with what to do with A-Rod and to the disappointment of many Yankees fans, it looks like Rodriguez will still be at the hot-corner to start the 2013 campaign.