5 Reasons Why Team Rhodes Scholars Should Be the Next Tag Team Champions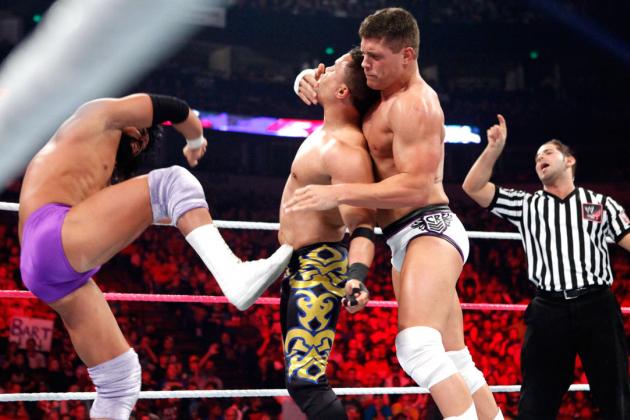 Photo Credit: WWE.com
With the tag team division now back in full swing, one team is set to take over and stand on top of the mountain. I'm talking about Cody Rhodes and Damien Sandow, now known to the ignorant masses as Team Rhodes Scholars.
Their pairing has made for some of the most entertaining promos this side of Team Hell No. Their wrestling ability as a team is unmatched right now, with both men displaying perfect synchronicity by keeping each other fresh with tags every few minutes.
As much as I am a fan of Daniel Bryan and Kane's antics, there will come a day soon when the Tag Team Championships need to be moved to a different team. Despite finding relative success as singles wrestlers (Sandow having an impressive showing at the Money in the Bank ladder match and Rhodes being a multi-time former champion), Team Rhodes Scholars is in perfect position to start a dominant run as champions.
Why? Allow me to beg your indulgence with the following reasons.
You're welcome!
Begin Slideshow

»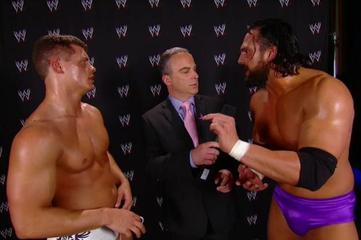 Photo Credit: WWE.com, WWE App
The second either Rhodes or Sandow gets a microphone in front of their lips, the crowd is livid. Nobody in the WWE right now sounds more condescending than this team, and since we can only see what they do on TV each week, I can only imagine the kind of reactions they can garner at house shows where they have more time to agitate and get under the skin of everyone in the audience.
Photo Credit: WWE.com
You can feel it every time Kane and Daniel Bryan start bickering. You can hear the crowd shouting at and with them. While the Rhodes Scholars have the makings of the best team in WWE as far as communicating, there is no more popular team in wrestling right now than Team Hell No.
They are in an interesting spot right now. Despite both being heels by default when they joined, and still wrestling that way, they will most likely be facing Sandow and Rhodes at Hell in A Cell. If the Rhodes Scholars can screw over Team Hell No in some form, not only would it give the audience a new reason to empathize with the bickering duo, it would create some of the best tag team wrestling in WWE for a long time.
On top of that, nothing would have to change in the characters of Kane and Bryan.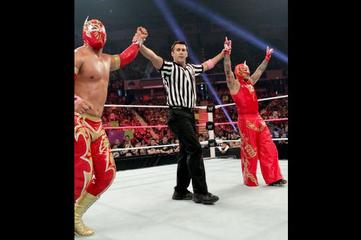 Photo Credit: WWE.com
Along with fending off Team Hell No, the Rhodes Scholars will likely be facing off against Rey Mysterio and Sin Cara. However, Mysterio is currently stricken with a nasty illness that prevented him from going to Egypt and there is no indication of when exactly he will be returning to the ring.
If this illness prevents Mysterio from being on Raw this Monday, there are a number of scenarios that could play out. Rhodes Scholars could become the de facto No. 1 contenders for the Tag Team Championships, or it could be decided that Sin Cara has to face the team on his own. Either one of these situations could plant the seeds for resentment on the part of Sin Cara, who can show frustration toward Mysterio whenever he does come back.
If it turns out that Mysterio is able to compete Monday, a loss for them in the final round of the tournament will be the first step in getting us to a match between the two luchadores at WrestleMania.
Having heels as Tag Team Champions opens the door for a fresh new team to be the ones to snatch victory and earn a massive amount of admiration from the fans. The Usos have yet to win the titles and I would love to see them finally get a shot, as they are without a doubt the most "real" tag team in WWE right now.
Tyson Kidd and Justin Gabriel are also still a team despite being eliminated and competing in a handful of singles matches in the past few weeks.
Furthermore, there are a bounty of young guys in NXT right now waiting for the call. The biggest team in Florida right now is The Ascension, but I cannot see them debuting as babyfaces considering their character traits. Any number of wrestlers in NXT could be paired together upon being called up, and challenging the Rhodes Scholars for the championships is instant credibility.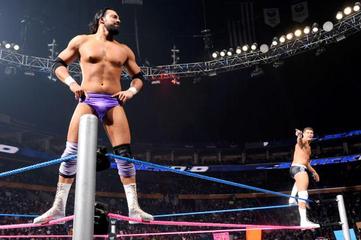 Photo Credit: WWE.com
I expect the Rhodes Scholars to have a lengthy run atop the tag team division, winning the belts on at least two occasions before eventually having a bitter split and going their separate ways.
Having added Tag Team Champion to each of their resumes, Cody Rhodes and Damien Sandow will be in top shape to pursue both the World Heavyweight Championship as well as the WWE Championship. I would not be shocked to see one of them win one of those titles very quickly after their partnership comes to an end.
Thank you to everyone as always for reading, and please tell me what you think below!