5 Keys for the Chicago Cubs to Be a Contender Next Season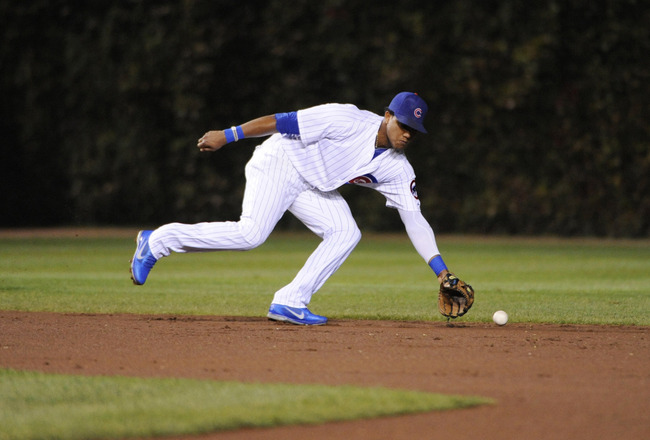 The Chicago Cubs have a lot to do if they are going to improve next year.
David Banks/Getty Images
The Chicago Cubs can actually be a contender for the pennant in the 2013 season.
Disappointment is in the blood of Cubs fans, so most won't believe it until they see it. The Cubs are going to have to prove through the first half of the season that they are contenders.
The Cubs can do just as the Washington Nationals did this year, coming out of nowhere to surprise people with a division title. The Nationals did it with a few key acquisitions before and during the season; and they got great pitching.
Chicago can have all of that as well.
Here are five keys for the Cubs to be contenders next year.
Sign an Elite Pitcher
Zack Greinke is a free agent this year.
Jeff Gross/Getty Images
General manager Theo Epstein has an open checkbook, and the Cubs desperately need starting pitching.
Matt Garza and Jeff Samardzija are the only two pitchers that are definitely in the rotation. Outside of that, there are no real guarantees.
Enter guys like Zack Greinke, Edwin Jackson, Kyle Lohse and possibly James Shields on the free-agent market.
Greinke (15-5, 3.48 ERA) is going to be chased by everyone and their mother, including the New York Yankees and Boston Red Sox (and their big wallets). The Cubs are simply going to have to outspend other teams, especially for Greinke.
Having a top-of-the-rotation guy like Greinke is the first step in becoming a contender.
Then, if the Cubs can sign a guy like Jackson or Lohse, they'll have a formidable top three to their rotation, with Garza being the third guy.
Shields is a possibility, but that's only if the Tampa Bay Rays don't pick up his $9 million option.
Any way you look at it, the Cubs have to make serious strides in the pitching department.
Settle Up Third Base and Catcher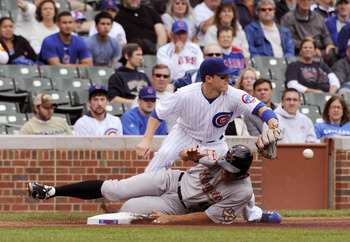 Josh Vitters hasn't shown he can play third base every day.
David Banks/Getty Images
Outside of pitching, the Cubs also have glaring weaknesses at third base and catcher.
At third, Josh Vitters hasn't shown he can be an everyday third baseman and Epstein knows that. So, the Cubs could look to fill that spot via free agency.
Of those third basemen who will be available this offseason, Kevin Youkilis would be a great fit. He's a leader on and off the field, plays good defense and is someone who can bring along the young guys.
At catcher, Steve Clevenger isn't exactly the answer, either.
Guys the Cubs should take serious looks at are Mike Napoli and Russell Martin. Both have the ability to put up decent power numbers and could handle the pitching staff.
Again, money won't be an issue for the Cubs as Epstein will be able to open up the check book.
Anthony Rizzo Has to Live Up to the Hype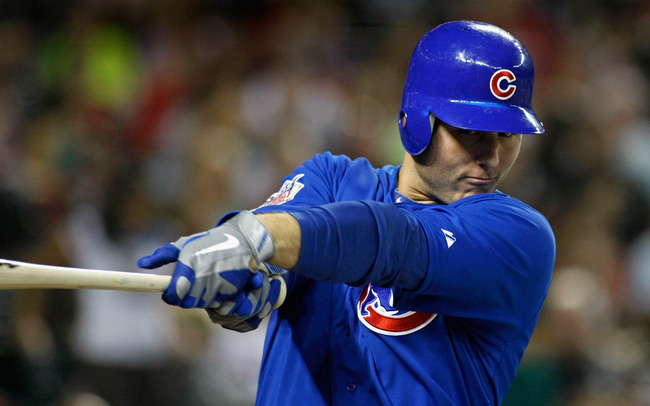 Anthony Rizzo shined in 87 games with the Cubs.
Ralph Freso/Getty Images
The Cubs are depending on first baseman Anthony Rizzo to live up to the hype.
The former prize of the San Diego Padres organization, Rizzo met expectations once he was called up by the Cubs in 2012. He finished the year batting .285 with 15 home runs and 48 RBI.
However, the Cubs are going to need more out of Rizzo.
Likely batting cleanup, Rizzo is going to have the opportunities to do big things for the Cubs. It's what he does with those opportunities that will help determine the success of the Cubs.
Survive April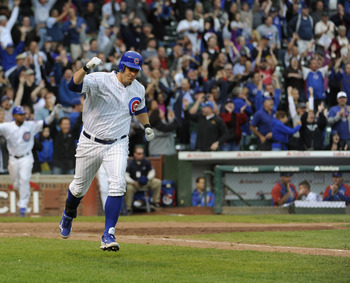 The Cubs have a tough schedule in April.
David Banks/Getty Images
Things aren't exactly easy in April for the Cubs.
This year, the Cubs open the season at Pittsburgh and Atlanta, before coming home to face the Brewers, Giants and Rangers. That's not exactly a great schedule to start out.
The Cubs have to get off to a good start. Last year, they went 8-15 in April and were never able to recover.
Chicago is going to have to get out of the gate quickly, or they could find themselves with a worse April record than they had last year.
If they can come out of April with a record at or near .500, then that will be considered a success.
Alfonso Soriano Must Be Steady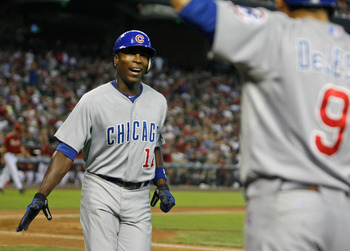 Alfonso Soriano had 32 home runs in 2012.
Ralph Freso/Getty Images
While Alfonso Soriano has put up decent numbers over the last few years, the Cubs finally got what they paid for out of the left fielder in 2012.
Soriano batted .262 with 32 home runs and 108 RBI, which was his best since his first year with the Cubs.
This has to happen again in 2013. Soriano has to get hot and stay hot throughout the year.
If he can put up the same kind of numbers next year, then the Cubs will be in business, especially considering some of the other young players they have.
Soriano will turn 37 next year, so it's likely he's in the last year or two of being relevant. And, what a way it would be for him to go out having brought the Cubs back to prominence.
Keep Reading

Chicago Cubs: Like this team?