The 5 Most Overrated Orlando Magic Players of All-Time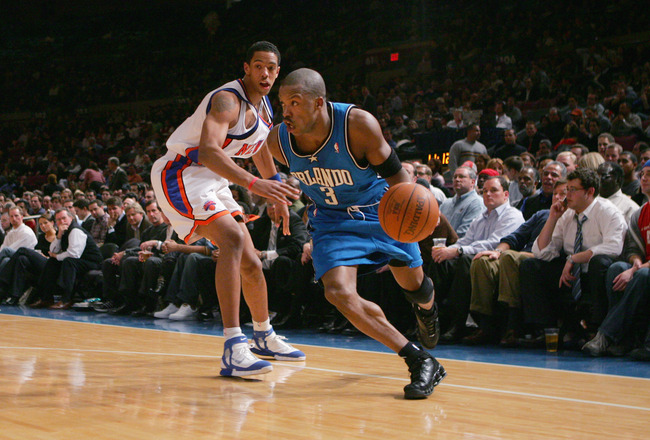 Ezra Shaw/Getty Images
Every team in the NBA has players who are overrated for either their name value, perceived skill set or a lack of surrounding talent on their team which inflates their numbers.
A player never wants the overrated tag, but unfortunately not every player deserves the praise they get or the money they receive for their on-court production.
The Orlando Magic have collected some top-notch talent over the years, but also have placed some players on the court who were expected to do way more than they actually delivered.
Here are the five most overrated Orlando Magic players of all time:
*Note: I'm not necessarily calling these players bad, just saying their value has been inflated because of things like nostalgia, etc.
5. J.J. Redick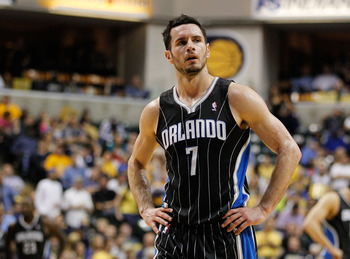 Gregory Shamus/Getty Images
I'm sorry, but I just don't get the Magic's love affair with Redick. He gets Tebow-esque praise from the Magic fanbase, but he hasn't really done anything spectacular.
Sure, he's been a sturdy role player over the years, but nothing more than that. He was a sixth-man type of guy who fit well in a system where three-point shooting was both relied on and encouraged.
The six-year veteran has very mediocre career averages of 8.4 points per game, but does boast a career 40-percent mark from three-point land.
While Redick had career-high averages of 11.6 points and 2.3 rebounds and shot 42 percent from three in 27 minutes per game last season, he hasn't been able to completely shed the one-dimensional tag that is associated with his game.
Redick is a solid player, but is overrated for the money ($6.19 million) and adoration that he gets. I don't have a problem with Redick being a fan favorite, but I think it's a bit overboard with him.
4. Rashard Lewis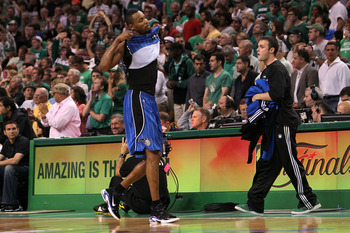 Jim Rogash/Getty Images
What's the first thing you think of when you hear Rashard Lewis?
Right, bad contract.
Lewis' six-year, $118 million deal is widely considered one of the worst contracts in NBA history.
The Magic were handcuffed into signing an All-Star, and while Lewis was the only one on the market at the time, he surely never played like one in Orlando.
He made the All-Star team in 2009, but failed to average 20 points per game in a Magic uniform after three consecutive years of averaging 20 points with Seattle.
While he was a key contributor during some great moments of Orlando's run at the top of the East, he never turned into the player the Magic had hoped he would become.
The sharpshooter's contract, combined with his fall off in production, makes him one of the most overrated players in Magic history.
3. Steve Francis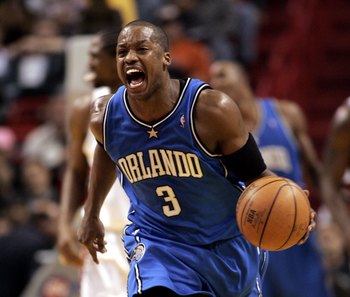 Eliot J. Schechter/Getty Images
Steve "Franchise" came to the Magic in the 2004 Tracy McGrady deal that saw Orlando send T-Mac and Juwan Howard to Houston for Francis and Cuttino Mobley.
After a great first season in Orlando, where Francis averaged 21.3 points, 7.0 assists and 5.8 rebounds per game, things unraveled for the three-time All-Star.
The following year, Francis was bothered when his good friend Cuttino Mobley was traded and saw his production take a nosedive. A disgruntled Francis ended up being suspended for conduct detrimental to the team and was traded after just a-year-and-a-half with the Magic.
For a player that was traded for a franchise cornerstone in T-Mac, Francis was highly overrated.
2. Vince Carter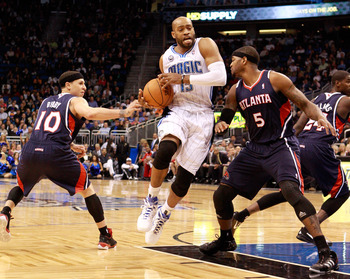 Sam Greenwood/Getty Images
After falling in the 2009 NBA Finals, the Magic were looking for a go-to-scorer who could take pressure off Dwight Howard.
They thought they got just that when they traded Rafer Alston, Tony Battie and Courtney Lee to the Nets for long-time superstar scorer Vince Carter and Ryan Anderson.
Carter's arrival was extremely hyped, as Orlando was his hometown team. Unfortunately, Carter failed to provide the "half-man-half-amazing" abilities that were expected of him, as the Magic ultimately fell in six games to the Celtics in the East finals that year.
Carter was a shell of his former self at that point in his career and was overrated because of his name value.
Still, the Magic got the best part of that trade, as Ryan Anderson ended up being one of Orlando's best players over the last two seasons.
1. Grant Hill
Doug Benc/Getty Images
The most overrated player in Orlando Magic history is Grant Hill.
Hill was expected to team up with budding superstar Tracy McGrady to form a dynamic duo that would push the Magic into title contention.
Unfortunately, Hill was hampered by injuries from the get-go, and they nagged him throughout his tenure in Orlando.
After playing in 74 games and averaging nearly 26 points per game the year before, Hill played in just 18 games over the next two years combined and averaged well under 20 points.
He had one good year while with the Magic. In 2005, he posted 19.7 points and 4.7 boards per game.
Still, for all the hype that surrounded his arrival to the team, he never delivered due to consistent injuries that would ultimately derail his career in its prime.
The fact that the Magic also had to give up an up-and-coming Ben Wallace for Hill just because of the prestige of his name makes him the most overrated player this franchise has seen.
Keep Reading

Orlando Magic: Like this team?