Jahvid Best: Why NFL Should Use Detroit Lions RB as Concussion Benchmark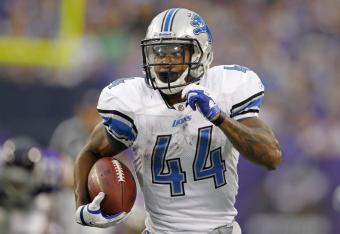 Bruce Kluckhohn-US PRESSWIRE
The unfortunate news out of Detroit this week that running back Jahvid Best would not be cleared to play is terrible for both the Lions and the rest of the NFL. The third-year back had plenty of promise as a runner in the league, and it's looking more and more likely he'll never see the field again.
Best has been sidelined for over a year with concussion problems, and doctors were unable to clear him for the kind of contact he would be seeing as an NFL running back.
It's really a sad story for Best, who has over 1,700 yards of total offense in bits of just two NFL seasons. He was expected to at least be a Darren Sproles-type factor in this Detroit offense upon his return, but he'll now have to face the next phase of working toward being cleared.
With that kind of life-changing situation at hand, the NFL has an opportunity to capitalize on this tragedy and turn it into something positive.
From James Harrison's struggles to avoid fines, the CBA being all about concussion prevention and to the unfortunate end of Junior Seau's life, the topic of concussions has been the source of a lot of negative publicity for the NFL over the last few years.
However, concussion prevention is trending in the right direction.
Last season, the NFL moved kickoffs from the 30- to the 35-yard line in an effort to keep special teams play at a minimum. It helped decrease the number of kickoff concussions from 2010 to 2011, a trend the league hopes to see continue going forward.
In the case of Best, doctors not clearing the back for contact is a step in the right direction if he is truly not ready to be on the field.
Too often we see players suit up with concussions and concussion-like syndromes.
Football is arguably the most dangerous sport on the planet. To paraphrase from my high school football coach, if you did what we do out on the field in the streets, you'd be in prison.
Be that as it may, it's high time the NFL took matters into its own hands. Players have been filing lawsuits for the past several years, and the motion to contact former players with head injuries seems to be snowballing right now.
Best had problems during his time at the University of California. Particularly, this nasty view of a touchdown run during his senior season was one of the reasons NFL teams chose to pass on him as a first-round prospect.
The Lions took a chance on the scat-back, though, and were rewarded during his first NFL season. He played in all 16 games, was a bright spot on the offense and looked poised to make good on comparisons to Lions great Barry Sanders.
But that all changed in Week 6 of 2011, when Best was driven to the turf in a game against the San Fransisco 49ers. It was his second concussion in two months, and doctors and advisers had seen enough.
Best hasn't seen the field since.
The running back should be commended for his attitude toward fighting his illnesses and making a comeback toward the NFL. His recent quote (per the Detroit Free Press) following the bad news is encouraging to those fighting anything, and he hints that he won't consider retirement without a fight.
"No," he said. "Then we'll have to sit back down and have more discussions and see where we can go from there."
The self-proclaimed "poster boy" for the recent outbreak of concussion crack-downs, Best likely will remain on the PUP list for the remainder of the season.
Will Jahvid Best ever play an NFL game again?
Players around the league should be paying attention. Robert Griffin III, the rookie QB sensation for the Washington Redskins, suffered a concussion two weeks ago. He was back on the field last week against the Minnesota Vikings, and led his team to a victory.
But was RG3 physically ready to play that game?
My guess is he wasn't. It's hard to argue with doctors that clear athletes, but I assert that the NFL will have to force players to sit a certain amount of games every time a concussion is accrued, depending on the grade of the injury. Those restrictions aren't here yet, but I feel they are coming.
It's been a year since Best hit the field for the Lions. That's horrible news for both parties, but it serves as a foundation for what the NFL should stand for going forward.
As he fights for his NFL life, he'll be able to look back and confidently say the league and his doctors made decisions with his best interest in mind, which is all you can really ask for on the job site or in life.
The NFL has the responsibility to protect its players. Using Best as a benchmark, the league can limit instances of health decline and mental instability of players, even after they are done with their playing days.
This article is
What is the duplicate article?
Why is this article offensive?
Where is this article plagiarized from?
Why is this article poorly edited?

Detroit Lions: Like this team?