2012 NBA Preseason: 3 Biggest Takeaways from Los Angeles Lakers' Play So Far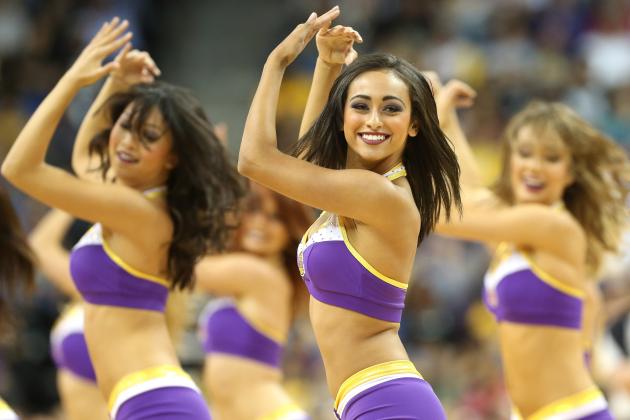 Stephen Dunn/Getty Images
The Laker Girls have been the only pretty thing about this preseason
Currently in the midst of another blowout loss to Utah, the Los Angeles Lakers will drop to 0-4 in the preseason.
The record doesn't mean much to me, but the manner in which they have lost those games does—not because there is some knee-jerk indictment of the roster, but because the roster may not actually be set. Or, should I say, there is still a player out there I think L.A. should sign (cough, Leandro Barbosa).
With Dwight Howard still yet to fold himself into the starting lineup, and the largely scattered play that the team— even the starters—have had on both sides of the floor, it is time to assess what it is we may see early on in the regular season.
Begin Slideshow

»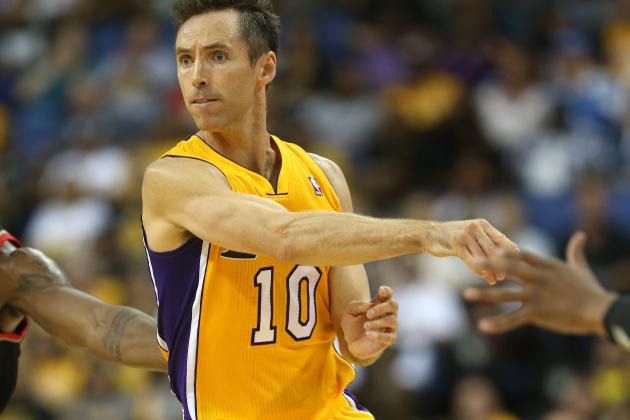 Stephen Dunn/Getty Images
Nash has largely facilitated, but the Lakers could use his shooting more
Short and to the point: The only consistent knock-down shooter the Lakers have on the roster is Steve Nash. Kobe Bryant has always been, and will continue to be, a streak shooter. Metta World Peace is not going to shoot 40 percent from deep, and reserve Jodie Meeks is a great shooter in stretches but also prone to streaks.
Having watched this offense (aware that it is absolutely a work in progress), I can still see that Nash will have plenty of opportunities from 15-to-18 feet off of pick-and-rolls. That's in addition to his being able to spot up when the ball goes in the post to Gasol and Howard. With all due respect to World Peace and even to Bryant (as he detonates against the Jazz for the 33 millionth time tonight), Nash should get a few more touches.
Seeing the team up close in Fresno, this will not be a 10-to-12 assist season for Nash. He's not going to dominate the ball in this offense like that, or play the volume of minutes to get those numbers. But in addition to his ball-handling, he definitely assumed the role of best playmaker upon his arrival. On the nights when Bryant is not on, and especially when working with the bigs in screen-roll and cutting situations, Nash's mid-range game will be essential.
But only if he shoots the ball more.
With Howard, Gasol, World Peace and Bryant, I'm still not sure there's enough outside shooting to prevent teams from collapsing the paint and forcing bad shooters into looks from deep. We saw enough of that last year to know that doing the same thing again is not going to yield different results. Nash is the X-factor and should play as one.
Christian Petersen/Getty Images
Sign him Mitch...
There's a serviceable point guard (Steve Blake), an outside shooter (Jodie Meeks), a scorer (Antawn Jamison) and a solid big man (Jordan Hill). But like much of last year, the Lakers bench lacks a player who can create his own shot and score when the clock breaks down.
Which is precisely the type of skill that Leandro Barbosa has.
With all the talk about Derek Fisher (and trust me, I understand it), it doesn't make sense to bring back Fish when you have a player who fits the needs of this team much more completely in Barbosa. I'm starting to wonder if there's some kind of collusion going on (kidding) in the NBA, because Barbosa is amazingly still unsigned.
This isn't a guy trying to get called up from the D-Fenders. No, Leandro Barbosa had a sensational Olympics and was more than solid for the Pacers in the playoffs. For the Lakers, he helps alleviate the burden on Steve Blake or Chris Duhon and, unlike Meeks, can consistently score and/or create his own shot off the dribble.
I don't think the second unit needs the type of cohesion offensively that the starters will need. They just need to score. Los Angeles' gross inability to do that in stretches was arguably the Achilles' heel of the 2012 team.
Barbosa almost makes too much sense here. What am I missing?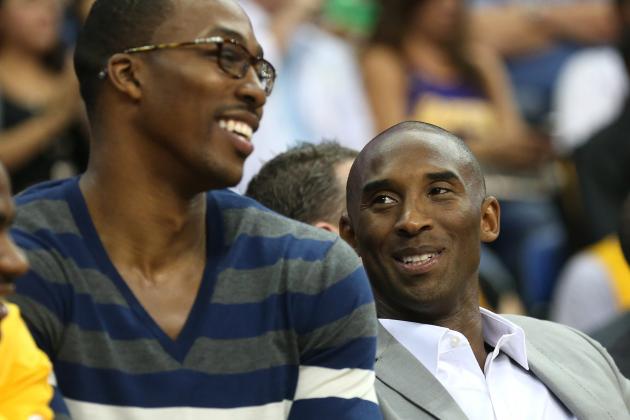 Stephen Dunn/Getty Images
Just remember, every year one All-Star team loses
Before the coronation, there must always be a competition in sports. The reigning NBA champions learned that in their first year together. Yes, the dreaded Miami Heat did reach the NBA Finals in 2011, but not before starting the year 9-8.
Is it conceivable that the Lakers struggle out of the blocks before asserting themselves? Absolutely.
As a matter of fact, I would recommend to Lakers fans to brace yourselves for that probability. There are a ton of moving parts with this team, and cohesion doesn't work the way an old Erector Set did upon completion.
Expecting Dwight Howard to just be in midseason, dominant form is unrealistic. He will give this team bursts of that amazing defensive play, and his athleticism can offset much of the obvious rust to be expected. But meshing his talents with those of Kobe Bryant, Steve Nash, Pau Gasol and, yes, even Metta World Peace, is not going to just happen.
Many will counter that the 2004 Lakers started 18-3 during a tumultuous offseason en route to the NBA Finals. My obvious counter will be that while that team added Karl Malone and Gary Payton, both were veterans in decline and, along with Bryon Russell, the only real additions to a championship-caliber team.
By contrast, the Lakers only have three players from their last title team in 2010 (Bryant, Gasol and World Peace). This is essentially a new team with arguably the most important piece still in street clothes. Don't let the blowout losses fool you, as that's not the issue. The issue is that there is still a question as to how this rotation should look (not how it will look) because of an abundance of pieces.
More importantly, the pieces that are in place haven't played together yet.
When the players get some games under their belts, this will begin to look like the team everyone got excited about this summer. But that will take time.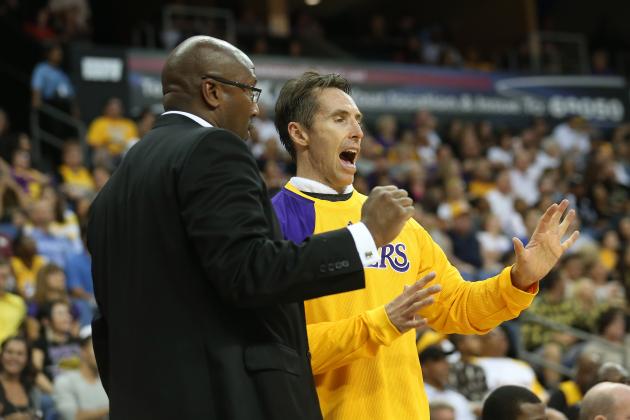 Stephen Dunn/Getty Images
Brown definitely has to earn his money in 2013
The best thing about preseason is when it's over—especially if a team can avoid any key injuries during the schedule. So far, the Lakers haven't been lucky with that, as Jordan Hill is now week-to-week with a herniated disc in his back. Fortunately, it will not require the same surgery that Dwight Howard had to undergo.
So, greatness isn't as simple as rolling the ball out on the floor. Most of you know that.
But after watching these first four games, none of which were closer than 13 points, it is clear the Lakers' new offense is still coming along. As is the chemistry of the roster. Thankfully, there are 82 games to get things in order. It may be a good thing if the Lakers come out of the blocks in a way I think they might.
Ultimately, this is going to be a great team Not to overuse the cliche, but there are just too many weapons.
We found out eight years ago, though, that talent alone will not win you a championship—it takes many elements, including great role players.
Mike Brown's job has already been critiqued. If this team doesn't live up to expectations long-term, his next job will come sooner than he thinks.