New York Giants off to Best and Worst Starts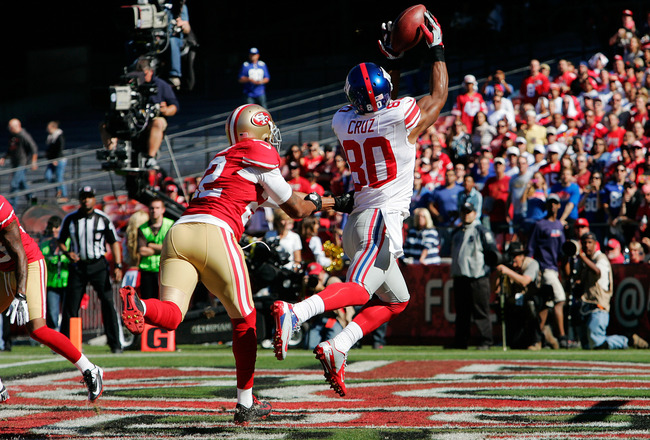 Brian Bahr/Getty Images
With a 4-2 record, the Giants as a whole have gotten off to a very good start. However, while many New York players have thrived during the team's recent success, others have struggled to pull their weight.
Overall, the Giants' offense has jumped out to a particularly hot start, but the defense has come on a bit slower. Still, there are individual members of both platoons whose performances have caused them to stand out either positively or negatively.
This article will highlight the three Giants players off to the best starts, as well as the three Giants that are off to the worst starts.
Best Starts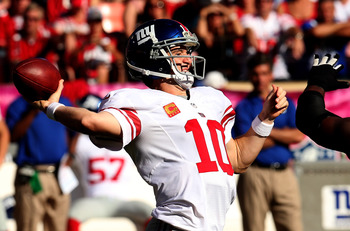 Stephen Dunn/Getty Images
Manning is the heartbeat that keeps this team alive. He was unstoppable in the playoffs last season, and so far in 2012, it has been more of the same.
Manning is already closing in on 2,000 passing yards and the season isn't even at the midway point yet. Aside from a disastrous first half against Tampa Bay where he threw three interceptions, Manning has been able to pick apart opposing defenses at will.
Manning is so pivotal to the Giants' success that it has become nearly impossible to imagine the offense functioning properly without him. As long as he maintains or improves upon his current 2:1 touchdown to interception ratio, the Giants should be able to rack up the wins.
Victor Cruz
The injury to Hakeem Nicks was thought to be devastating, but Cruz has filled the void admirably. With Nicks out, Cruz has fought through the double teams to protect his status as one of Manning's favorite targets.
Cruz has hauled in 43 passes for 496 yards, but it's his consistency that has made him so valuable to New York's offense. At given times, the Giants have had to rely on Domenik Hixon, Ramses Barden and Rueben Randle to come up big in spot duty, but Cruz has been the most reliable pass catcher week in, week out.
Cruz played in all six games this season and has averaged one touchdown catch per game. The third year wideout has almost completely cut out the big drops we saw early in the season, which makes Manning go to him more often in those clutch situations.
The Giants have really shown off their depth at wide receiver this season, but if they were to lose Cruz for some reason, it would be a much more difficult loss to overcome.
Lawrence Tynes
The only player that has been more consistent than both Manning and Cruz is kicker Lawrence Tynes. In fact, the team's leading scorer is off to one of his best starts as a Giant.
Tynes has already attempted a staggering 19 field goals through six games, and he has made 17 of them. The only field goals Tynes has missed were a potentially game-winning 54-yard kick against Philadelphia and a 40-yard attempt that was blocked against San Francisco.
Tynes has never been known for a booming leg, but he does have an incredibly accurate foot. He's a good fit for the Giants because they move the ball well in the middle of the field but tend to hit the brakes in the red zone. Tynes has trustily cleaned up any drives that Manning has left on the field so far this season.
Like Eli, Tynes also has the clutch gene, as we've witnessed him kick the Giants to the Super Bowl on two different occasions. His accuracy and cool foot will come in handy in many close games down the stretch.
Worst Starts
Jim O'Connor-US PRESSWIRE
Justin Tuck
While the Giants' pass rush has certainly been underwhelming as a whole, Justin Tuck has been particularly disappointing. The one-time All-Pro defensive end is still in search of his first sack of the season.
This is the second straight season that Tuck has gotten off to a slow start. Last season, he overcame distractions and injuries to collect 3.5 sacks in the payoffs. New York fans surely hope Tuck will bounce back from his current slump, but the future isn't looking so bright—Tuck didn't even record a tackle against the 49ers in Week 6.
The Giants' defense has been shaky at times this year, and it's hard not to blame some of that on Tuck's lack of production. Tuck is the defensive captain and a team motivator; if he isn't playing well, the whole unit seems a bit off.
New York needs Tuck to be more of a leader on the field. If the Giants want to replicate the championship run they had last year, they'll need everyone playing up to par, especially the captain of their defense.
David Diehl
Diehl is now in his 10th season with the Giants, but an injured knee has kept him out for the majority of it. Diehl will have to recover from his slow start quickly if he wants to salvage what very well may be his final year as a Giant.
Against the Cowboys in Week 1, Diehl was the starting right tackle. But after damaging his MCL the following week, Sean Locklear was bumped over to the right side and Will Beatty was inserted at left tackle. Since shifting the lineup, New York has won four of its past five games.
Diehl was activated for the 49ers game on Sunday but failed to crack the starting lineup, as the current unit hasn't given up a sack in three games. After rushing for 243 yards without him the week before, the Giants used Diehl sparingly as an extra tackle in some run-heavy sets.
In spite of Diehl's history with the franchise, he's currently on the outside looking in, as the old saying goes, "If it ain't broke, don't fix it!"
Corey Webster
The Giants' secondary, which was giving up an average of 8.8 yards per pass attempt heading into the 49ers game, has also been inconsistent. Veteran Corey Webster was once a shutdown cornerback, but he has struggled with his basic responsibilities so far in 2012.
Webster has settled down a bit since his awful performance in Week 1, but he's still one of the most picked on members of the Giants' defensive backfield. Quarterbacks are not even remotely afraid to throw in his direction anymore.
It's difficult to come down too hard on Webster, though. The secondary has weathered injury after injury, and he has been one of the only mainstays. Despite breaking his hand in Week 3 against the Panthers, Webster has found a way to stay on the field, providing the unit with some much-needed veteran leadership.
Webster will have to improve as the season wears on because talented quarterbacks will take advantage of the mistakes he has been making. If he's able to shut down his man a la 2011 Corey Webster, the Giants will field a stingier defense overall, making their chances of returning to the Super Bowl all the more likely.
Keep Reading

New York Giants: Like this team?