Green Bay Packers: Biggest Winners & Losers in Week 6 Win over Houston Texans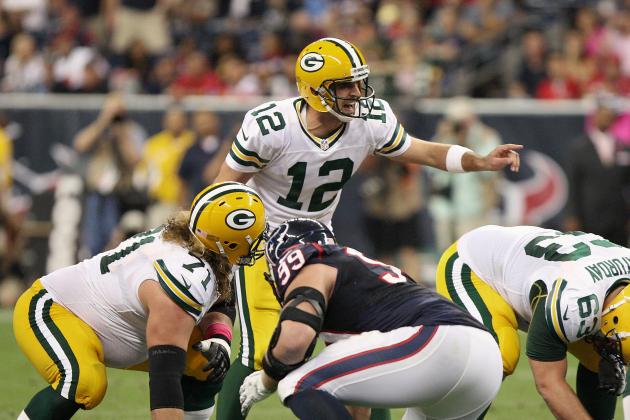 Troy Taormina-US PRESSWIRE

The visiting Green Bay Packers handed the Houston Texans their first loss of the season with a 42-24 win on Sunday night.
Little went wrong for the Packers as they racked up 427 total yards and had a good performance on defense as well.
The Packers improved to 3-3 on the season, and it was a whole lot easier to point out the winners as opposed to the losers.
Begin Slideshow

»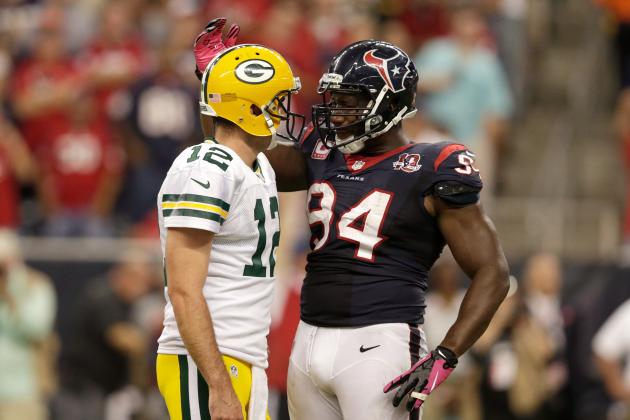 Scott Halleran/Getty Images
Aaron Rodgers
Coming into Sunday night's game, the Packers had to answer questions about their offense—a unit that hasn't been playing up to the same level as last season, when they had one of the most potent offenses in NFL history.
Aaron Rodgers in particular had critics questioning his play, which prior to Sunday, wasn't poor but definitely wasn't at the MVP level of 2011.
With a dominating showing on Sunday evening, Rodgers started to quiet his critics by tossing six touchdown passes and not having a single turnover. On the night, Rodgers completed 24 of 37 passes for 338 yards to go along with a passer rating of 133.8.
There was little to find fault with Rodgers' game, as he had one of the finest performances of his career against a good opponent in a difficult environment.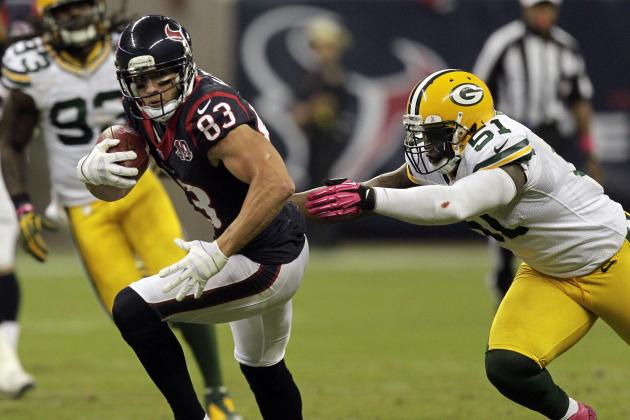 Bob Levey/Getty Images
D.J. Smith
The extent of D.J. Smith's injury is still unknown, but if it's as bad as it looks, the Packers' starter at inside linebacker will miss some time.
Smith was already starting in place of Desmond Bishop who was hurt during the preseason with a hamstring injury, so Smith's injury is putting the Packers depth at inside linebacker to the test.
Replacing Smith was Brad Jones, who's a former outside linebacker attempting to make the transition to the inside. Jones played well considering the circumstances and his relative inexperience.
What the injury to Smith also means is that his fellow inside linebacker A.J. Hawk may be forced to play more often on passing downs, which is clearly one of his weaknesses.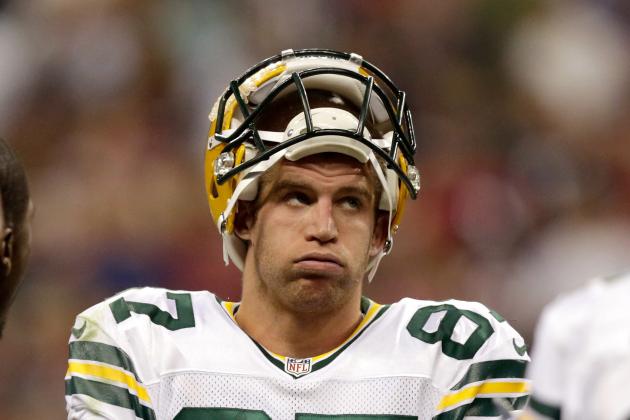 Scott Halleran/Getty Images
Jordy Nelson
Jordy Nelson came into Sunday's game with only one touchdown on the season, a victim of the Packers' passing woes through the season's first five games.
But Nelson changed all that with his best game of the year and maybe the best game of his career at Houston.
All told, Nelson had nine catches for 121 yards and three touchdown receptions, and he routinely got the better of Pro Bowl cornerback Jonathan Joseph.
As someone who scored 15 touchdowns last season, Nelson was expected to be more productive this season.
Against Houston, he finally started to see the success many thought he'd have.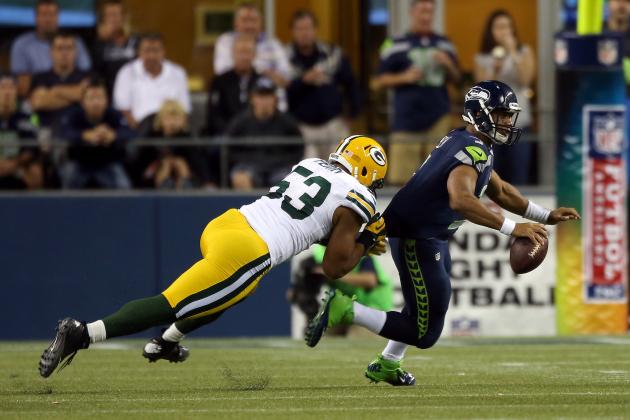 Otto Greule Jr/Getty Images
Nick Perry
Nick Perry has had an up-and-down season as a rookie coming into Sunday's game.
There have been flashes such as when he sacked Seahawks quarterback Russell Wilson in Week 3 or when he crushed Colts quarterback Andrew Luck in Week 5.
But Perry hasn't played so well that the Packers couldn't afford to take him off the field. He was sharing time with Erik Walden at right outside linebacker before sustaining a knee injury Sunday night.
The extent of Perry's injury isn't yet known, but he exited the Texans game and did not return. If Perry is shelved for any length of time, Walden will get the chance for more playing time.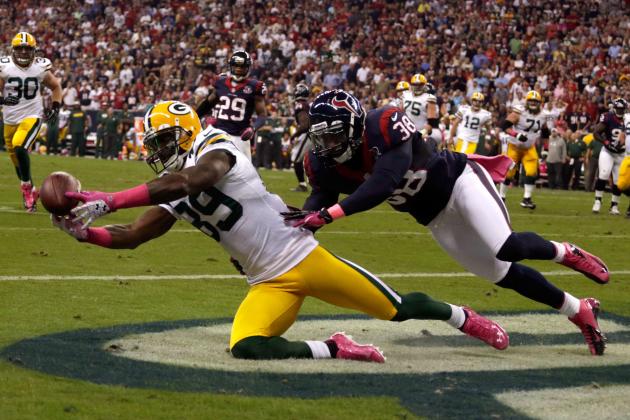 Scott Halleran/Getty Images
James Jones
James Jones came into the weekend tied for the NFL lead with five receiving touchdowns with Victor Cruz of the New York Giants.
He added to that total against the Texans with two more receiving touchdowns. It was the third consecutive game with two touchdowns for Jones.
Without a doubt, Jones is off to the best start of his career and is taking advantage of the absence of starter Greg Jennings, who has been beset by a groin injury.
Jones has become a trusted target for Rodgers and is proving to be more reliable and sure-handed than in past seasons.
Perhaps most impressive against the Texans was his second touchdown reception, an 18-yard pass from Aaron Rodgers that Jones corralled by going to the ground in the end zone and bobbling before gaining full possession.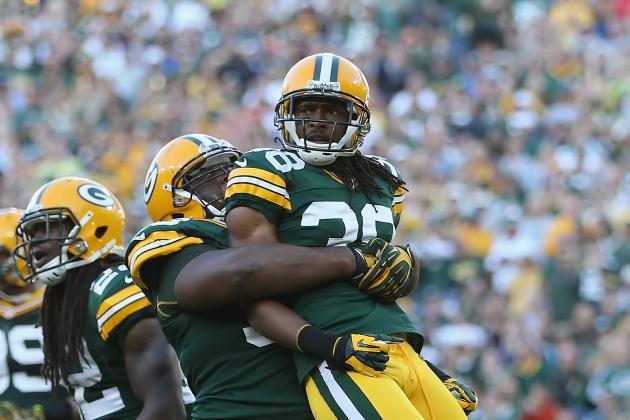 Jeff Gross/Getty Images
Tramon Williams
It wasn't as if Tramon Williams got beat deep on Sunday evening, but he gave up a few too many receptions to veteran Texans receiver Andre Johnson.
Johnson led the Texans with eight receptions for 75 yards on the night, many of them going for first downs.
The Matt Schaub-to-Andre Johnson connection was able to keep the chains moving and helped the Texans get 23 first downs.
The previous week Williams was partially at fault for giving up a big day to Colts wide receiver Reggie Wayne, but he at least made up for it by batting away several passes. Unfortunately for Williams, he didn't do that against the Texans—or at least not nearly enough.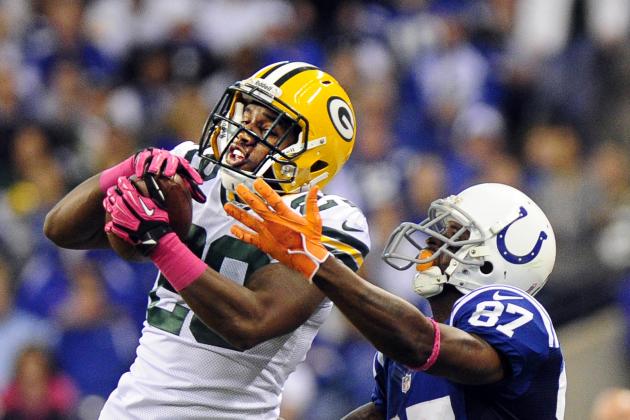 Thomas J. Russo-US PRESSWIRE
Casey Hayward
Building off his performance against the Colts the previous week when he had the first interception of his professional career, rookie cornerback Casey Hayward turned in another impressive performance on Sunday.
Hayward grabbed two more interceptions against the Texans to bring his total to three on the season.
The rookie from Vanderbilt also had another pass defensed in the end zone, which broke up a throw from Matt Schaub that could have otherwise been a touchdown.
Hayward is putting together an impressive rookie campaign and seems to be getting better with each passing week.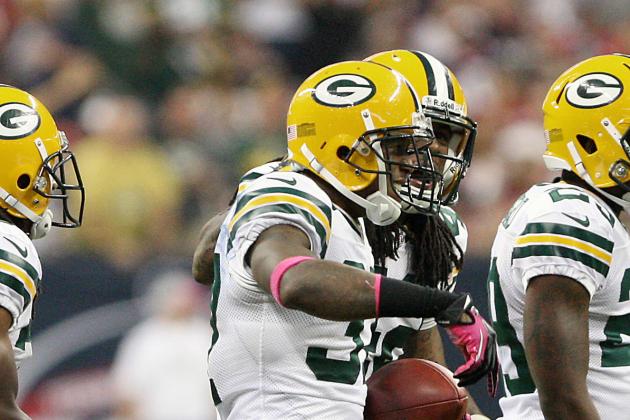 Troy Taormina-US PRESSWIRE
Sam Shields
Yes, Sam Shields might have had a nice fourth quarter interception, but it was more so his injury and his shoddy first half that lands him in the "losers" category.
Shields left the game in the late in the fourth quarter with a shin injury and didn't return after getting leg-whipped by a teammate. The injury didn't appear serious, but until an update is given, the extent is still unknown.
In the first half, Shields had his share of troubles, which was evidenced by his pass interference call in the second quarter while covering wide receiver Kevin Walter, which cost the Packers 26 yards and gave the Texans a first down at the 4-yard line.
That set up the Texans' first touchdown of the game, a three-yard run by running back Arian Foster.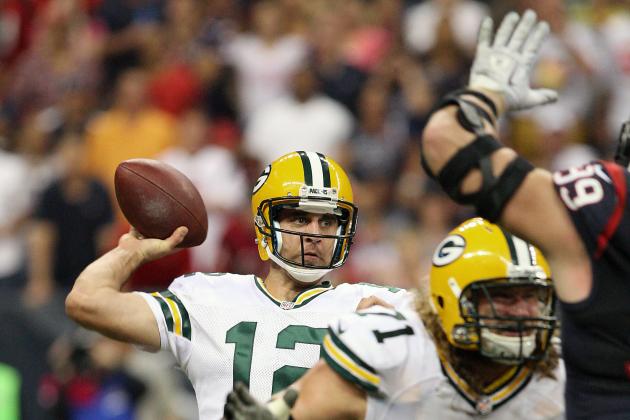 Troy Taormina-US PRESSWIRE
Josh Sitton
The Packers gave up two sacks to J.J. Watt on Sunday evening, but other than that, the offensive line did a good job giving Aaron Rodgers time to operate.
Executing the protection schemes was part of the reason the Packers were able to pick apart the Texans through the air on their way to six passing touchdowns.
At different times during the season, the Packers have been destroyed by opposing pass rushes: They gave up eight sacks in one half to the Seahawks and five sacks in one half to the Colts.
But against the Texans, the Packers did a good job against Watt and company, and even running back Alex Green seemed to get better at picking up the blitz as the game went on.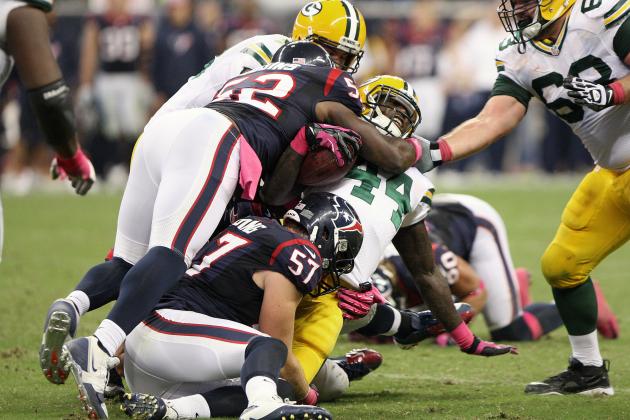 Troy Taormina-US PRESSWIRE
James Starks
It might be a little bit unfair to analyze the play of James Starks in the fourth quarter as the Packers were trying to run out the clock. And Starks was also getting his first playing time of the season.
Still, he didn't do much of note, carrying the football five times for just 11 yards.
The Texans game was the first time Starks has been active all season after nursing a turf toe injury, but the Packers showed no willingness to play Starks when the game was on the line.
Backup running back Brandon Saine also left Sunday's game with an injury after getting hurt on special teams in the third quarter.
Like the rest of the Packers injured on Sunday, the extent of Saine's injury is still unknown.