New England Patriots: Who's off to Their Best and Worst Starts?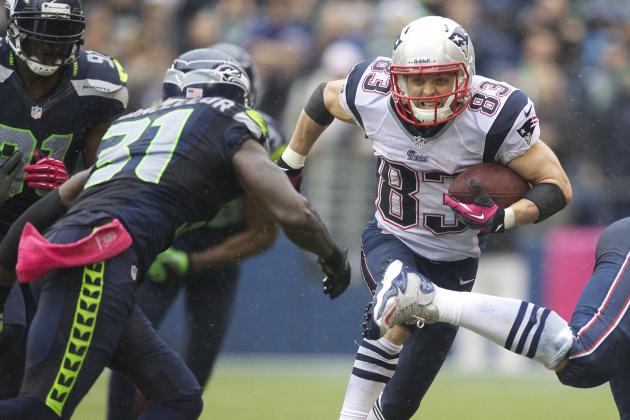 Stephen Brashear/Getty Images

The weather was bleak in Seattle and so were the Patriots. Following the team's one-point loss to the Seahawks on Sunday, a frustrated Patriot Nation will likely spend this week searching for answers.
Bill Belichick took a stab at clarification when he offered these words after the game:
Nothing we did today was good enough. On offense, defense, special teams, coaches, players, everybody involved in the game. It just wasn't good enough. We all made mistakes. We had our chances, we just didn't do a good enough job.
It remains to be seen whether Patriots fans will be satisfied with this explanation. The memory of that game won't wash away easily.
Nevertheless, the show must go on, and here come the Jets.
But before we go down that road, let's take a look at standout (and not-so-standout) Patriots from the first six weeks.
Begin Slideshow

»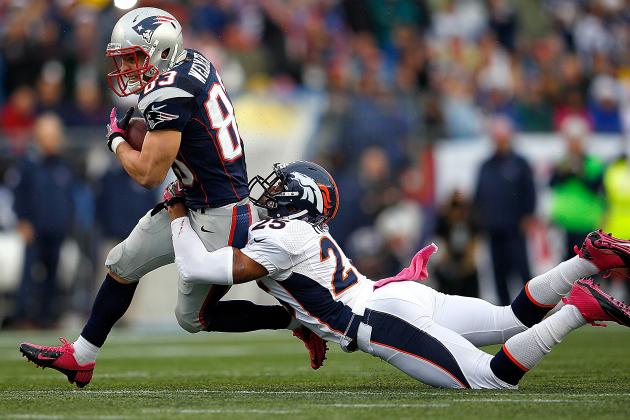 Jim Rogash/Getty Images

Wes Welker has four straight games with more than 100 receiving yards. The most amazing thing about it is that nobody's surprised.
He's one of the most sensational and consistent players in the NFL.
He's also one of the toughest. After taking a monster helmet-to-helmet hit in the Seahawks game, he sat out for a few seconds, then came in and made a first down-producing catch.
This is the same elite receiver who had his knee blown out a few years ago, rehabbed and recovered, then came back stronger and better than ever.
The Seahawks game was just further proof that he's superhuman and a potential Hall of Famer.
Another Super Bowl ring would seal the deal.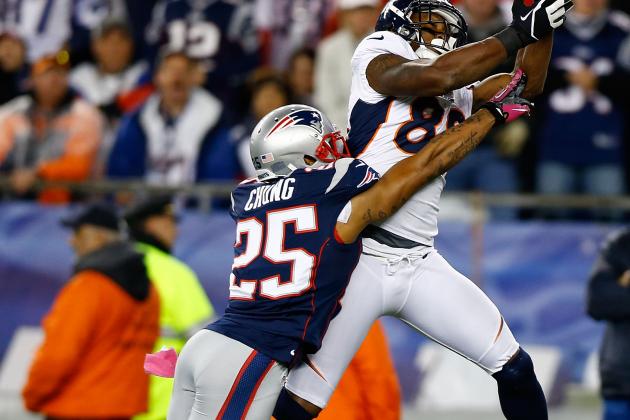 Jared Wickerham/Getty Images

Patrick Chung's body is prone to injury. Problem is, it isn't just his physical health that's in jeopardy. His swagger is bruised. His gusto is depleted. Everything about him, tangible and intangible, feels injured.
Chung is a phenomenal talent and a strong leader. But he began his downward process last year, playing poorly in spurts. Unfortunately, those spurts have spilled into this season. Physically and mentally, he still seems a step slower and a notch weaker.
He remains an excellent player, but he's stuck in a valley right now.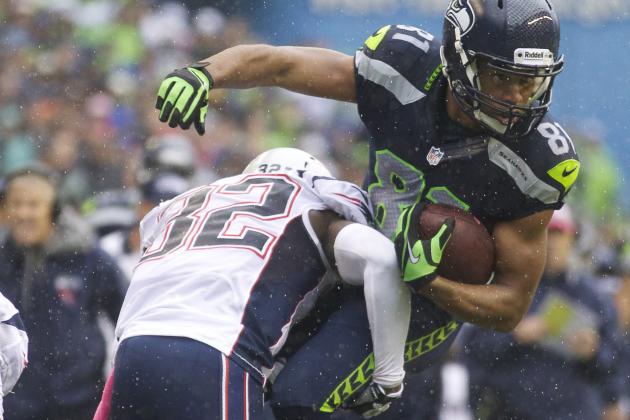 Stephen Brashear/Getty Images

Once in a blue moon, Devin McCourty shows flashes of brilliance. He grabbed a pair of interceptions against the Bills and conjured up some sadistic tackles against the Seahawks. Whenever these moments arise, it seems like "the old McCourty" is here again, lurking in the shadows.
But those shadows have only been phantoms.
Nothing about McCourty looks right. His technique is twisted in knots, his angles are off and he looks slow. He's got no mojo. Quarterbacks attack him. Receivers beat him.
The guy definitely plays hard. You can see him pushing himself. He wants to be awesome again.
But as of now, the production just isn't there.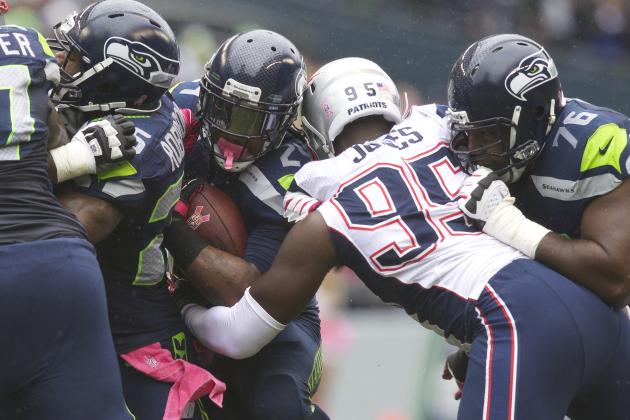 Stephen Brashear/Getty Images

Chandler Jones is having a dynamite start to his rookie season.
He moves fluidly, draws penalties, outwits and out-maneuvers tackles, rushes and strip-sacks quarterbacks, pummels running backs and generally uses his length and speed to create havoc wherever he goes.
He's just an unbelievable prodigy.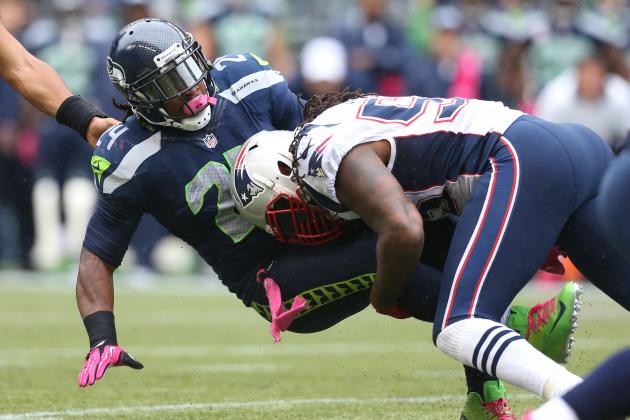 Otto Greule Jr/Getty Images

Brandon Spikes is arguably the most aggressive player on the Patriots. His hits are straight out of a different era of football. This is a bad man with fire in his gut.
More importantly, he makes timely plays. His crucial forced fumble against the Cardinals put the Patriots in a position to steal the game.
Although that quest ultimately fell short, his pair of forced fumbles greatly helped the Patriots thump the Bills two weeks later.
He's putting together a very nice season.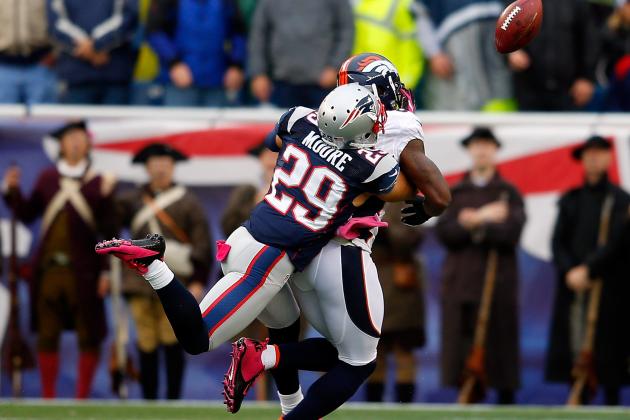 Jim Rogash/Getty Images

Kyle Arrington and Sterling Moore have been a disappointment because the expectations for both were so high.
Perhaps the expectations were higher for Moore, who saved New England's 2011 season in the AFC Championship Game with a brilliant end-zone strip of Lee Evans. Still, though, let's not forget that 2011 was also pretty special for Arrington, who had a league-high seven interceptions.
These are two talented guys who are hitting a wall right now. Their coverage skills are deteriorating before our eyes, week after week.
It's been a very poor start for both players.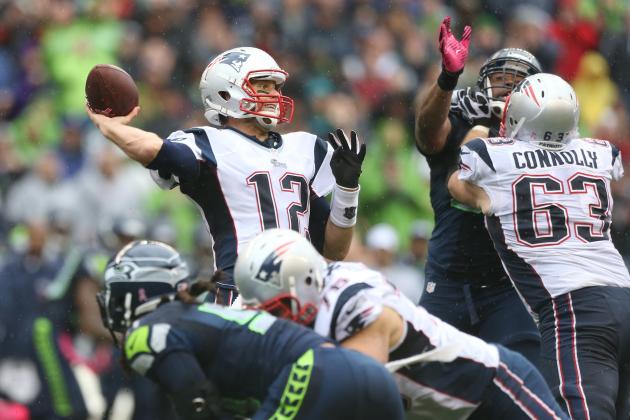 Otto Greule Jr/Getty Images

In each of the Patriots' three victories, Tom Brady was in cruise control. It looked like he was tossing a ball in the backyard. Brilliance flowed through him, quickly and breathtakingly. He strategized like a general, but also improvised like a bebop musician.
He was cool and totally in command.
However, in each of the team's three defeats, he looked frustrated by limitations. The question is: Whose limitations was he frustrated by? His? The team's? The coaching staff's? Where were the limitations coming from?
Tough to say, but this much is true: These were the same limitations that cost the Patriots an NFL championship last season.
New England's recurring problem is that it gives up the big play on defense and fails to make the big play on offense. It's a fatal one-two punch for a team that's otherwise good enough to win a title. It's frustrating, to say the least.
Brady can't help the defense, but it's within his power to harness the late-game magic that earned him his first ring back in 2001.
That magic is still inside him, but he's the only one who can dig it out.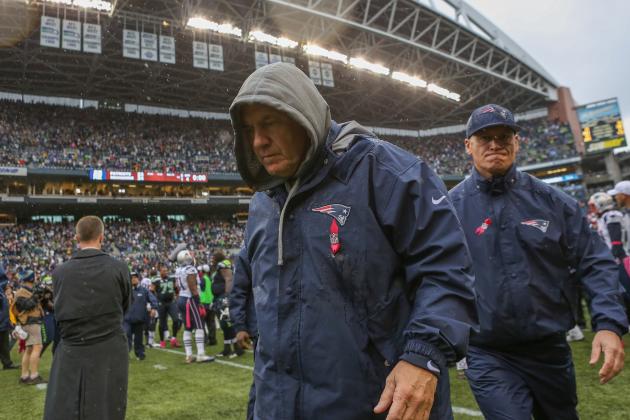 Otto Greule Jr/Getty Images

Doc Rivers is the head coach of the Boston Celtics. He's one of the greatest leaders in modern sports. He's a brilliant, inspirational guy. His personality rubs off on every player he coaches.
No matter the situation, no matter their injury status, no matter who or where they're playing, Rivers has that team focused and ready to play its best. Every second of every game, the Celtics are trying to win.
So, when the Celtics lose, there's still a part of you that wants to pat the coach on the back and say, "Great try, Doc, you almost had it."
This isn't always the case with Bill Belichick after a Patriots defeat.
Often times, it seems like the Patriots show up with their heads crammed full of brilliant information, but they don't actually look ready to play. They don't always look prepared. They fall behind early, or build p leads which collapse. In-game adjustments fall flat or simply aren't attempted.
Mental errors and missed opportunities begin to snowball. Game management goes haywire. Execution fails. They turn tough situations into agonizing situations. Things fall apart.
I don't doubt that the Patriots are one of smartest teams in the league, but I question whether they're one of the most "football-ready" teams in the league. That deals with a different kind of preparation. It's the kind of preparation that the Cardinals, Ravens and Seahawks had.
The Giants had it, too.
I'm less concerned with the 3-3 record and more concerned that I'm never sure which Patriots team is going to show up.
This is an issue of preparation. It's an issue that Belichick needs to address.