Heisman Watch: The Race Tightens in Week 8 with Some Big Changes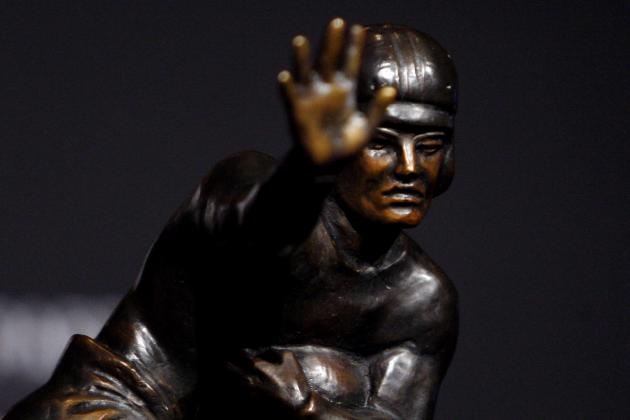 Jerry Lai-US PRESSWIRE

We're halfway through the college football regular season and the top five Heisman candidates are beginning to get more separation from the rest of the pack.
That doesn't mean the race is over, but with conference play getting tougher and tougher, survival of the fittest now starts to become a factor. This week we had one candidate dropped from the list and two new faces added to the list. We also have a change at the top.
Dropped this week: South Carolina running back Marcus Lattimore. He's got tremendous talent, but he's just not getting enough carries or yardage to stay on this list. Against LSU on Saturday, Lattimore had 13 carries for 65 yards.
On to Week 8's list.
Begin Slideshow

»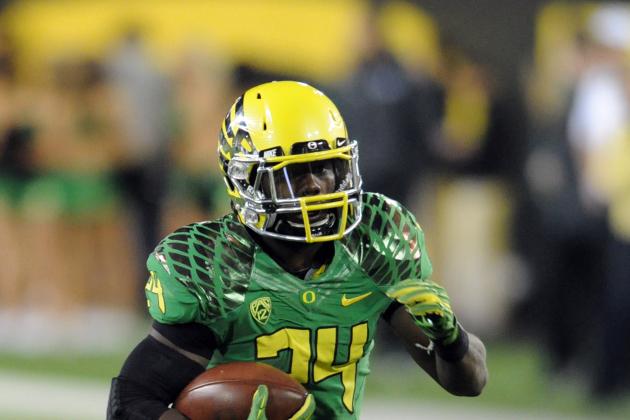 Steve Dykes/Getty Images

The Oregon Ducks were on a bye last week so there are no new statistics to report on running back Kenjon Barner, but this Thursday the Ducks play at Tempe, Arizona against the Arizona State Sun Devils.
Don McPeak-US PRESSWIRE

Florida Gators running back Mike Gillislee had a so-so day against Vanderbilt on Saturday; Gillislee had 17 carries for 67 yards.
This is the third game of the 2012 season where he has had a sub-100-yard rushing game—one more and he'll drop out of this list.
But we did love his vault over the Vanderbilt defender. Even McKayla Maroney would've been impressed.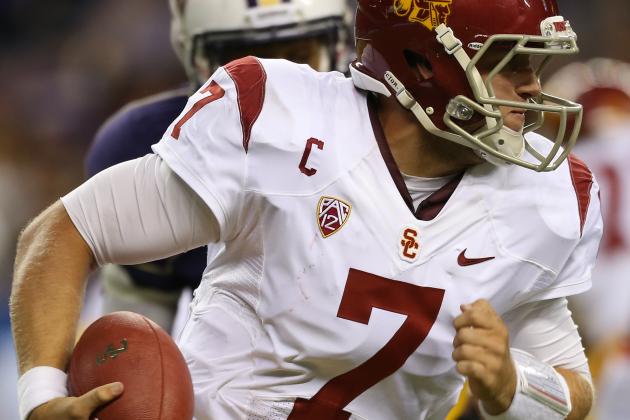 Otto Greule Jr/Getty Images

Quarterback Matt Barkley dropped a few spots after a good performance at Washington, but not great one. Barkley passed for 167 yards but only completed 50 percent of his passes, going 10-of-20.
Seattle is a tough venue, but Barkley still failed to put any points on the board in the second half. USC has some huge games coming up against Oregon and Notre Dame, so his performances in those two contests could very well determine whether he moves up or off this list.
This week's date with Colorado could bolster his stats significantly; the Trojans will be favored by over five touchdowns.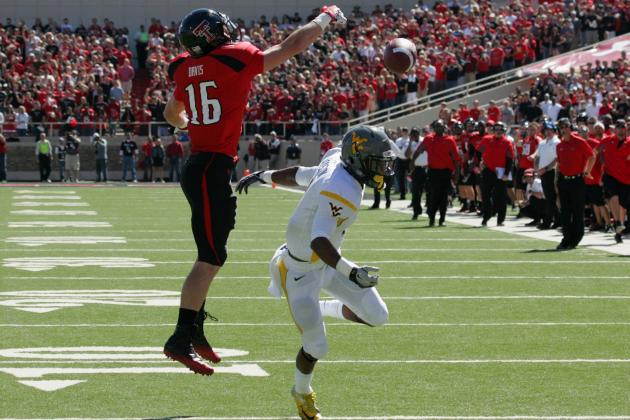 Michael C. Johnson-US PRESSWIRE

USC receiver Marqise Lee is a weekly returner on this list but West Virginia receiver Tavon Austin is a new addition. Both Lee and Austin are electric on the field.
Lee had an unremarkable game against the Washington Huskies, but he has some serious competition from his teammate, Robert Woods. Lee caught two passes for 32 yards while Woods had 88 receiving yards.
West Virginia receiver Tavon Austin had much better numbers against Texas Tech catching nine passes for 99 yards, but the Mountaineers got spanked 49-14 by the Red Raiders.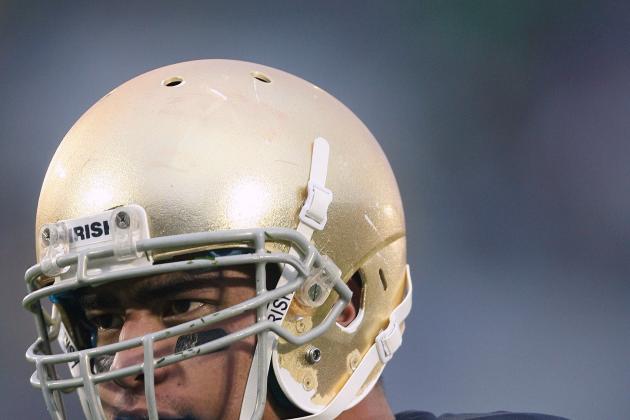 Brian Spurlock-US PRESSWIRE

The Notre Dame Fighting Irish are 6-0 and a big reason for that spotless record is the stout defense led by linebacker Manti Te'o.
Against Stanford, Te'o had 11 tackles and he was instrumental in holding the Cardinal to only 147 total rushing yards.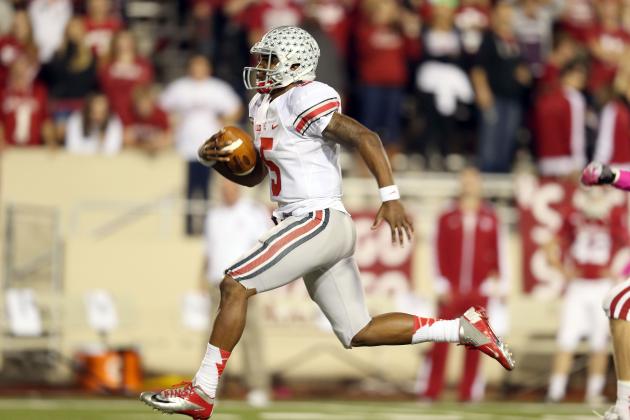 Andy Lyons/Getty Images

Ohio State quarterback Braxton Miller is why Ohio State is 7-0. Well that, and having Urban Meyer at head coach.
Against Indiana, Miller went 13-of-24 for 211 passing yards, one touchdown and one interception. Miller also rushed for 149 yards on 23 carries and one touchdown.
If his defense would help him out a bit more, maybe we wouldn't see such a tight game against teams like Indiana, where the Buckeyes won 52-49. Miller will be exhausted by November if this keeps up.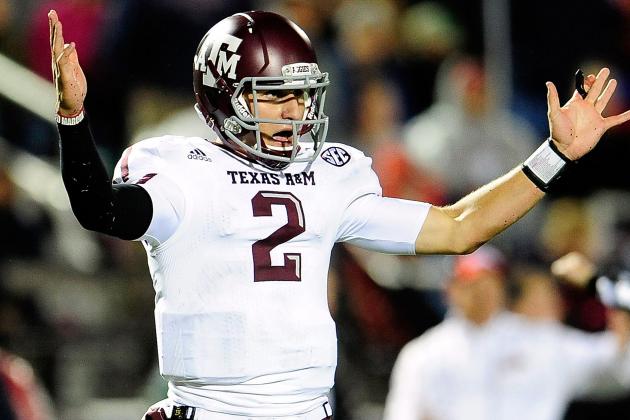 Stacy Revere/Getty Images

We were already amazed by Aggie quarterback Johnny "Football" Manziel when he turned in these numbers against Arkansas: 29-of-38, 453 passing yards and three touchdowns.
Manziel also rushed for 104 yards on 14 carries and scored a touchdown on the ground as well.
Manziel was on our radar, and then our radar blew up on Saturday when Texas A&M beat Louisiana Tech 59-57.
Passing: 24-of-40, 395 yards, three touchdowns and one interception.
Rushing: 19 carries, 181 yards, three touchdowns.
576 yards? WOW.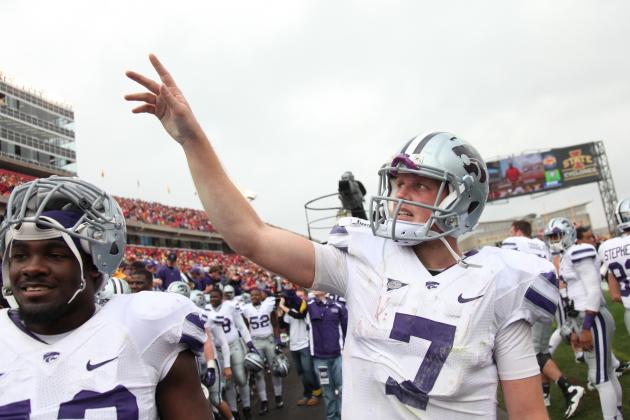 Matthew Holst/Getty Images

Just when we thought nobody could catch West Virginia quarterback Geno Smith in the Heisman race, somebody did.
Smith actually had a decent day in the Mountaineers' 49-14 loss to Texas Tech; he went 29-of-55 for 275 yards and one touchdown. He still doesn't have an interception this season. That's very impressive.
His accuracy was off (52.7 percent), albeit his receivers didn't help him out much. The loss showed Smith is fallible, and while that isn't a ding on him, it does show that we shouldn't expect perfection every week.
Which brings us to Collin Klein, the Kansas State Wildcats quarterback. He's basically the heart and soul of the team and maybe that's because more than anyone else in FBS football—Johnny Manziel may be the exception—he wills himself to win every weekend and it's all on his back.
At Iowa State, Klein went 16-of-24 for 187 passing yards. He also rushed for 105 yards on 25 attempts and punched it in the end zone for three touchdowns.