The news that Wonga, often referred to as "legal loan sharks," have agreed a four-year, £24 million deal with Newcastle United was not greeted favourably. But what does it actually mean for the team, the company, the city and its fans?
The knee-jerk reaction is obviously to see it as a bad thing—a further abasement of football as it surrenders ethics to big business, or just another example of Mike Ashley's unscrupulous dealing that disregards the club and its fanbase.
Despite both of those statements having merit, the reality lies somewhere in between. It's becoming more difficult for teams to compete for the Premier League—and beyond—without investments like this; the fact that the Wonga name is synonymous with greed is an unfortunate coincidence.
The only thing that's absolutely certain is that it won't be going away. Ashley has previously shown that he's prepared to be the piñata if it means more money comes in, so the uproar from fans isn't going to reverse the decision.
The Price of Competition
Anyone that believes their club can compete without the murky involvement of investors outside of football is living in the past. There may still be teams that go on improbable, giant-killing cup runs, but long-term competitiveness is out of reach without further financial support.
In addition to this, the reason that lower-league teams place so much emphasis on a successful cup run—the FA Cup in particular—is to gain further exposure through television broadcasts, which in turn brings in more money.
Wonga is not a reputable company, as proven by their 4,214 percent interest rate, but is it really any worse than the entire league being sponsored by Barclays, a company that was fined £290 million for rate-fixing?
What's your opinion of the Wonga deal?
Wonga is a company designed to prey on the desperate, that much is evident, but these actions are not illegal. The Libor scandal was a genuine criminal act, and were the justice system consistent, the bank(s) would be held accountable as criminals.
Returning to football, Manchester City was bought out by former Thai Prime Minister Thaksin Shinawatra in 2007. Thaksin is surrounded by accusations of corruption, that vary wildly from sanctioning the murder of thousands of people while in office, to changing laws in order to further personal gain.
Although he then sold the club to Abu Dhabi United Group Investment, he has two warrants out for his arrest—one issued just last week. This is seldom mentioned in City's glorious rise to the top of the Premier League.
Wonga has also sponsored Hearts and Blackpool, whose supporters have not yet sunk into a spiral of debt and self-destruction. Likewise, Celtic's agreement with 888Poker.com has not plunged families into immeasurable gambling addiction.
Newcastle themselves were sponsored by Northern Rock, a company that required a bailout of £3 billion from the taxpayer, and which was then sold to Virgin Money in a deal that cost the taxpayer another £400 million.
Football is not the pure, harmless pursuit that many would like it to be. It's ruled by business and merchandising opportunities, and the cost of maximising those opportunities is to conduct deals that leave many supporters feeling like they sold a piece of their soul.
Newcastle's deal with Wonga is the latest example of this, but it's by no means the worst.
A Future Challenge
It's not surprising that Alan Pardew has come out in defence of the deal, considering he signed a contract for eight years. His reasoning for defending his team's new sponsor has merit, however.
The pledge to immediately invest £1.5 million into the academy will ease Pardew's immediate future, developing more players like Adam Campbell—and Andy Carroll before him—and bringing them into the first team.
In addition to this, it means that the club has further money available for new signings. Pardew himself stated that the new deal enables Newcastle to compete on a level that wasn't previously available to them:
As manager of this football club I can only say that to have the best sponsorship deal we've ever had is a good thing.

It's about building the first team and it's about having the financial muscle to start improving the academy – that's an area where we've lagged behind some of the senior clubs. Now there's no reason why we can't be one of those top-four clubs, especially on an organisational front. (Via Goal.com).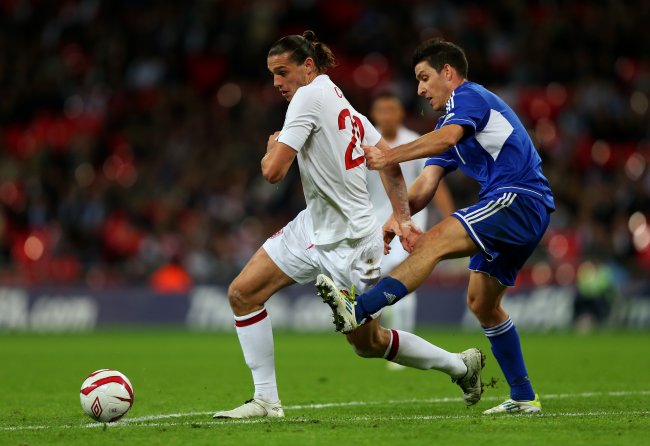 Bryn Lennon/Getty Images
Regardless of how the money arrived, the fact remains that the money is there. The problem the team has had in the past is that Ashley and Derek Llambias have been distinctly unwilling to part with any money that comes into the club.
The reluctance on the supporters' part to believe claims that originate from Ashley's office is completely understandable, but there's no real way of knowing how it will pan out until January.
Newcastle have a habit of being linked to many players in the build up to transfer windows, then deciding to offload their own instead of buying others.
Pick a Side
The new deal has caused a lot of aggrieved fans to exclaim that they will not buy the new shirt. The decision to buy your team's shirt usually consists of just handing over money in the interests of supporting the team, but Wonga is a divisive sponsor.
It's impossible to walk around Newcastle and not see someone in a Toon shirt. It just doesn't happen. The people of Newcastle are as passionate about their team as any fans in the world, so the fact that there are many fans refusing to wear the new shirts shows the level of disapproval.
Wearing the Wonga-sponsored shirts is seen as showing support for a loan company that targets the vulnerable. It's no coincidence that Wonga is primarily advertised on television during the week, during the day.
In September of this year, the unemployment rate in the North East of England was 10.4 percent, which is the highest rate in the UK (via BBC.co.uk).
From a purely cynical point of view, this is the largest target market for Wonga in the whole of Britain, so the company's motives for becoming financially involved with the Magpies have to be called into question.
Because of their loyalty to the team, Wonga will know that the best way to reach the Geordies is through football. By having that constant presence around the city, displayed on thousands of shirts, it's reasonable to assume that Wonga's client base will expand.
This is the reason for the mistrust of the loan company, and for the new level of annoyance with Ashley. It's a move that anyone with any sensitivity to the North East would not have made—an accusation that has been levelled at Ashley from the moment he arrived.
The fact that many supporters are vowing to abstain from buying shirts is one thing; however, it's the children of these supporters that will end up making the decision for them.
The newest shirt is a badge of honour for young fans among their friends, and they won't care about the seedy reputation of the sponsor. Parents will have to choose between their level of commitment to the cause or the wishes of their children. Wonga already knows the answer to that.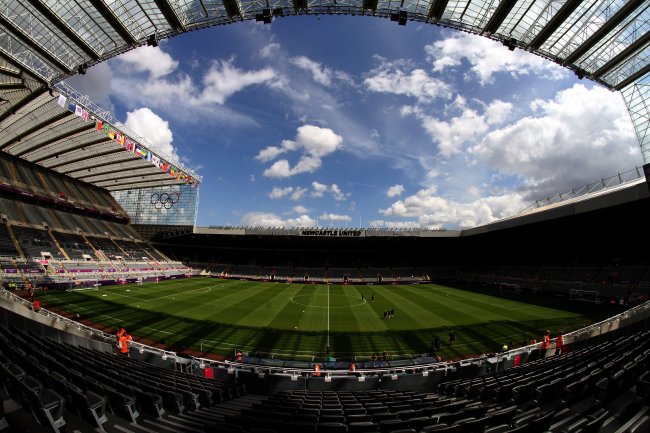 Stanley Chou/Getty Images
The Wonga Dome
There has been much made of returning the stadium to its original name. St. James' Park never really went away, so it does seem like a cynical move to curry favour with the supporters and distract from the bigger issues at stake.
However, the stadium means so much to the fans that it's impossible to entirely discount the move, and they can now at least rest assured that it will remain St. James' Park for another four years.
It could have been so much worse, too. As mentioned earlier, Ashley doesn't exactly tiptoe around controversy, so it's not inconceivable that the team could have been playing at "The Wonga Stadium" or "Wonga Dome" instead.
This is a club that revels in its history, but Ashley's ransacking of the past was a worry from the outset. Since the Sports Direct brand replaced the stadium name, everything else was feasibly for sale.
Maybe Jackie Milburn's name could have been next, with the Milburn Stand becoming the Puma Stand? The Leazes End could be sold off to Virgin Money to compensate for not having the shirt sponsorship?
Returning the stadium to its original name was of course a quick way to reduce opposition to the deal, and it will no doubt be looked upon as nothing more than that.
However, the fact that Newcastle have their stadium back is still a cause for celebration.
More Than Money Can Buy
When drawing up the deal, both Wonga and the Newcastle board will have known there would be some objections. Aligning Newcastle United with its new partner is the highest-profile example of granting Wonga credibility and acceptance in the marketplace, which is bound to draw attention.
However, the intense furore that has been stirred up has given Wonga more publicity than they will ever get from the money given to the football team.
There will have been thousands of people across Britain who, despite the TV advertising, still had no idea who this company with the colloquial name was. Forcing them into the news cycle has brought them into millions of homes at peak times, as well as newspaper columns and virtual space—including here.
Before this deal was announced, I had no desire to write anything about Wonga. I can comfortably state that I would have lived out my days without mentioning a high-interest, short-term loan company in the same breath as something that I care about.
Yet here we are. This is a country that likes to get furious about things for a short period of time, then just roll over and accept them without question.
Remember when the price of petrol rose above £1 per litre? Everyone was apoplectic that the government could tax the country so hard, yet now it rises towards £1.50 a litre and no one seems to care. And if people do care, nothing is being done.
It's all very well to get on the moral high ground for a week or two, but this deal will still be here for four years. Publishing articles in protest or support grants the company advertising space that it wouldn't otherwise be able to buy.
If all Newcastle fans walked out of St. James' Park and refused to return until the deal was rescinded, that would make a difference. That won't happen, though, and everyone knows it.
The deal is nothing more than the flavour of the week that is getting hammered because we are told it's wrong.
The choice is still with the consumer. If you don't like Wonga, don't get a loan with them. Don't buy the shirt and don't go to the games. Don't buy your kids the shirt and don't give Wonga the satisfaction of getting their brand into your home.
But don't pretend to be outraged and indignant one week and then expound the financial benefits of the deal once the hyperbole has died down.