Detroit Tigers vs. New York Yankees: Game 2 ALCS Matchups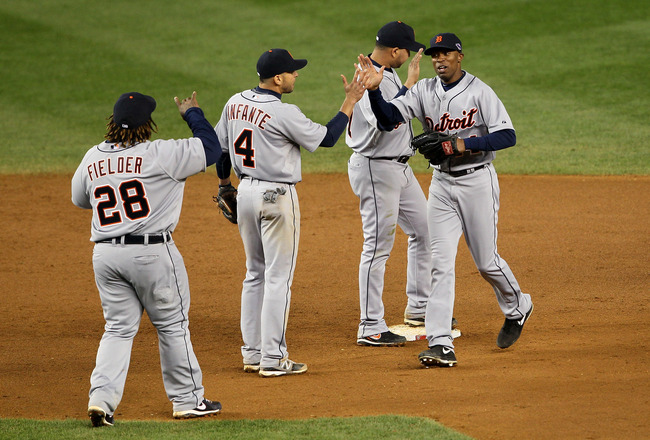 Alex Trautwig/Getty Images
Game 2 of the ALCS between the Detroit Tigers and New York Yankees will certainly have a different look to it on Sunday afternoon.
With shortstop Derek Jeter lost for the rest of the postseason with a fractured left ankle, manager Joe Girardi will have to scramble to assemble a lineup with an offense that thus far has struggled in this postseason.
The Tigers showed some moxie after blowing a four-run lead and will now have a distinct advantage with the Yankees' captain out of the lineup.
Here are five matchups worth watching as the Tigers try to take the first two games at Yankee Stadium.
Starting Pitching: Anibal Sanchez vs. Hiroki Kuroda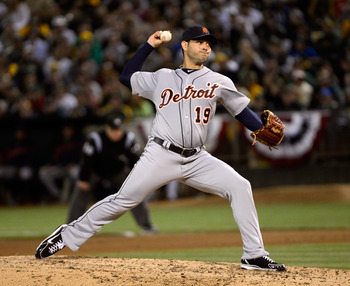 Thearon W. Henderson/Getty Images
The Detroit Tigers will start Anibal Sanchez in Game 2 on Sunday afternoon. Sanchez last pitched against the Yankees in New York six years ago while with the Florida Marlins, going 5.2 scoreless innings to gain the victory.
Sanchez took a loss in his last road start in Game 3 of the ALDS against the Oakland Athletics, but he was a victim of no run support. Sanchez gave up just two runs on five hits in 6.1 innings.
Hiroki Kuroda gets the nod for the Yankees, being asked to take the bump on three days' rest for the first time in his career. Kuroda was 11-6 with a 2.72 ERA in 19 starts at Yankee Stadium during the regular season and put forth an outstanding effort in Game 3 of the ALDS against the Baltimore Orioles.
Kuroda is being asked to do something he's never done before in what will be the biggest start of his professional career.
Advantage: Sanchez
Aside from Ichiro Suzuki and Raul Ibanez, the entire Yankees lineup has been punchless thus far. Sanchez could well be the beneficiary of their offensive ineptitude on Sunday.
New York Lineup vs. Detroit Lineup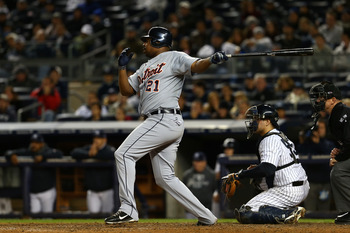 Elsa/Getty Images
The New York Yankees put up 11 hits in Saturday night's Game 1 loss, but eight of those hits came from three players—Ichiro Suzuki, Raul Ibanez and Russell Martin.
Robinson Cano, Mark Teixeira, Alex Rodriguez, Nick Swisher and Curtis Granderson combined to go 2-for-22, leaving a total of 18 runners on base (Derek Jeter had the Yankees' other hit).
For the postseason, the quintet is hitting a combined .158 in six postseason games.
The Tigers put up 15 hits on Saturday night, and the heart of the order—Miguel Cabrera, Prince Fielder, Delmon Young and Jhonny Peralta—were a combined 9-for-21 with four RBI.
Considering that Kuroda is working on three days' rest, I like the Tigers' chances of exploding offensively on Sunday.
Advantage: Tigers
Yankees Bullpen vs. Tigers Bullpen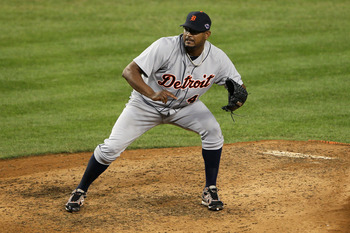 Alex Trautwig/Getty Images
Both the New York Yankees and Detroit Tigers taxed their bullpens on Saturday night in Game 1, using a combined 12 relief pitchers—seven for New York, five for Detroit.
There has to be concern in Detroit with the performance of closer Jose Valverde. For the second consecutive game, Valverde imploded; after taking the loss against the Oakland A's in Game 4 of the ALDS by allowing a three-run ninth, he let the Yankees bounce back from a 4-0 deficit. Jim Leyland has announced that he likely will not close for Game 2.
None of the relievers used on Saturday night—with the exception of possibly Drew Smyly—would be considered unavailable for Game 2, but manager Jim Leyland may think twice about going back to Valverde if the situation warrants a save at this point.
Advantage: Yankees
Yankees Bench vs. Tigers Bench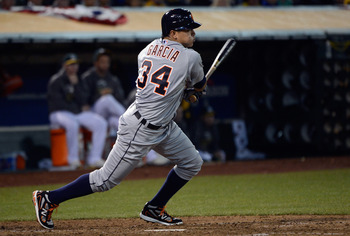 Thearon W. Henderson/Getty Images
New York Yankees manager Joe Girardi will likely activate Eduardo Nunez to replace the injured Derek Jeter prior to Game 2. Girardi will have to juggle his lineup in the process as well.
Girardi could also turn back to Eric Chavez at third base, considering Alex Rogriguez's continued struggles at the plate. With another right-hander working for Detroit, that's a distinct possibility.
Nunez and Jayson Nix will now play key roles for the Yankees with Jeter's injury, and Girardi will be looking for Chavez to provide some offensive support as well.
For the Tigers, Quintin Berry will likely get the start against the right-handed Hiroki Kuroda. So too will Alex Avila. Gerald Laird and Avisail Garcia give Leyland solid options off his bench in the later innings as pinch-hitting options.
Advantage: Tigers
Nix, Rodriguez and Brett Gardner aren't likely to put fear in the eyes of Tigers relievers right about now.
Joe Girardi vs. Jim Leyland
Elsa/Getty Images
New York Yankees manager Joe Girardi is going to have to continue to be creative in coaxing some punch out of his offense. Matchups will become all-important as the series moves along.
Detroit Tigers manager Jim Leyland is fiercely loyal to his players, but with closer Jose Valverde's obvious struggles in his last two games, how far should that loyalty go?
While Girardi will worry about fixing a broken offense, Leyland will have to weigh his loyalty against effectiveness.
Advantage: Leyland
Girardi can't hit for his struggling players.
Doug Mead is a featured columnist with Bleacher Report. His work has been featured on the Seattle Post-Intelligencer, SF Gate, CBS Sports, the Los Angeles Times and the Houston Chronicle.
Keep Reading