5 Critical Questions Surrounding L.A. Lakers Bench in 2012-13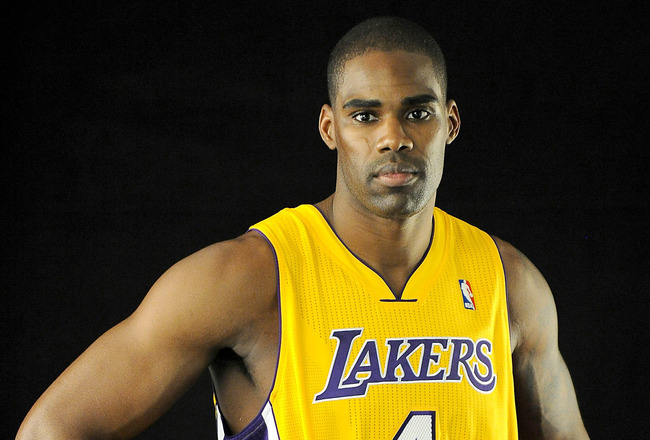 Jayne Kamin-Oncea-US PRESSWIRE
The Los Angeles Lakers have received monumental attention for their star-studded starting lineup, but there are a number of underlying questions surrounding the bench unit in the 2012-13 season.
The 2011-12 season was an underwhelming year for most of the Lakers' reserves. The team has improved the bench, but how good they can actually be is still up for debate.
The starting unit is getting up there in age, and while Dwight Howard is the clear exception to that idea, he is coming off season-ending back surgery.
No matter which team you are, bench play is crucial for success, and with so many questions already surrounding the starters, the Lakers are no exception.
How Much Better Will the Bench Be in 2013?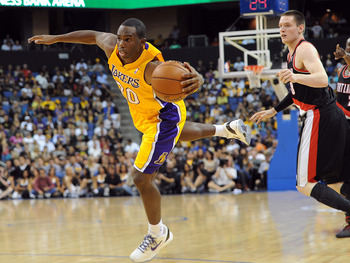 Jayne Kamin-Oncea-US PRESSWIRE
One of the major flaws recently for the Los Angeles Lakers has been bench play, and the new reserves making their way to town should help alleviate the pressure that the starters will feel on a night-in, night-out basis.
By removing Josh McRoberts, Matt Barnes and Troy Murphy, the team was able to bring in Antawn Jamison, Chris Duhon and Jodie Meeks. These players are going to be upgrades—especially Jamison—and as long as they provide solid minutes, the bench won't hurt the team as it did throughout stints in 2012.
Are the Lakers going to have the best bench in the league? Not likely.
But by adding the necessary pieces in the offseason, the Lakers addressed a problem and they'll be far better off when their reserves go to work.
Can Antawn Jamison Accept His New Role?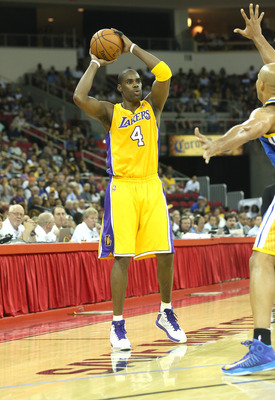 Stephen Dunn/Getty Images
Antawn Jamison has been a starter for most of his career, and his numbers have remained high despite being 35 years old in 2012.
Jamison is arguably the biggest reason the bench in L.A. is improved, but the question is, how well will he play behind the starters?
With Dwight Howard coming off surgery, Pau Gasol coming off an underwhelming year and Metta World Peace still a question mark, the 6'9" forward should have plenty of opportunities to make his presence felt.
The last time Jamison played off the bench was for the Dallas Mavericks in the 2003-04 season. He averaged 14.8 points, 6.3 rebounds and shot 40 percent from beyond the arc in 29 minutes.
Is Depth at Small Forward a Problem?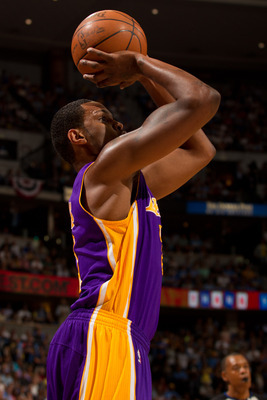 Justin Edmonds/Getty Images
If Metta World Peace is able to stay motivated and make open jumpers, a lack of depth at the small forward isn't going to be a problem.
However, if he shows that his best days truly are behind him and he declines again in 2013, Devin Ebanks will be called upon to step in and pick up the slack.
As the team's only reserve at the small forward position, Ebanks could very well find himself in a position of higher responsibility in his third season.
With Matt Barnes out and Jodie Meeks in, Kobe Bryant could play small forward on occasion with Meeks at the 2-spot. This combo will be fun to watch when it's on the floor, but with the idea being to rest Bryant as much as possible, it's going to be crucial that Ebanks steps up.
Can Jordan Hill Continue to Develop?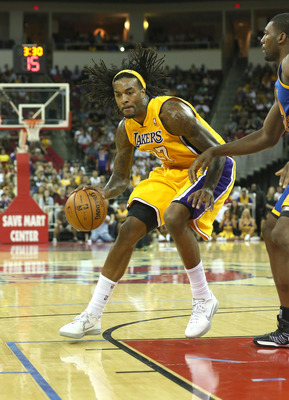 Stephen Dunn/Getty Images
Jordan Hill showed flashes of brilliance toward the end of the 2011-12 season, and now that Los Angles has brought the stars to town, you have to wonder whether the game plan for the Lakers will help or hurt the growth of the big man.
The 25-year-old will be spending time alongside Dwight Howard, Pau Gasol and Antawn Jamison. This begs the question: Will teams leave him alone in an attempt to cover the stars, or will the game plan exclude him from any significant touches?
Rebounding is the name of the game when it comes to Hill's production, but if left alone or given the mismatch, he can take advantage on the low block.
Hill has a chance to be an integral part of the Lakers rotation, but how high his ceiling goes is questionable at this point.
Will Point Guard Production Help Rest Nash?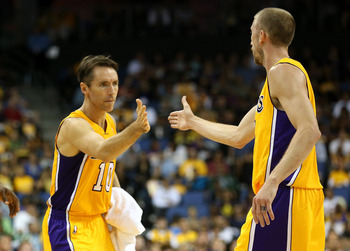 Stephen Dunn/Getty Images
Steve Nash is going to be the floor general who makes things work night in and night out, but with his minutes a concern moving forward, you have to wonder who is going to step up and make an impact as the backup point guard.
Chris Duhon and Steve Blake will battle for the reserve position, and while neither has been spectacular, both will be expected to hit open shots and find open teammates.
When it comes down to it, all the Lakers can truly ask out of their backup point guard—whoever it may be—is to not make mistakes. When Blake and Duhon enter the game, if they avoid turnovers and distribute well, the team has enough weapons to be just fine.
Getting Nash his rest is crucial for this team, and getting production out of his backup is what will make that happen.
Keep Reading

Los Angeles Lakers: Like this team?