Brady Quinn is getting an opportunity with the Kansas City Chiefs.
According to Adam Teicher of the Kansas City Star:
The Chiefs ruled Matt Cassel out of Sunday's game against the Buccaneers in Tampa because of a concussion.

Brady Quinn will start instead at quarterback.
That said, the Chiefs need a Week 6 win over the Tampa Bay Buccaneers because entering the bye at 1-5 would all but end their postseason hopes. And considering the AFC West remains an open division, a win creates much added confidence for K.C. when hosting the Oakland Raiders in Week 8.
IF K.C. beats Tampa Bay, how will the Chiefs 2012 regular season pan out?
So, let's look at how the Chiefs offense must attack Tampa's defense to avoid a fifth loss.
Must Give Quinn the Green Light
For as much as the Chiefs need to run the rock, giving Brady Quinn more than a few opportunities has to occur.
After all, the Bucs field the NFL's worst pass defense and they've managed only eight sacks on the year. In addition, Tampa Bay has allowed an average of nearly 23 points per game.
With Quinn under center, though, the Bucs aren't likely to prepare for an onslaught of throws downfield and Cover 3 while blitzing. Therefore, allowing Quinn to target Dwayne Bowe early and force Tampa to honor the passing game more will take pressure off the ground attack.
The last thing K.C. needs is to be one-dimensional. Tampa Bay only gives up an average of 3.2 yards per carry, so preventing the Bucs from constantly stacking the box will pay dividends as the game progresses.
Kyle Rivas/Getty Images
Feed Charles in Crucial Situations
Here is where Kansas City can remain predictable with Charles.
Whether it's 2nd- or 3rd-and-short—or any tough red-zone situation—continually relying on Charles to move the chains or score is the safest move. His presence in the backfield alone will make play-action relevant all game long, but counting on the best player is the key to taking full advantage of any must-win situation.
These types of situations are why Quinn must be given the green light in other areas.
It's all about keeping Tampa off-balance. Most definitely should Charles be the focal point of K.C.'s game plan; however, his impact near the goal line or on third down will only become greater if the Bucs are forced to occasionally acknowledge the passing game.
Otherwise, Charles will get stuffed at the line on 3rd-and-short or inside the red zone. And when needing a score, the Chiefs must set it up so Charles has the rock to make a play instead of Quinn.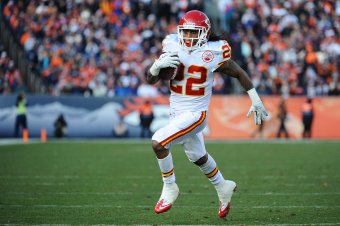 Garrett Ellwood/Getty Images
Utilize Dexter McCluster on the Ground
Dexter McCluster is an intriguing option for the Chiefs offense to help Quinn.
Any jet sweep, quick toss or receiver screen bodes well as he's one of the NFL's quickest players. Getting McCluster in the open field is a mismatch for most defenders and Tampa's youth and inexperience can get manipulated by him.
One other area would be to have McCluster next to Quinn in the shotgun. That not only avoids the obvious Wildcat formation but still provides K.C. with the option of a direct snap. Go with a heavy tight end set or receiver bunch and McCluster's acceleration would find the edge for a big gain.
In turn, this gives Quinn an additional play-action fake to set up the pass. Whether it's a read-option from shotgun or rolling out after faking the jet sweep, this simply gets Tampa flowing one direction. The final use of it would be to set up a counter/trap for Charles inside.
Kansas City need not get too fancy with the play-fakes, although getting McCluster more involved only forces the Bucs to defend that dimension—which will just prevent Tampa Bay from loading the box to completely isolate Charles and increase K.C.'s odds of winning.
Follow John Rozum on Twitter.