Dallas Cowboys: Updated Game-by-Game Outlook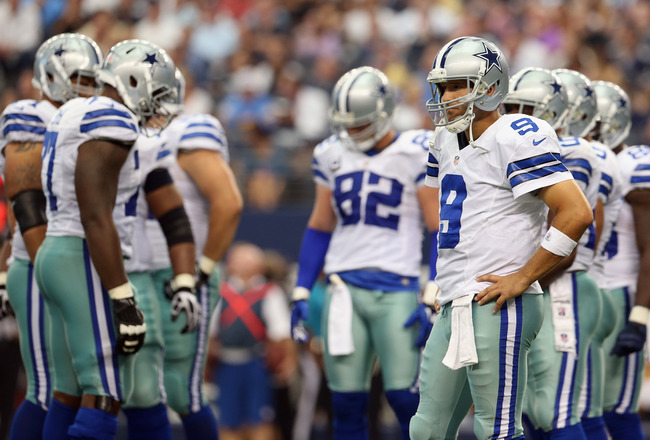 Ronald Martinez/Getty Images
How 'bout them Cowboys?
That rhetorical cliché was, of course, made famous by Jimmy Johnson after winning the 1992 NFC Championship game. For whatever reason, it has been kept alive by fans and media alike for the last two decades.
Its meaning is defined by who says it, when they say it and how they say it. Dallas Cowboys fans say it the same way Johnson said it, with joyous exclamation. Cowboys haters say it with sarcasm, usually after an ugly loss.
I say it with genuine concern. How 'bout them Cowboys? How 'bout that Dez Bryant? How 'bout that secondary? How 'bout that Tony Romo?
We're a quarter way through the season and not far from preseason projections. Meaning, a 2-2 record going into their Week 5 bye isn't surprising. I'm sure no one with any football common sense thought the Cowboys would be 4-0. I think most expected them to lose to the Giants in the season opener and then easily handle the Buccaneers and the Seahawks, then play a close game with the Bears that could go either way, resulting in a 2-2 record.
None of that happened, but the results are effectively the same. The only difference is that the Cowboys don't feel like a .500 team. They don't feel like they are only one game out of first place.
They suffer from the symptoms of a team headed for a last place finish. They are the 29th most penalized team in the league. They're ranked 31st in rushing yards per game and 30th in points per game. The defense has been good but failed the test when they hosted Brandon Marshall and the Chicago Bears.
The offensive line is an epidemic. The receivers are struggling to get open or even run the correct routes. The quarterback has thrown five touchdowns to eight interceptions.
There's an all too familiar lack of focus and preparation to open the 2012 season. But they are .500. They are one game out of first place. They are 1-0 in the division. The question is, are they a playoff team?
The answer lies in a game-by-game outlook for the rest of the season.
Week 6 at Baltimore Ravens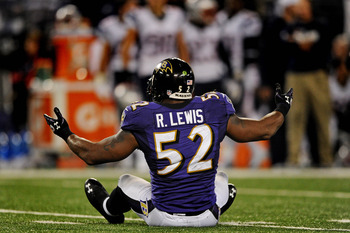 Patrick Smith/Getty Images
The Cowboys could use a "get well" game coming out of their bye week but they won't find one in Baltimore. The Ravens haven't lost a home game since Week 13 of the 2010 season. That's 13 straight, 14 if you count the playoffs.
It goes without saying that the Cowboys will need to be efficient on offense if they're going to stand a chance. The good news is that the Ravens' defense hasn't been playing at the level we've become accustomed to. They are ranked 20th against the run and 22nd against the pass. The area that they have had success, however, is in points allowed, ranking seventh, which is bad news for the Cowboys who have struggled all season long to put points on the board.
On the other side of the ball, the absence of Anthony Spencer and Barry Church has this defense looking suddenly vulnerable. Spencer is the Cowboys best run-stopping linebacker and the Ravens just happen to have one the best running backs in the game. If the Cowboys can find a way to keep Ray Rice bottled up and rely on their secondary to shutdown Torrey Smith, Anquan Boldin and both tight ends, Tony Romo should be able to take care of the rest.
The fact of the matter is, this is one of those of games where if they lose, it's not the end of the season, it's not a major let down, in fact, it's almost expected. But if they win, it becomes a watershed game that could be the spark this team needs to make a run at the playoffs.
Week 7 at Carolina Panthers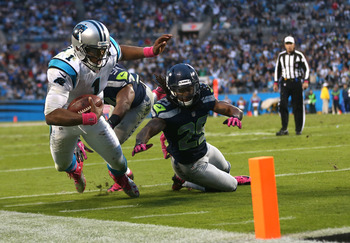 Streeter Lecka/Getty Images
Before the season began, this looked like it might be a tough matchup for the Cowboys. In 2011, the Panthers were one of the highest scoring and best rushing offenses in the league. Cam Newton's well-documented, record-setting rookie season set up an offseason of hype and a preseason full of high expectations.
Current day, we're seeing a sophomore slump at its best. The Cowboys will be hoping his struggles continue into Week 7. Even if Newton shows his 2011 form, they shouldn't have any trouble exploiting the Panthers' soft defense.
This game is going to be all about Romo and his receivers finding holes in the defense and setting up the run for DeMarco Murray. If they can build an early lead, their defense should have no problem frustrating Newton.
The true test will come in the form of a three-headed running attack in DeAngelo Williams, Jonathan Stewart and, to a lesser degree, Mike Tolbert. The Cowboys defensive line hasn't been healthy all season but has been playing effectively. If they can get healthy, and If Brandon Carr, Morris Claiborne and Mike Jenkins can continue to play at a high level, forcing Newton into the teeth of the defense, the Cowboys should roll out of Carolina with a win.
Week 8 vs. New York Giants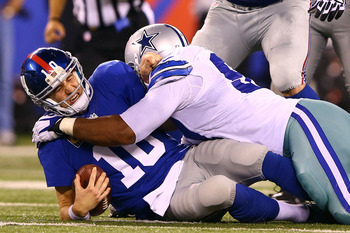 Al Bello/Getty Images
It's becoming apparent that the Cowboys, since moving into Cowboys Stadium, don't have a true home-field advantage (14-12 home record going into 2012). That's especially true against the New York Giants, who they haven't beaten at home since 2008.
It's hard to imagine them correcting that lopsided stat with the way they've played over the last three games. The Giants have been very impressive on just about every level, with the exception of their turn-and-burn secondary. The Cowboys have struggled in just about every aspect of the game, with exception of their secondary.
If they want to sweep the Giants, they'll need to play a lot better, not just relative to the last few weeks, but relative to the season opener. The reality is, even with as good as they looked in Week 1, it was more about how poorly the Giants played. Let's keep in mind that Hakeem Nicks was far from healthy, Victor Cruz had a case of the dropsies and their defense paid way to much attention to Dez Bryant. It's safe to say that we'll see an entirely different approach when these two teams meet in Week 8.
So the question becomes, will the Cowboys make the necessary adjustments and finally beat the Giants at home? The answer, once again, is all about the offensive line protecting Romo and Romo protecting the ball.
Week 9 at Atlanta Falcons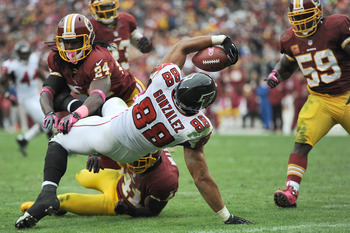 Patrick Smith/Getty Images
As is the case with every team that plays the Falcons, the Cowboys secondary will be earning their paychecks in this one.
The truth is I don't believe there is much that Rob Ryan is going to be able to do shutdown the best wide receiver duo in the NFL in Roddy White and Julio Jones. Yards are going to happen. There's no question about that.
From where we sit right now, the most important factor, aside from getting to the quarterback, is covering up Tony Gonzalez. It seems strange to suggest that a 36-year-old tight end might be the biggest area of concern for the Cowboys, considering all the other weapons the Falcons have, but Gonzalez leads the league with 39 receptions. He has amassed 388 yards, which is more than Julio Jones (313), and four touchdowns, more than Roddy White (three).
Teams, understandably, have been focused on trying to cover White and Jones and in doing so have neglected to contain Gonzalez. The Cowboys have the kind of defense that is designed to not only pressure Matt Ryan, which will slow down his receivers, but to also keep Gonzalez covered up.
Playing on the road in Atlanta doesn't give me a lot of faith that Cowboys are going to come away with a win. But if they're going to compete and show the nation on Sunday Night Football that they are legitimate playoff contenders, they'll need to take Gonzalez out of this game.
Week 10 at Philadelphia Eagles
Joe Sargent/Getty Images
Back-to-back tough road games can lead to a lot of mental mistakes. It's as simple as that. Frustrations and emotions get the better of players, especially when running up against a division rival.
The Cowboys, from top to bottom, are more talented than the Eagles, but they play worse football. They have too many penalties. They have too many turnovers. They leave too many points on the field. Tony Romo is a better quarterback than Michael Vick. The combination of Brandon Carr, Mike Jenkins and Morris Claiborne is a better combination than Nnamdi Asomugha and Dominique Rodgers-Cromartie. Jason Witten is a better tight end than Brent Celek.
But the Eagles are a better team.
The moral of the story is coaching. I don't know that the Cowboys have the coaching it takes to pull out these kinds of wins. I don't know that between now and Week 10 we'll see any sort of offensive revelation that puts this talented roster in a position to realize their potential. I don't know if they'll be able to avoid the mental mistakes that lead to false starts and holding penalties that kill drives before they even start.
So that's the where the true test is. This isn't so much a game of two divisional rivals squaring off as it is the Cowboys facing themselves.
"The battle is won or lost before it is ever fought." — Sun Tzu
Week 11 vs. Cleveland Browns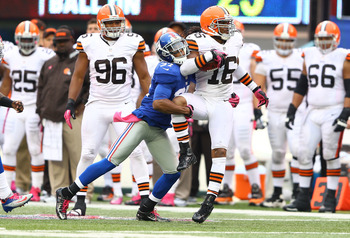 Al Bello/Getty Images
Can you say trap game?
This isn't one. It's simply a tune-up fight, a get-well week, an absolute must-win at Cowboys Stadium that will result in udder chaos should they somehow find a way to lose.
The Browns are 0-5 right now. I expect them to be 1-8 when they travel to Dallas.
Week 12 vs. Washington Redskins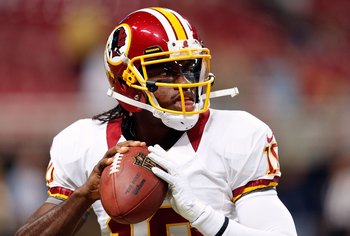 Jamie Squire/Getty Images
The Thanksgiving Classic is as much an American tradition as Super Bowl Sunday. Who knew that family, turkey and football on a Thursday afternoon in November would be so enchanting?
The Cowboys have fared well on Thanksgiving Day with a 28-15-1 record. This year, they'll be tested by Robert Griffin III and the Washington Redskins. It's been 10 years since they've met in the Thanksgiving Classic. Dallas edged a 27-20 victory in 2002 on their way to a 5-11 finish. They've lost two Thanksgiving Day games since.
The Redskins haven't been back to the Classic and have barely been relevant. That is up until now. Trading up to draft RGIII is one thing. To see the emergence of the best rookie running back since Adrian Peterson is a whole other thing.
Morris is the first rookie since Peterson to run for 490 yards in his team's first five games. With as much as Mike Shanahan likes to play running back roulette, it seems as if the Redskins have finally settled in on a starter.
Morris has certainly benefited from a spread-option quarterback that's just as good at running the ball as he is at staying in the pocket and throwing it. RGIII's awareness and decision making speak volumes for the bright future he has in the NFL.
That's all the more reason to believe Jerry Jones when he says that the Cowboys are in "win now" mode. It's not only a reference to his aging stars, it's a reference to the level of competition that lies ahead in the NFC East, namely the Redskins and RGIII. The Cowboys need to take advantage of a rookie while they can because a few years from now, they might not be able to.
Week 13 vs. Philadelphia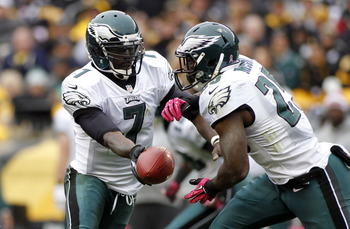 Justin K. Aller/Getty Images
It would be no surprise if this game represented the must-win matchup of the season, and not even because it's the Eagles. That's just the tip of the iceberg. It represents a tough stretch of games that includes the Bengals, the Steelers, the Saints and the Redskins—two of which are on the road and all of which are in the month of December.
Five games in the month of December, a month during which the Cowboys are 14-19 since 2005. They need to start it off right by beating the Eagles at home and building some momentum going forward or they won't earn a playoff spot.
Week 14 at Cincinnati Bengals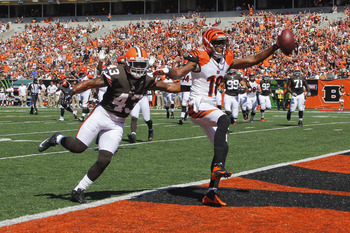 John Grieshop/Getty Images
Even if things don't go as planned in Week 13 against the Eagles, you have to like the matchup against the Bengals. They haven't developed a running game. They haven't developed a defense worthy of shying away from. They haven't developed a tight end. That leaves only A.J. Green for the Cowboys to focus on.
No, that's not a realistic way to look at a team that made the playoffs last year with a roster full of rookies, but it's a positive way of setting up a trap game that could lead to the eventual evacuation of all hope for the Cowboys to make the playoffs.
In any other situation, I would grade this game as one that doesn't need to be won, but given the toughness of the road that follows, it's as important as any game they'll play all season.
Week 15 vs. Pittsburgh Steelers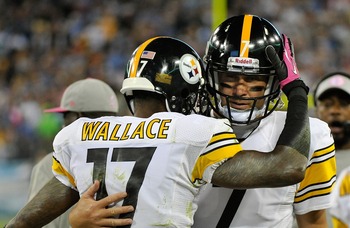 Frederick Breedon/Getty Images
The Steelers have stumbled in the early going, currently sitting at 2-3. Surely injuries and the relocation or retirement of leaders has a lot to do with that. As does the change in offensive coordinator. Whatever it is, it stands to reason that many of those problems will be cured by the time they face the Cowboys.
Obviously, teams gel and grow and learn as weeks go by. That being said, I expect that the gelling and learning done by the Cowboys will equal that done by the Steelers and that overall talent and youth will prevail. In other words, of all the games on the latter part the schedule, I worry about this one the least.
I say that assuming that the Cowboys will be relatively healthy and find some level of home-field advantage.
Week 16 vs. New Orleans Saints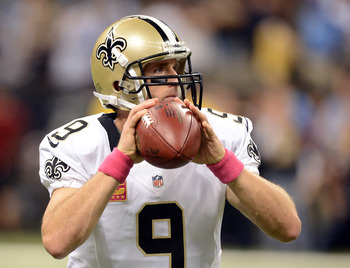 Harry How/Getty Images
What can you do? You draw Drew Brees and the New Orleans Saints late in a schedule chock full of tough games and you can't help but feel like the world is out to make sure you'll never see a Lombardi trophy.
That's a tough bid but the best way to handle it is the same way the first four teams that faced the Saints handled it: by winning.
Obviously, it's impossible to predict how the 2012 season is going to shape up going into late December. There will be injuries. There will be surprise performers. There will be let downs. The only thing that we can apply with any level of common sense is that the Cowboy can compete with the Saints right now. So there's no reason they wouldn't be able to compete with them 10 weeks from now, barring major injuries.
Week 17 at Washington Redskins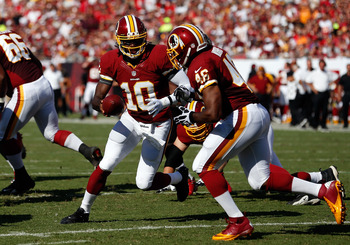 J. Meric/Getty Images
The idea here is to have a good enough record that this game doesn't matter. Unfortunately, that's a long shot. It's much more realistic that this game doesn't matter because neither of these teams are bidding for a playoff berth.
All negativity aside, I believe the Cowboys repeat their performance from Thanksgiving and complete the sweep of the Redskins. Both of these teams are talented and this rivalry is about become one of the best in the NFL for the next several years.
But this year, the Cowboys have the Redskins number.
Keep Reading

Dallas Cowboys: Like this team?