Projecting Each Oklahoma City Thunder Player's Minutes Per Game in 2012-13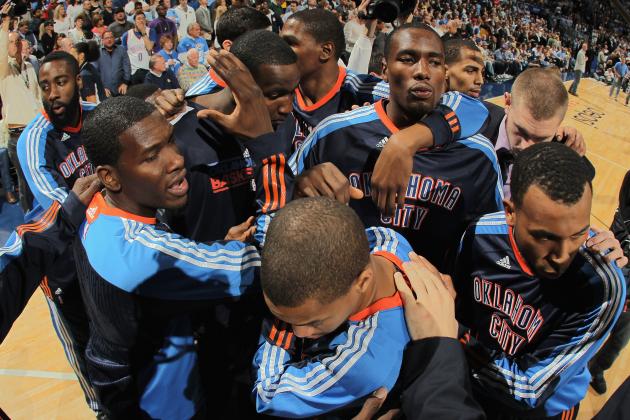 Doug Pensinger/Getty Images

The Oklahoma City Thunder are one of the few teams that didn't need to make significant changes to their roster this offseason. Obviously, coming off a run to the NBA Finals was a big factor in their decision to keep the team the same.
The core group of players will stay the same for the Thunder, so the balance and chemistry really won't need any tweaking.
The Thunder stand a very good chance at making another Finals run in 2013—they have the team for it.
The individual minutes aren't going to need to be changed much from last season since the Thunder obviously enjoyed a ton of success with their lineup.
Begin Slideshow

»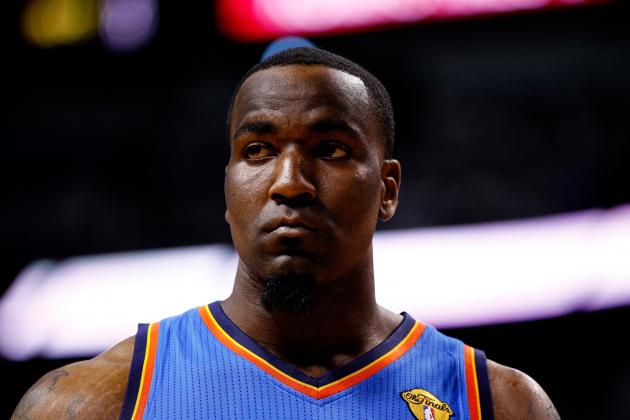 Mike Ehrmann/Getty Images

Kendrick Perkins
Minutes per Game (MPG): 30-34
Kendrick Perkins is a great fit at center for the Thunder. He's the powerful, intimidating force in the paint that lives to play defense, grab rebounds and just make the opposing big man's job as difficult as possible.
Last season, he only averaged 26.8 MPG. His numbers have to increase this season if he wants to maintain his job as the starting center for an elite team.
Perkins did not play in the first preseason game due to an injured wrist, and likely won't be back until the start of the regular season. When he does come back, expect to see his minutes and workload increase.
Cole Aldrich
Minutes per Game (MPG): 14-16 MPG
Cole Aldrich is somewhat of an unknown for the Thunder. He's already been in the league for two seasons, but has yet to start a regular season game and really hasn't had much opportunity to make a difference for the Thunder.
Although he was drafted No. 11 in the 2010 NBA Draft, he averaged only 6.7 MPG and played in just 26 games last season.
In the absence of Kendrick Perkins in the first preseason game, Cole Aldrich made a statement. In 33 minutes, Aldrich put up 10 points and 11 rebounds. He showed his defensive savvy by blocking three shots, and made it clear that he is going to fight to get serious minutes as a bench player.
We'll see if he can continue his early success. If he can, the Thunder may have a future starter on their hands.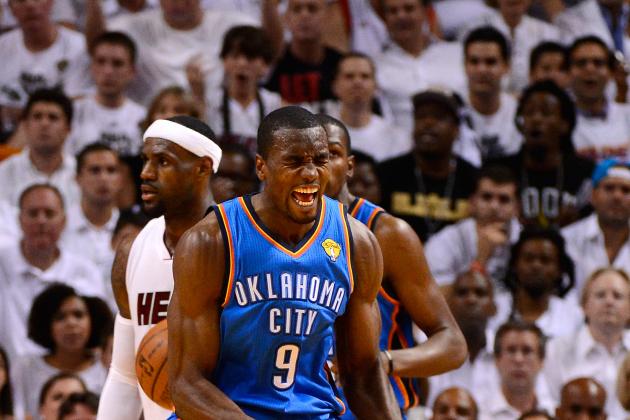 Ronald Martinez/Getty Images

Serge Ibaka
Minutes per game (MPG): 32
Although Serge Ibaka isn't usually named with the other premier players on the Oklahoma City roster, he is every bit one of the best up-and-coming players that the Thunder have going for them.
Shot-blocking is Ibaka's greatest strength. With the whopping 3.65 blocks per game that Ibaka averaged last season, nobody was even close to taking over his place as the first ranked shot blocker in the league.
He only played an average of 27.2 MPG last season. That number is guaranteed to go up this season, especially since he just signed a big-money deal with the Thunder over the offseason.
He didn't participate in the opening preseason game due to an injury labeled as "day-to-day," but he's expected to return shortly.
Nick Collison
Minutes per Game (MPG): 14-16
Nick Collison is possibly the Thunder's best role player. He isn't going to lead the team in any one stat, but he is the guy that does all the little things coming off the bench.
Last season Collison played an average of 20.7 MPG. With the growth that Ibaka has shown over the last few years, plus the addition of the rookie Perry Jones III, Collison's minutes are going to take a hit.
He's going to see playing time but definitely not the 20.7 minutes that he got last year.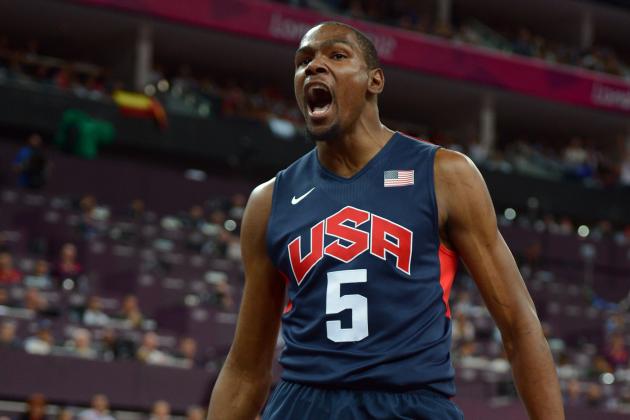 Lars Baron/Getty Images

Minutes per Game (MPG): 38-40
Kevin Durant is easily the most valuable player to the team. He's one of the best in the league, and his numbers prove it.
Durant played a team high 38.6 MPG last season. He also led the league in scoring at 28 points per game (PPG), and was the top rebounder for the Thunder with eight rebounds per game (RPG).
In the opening preseason game against the Houston Rockets, Durant scored 13 points in just 20 minutes. It's just preseason, but it showed that he's on track to continue his scoring domination this season.
He's going to continue playing major minutes this season; he'll probably maintain 38-40 MPG long into his career.
Lazar Hayward
Minutes per Game (MPG): 8
Lazar Hayward is a big question mark for the Thunder going to into the 2012-13 season. He's never played big minutes at the professional level, and he's only been in the NBA for two years.
He did start for the Thunder in their first preseason game on Wednesday night, and he put up eight points and five rebounds in 24 minutes.
He's going to have to keep those numbers up if he wants be taken seriously as the No. 2 guy behind Kevin Durant.
Overall, he has upside and he's young. We'll see how the rest of the preseason turns out for him.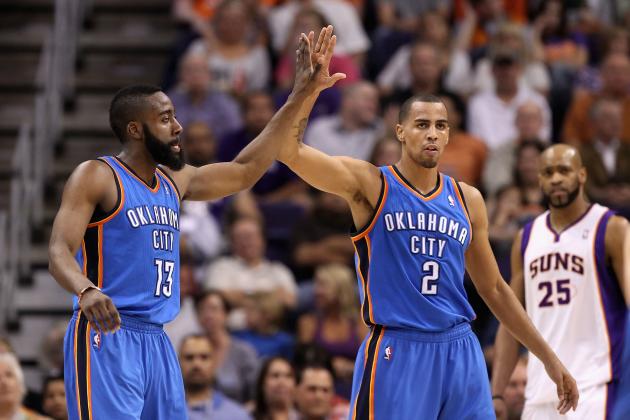 Christian Petersen/Getty Images

Thabo Sefolosha
Minutes per Game (MPG): 18-20
Let's face it. Thabo Sefolosha isn't really starting for the Thunder, no matter how the depth chart may place him. Because of that, his numbers this year aren't going to be much different than last year.
Sefolosha averaged 21.8 MPG last season, and his major contribution was his stifling defense. He also fills in for Durant occasionally at the small forward position, making him a valuable asset for the team.
Sefolosha is an extremely valuable role player to the team. He did not play in the first preseason game due to a minor leg injury though, but he is likely to make it back well in time for the regular season to begin.
James Harden
Minutes per Game (MPG): 32-34
The only thing standing between James Harden and being a starter is the title. He gets starters minutes, puts up starters numbers, and is a part of the Oklahoma City "big three."
He's also going to be paid like a starter at the end of the season when he becomes a free agent, whether he's in Oklahoma City or not.
Since he's a free agent at the end of the season and Oklahoma City is rather strapped for cash, Harden is due for an upgrade in minutes. He averaged 31.4 minutes last season, so that number should be slightly increased.
Harden is a extremely large piece in what Oklahoma City is trying to put together, and he wants to stay with the team despite the fact that he likely won't be paid as much as deserved. He's a big-time player though; look for his numbers to keep climbing this season.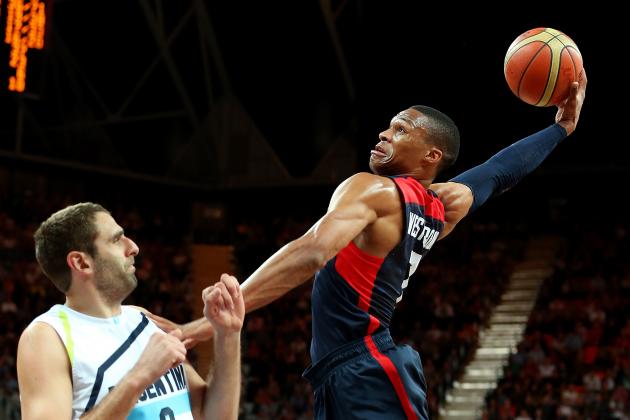 Christian Petersen/Getty Images

Russell Westbrook
Minutes per Game (MPG): 34-35
Russell Westbrook is one of the more electrifying point guards in the league today. He's been criticized for not being team-orientated, but he showed in the Finals that he is capable of being an elite point guard.
Last season he averaged 35.3 MPG. He had an all-time high in scoring with a very impressive 23.6 PPG, but his assists dropped to just 5.5 assists per game (APG). This season he will be expected to raise his number of assists and maintain last season's high-powered offense—no problem for a gunslinger like Westbrook.
He was extremely impressive against the Rockets in the preseason opener, dropping 16 points in just the first quarter. Look for him to continue that offensive explosiveness.
Eric Maynor
Minutes per Game (MPG): 12-14
Eric Maynor was brought into Oklahoma City to be Russell Westbrook's backup. Unfortunately for him, he tore his ACL last season, rendering the backup point guard position to veteran Derek Fisher.
The season before that, he averaged 14.6 MPG for the Thunder. His productivity is what the Thunder is expecting from him, as he was brought in to be an offensive spark for the reserves.
He had a solid night in the opening preseason game, finishing with seven points and four assists in just 17 minutes of playing time.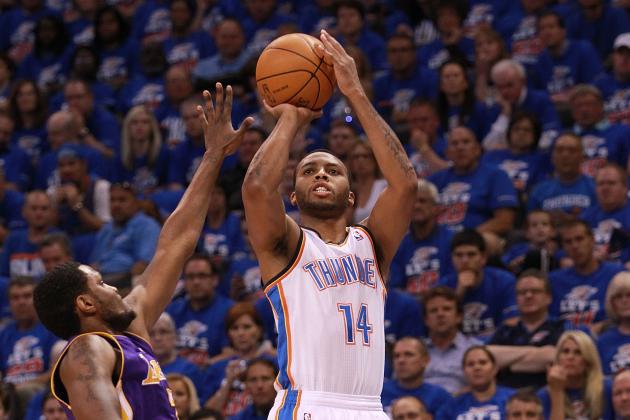 Ronald Martinez/Getty Images

Perry Jones III
The Oklahoma City Thunder picked up Perry Jones III with the 28th overall pick in the 2012 NBA draft. They fully expect him to grow into a valuable asset at the forward position for them, but he likely won't see much playing time this season.
He did play solidly in the preseason opener against the Rockets though, finishing with eight points and five rebounds.
Daequan Cook
Daequan Cook is the offensive role player off the bench for the Thunder. He has a great shot, makes points and helps to fill the offensive need off the bench.
Unfortunately for him though, he's stuck behind James Harden and Thabo Sefolosha at third string. He also didn't have great stats last season, which is just another reason that he's going to be stuck with trash minutes.
He started at shooting guard in the preseason opener, and finished with a disappointing five points and zero assists in 15 minutes of playing time.
Hasheem Thabeet
At 7'3", Hasheem Thabeet is now the tallest player on roster for the Oklahoma City Thunder. He's stuck behind Kendrick Perkins and Cole Aldrich at the center position, so he's likely to just pick up trash minutes.
With the Trail Blazers last season, he averaged 2.3 RPG in just 7.7 minute per game, which is actually a pretty strong number.
He also played 14 minutes against the Rockets on Wednesday, earning 10 points and three rebounds.