Buffalo Bills: 4 Reasons C.J. Spiller Will Beat Out Fred Jackson as Top RB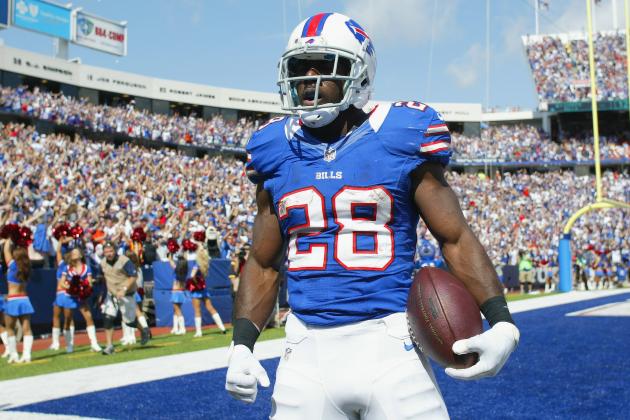 Rick Stewart/Getty Images

Oh, the joy of being a Bills fan.
For the second straight season, the Buffalo faithful have witnessed a running back take the field by storm to start the year, only to suffer an injury that derails the train.
Last year it was Fred Jackson, who pounded out an astonishing 5.5 yards per carry and racked up nearly 1,000 yards in just over nine games before breaking his fibula. The 2011 Bills started 5-2, then promptly lost eight of their last nine games.
This season it was C.J Spiller who started hot. The young back rushed for more than 10 yards per carry and scored three touchdowns in the Bills' first two games, once Jackson was sidelined with a brand new knee injury in Week 1. At least Spiller didn't dangle hope in front of Buffalo for too long, however, before going down with a shoulder injury of his own in Week 3.
Now the Bills face a conundrum regarding Jackson and Spiller: both backs are nursing injuries, but both are listed as probable for Buffalo's Week 6 matchup against the Cardinals. Tashard Choice lurks in the third spot on the depth chart, but which of the top two is this team's true starter?
Regardless of what anyone says, or who touches the ball first on Sunday, when all is said and done only one man can truly be considered Buffalo's top running back. That man is C.J. Spiller, and here are four reasons why.
Begin Slideshow

»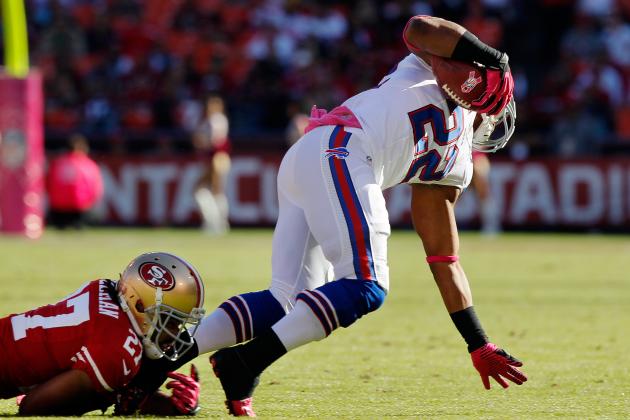 Brian Bahr/Getty Images
Over the years, Jackson's body has taken a multitude of hits that Spiller's is yet to experience.
Running back years are kind of like dog years—playing that position simply puts an absurd amount of strain on the human body. Few can string together many years of productive, healthy play, and those that can are either in the Hall of Fame or on their way.
At 25, Spiller is six years and more than 600 carries—not to mention an innumerable amount of cuts, dives, blocks, shoves and tackles—younger than the 31-year-old Jackson.
There's a whole lot of wear and tear on Jackson's body that Spiller has yet to endure, and it's going to catch up with the older back. Though both are fighting through injuries at the moment, the likelihood of Spiller coming back more quickly and effectively than Jackson is much greater, simply due to the disparity in their ages.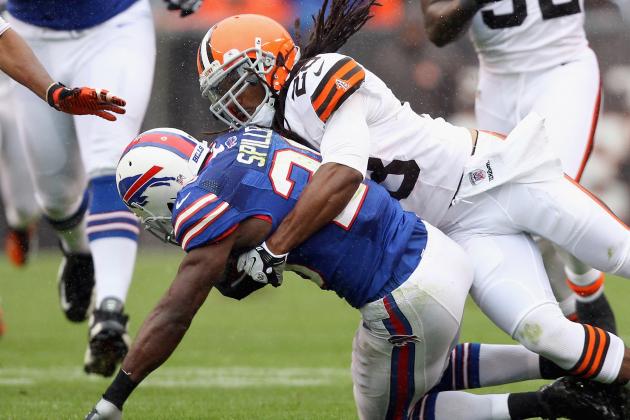 Matt Sullivan/Getty Images
To the relief of Bills fans, Spiller's shoulder injury turned out not to be the broken collarbone that was originally feared.
Jackson's knee injury, still nagging him from Week 1, is to the same leg he broke last season. While he has made an amazing recovery from both injuries, especially considering his age, it's hard to believe that the leg problems won't compound upon each other and really start to slow him down.
Spiller's shoulder injury, meanwhile, which eventually was diagnosed as an AC joint strain (much less serious than the broken collarbone it was originally thought to be) is significant but only expects one to two weeks of recovery time. Spiller has continued to contribute on limited carries in each of the Bills' two games since suffering the injury, and seems to have lofty expectations for himself and for the team as the season progresses.
While the current public status of each back's injury is the same—probable—it seems far more likely that Jackson will suffer more repercussions than Spiller as the year goes on.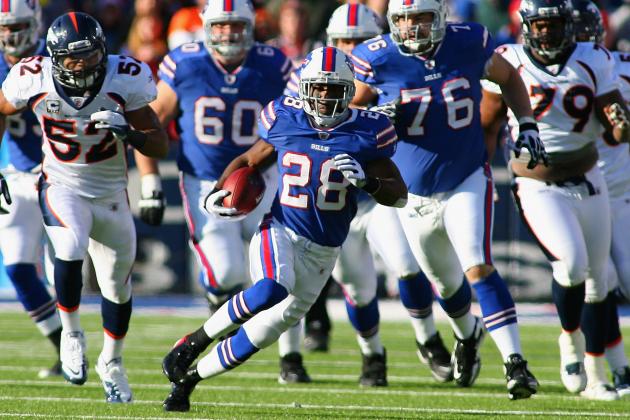 Rick Stewart/Getty Images
Buffalo expects Spiller to produce for them for years to come.
You know that hand in Texas Hold 'Em that you simply can't fold?
Usually it's a high pocket pair, and even though a straight draw emerges as the hand progresses, and you're pretty sure your opponent has the cards to complete it, you laid down a ton of chips early on and just can't give up, no matter what.
I have to imagine that a similar feeling takes hold of coaches and owners when it comes to draft picks. How can you spend a high first-round pick on a guy and not expect big things, even if you hang on a little too long waiting for those big things to happen?
Luckily for the Bills, Spiller is already showing that he's capable of quite a lot—but even if he weren't, Buffalo would likely continue to give him a chance. The Bills used their No. 9 overall pick on Spiller, a Clemson product, in 2010 and gave him a five-year contract worth $25 million (as much as $37.5 million with incentives).
Jackson, meanwhile, an undrafted product of Coe College in Iowa, signed a two-year, $9 million deal in May. Isolated to 2012 alone, Jackson is making less than half of what Spiller is.
The Bills are significantly more invested in Spiller, they expect big things from him, and they're going to give him more of a chance than they will give Jackson.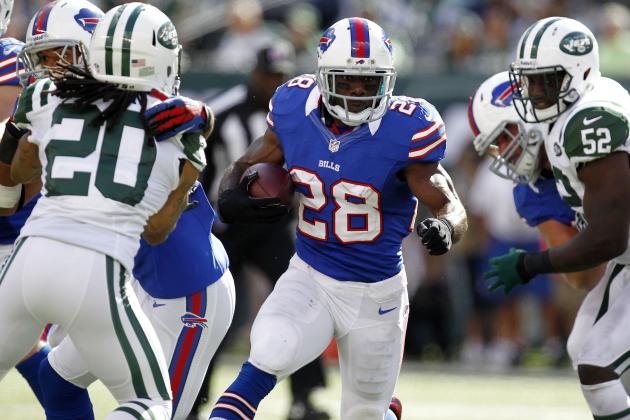 Jeff Zelevansky/Getty Images

Spiller averaged 3.8 yards per carry in 2010, 5.2 in 2011, and is currently chugging along at 7.6 in 2012 despite his injury. Of course, the sample sizes skew the numbers because he has yet to put in a full season of work as a starting back, but the trend speaks for itself: This guy is on the way up.
Jackson's 2.6 yards per carry average this season should absolutely be ignored because he has been battling injury and seeing limited touches since Week 1. But his 5.5 average in 10 games last season—impressive as it was—was a career best, a full yard per carry better than any number he had posted since his debut year in 2007.
At this point in his career, with two injuries to the same leg in the past year, how likely is Jackson ever to get back to that point?
And again, it all comes back to the age of the two backs. Spiller is quite likely the future of the Bills' rushing attack; Jackson, for all he has achieved, simply has a lot of miles on those legs.
In Week 6, I wouldn't recommend starting either of the Bills' running backs on your fantasy team, because who knows which one will see more touches. But as time goes on, don't expect there to be much of a challenge for C.J. Spiller to assert himself as the undisputed top back in Buffalo.