Reds vs. Giants NLDS: 5 Reasons Mat Latos Will Pitch a Gem in Must-Win Game 5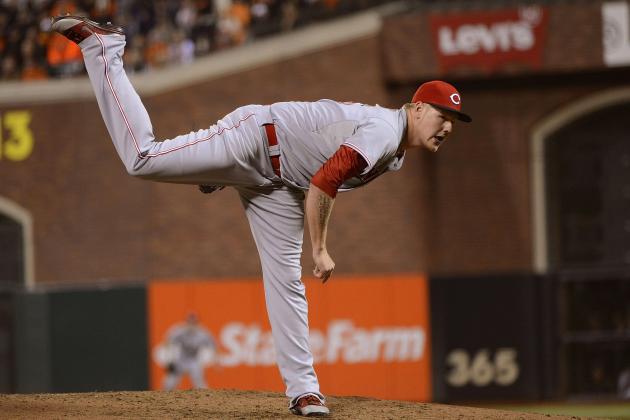 Thearon W. Henderson/Getty Images
Mat Latos will look to be the Reds' "stopper" in Game 5 of the NLDS vs the Giants.
The Cincinnati Reds will look to Mat Latos to right their ship after being dealt a huge blow on Wednesday—losing to the San Francisco Giants, 8-3, in Game 4 of their NLDS series. It was Latos who stepped up and led the Reds to victory in Game 1 after they had lost ace Johnny Cueto to an oblique strain.
Mat Latos threw four innings of four-hit, one-run ball on only three days' rest. Not to mention he entered the game in relief and without going though his normal warm-up routine.
The self-proclaimed "Giants hater" came up huge for his team, and you can bank on the idea that he is geared up to do so again. Let's look at five reasons that Mat Latos will turn in another Reds' gem in Game 5 of this NLDS series.
Begin Slideshow

»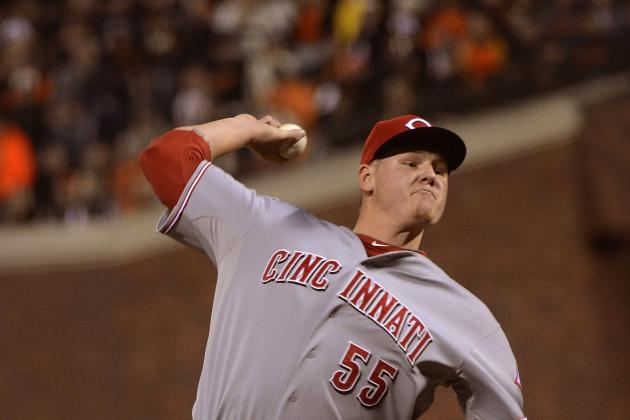 Thearon W. Henderson/Getty Images
Mat Latos' Game 1 performance was just an extension of his regular-season dominance over San Francisco.
Mat Latos faced the Giants twice during the regular season and tossed up gems in both of them. His combined totals from those two outings netted 16 innings pitched in which he allowed only six hits and one run.
For those counting at home that comes out to a 0.56 ERA. Oh, don't forget his 0.50 WHIP during those games. Combine those stats with his four-inning performance in Game 1 of the NLDS and the odds are stacked highly in his favor.
Just in case you are wondering—Mat maintains a 2.19 ERA over 11 career starts and 74 innings pitched against San Fran.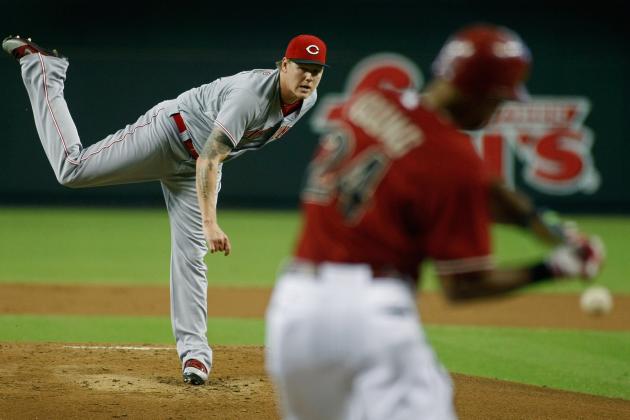 Ralph Freso/Getty Images

Mat Latos has proved to only grow stronger when the hot summer days have faded away and when the innings begin to rack up. Take a look at these stats:
From 2009-2011, Latos served up a 3.52 ERA in the first half of the season while boasting a 3.06 ERA during second-half play. This season his second-half ERA of 2.84 was nearly a run and a half better than his first-half ERA.
If we dig even deeper you will see that Latos' monthly ERA's continued to drop each of the last five months. His ERA for the month of June was 4.19, and it dropped in each successive month to 3.34 throughout July, 2.61 during August and 2.27 during September.
To top it all off, he owns a 2.00 ERA through two appearances in October—including postseason play.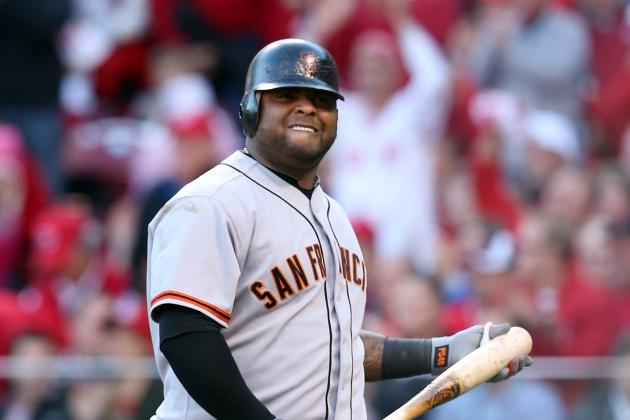 Andy Lyons/Getty Images
The "Panda" and most of the Giants regulars have struggled against Mat Latos throughout their careers.
Most players on the current Giants' roster has had little or no success versus Mat Latos throughout their career.
Pablo Sandoval has the most at-bats against Latos and is a mere 6-for-29 for a .207 BA. MVP-to-be Buster Posey is 3-for-13 against him for a .231 BA. Angel Pagan is hitting .133 and Hunter Pence checks in at only .222.
Are you getting the idea yet? The entire offensive roster has faced Mat Latos 177 times for only a .209/.239/.288 slash line.
That is dominance, my friends.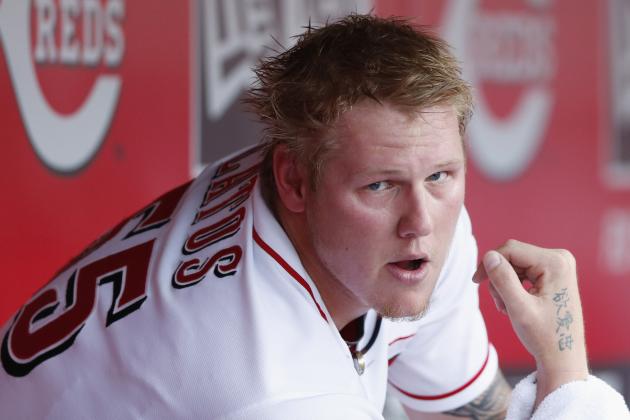 Joe Robbins/Getty Images
Mat Latos has adjusted to his new home at GABP.
Mat Latos' numbers at Great American Ball Park have been very good this season. Actually, you may be surprised to know that his home ERA of 3.18 is significantly better than his road ERA of 3.93.
You read that right. It's shocking, isn't it? So, those who tell you that Latos can't pitch at GABP have apparently never looked at the numbers.
Any pitcher that maintains an ERA of 3.18 at the launching pad that is GABP, holds an obvious edge over their counterparts.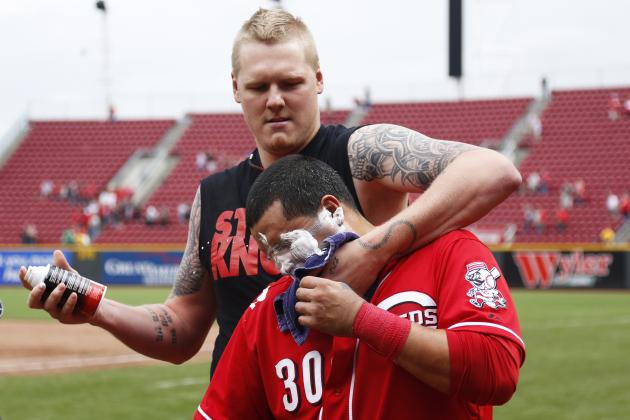 Joe Robbins/Getty Images
Mat Latos has the mentality to hoist his team on his shoulders and lead them to victory.
Mat Latos is a little bit playful, a little bit bully, a little bit crazy, a little bit childish and a whole lot competitive. Latos is young, unphased and settling into his own.
It's all of these things that we see in Latos that make him well suited to perform in pressure situations. When the Reds needed someone to jump right in during Game 1, who was the first to volunteer?
The cameras immediately turned to Latos, who was tugging at his own jersey and pointing to himself—"put me in coach." Latos wasn't reluctant, but rather willing and ready, and he answered the challenge.
He reminds me a lot of a guy named Rob Dibble. Many Reds fans know him as the hot-headed, flame-throwing member of "The Nasty Boys." He thrived on the pressure, and he mowed down opponents—especially those he didn't like.
Well folks, Latos really doesn't like the Giants. No, really. He doesn't. He once signed a baseball "I hate SF!" Check it out here on Big League Stew.
To sum things up, all and all it would be a wise bet to put your money on Mat Latos to come up big once again. Expect a dominant, gem of a performance.
You can follow Josh Ramsey on Twitter @JRamCincy.