5 Reasons to Believe Ben Roethlisberger and the Steelers Will Win the AFC North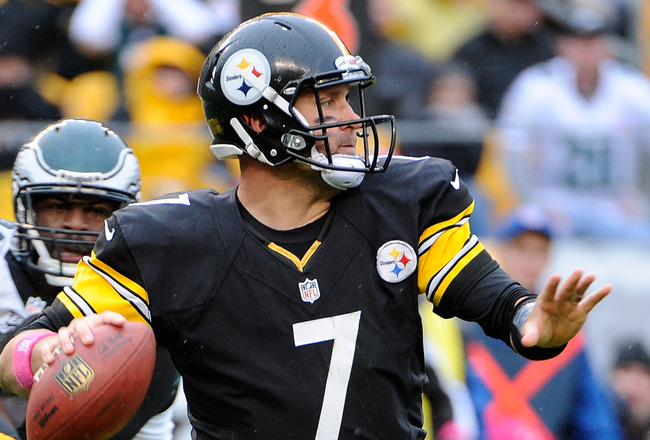 Joe Sargent/Getty Images
Standing at 2-2 without a road win on the year yet, it's been pretty tough to get a good read on the Pittsburgh Steelers in 2012. They dominated the Jets at home and, defensively, played well enough to beat the Eagles. But a bad road loss in Oakland still looms over this team.
Still, it's early in the year and there's a lot of football to be played.
Last season, three teams from the AFC North were playoff-bound, and many people have seen big improvements from the Ravens and Bengals, while the Steelers seem to be a middle-of-the-road team.
But I'm not giving up on them and neither should you. Here are five reasons to believe this Steelers team will win the AFC North.
Ben Roethlisberger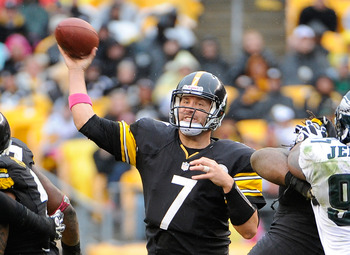 Joe Sargent/Getty Images
You don't hear many people talking about it, but Ben Roethlisberger is quietly putting together one of the best starts of his career.
In four games, the ninth-year QB has posted 1,111 yards, eight touchdowns and just one interception. He also hasn't lost a fumble this year.
Sunday was the first time Big Ben didn't throw a touchdown pass in a game this year, although he had some opportunities. A stumble by Jerricho Cotchery left him two yards short of paydirt and Antonio Brown watched a ball bounce right off his hands after beating Nnamdi Asomugha.
Roethlisberger has been the most consistent piece on a Steelers team that has been anything but in 2012. He is, without question, the best quarterback in the division and really gives the team a chance to win every week he's out there.
Offensive Firepower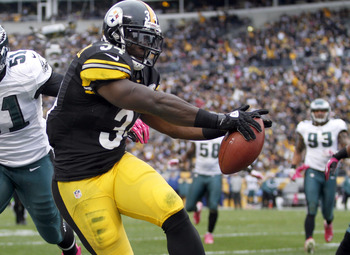 Justin K. Aller/Getty Images
When you look around the division, you can see some really big names.
Guys like Ray Rice and September's Offensive Player of the Month A.J. Green generally grab all the headlines. But no offense in the division is deeper than that of the Pittsburgh Steelers—especially in the receiving corps.
Mike Wallace may be the best deep threat in the league and last year's team MVP Antonio Brown has proven himself to be a consistent target for Ben Roethlisberger.
Pairing their starters with backups Emmanuel Sanders and Jerricho Cotchery, who happens to be the last Jets player with over 1,000 yards receiving, and one of the most underrated tight ends in the game in Heath Miller, and you have an elite group of targets for Big Ben.
Getting Rashard Mendenhall back will immediately upgrade the backfield, as was shown Sunday against the Eagles. Having a back like Chris Rainey to catch passes out of the backfield adds a dimension the Steelers haven't seen in quite some time.
It'll be hard for any defense in the league to completely shut down the weapons the Steelers can put on the field. Pittsburgh's offense should be able to compete with almost any offense in the league—there's something you haven't always been able to say.
Schedule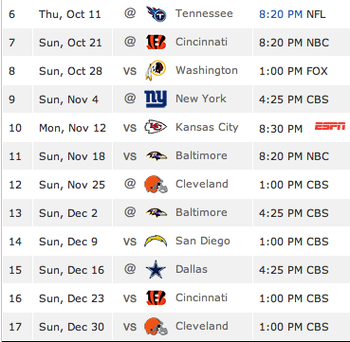 Courtesy ESPN
Being a game-and-a-half out of the division lead with 12 games left to play is by no means a cause for panic. And although the Steelers currently sit in third place, they've got a lot of room to move up because of their schedule.
Every AFC North team has already played a game within the division.
Except for the Steelers.
Pittsburgh still has all six games remaining against their division foes and that bodes well for them, being behind in the standings.
The Steelers will have to make the most of their games with the Bengals, Browns and Ravens if they want to win the division this year. But having more games against the guys ahead of you can't hurt.
Defensive Injuries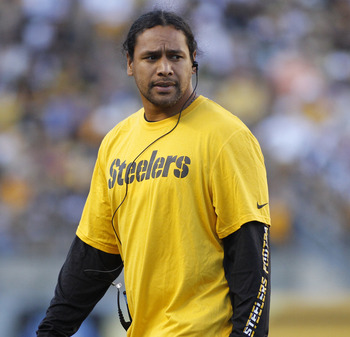 Justin K. Aller/Getty Images
So far, the Steelers defense has been uncharacteristically inconsistent in 2012, and a lot of that has to do with various injuries.
Safety Ryan Clark missed the loss in Denver, while Troy Polamalu and James Harrison missed the next two contests in which the team went 1-1. And this week when it looked like the unit would finally be at full strength, Polamalu reinjured his ailing calf and LaMarr Woodley left the game with a hamstring injury.
I believe if and when the Steelers defense returns to full strength, it'll bring more consistency to a unit that desperately needs it.
There's no doubting this isn't one of the defenses of old, but there's also no reason to believe they still can't be in the top 10. That starts with getting healthy.
Revenge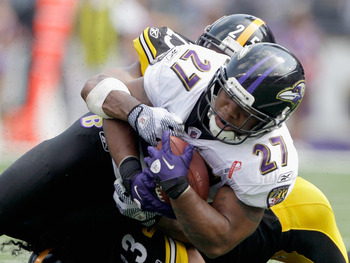 Rob Carr/Getty Images
It's not often that the Steelers lose two games to the same team in a single season, but 2011 was one of them.
In fact, those two losses cost the team the division last year.
The 2011 division-winning Ravens were the Achilles heel for the Steelers last season, downing their rivals twice and embarrassing them on opening day.
Pittsburgh traditionally hasn't taken losses lightly, especially against the Ravens. Baltimore embarrassed them in Week 1 last year and despite keeping it close, the team fell at home a few weeks later.
The Ravens currently own the division lead and are many people's pick to take the AFC North. If the Steelers want to be division champs in 2012, they'll have to go through Baltimore to get there.
Keep Reading

Pittsburgh Steelers: Like this team?