10 Boston Red Sox Free-Agent Pitching Targets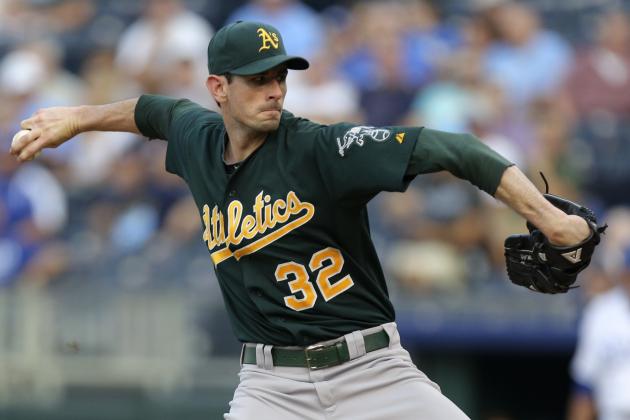 Ed Zurga/Getty Images

The Boston Red Sox starting rotation was a mess last season. Jon Lester, Josh Beckett and Felix Doubront all had ERAs over 4.80, and Clay Buchholz wasn't much better at 4.56.
John Lackey will likely be back next year, but with the departure of Beckett and Daisuke Matsuzaka, the Sox will have an open spot in their rotation. If it's not filled by prospects such as Rubby De La Rosa or Allen Webster, Boston will look to the free-agency market.
Here's a list of 10 players the Sox may sign, ranked in order from most to least likely.
Begin Slideshow

»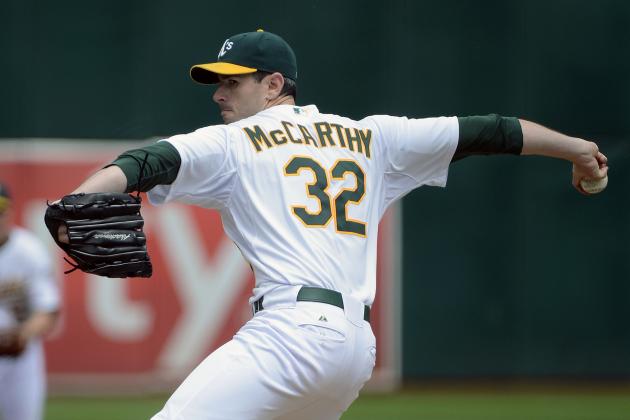 Thearon W. Henderson/Getty Images

Before a line drive to the head ended his season prematurely, McCarthy was on his way to commanding a hefty free-agent contract. In 43 starts in the last two years, McCarthy's recorded a 3.29 ERA and 1.18 WHIP.
The newfound financial flexibility the Sox have should be utilized on players like McCarthy.
The Sox have a number of young pitchers such as Matt Barnes who are a year or two away, so signing McCarthy for a year would be a low-risk, high-reward transaction. And if he has success in Boston, they should keep him long term.
Projected Contract: 1 year, $10 million
Odds Sox Sign Him: 3 to 1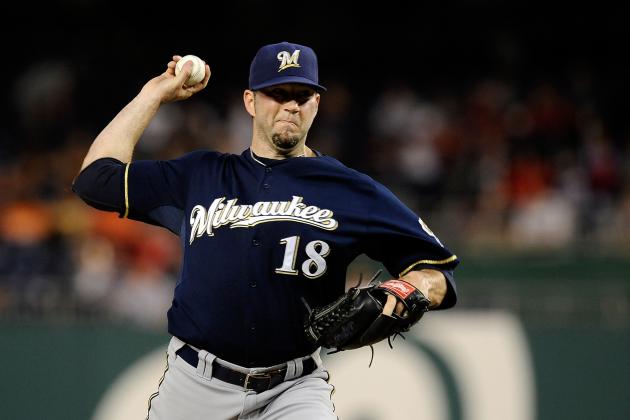 Patrick McDermott/Getty Images

Here's another pitcher who's an injury risk. Marcum has a 42-26 record with a 3.57 ERA and 1.18 WHIP over the past five years, but has only averaged 168 innings per year, and that doesn't include him missing all of 2009 with an elbow injury.
Marcum headed to the DL for two months this season, but had a 3.70 ERA and 7.9 K/9 in his 21 starts. Marcum could be another low-risk, high-reward candidate for the Sox.

Projected Contract: 2 years, $18 million
Odds Sox Sign Him: 7 to 2
Harry How/Getty Images

As a 25-year-old in 2008, Santana was sixth in the AL Cy Young voting after finishing with a 16-7 record and 3.49 ERA with 214 strikeouts. Inexplicably, his ERA rose to 5.03 the next year.
2010-2011 saw a 28-22 record and 3.65 ERA, but that figure ballooned to 5.16 this year.
The team that signs Santana won't know whether they're getting the 2009 and 2012 version, or the 2008 and 2010-2011 version. It wouldn't surprise me to see Santana take a short-term contract in order to prove himself. In that case, the Sox might as well give him a shot.
Projected Contract: 1 year, $8 million
Odds Sox Sign Him: 9 to 2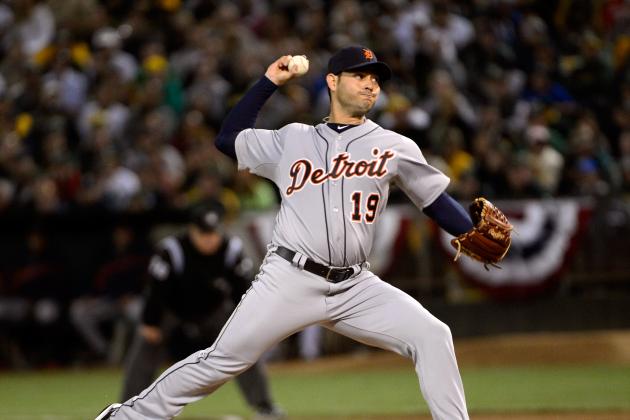 Thearon W. Henderson/Getty Images

Sanchez was signed by the Sox as a 17-year-old free agent in 2001. The native Venezuelan was traded along with Hanley Ramirez for Josh Beckett, a transaction that's worked out well for both sides.
Sanchez compiled a 3.75 ERA in seven seasons with the Marlins, and has thrown over 190 innings in each of the past four years. After being traded to Detroit this summer, he showed that he could have success in the American League as well; he recorded a 3.74 ERA and 3.8 K/BB ratio, the latter the highest mark of his career.
The Sox were reportedly interested in him during the trade deadline, so if his price doesn't get too high, Boston could make a move.
Projected Contract: 5 years, $60 million
Odds Sox Sign Him: 5 to 1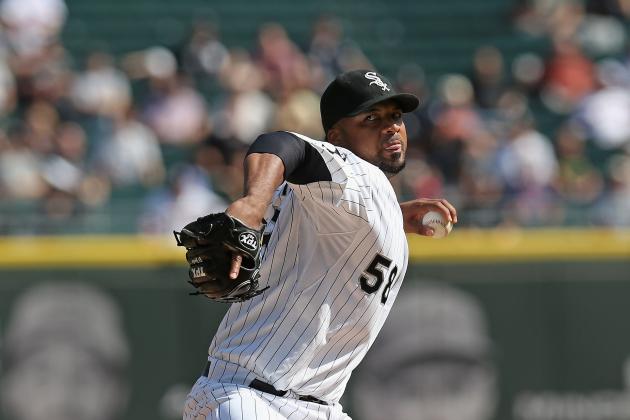 Jonathan Daniel/Getty Images

After Liriano blew away the league in 2006 with a 12-3 record, 2.16 ERA and 10.7 K/9, many figured once he returned from Tommy John surgery he would continue to dominate. That hasn't been the case at all.
From 2008 through 2012, he's at nine games under .500 with a 4.75 ERA. Over the past two years, he has a 5.23 ERA and 1.48 WHIP.
Yet, Liriano still possesses the raw stuff and strikeout capability to attract teams. If the cost is low enough, the Sox might take a flyer on him.
Projected Contract: 2 years, $14 million
Odds Sox Sign Him: 6 to 1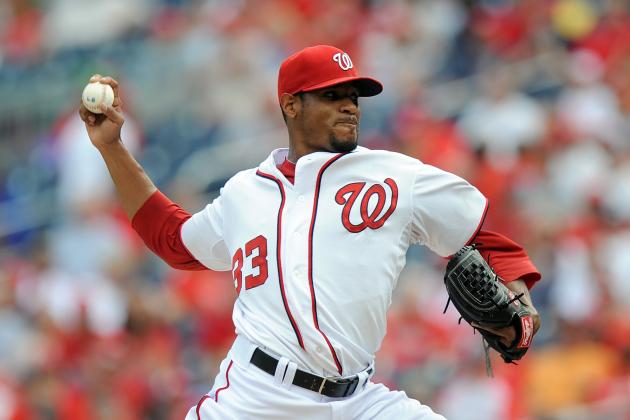 Greg Fiume/Getty Images

Jackson has had an up-and-down career. He started out as a top prospect with the Dodgers, but then stumbled to a 5-15, 5.76 ERA season as a 23-year-old with the Devil Rays.
He improved to a 3.62 ERA after being traded to Detroit in 2009, and has since played for Arizona, Chicago, St. Louis and signed with the Nationals for 2012. With those four teams from 2010 through 2012, Jackson went 32-32 with a 4.10 ERA and 7.5 K/9.
Jackson's has had success in the AL in the past, but likely wouldn't be much better than average. For a pitcher that will command some serious cash, the Sox will probably stay away.
Projected Contract: 4 years, $48 million
Odds Sox Sign Him: 7 to 1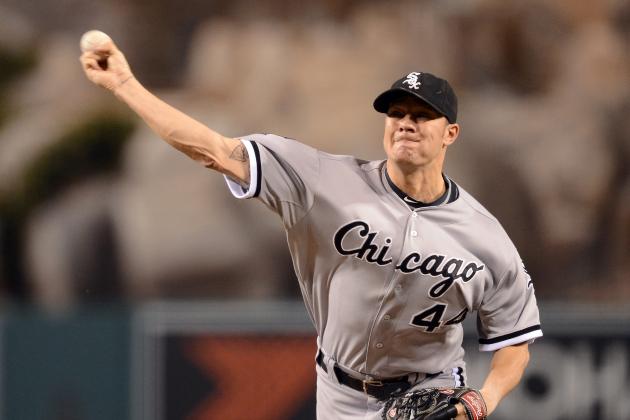 Harry How/Getty Images

Peavy has a $22 million option for next year, and it's safe to say the White Sox won't be picking that up, even after a stellar campaign by the 31-year-old last season.
Peavy went 11-12 with a 3.37 ERA and 1.10 WHIP in 2012, numbers that eclipsed anything Red Sox pitchers did last year. The problem with Peavy is durability, as from 2009-2011 he pitched only 320 innings. While his career 3.46 ERA, 1.18 WHIP and 8.7 K/9 are enticing, it's hard to see the Sox offering up big bucks for a pitcher with a history of injuries.
Projected Contract: 3 years, $46 million
Odds Sox Sign Him: 10 to 1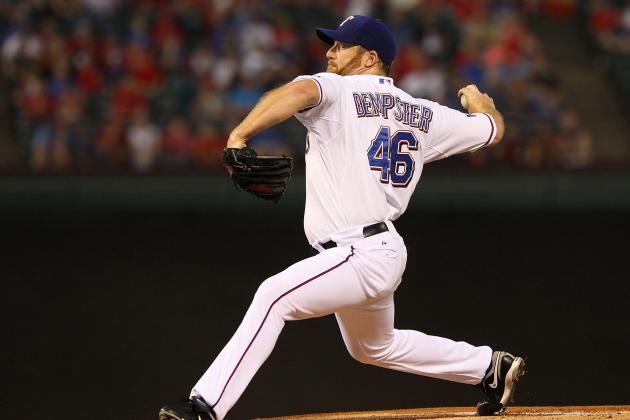 Rick Yeatts/Getty Images

After sporting a 2.25 ERA in 16 starts with the Cubs this season, Dempster posted a 5.09 ERA with the Rangers. His true capability is somewhere in the middle, as he has a 3.74 ERA in 997 innings over the past five years since he moved back into the starting role from the bullpen.
Dempster is 35 and will likely be looking for one last contract. With Dempster having seen a drop in performance coming to the American League, and with the small confines of Fenway Park, the Sox will likely pass on him.
Projected Contract: 3 years, $30 million
Odds Sox Sign Him 10 to 1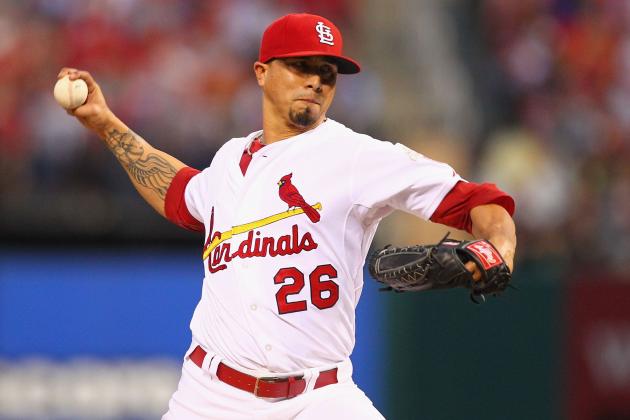 Dilip Vishwanat/Getty Images

Lohse has had the opposite career of many on this list. In his first 10 years, he compiled a 4.79 ERA with four teams and was 10 games under .500. In 2011 through 2012, however, Lohse is 30-11 with a 3.11 ERA.
Even though he's 34, Lohse will command a hefty contract this offseason based on his recent success. With agent Scott Boars, don't be surprised to see Lohse price himself out of the Sox range.
Projected Contract: 3 years, $42 million
Odds Sox Sign Him: 15 to 1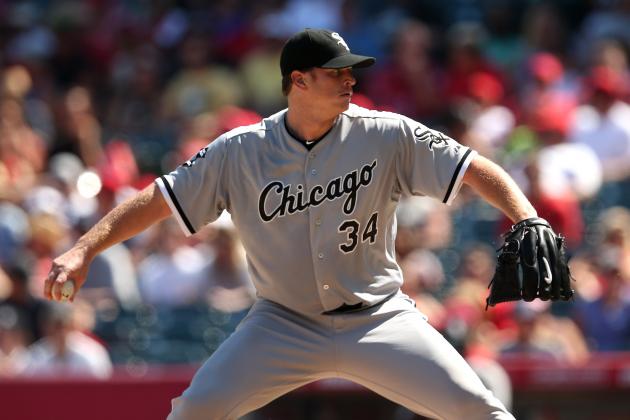 Stephen Dunn/Getty Images

Floyd has been the epitome of average in his nine years in the majors. For his career he sports a 100 ERA+, including a 101 last season and 99 in 2011. Still, the Sox could use him as a solid fourth or fifth starter, and his 4.29 ERA would have been the best on the staff last year.
Floyd is only 29 and will likely be looking for a long-term deal. The Sox probably won't want to be tied down to a pitcher with such limited upside, so they'll likely pass on Floyd.
Projected Contract: 4 years, $38 million
Odds Sox Sign Him: 15 to 1