Milwaukee Bucks: 3 Reasons Monta Ellis Will Mesh with Brandon Jennings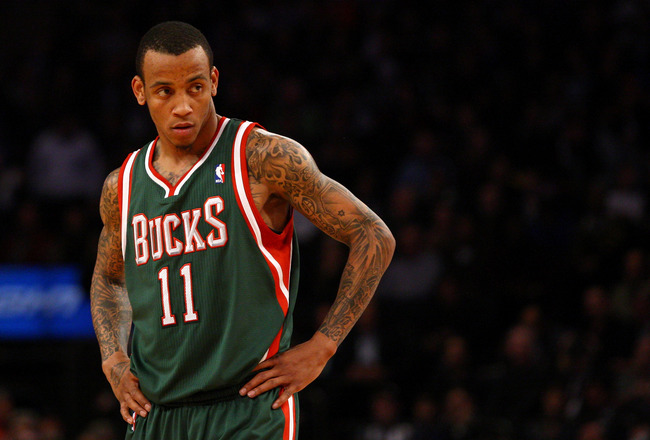 Is Monta a one-man show?
Chris Chambers/Getty Images
The Milwaukee Bucks traded for guard Monta Ellis back in March. Some may say that he and guard Brandon Jennings did not mesh last season, and they will not mesh this season. But there are a few reasons to believe that the two talented guards will mesh in the 2012-13 season.
When Milwaukee traded for Ellis, the team parted ways with center Andrew Bogut. While this was a difficult move because of how good Bogut is when he plays, his health issues were just too numerous to keep him. In return, the Bucks received a dynamic 2-guard that can score from outside and on the pick-and-roll.
It quickly became clear, though, that Milwaukee had acquired a similar player to their point guard Brandon Jennings. Both can score, drive, handle the ball and have monster games.
Unfortunately, Ellis is also plagued by turnovers, poor shooting percentages, has a small frame for defending and he needs the ball to score.
These two players may be too similar to coexist, but there are a few reasons to believe this relationship can work.
Ellis and Jennings Have an Entire Offseason to Build Chemistry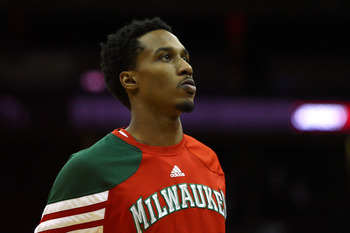 If Jennings and Ellis work together, they could be unstoppable
Chris Chambers/Getty Images
Ellis and Jennings may have struggled while together due to a lack of chemistry.
Despite what some may think, players cannot always just switch teams and automatically have everything down. Ellis did not join Milwaukee until mid-March. That means he had to try and learn the offense, learn the personnel and learn the defense all within a month and a half.
When teams are together for years and still cannot succeed, it is unreal to expect a guy to learn in under two months. This won't be an issue, now, as Ellis and Jennings will have had an entire offseason to come together.
Steve Aschburner of NBA.com reports that the pair is building chemistry off the court as well. He reports that the two are only one floor apart in the same apartment building in Milwaukee. Aschburner also reports that Ellis and Jennings had a "little brother-big brother talk."
Furthermore, it was reported that Jennings said, "We said we'll sacrifice whatever just to win" and that "if he's got it going that night, he's got it going. If I've got it going, whatever."
A big hurdle for these two is determining if one can step aside, at times, for the success of the team. If all this offseason bonding works, and they learn to share, this could be a dynamic duo for Milwaukee.
The Stats Say They Can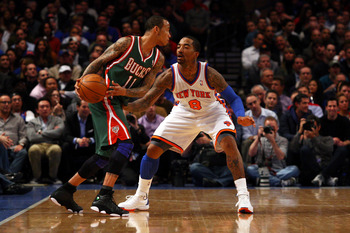 Is there enough ball to share between the two?
Chris Chambers/Getty Images
Having both Ellis and Jennings could mean a significant drop in stats for one or both players. In the case of Ellis and Jennings, it just won't be true.
Last season, Jennings averaged 19.1 points per game, 5.5 assists and a shooting percentage of .418, two of which were career highs for him. These numbers were not affected by the addition of Ellis in mid-march.
Ellis' numbers did drop, though, but only in points per game. With the Golden State Warriors, Ellis averaged a .433 shooting percentage, six assists and 21.9 points per game. With Milwaukee, he averaged a .432 shooting average, 5.9 assists per game and 17.6 points per game.
Monta's points did not drop because he had less touches. They dropped because he had some awful games where he would shoot .143 from the field like the one against the New York Knicks on March 26.
Ellis' numbers also came at a time when he was trying to learn a new system, and he was trying to get acquainted with a new team.
Neither player saw much change in production last season, and fans should only expect them to improve this season.
Worst Case Scenario, They Coexist Separately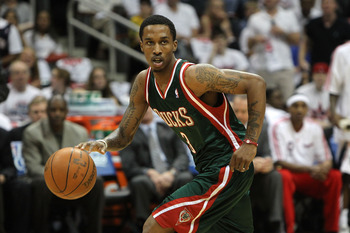 Not having both Jennings and Ellis on the floor could be the best for the Bucks
Mike Zarrilli/Getty Images
In the absolute worst case scenario for Milwaukee, they play only one of the two at a time. If both need the ball, then the Bucks should give them what they want.
This could become like the situation in Miami. If both LeBron James and Dwyane Wade are struggling while on the floor together, the Heat split them and allow them to dominate separately.
Steve Aschburner of NBA.com wrote how Ellis and Jennings excelled when they played alone last season. In 100 possessions, the Bucks were +50 with just Ellis on the court. With Just Jennings, Milwaukee was +42.
Yet with both on the court, the team was -24. If the team is scoring so many more points with only one playing, and losing so many points with both playing, then maybe it's best they don't play at the same time.
Multiple teams have starting-caliber players come off the bench, and they excel. Oklahoma City's James Harden, San Antonio's Manu Ginobili and Ben Gordon while with Chicago, all make a living terrorizing their opponents bench players.
This could be an explosive combination if the two can work in harmony. It could also become a disaster for Milwaukee if they both need to be the star. It's up to Ellis and Jennings, and fans should bet on them working out.
Keep Reading

Milwaukee Bucks: Like this team?