San Francisco Giants vs. Cincinnati Reds: 3 Reasons Giants Have Edge in Game 4
Use your ← → (arrow) keys to browse more stories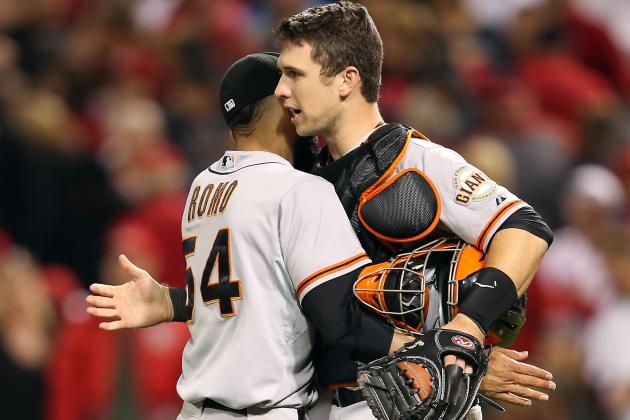 Andy Lyons/Getty Images
Sergio Romo and Buster Posey congratulating each other after Game 3 victory.
The mental breakdown on behalf of the Cincinnati Reds in the 10th inning of Tuesday's Game 3 has jeopardized their control of this short series—advantage San Francisco Giants.
All it took to shift the momentum to the Giants was Reds catcher Ryan Hanigan allowing the passed ball, and the costly fielding error from third baseman Scott Rolen.
Regardless of the Giants being down 2-1 and on the road for the remainder of the series, there are a few reasons why the Giants have a big edge going into Game 4.
No Johnny Cueto
The Reds have has officially taken Cueto off their NLDS roster, ruling out the chance of him pitching again in this series.
San Francisco couldn't be more confident knowing that they won't have to worry about facing the potential Cy Young candidate.
General Manager of the Reds Walt Jocketty explained the team's hard but necessary decision to shut down their ace to MLB.com:
"It was a very, very tough decision," Reds general manager Walt Jocketty said. "But our medical staff felt, at best, that Johnny might be able to pitch one game in the next series if we get there. So we thought the importance of today's game and the rest of the series, versus the one game next time, outweighed that. It's a tough thing to have a potential Cy Young guy out of your rotation."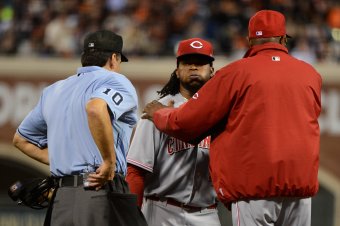 Thearon W. Henderson/Getty Images
Losing in the fashion that the Reds did in Game 3, coupled with the loss of Cueto, will prove to give the Giants a distinct advantage in Game 4.
Forced into the Spotlight Is Mike Leake
With Cueto off the NLDS roster, the Reds have called up Mike Leake to start Game 4.
Pablo Sandoval, Hunter Pence and Buster Posey are batting .472 with four homers in 36 combined career at-bats against Leake.
The decision was made to go with Leake over Mat Latos since Latos pitched four big innings of relief in Game 1 after Cueto went down with the right oblique strain.
While the third-year man did register two complete games in 2012, one of which came against this Giants team, he amassed a disappointing 8-9 record with a 4.58 ERA in 30 starts this season.
He was left off the NLDS roster initially because of those lackluster numbers.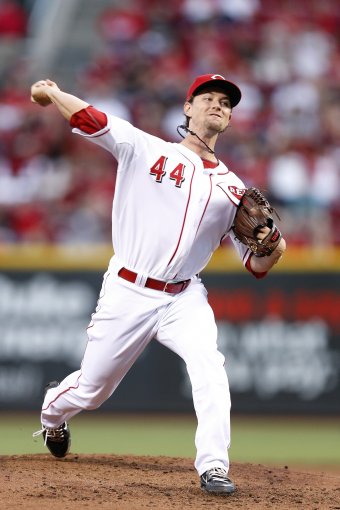 Joe Robbins/Getty Images
Figures like that give a clear disadvantage to the Reds going into Game 4, and Dusty Baker acknowledges that as much to MLB.com:
"This guy stays ready," Baker said of Leake on Wednesday morning. "We just have to adjust. It's quite a blow. But at the same time, you hope Leake steps up and he pitches well."
The Reds' psyche is already fragile from Tuesday's crushing loss, and the hope that Leake pitches well won't be enough as the Giants will be looking to be aggressive at the plate.
The Giants' Bats Can't Be Any Worse Than They Were in Game 3
How the Giants managed to strike out 16 times, produce a meager three hits and still win in 10 innings is one of those postseason anomalies.
They will be looking to rebound from that low offensive output in a big way and take out their frustrations on the rusty and unpredictable Mike Leake.
The Postseason is about teams taking advantage of pitchers' mistakes—the Giants did that in Game 3, and they have momentum on their side to do that in Game 4 as well.
Game 4 Prediction:
The middle of the Giants lineup will lead a big charge offensively.
The Giants win 6-2 and even up the series to force a Game 5.