Early Cleveland Browns Awards for 2012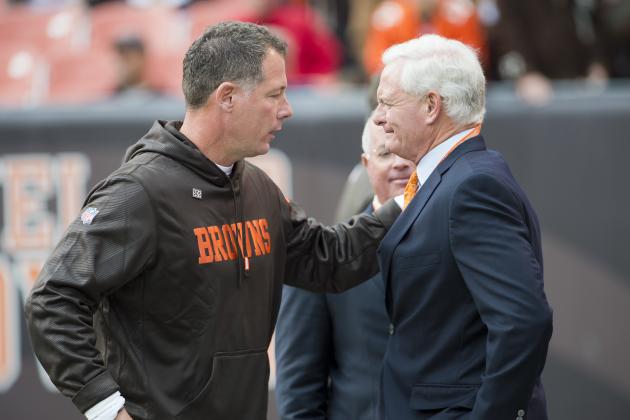 Jason Miller/Getty Images

Handing out any awards beyond lumps of coal for the early part of the Cleveland Browns' 2012 season is a tall task.
An 0-5 start is all the Browns have had to show for head coach Pat Shurmur in his second year calling the shots. To be fair, much of that can be attributed to youth. Numerous rookies and younger players have been forced into action, causing expected mental mistakes and inconsistent play.
While there have been promising signs from Cleveland's developing young core, it hasn't resulted in any W's.
Incoming owner Jimmy Haslam has stated that no personnel decisions will be made during the season, according to Mary Kay Cabot of The Cleveland Plain Dealer. That paradigm could shift in light of the team's status as the worst in the NFL, though.
The product on the field in Cleveland is once again unacceptable, and someone is going to ultimately have to pay by having their pay taken away.
In spite of all the negativity engulfing the Browns' organization, let's hand out awards to the team as if the season were to end today.
Begin Slideshow

»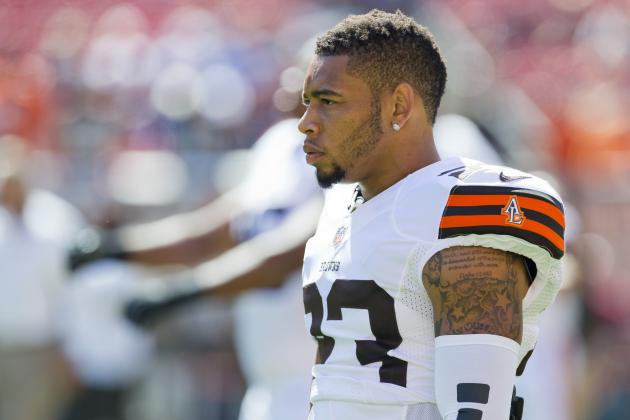 Jason Miller/Getty Images

Last season, the argument was made—half-jokingly, in most cases—that Peyton Manning should have been the NFL MVP after missing the entire season and watching the Indianapolis Colts organization go in the tank.
A similar sort of principle is applied here with Joe Haden, albeit less extreme.
Selecting Haden as the winner of this award doesn't exactly project a tone of optimism, but the Browns can take solace that he will finally return to the lineup in Week 6 to play the Cincinnati Bengals.
Haden began serving his four-game suspension in Week 2 after failing a test for performance-enhancing drugs. Cleveland's defense has been an unmitigated disaster ever since—especially in the secondary.
This was the same unit that forced Philadelphia Eagles QB Michael Vick into five turnovers in the season opener. Although the Browns ultimately lost 17-16, it looked as though the defense would be the strength of the team.
But without the presence of its No. 1 corner, that couldn't be further from the truth.
It may be difficult to gauge Haden's true value when the Browns play AFC North foe for the second time in a month. An argument could be made that familiarity with the Bengals may result in a better defensive game plan for the Browns.
Alternatively, if star middle linebacker D'Qwell Jackson can't play after suffering a concussion last week, the defense's play may suffer in spite of Haden. The Plain Dealer's Tom Reed also notes that underrated defensive tackle Ahtyba Rubin left Sunday's game against the Giants with a lower leg injury.
All the cornerstones of Cleveland's defense may be out. To this point in the season, though, it's clear that Haden has left the defense hapless in his absence.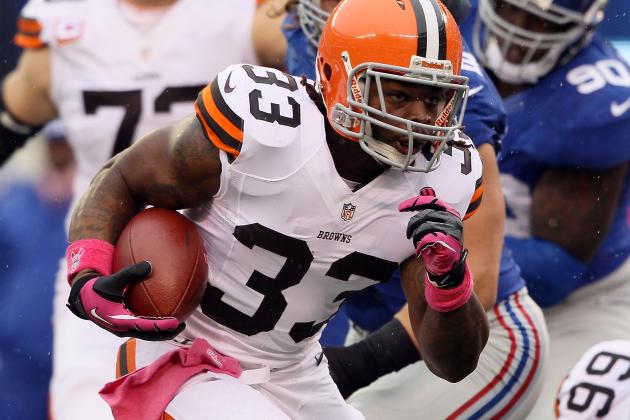 Alex Trautwig/Getty Images

No. 3 overall pick Trent Richardson is the clear winner here. The running back's 3.7 yards per carry aren't spectacular, but that can be more attributed to shoddy, inconsistent blocking up front than anything else.
Richardson also leads the team with 20 receptions. He has served as an invaluable check-down option for quarterback Brandon Weeden, who as a rookie himself is still adjusting to the speed of the NFL.
Using GM Tom Heckert's "build through the draft" strategy, I asked longtime Browns beat writer Tony Grossi of ESPNCleveland.com what he thought the Browns' top need was in the 2012 NFL Draft. His one-word response says it all:
"@mattfitz_gerald: #1 need for the Browns in the draft?"//Touchdowns.

— Tony Grossi (@TonyGrossi) January 17, 2012
This was all the way back in January—and, yes, it took a while to dig through my Twitter mentions—but Grossi was spot on with this one. I wanted to give credit where credit was due.
The Browns' first pick has provided just what the team needed: TDs. In all of 2011, Browns running backs ran for a grand total of four rushing touchdowns. Through five games this season, Richardson has already matched that total and has a receiving touchdown to boot.
There is a growing consensus that Richardson is developing into one of the league's premier backs.
Some draft picks by the Browns regime may be scrutinized, but it looks like they nailed this one.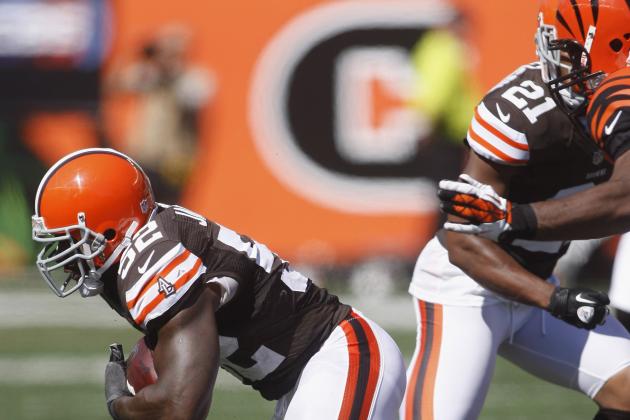 John Grieshop/Getty Images

This is a rather obvious choice as well. D'Qwell Jackson has continued to anchor the Browns' front seven, remaining one of the unheralded stars in the league.
The middle linebacker recovered from two separate, season-ending pectoral injuries to have a monster season last year. If anything, Jackson has upped the ante even more this season.
Unfortunately, he suffered a concussion in Week 5, leaving his status up in the air. Undrafted rookie L.J. Fort has excelled at outside linebacker when given opportunities and would be the next man up in lieu of Jackson.
Here's the line on Jackson to date: 31 combined tackles, three sacks and two interceptions, including one he returned for his first career touchdown.
Jackson does so much more than just put up numbers, though. As the middle linebacker in Dick Jauron's 4-3 scheme, he makes the defensive calls, matching wits with the opposing quarterback.
As pleasant of a surprise as Fort has been, he doesn't have Jackson's intangibles. The veteran must not miss more than one game if the Browns want to somehow salvage the season.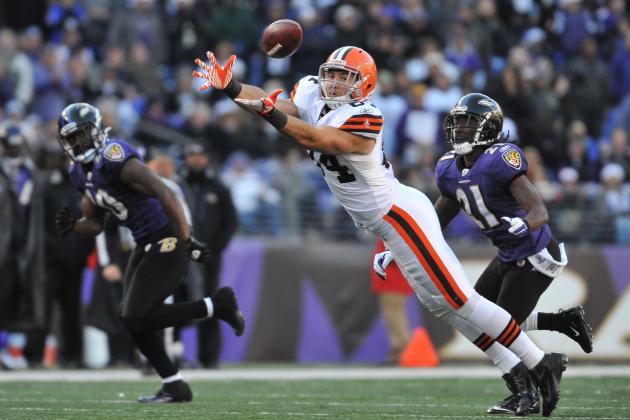 Larry French/Getty Images

After lurking in obscurity as a rookie, tight end Jordan Cameron has made a considerable jump in his sophomore campaign.
For a player who is supposed to bring explosiveness and extraordinary receiving ability to his position, the eight catches for 86 yards through the first five games isn't all that impressive. Part of that is due to not getting the opportunities until Week 3.
When QB Brandon Weeden has put the ball on target, Cameron has mostly taking advantage of those opportunities.
He has the potential to be a game-changer, similar to New Orleans Saints tight end Jimmy Graham. After all, Cameron was a basketball player in college before making the transition to football at Southern Cal.
A great camp and injuries to other tight ends have allowed Cameron to rise up the depth chart. He is still putting everything together and learning the nuances of the game, much like many of his Browns teammates.
When he was drafted, it was clear Cameron would be a project. But his development is going rather well, as he has put himself in position to be more involved in the passing game.
The better Cameron can block, the more snaps he'll see, and the more of a threat he'll become.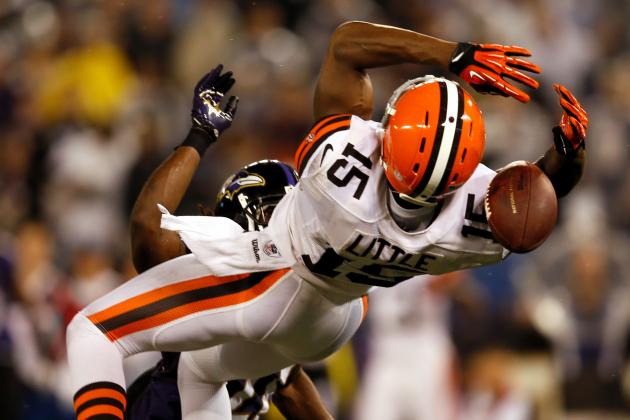 Rob Carr/Getty Images

More than a few Browns players have been disappointing, but the nod has to go to second-year wide receiver Greg Little.
Dubbed by some to be a breakout fantasy star in 2012, Little's inability to catch the football has carried over and arguably gotten worse. The photo above shows a would-be touchdown snag slipping through his hands against the Baltimore Ravens. To say the least, a catch there would have changed the complexion of that game.
Now is the time for Cleveland—both the organization and its fans—to stop playing around with "What if?" scenarios. Little clearly hasn't been the No. 1 receiver the Browns thought they were getting.
It's not because he isn't talented, but Little is doing his rookie quarterback no favors with his buttery fingers, and his role soon could be severely diminished.
Josh Gordon—arguably more physically gifted than Little—caught two touchdown passes last week. Fourth-round fellow rookie Travis Benjamin has proven his ability to burn defenses deep, and Mohamed Massaquoi established himself as the go-to guy before being hampered by a hamstring injury.
Not to be forgotten is the sudden emergence of Jordan Norwood, who made receptions all nine times he was targeted in Week 5.
The Browns have been searching for years for a viable, Pro Bowl-caliber receiver. There's no doubt that Little has the potential to be that guy, but he must immediately start to realize it.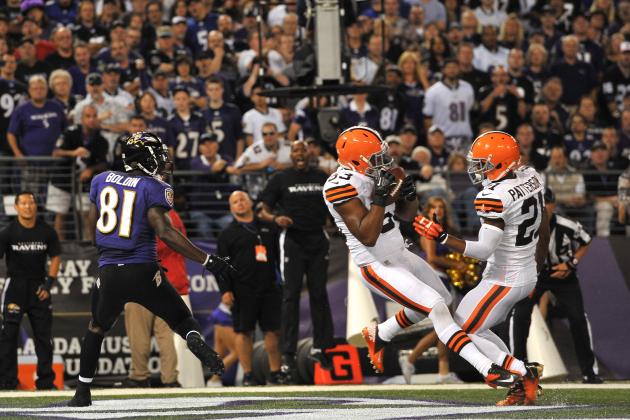 Larry French/Getty Images
Craig Robertson (center) notches his second interception of the season in Week 4 at Baltimore.
Second-year linebacker Craig Robertson has been one of the few bright spots on Cleveland's defense. While a case could be made that he is the team's most improved player, his rapid rise warrants a different distinction.
The former undrafted free agent out of North Texas leads the Browns with 34 tackles, and his two interceptions ties him with D'Qwell Jackson for the team lead.
With the pending suspension of Scott Fujita and an injury to rookie linebacker James-Michael Johnson, Robertson suddenly found himself making plays left and right in Week 1.
Anyone who now say they had Robertson on their radar before the season began would be lying to you. After making only one start, his steady production may well result in him earning a starting job for at least the rest of the season.
It would be wise to give him that chance, since the Browns are clearly in rebuilding mode again.
A lot of formerly undrafted free agents turn into fantastic NFL players, but the Browns seemingly hasn't gotten any return on any such low-risk investments in recent years.
In Robertson, they finally may have.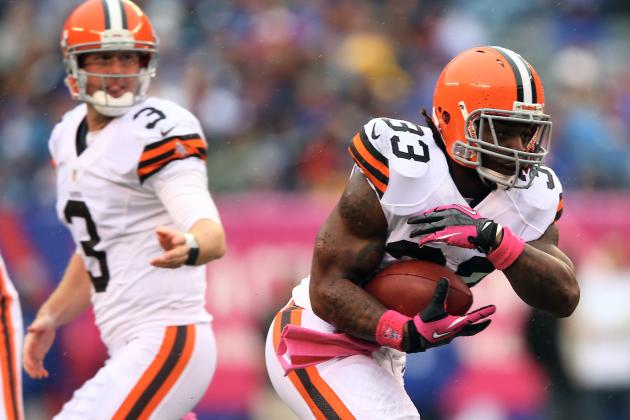 Elsa/Getty Images

The Cleveland Browns have a rough road ahead. Other than cornerback Joe Haden and middle linebacker D'Qwell Jackson, their other award winners are not on par with the best players other quality NFL teams.
Trent Richardson is on his way to becoming one of the top backs, but his production has been hampered by his offensive line. Jordan Cameron's improvement at tight end has been incremental—not a popular theme in Cleveland right now.
That Cameron is the most improved Browns says a lot about the state of the team's development process, as does the regression of receiver Greg Little.
Time is running out, and another coaching staff overhaul may be in order. Head coach Pat Shurmur has just a 4-17 record, and the tandem of Mike Holmgren and Tom Heckert has produced mixed results in the draft at best.
We've heard the song before: it is a five-year rebuilding plan.
Well, it's Year 3 and just over a quarter and not a lot of winning has transpired. More specifically, in a league where parity is a constantly referenced stereotype, Cleveland is the only winless team through Week 5. The Browns have not one victory in the AFC North since Shurmur and Co. took over.
For crying out loud, the team hasn't won a game—period—in more than 10-and-a-half months. From his first press conference, it's pretty clear that incoming owner Jimmy Haslam won't tolerate losing of that magnitude.
Haslam will make Shurmur a has-been head coach if the Browns don't rebound quickly.