New England Patriots: 3 Ways Improved Running Game Will Benefit the Pats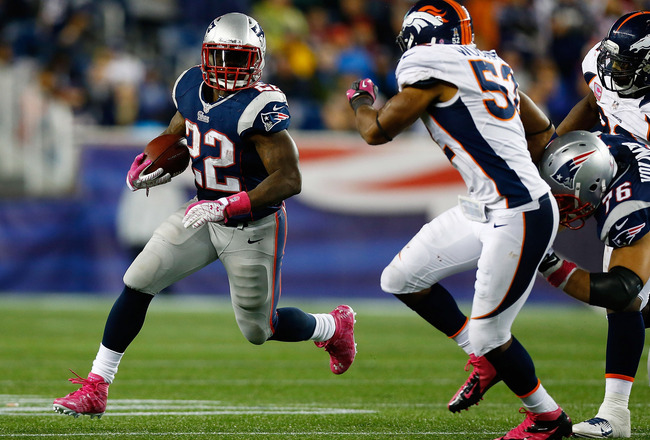 Jared Wickerham/Getty Images
New England Patriots coach Bill Belichick is a football hipster.
Like a Brooklynite in skinny jeans jamming to Wavves, Belichick sets the trends, then breaks them. The 3-4 base defense is all the rage? Belichick switches to a 4-3. Everyone else runs a spread offense? Belichick drafts two tight ends and plays them tight to the line.
There's a brilliant method behind Belichick's madness. Defenses historically adjust to offenses, so as defensive sets evolve to try and slow new offensive schemes, Belichick stays ahead of the game and exploits them in all-new ways.
He's done it again this year, responding to a league that saw three QBs pass for 5,000 yards last year by featuring the run game more than ever.
Defenses have to respect QB Tom Brady and his arsenal of skilled receivers and tight ends, so they line up in a nickel or dime defense (five or six defensive backs). With smaller, quicker defenders on the field, the Pats gash the undersized personnel sets with an aggressive run game led by Stevan Ridley and undrafted rookie Brandon Bolden.
As a result, the Patriots are fifth in the league in rushing-yards-per-attempt despite facing three of the leagues' top-ten teams in rush defense (Baltimore, Arizona and Denver).
The Patriots' reinvigorated rushing attack adds a crucial new dynamic to their offense. It's a big reason why they're first in the NFL in yards and points.
Let's take a look at how New England's run game will help the Patriots in their quest for another Super Bowl ring.
It Opens Up Play-Action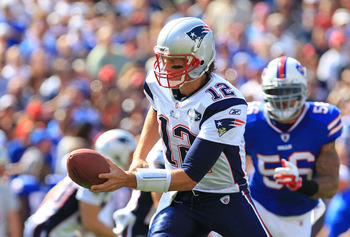 Brady is great at the play-action.
Kevin Hoffman-US PRESSWIRE
Brady sells play-action like a Broadway star.
Even when the Pats run game was best described as dependable but not game-breaking—oh where have you gone, BenJarvus Green-Ellis' ball security—Tom Brady was one of the best play-action passers in football.
That's right, Brady's play-fake was convincing enough to draw defenders to the line of scrimmage to try and stuff such electric rushers as Laurence "Barry Sanders" Maroney and BenJarvus "3.9 YPC" Green-Ellis.
Now that he's got a top-10 rushing attack, Brady really has defenders biting on play-action.
Take a look at this 28-yard TD pass to TE Rob Gronkowski from the Pats' Week 4 matchup against the Bills. The previous play—which drew the third quarter to a close— was a strongside run by Stevan Ridley in which he busted through behind Daniel Fells and Rob Gronkowski for an 11-yard pickup.
Then comes the touchdown throw. he Pats are lined up in a spread formation with four wide, including Brandon Bolden flexed out into the slot. Prior to the snap, Brady motions Bolden into the backfield, and you can already see the middle LB sneaking up toward the line of scrimmage.
Brady snaps the ball and sells a nice play-action fake. Both linebackers' momentum is towards the line of scrimmage, and both have their eyes on Ridley. They let Gronkowski release into the middle-third, where the safeties have vacated to provide support on either sideline.
This leads to a pitch-and-catch 28-yard strike to a wide-open Gronkowski to put the Pats ahead for good. And it's all set up by a play-action lent credibility due to an elite running game.
It Protects Their Defense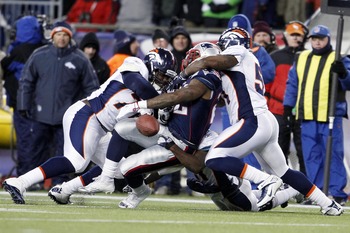 At least, as long as Ridley doesn't fumble.
David Butler II-US PRESSWIRE
The Patriots are undergoing a youth movement on defense, where their average age is just 25.
While they've improved since last year's ticket-usher D, the Pats are still best served to try and minimize their defense's time on the field. After all, some of their best defenders (including DE Chandler Jones) are first-year players who have the infamous rookie wall awaiting them.
Last year, the Pats were characterized by a quick-strike, pass happy offense. They were just fifteenth in the league in rushing play percentage, despite having to protect plenty of big leads. That led to them being an awful 27th in time-of-possession (stats per TeamRankings.com).
This year, with an improved rushing attack, they're now fifth in the league in rushing play percentage, running the ball nearly 50 percent of the time. That's a huge uptick from their 60/40 split in favor of passing last season.
That has resulted in much better clock control: They're now seventh in the NFL in time-of-possession.
Being able to control the tempo of the game and keep opposing quarterbacks off the field will help the Patriots tremendously as the season wears on. Their defense won't be gassed as often at the end of games—in fact, it will likely be the opposing defense that tires out trying to bring down ball carriers snap after snap.
Given their last two heartbreaking losses in Super Bowls against the New York Giants, the Patriots likely see the value of being able to control the ball at the end of a game. With their stable of talented backs, the Patriots now have that skill in as much abundance as any team in the league.
They Can Take Advantage of Current Defensive Trends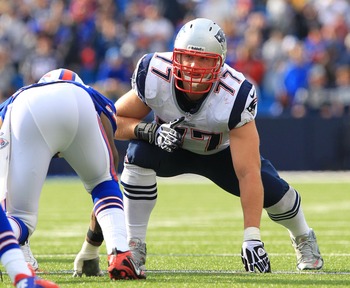 The Pats have some mauling blockers, including Nate Solder.
Kevin Hoffman-US PRESSWIRE
The biggest advantage that the run game gives the Pats—particularly when TE Aaron Hernandez returns—is that it gives the Patriots answers to every defensive formation.
When the Patriots ran a spread offense a few seasons ago, opposing defenses would respond with a nickel or dime defense. The Jets employed this strategy successfully in their 2011 divisional matchup with the Patriots. They sent smaller, quicker personnel on to the field to slow the Patriots' high-flying attack.
Last year, when their offense centered on two stud tight ends in Rob Gronkowski and Hernandez, elite defenses had an answer for that too (at least, when one TE was hobbled). In the Super Bowl, the Giants had enough talent on their D-line to pressure Brady without blitzing. That allowed them to pack the middle of the field against New England's playmakers.
Now, opposing defenses must simply dominate the point of attack and blow up plays. Otherwise, there aren't many ways for them to stop this offense.
Playing a traditional 3-4 or 4-3 doesn't work: opposing D's can't cover the skill positions effectively. It leaves one of the tight ends against a linebacker, or a cornerback 1-on-1 with Wes Welker, or Brandon Lloyd.
On the flip side, playing a nickel or dime to slow the passing attack leaves the defense incredibly vulnerable to the Patriots' rushers and run-blockers like Gronkowski. Just ask the Buffalo Bills, who yielded 243 rushing yards to the Pats in Week 4.
The Patriots have had an elite offense since 2007. But this is the most balanced attack they've had since Corey Dillon carried them to a championship eight years ago.
Keep Reading

New England Patriots: Like this team?