Miami Dolphins Progress Report: Where Do Things Stand Headed into Week 6?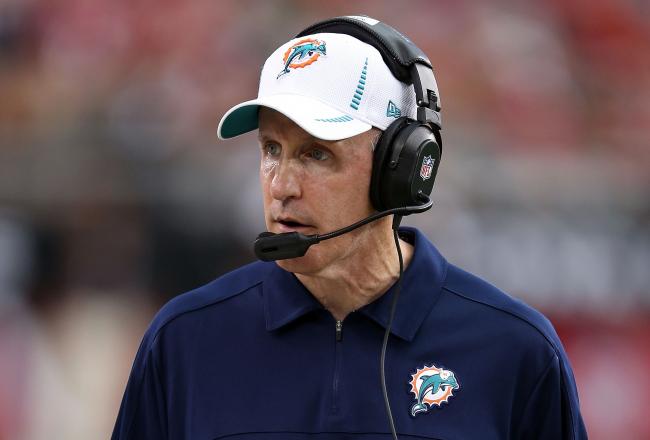 Christian Petersen/Getty Images
It looks like the Miami Dolphins are building toward something.
That's more than the organization has been able to say in some time.
The season is far from over, but with things progressing in a positive direction, let's stop and take stock of where the season stands to this point.
The Good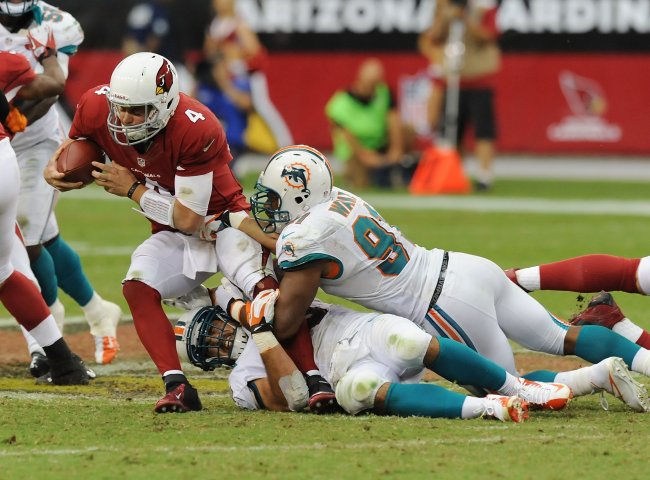 Norm Hall/Getty Images
The Dolphins have been able to rely on a stout defense that has only gotten better as the season has worn on.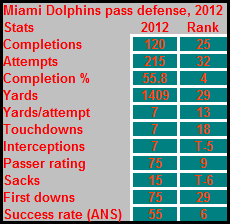 They've been elite against the run since the outset and currently rank first in yards per rush attempt on defense, but their pass defense is really coming along, with cornerback Sean Smith stepping up big-time in coverage on
Cardinals
wide receiver
Larry Fitzgerald
and
Bengals
receiver A.J. Green.
They've been making big plays on defense all season, especially against the Bengals, and it looks like they can count on solid performances week after week.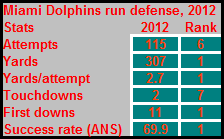 Quarterback Ryan Tannehill has been up and down throughout the season, but it's no mistake that the two games where he didn't throw an interception were also the two games where his team won. When he stays clean on the turnover sheet, the Dolphins can be tough to beat.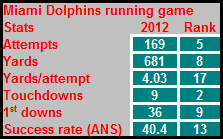 And that's directly a result of a potent rushing attack which has
given the Dolphins an identity
on offense. With 4.8
YPA
, running back
Reggie Bush
ranks ninth among non-quarterbacks with over 40 rush attempts
The fact that the Dolphins were able to pull out the win against the Bengals despite the running game being held to just 1.94 yards per rush indicates not only how important it is for Tannehill not to turn the ball over, but also indicates a defense that is capable of lifting the offense.
The Bad
The only problem with the Dolphins in their quest for mistake-free football is that they've been one of the most mistake-prone teams in the league, turning the ball over 12 times for the sixth-highest total this season.
Ball security has been an issue, with the team on the losing end of six fumbles. Tannehill's ball security is important, as mentioned earlier, but means nothing if the other guys aren't hanging onto the ball.
But their problems on offense go further than just that.
The Dolphins have been the league's second-best team in getting off the field on third down (26.32 percent), which is fortunate for them because they've struggled at times in executing on third down on offense (41.33 percent). If they ever want to reach that goal of 90-plus plays in a game, they'll need to execute a lot better in critical third downs.
It would also be nice to see this offense close out a game when given the opportunity. They've had that chance in each of their past two games and failed both times. The defense stepped it up this time to ensure the win, but can they count on that every time?
Some might say yes, but most might say they hope the Dolphins don't have to.
Glass Half-Full
At this point, we know the Dolphins can compete with good football teams.
The best part for the Dolphins is that their upcoming opponents (Rams, Jets and Colts) don't look exceedingly superior to them.
Their formula of an effective running game, a manageable passing game and potent defense has helped them keep it close, with two of their three losses by three points.
As Tannehill matures and the mistakes become more and more rare, the Dolphins' chances of winning will only get better as a result. There have been flashes of brilliance, and at this point, the Dolphins need only find a way to sustain those flashes.
Glass Half-Empty
It doesn't matter who they play; they have to stop shooting themselves in the foot if they want to win consistently.
The Dolphins nearly got in their own way yet again. Their inability to convert third downs and their penchant for turning the ball over nearly spelled another fourth-quarter collapse.
Their defense is clearly good enough to compete; it's the offense that is worrisome. Reggie Bush is a dynamic playmaker and Brian Hartline has a lot of potential, but their inconsistency is troubling. If teams are able to shut down the run and make the offense one-dimensional, Tannehill's going to be called on to do more than just manage games.
Their ability to do so will be the difference in wins and losses.
With two tough defenses coming up in the Rams and the Jets, the Dolphins will have their work cut out for them.
The Outlook
How many games will the Miami Dolphins win in 2012?
A 2-3 start to the season is probably a lot better than most people gave the Dolphins credit for before the season...or is it? Aside from the Texans, these were all considered "winnable games" to start for the Dolphins. The competition wasn't exactly top-notch, but the team has been impressive through five games.
And to think, their three losses largely came down to just a play or two here or there.
The defense has been spectacular, and the running game has been good for the most part, but the question remains as to whether those two elements will be enough to spell consistent wins for the Dolphins.
Erik Frenz is the AFC East lead blogger for Bleacher Report. Be sure to follow Erik on Twitter and "like" the AFC East blog on Facebook to keep up with all the updates. Unless specified otherwise, all quotes are obtained firsthand.

This article is
What is the duplicate article?
Why is this article offensive?
Where is this article plagiarized from?
Why is this article poorly edited?

Miami Dolphins: Like this team?