Reliving the Best Moments of the 2012 New York Mets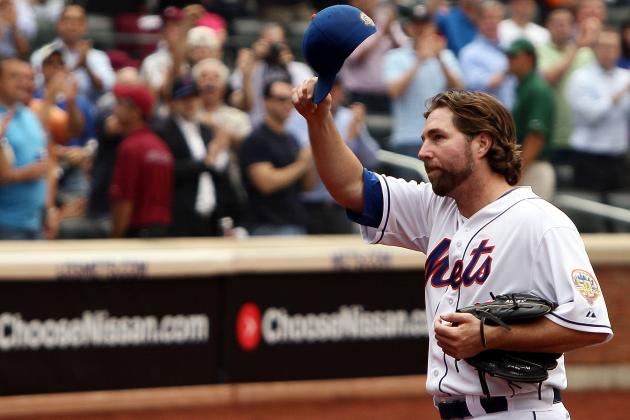 Alex Trautwig/Getty Images

The New York Mets' 2012 season went like many others in recent memory. They started out of the gate playing very well, only to fade away once the summer hit and be an afterthought in the fall.
After another losing season, it is easy to pick apart all the negatives and focus on how those issues should be fixed.
If life teaches us anything, it is that there is always something good to go along with the bad.
The same can be applied to the 2012 New York Mets.
Here are some of the best Mets moments from this past season.
*Note: This reflects my thoughts on the best moments from 2012. Not everything will be included.
Begin Slideshow

»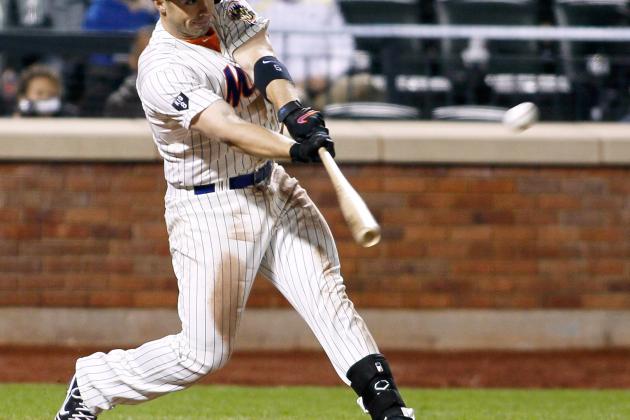 Mike Stobe/Getty Images

It was only a matter of time before David Wright surpassed Darryl Strawberry as the all-time Mets RBI leader.
That moment came in late April at Citi Field in a game against the Miami Marlins.
Down by one run heading into the bottom of the sixth inning, Wright came up with a man aboard and crushed a Mark Buehrle offering to center for the two-run homer. That ultimately ended up being the game winning hit in a 5-1 win.
Wright added another milestone to his impressive Mets resume early on in the season and solidified his place in the the team's history.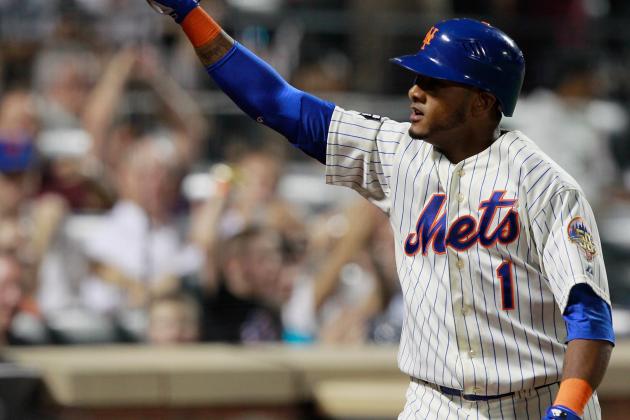 Mike Stobe/Getty Images

A story like Jordany Valdespin does not happen too often. So it is pretty amazing what he accomplished as he fueled a lot of Mets magic early on in the season.
The rookie set a Mets record in late July against the Washington Nationals with his fifth pinch-hit home run of the season.
Valdespin's home run off Nationals pitcher Ryan Mattheus in the bottom of the eighth broke a record held by Mark Carreon and Danny Heep.
Maybe the best of them all was his first pinch-hit home run.
That came against Philadelphia Phillies closer Jonathan Papelbon on May 7 in Philadelphia.
Valdespin came up to the plate with two runners on in a 2-2 tie in the ninth inning. After taking a first-pitch strike, he drove the next one into the right field seats. That was his first career hit.
"It was a great moment for me," said Valdespin, who was called up to replace injured shortstop Ruben Tejada. "He's one of the best closers in the big leagues. They called me last night and told me to be ready." (via ESPN.com)
Valdespin certainly showed the Mets he was ready to contribute and they probably got more than they bargained for.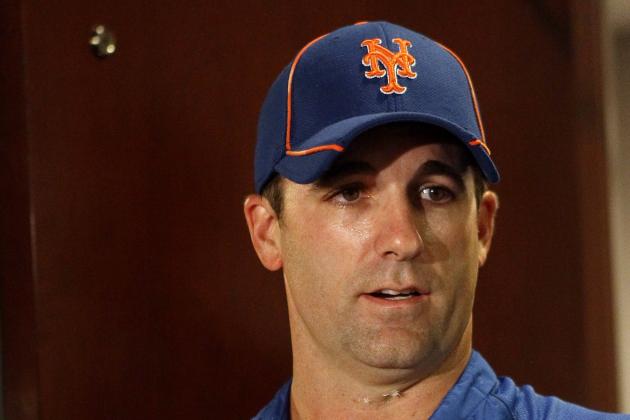 Elsa/Getty Images

A simple Frank Francisco comment referencing the New York Yankees as "chickens" turned out to be one of the more funny, then sweet stories of the summer.
"I said what I said," Francisco said. "I'm not sorry. That's what I think. I think they complain too much about everything." (via Mets.com)
The Mets had a lot of fun with it, from blaring chicken-themed songs in the clubhouse to actually acquiring a live chicken.
Appropriately enough, Mets reliever Tim Byrdak got a clubhouse attendant to get a live chicken and Byrdak promptly presented it to Francisco.
"Little Jerry Seinfeld" became the new Mets mascot.
The story had a nice ending as a chicken farm adopted "Little Jerry" after Byrdak searched to find it a new home.
"The power of social media saved a chicken's life today," Byrdak said. "Little Jerry found herself a new home, and she avoids the fryer and the oven and anything else you can cook a chicken with." (via Mets.com)
For as tense as the situation was with the comments about the Yankees, this story certainly had a feel good ending.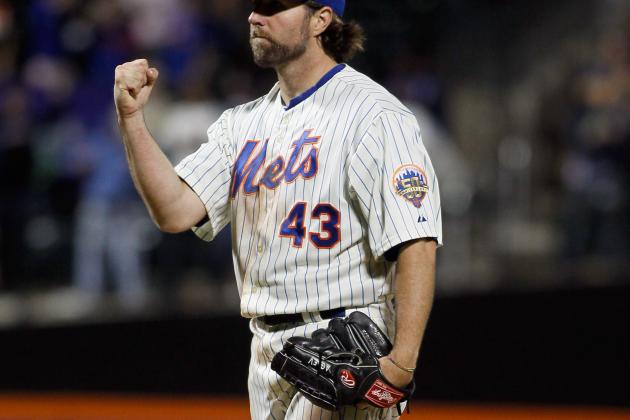 Mike Stobe/Getty Images

If R.A. Dickey ultimately wins the National League Cy Young Award, people can look at what he accomplished in the summer as the reason to why.
Dickey was marvelous in May going 4-0 in five starts with an 1.83 ERA for the month. He was even better in June.
Dickey went 5-0 in six starts with a 0.93 ERA in June, including back-to-back complete-game one-hitters against the Tampa Bay Rays and Baltimore Orioles respectively.
He pitched a total of three complete games in June and also had a 44.2 inning streak of not allowing an earned run in the midst of all that.
Dickey was the story of the summer in baseball, and that story only got better as he got to pitch in the 2012 All-Star Game, which was his first All-Star appearance.
"Just being here in general has been an incredible apex to an incredible narrative," Dickey said of a career reborn two years ago, at age 35. "I don't really know how to quantify it emotionally. I'm just trying to take it in and soak it in and celebrate it with people that I'll always care about." (via Mets.com)
No one could have predicted this happening. That is why this story is so great. What makes it even better is that the soon-to-be 38-year-old knuckleballer is not finished with this chapter of his life, for it is really just the beginning.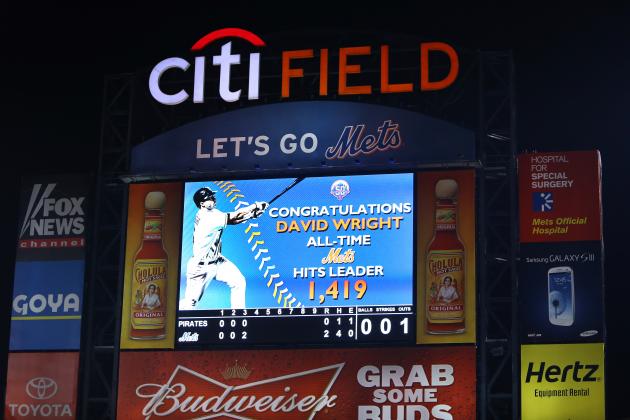 Al Bello/Getty Images

The Mets have had some special players in their history, so it is pretty amazing that Ed Kranepool's hits record stood for 36 years before David Wright claimed it as his in late September against the Pittsburgh Pirates.
The infield single was not the prettiest of hits, but it still counts, and Wright will always cherish the accomplishment.
"I doubt it's going to register while I'm still playing," Wright said. "But to look back on this whenever I'm done, it will be special." (via Mets.com)
Wright claimed the RBI record early in the season and then found his way atop the Mets hit list at the end. He now holds club records for doubles, extra-base hits, walks and runs scored to go along with the aforementioned accomplishments.
"It's remarkable," manager Terry Collins said. "It's a testament to what a really, really good player he is. It's a testament to his work ethic. Even last year, he's never satisfied. All he wants to do is get better" (via Mets.com).
Although Wright will not get MVP consideration, he had that type of season in 2012. Wright finished his season with a .306 average, 21 home runs and 93 RBI. He also had 41 doubles and a .883 OPS.
Certainly that is a solid stat line to go along with the records Wright claimed, and with an impending option looming, hopefully he will continue to add to his Mets numbers beyond this past season.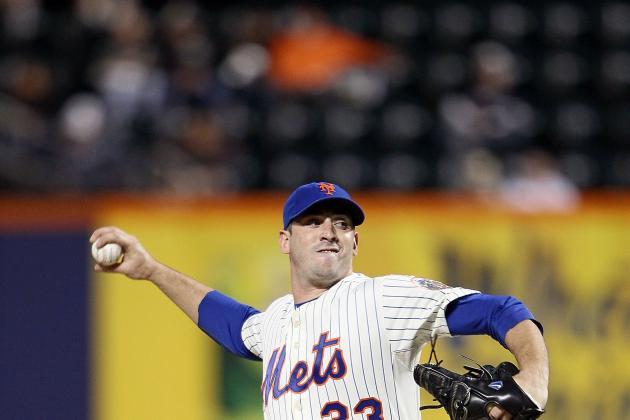 Alex Trautwig/Getty Images

The question is: Why did the Mets wait so long to bring Matt Harvey up from the minor leagues?
The rookie flamethrower was nothing short of spectacular.
The 3-5 record does not do Harvey justice as he was far better than that.
He made 10 starts for the Mets with a 2.73 ERA and 70 strikeouts in just 59.1 innings pitched. In a second half that seemed to go all wrong for the Mets, Harvey was one of the few things that went well.
His major league debut against the Arizona Diamondbacks was impressive. Harvey went 5.1 innings allowing three hits and recording 11 strikeouts.
Harvey proved that the future is bright and there should be a lot of fun nights in Citi Field when he takes the mound.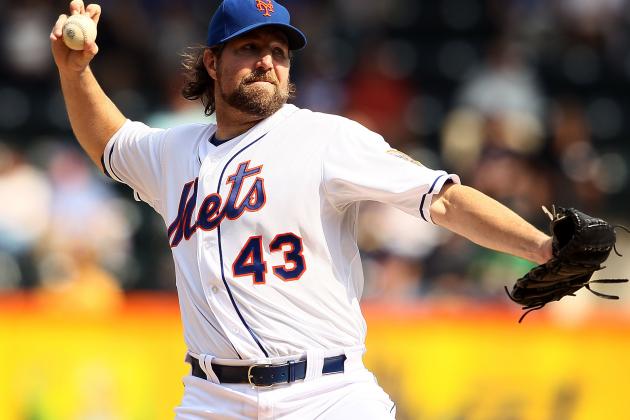 Alex Trautwig/Getty Images

R.A. Dickey put a cap on his 2012 season with his 20th win over the Pittsburgh Pirates in the final Mets home game of the season.
It was not his best performance of the season, and he got some help from David Wright who hit a three-run home run to break a 3-3 tie, but at the end of day, Dickey got it done.
Dickey became the ninth 20-game winner in Mets history and the first since Frank Viola did it in 1990.
Mets faithful gave him a rousing ovation as he walked off the field in the eighth inning, and deservedly so. That game was the stamp to the Cy Young resume.
"I don't know if I've ever experienced something like that before," Dickey said. "Maybe I never will again." (via MLB.com)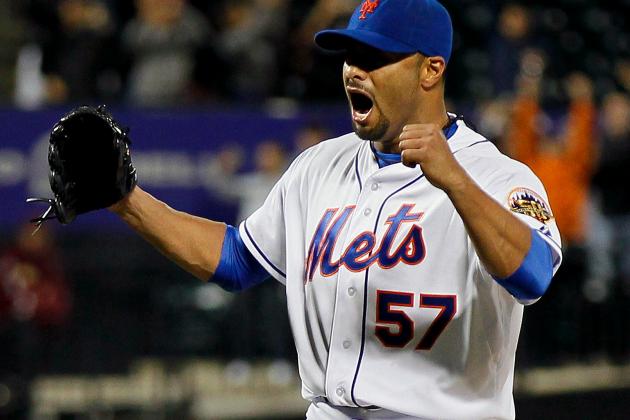 Mike Stobe/Getty Images

After missing the entire 2011 season, Mets ace Johan Santana made his return to the rotation in 2012. June 1 was his shining moment.
After thoughts that it may never happen for the Mets, Santana threw the first no-hitter in club history after 8,019 games without one.
A lot of compelling things happened in order for the no-hitter to occur. The umpires helped in calling a Carlos Beltran line drive foul when it clearly hit the line.
Mets outfielder Mike Baxter made a marvelous catch in left, injuring his shoulder but robbing Yadier Molina of a hit to keep the no-no intact.
It took Santana 134 pitches to do it, but that did not matter when he got World Series hero David Freese to strikeout swinging, ending the game and securing a place in history.
With all the rough times the Mets experienced in 2012, this no-hitter certainly took some of the sting away.
Every Mets fan can tell you where they were when history happened, and that memory alone is enough to make 2012 special as it included one of the best moments in franchise history.