Oakland Raiders: Team's 3 Most Disappointing Players After 4 Games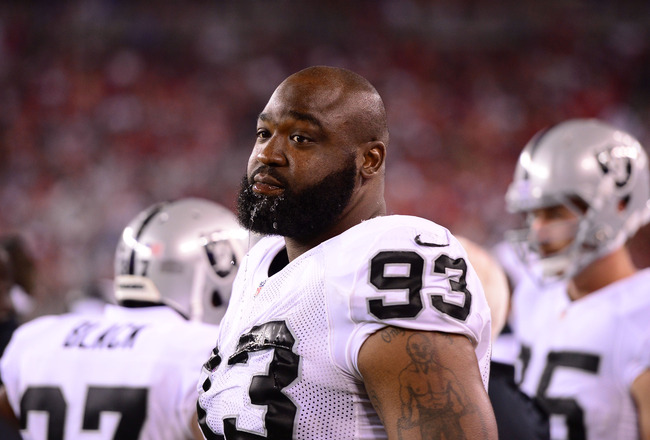 Mark J. Rebilas-US PRESSWIRE
The Oakland Raiders have a dismal 1-3 record after five weeks.
The team was blown out by 31 points to the rival Denver Broncos in its last game while failing to get into the end zone.
It was bad, and has been bad all season long.
The cultural change in Oakland was supposed to bring excitement and optimism, but instead it has brought nothing but discouragement and frustration.
Oakland is dead-last in the league in rushing, and the "new-look" defense closely resembles California-Berkeley's.
In other words, the defense is pretty bad.
As a team, the Raiders have failed miserably to live up to preseason expectations, and here are three players that have a lot to do with that lingering disappointment.
Richard Seymour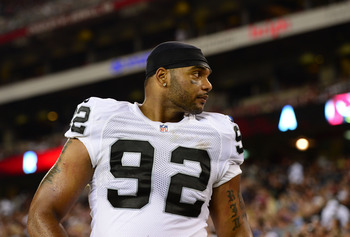 Mark J. Rebilas-US PRESSWIRE
As a member of the New England Patriots from 2001-08, Richard Seymour was one of their most productive linemen. In those eight years, Seymour only failed to record 40 tackles in a season twice.
What's even more important than the tackles was the way he disrupted the quarterback.
In 2003, Seymour recorded eight sacks and knocked down eight passes in what could be considered the best year of his career.
In his first three seasons in Oakland, he's put up very similar numbers to the ones he did in New England. His six sacks last season were his highest total since 2008.
But Seymour has struggled mightily this season and has been a non-factor for Oakland's repulsive defense that is giving up over 31 points per game. Opposing teams are running the ball down the Raiders' throat and are picking apart their secondary because the defensive line has yet to win the line of scrimmage battle.
At 6'6'', 317 pounds, Seymour has the size to strike fear in any quarterback's eyes, and he's done it for the last 11 seasons.
If Oakland wants to be a contender this season, Seymour must get back to doing the things that have made him so special throughout his career.
It starts with attacking Matt Ryan on Sunday.
Darren McFadden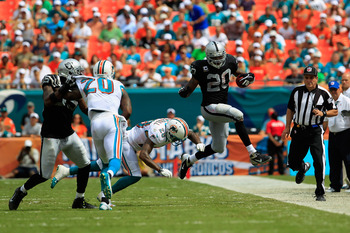 Chris Trotman/Getty Images
When Darren McFadden goes, the Raiders go.
He is the nucleus to Oakland's offense, and his early struggles go hand-in-hand with the Raiders' struggles.
He rushed for over 100 yards for the first time all season in Week 3 and gave the team a glimmer of hope that he would be returning to his elusive ways.
But his 113 yards on the ground against the Steelers were misleading since one of his runs went for 64 yards. McFadden only rushed for 49 yards in his other 17 carries in Oakland's 34-31 win. Take away the long touchdown run and he rushed for less than three yards per carry.
It is a trend that has plagued him all season long. McFadden has averaged less than three yards per carry in three out of four games so far.
His 3.5 yards per carry on the season are worse than Jackie Battle, Kendall Hunter, Tashard Choice and Shaun Draughn. Go ahead and Google that last guy so you know who he is.
Tommy Kelly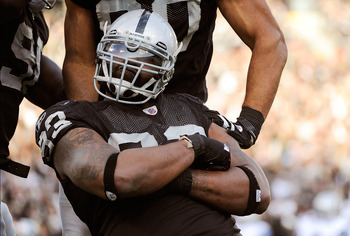 Thearon W. Henderson/Getty Images
Tommy Kelly has done everything in his power to not live up to the $6 million he's making this season. He's coming off a 2011 season where he had 7.5 sacks, two forced fumbles and five pass deflections.
He's looked like a shell of himself through four weeks and has hurt the Raiders more than he's helped them. His two costly encroachment penalties against San Diego in Week 1 led to a Charger score.
Kelly also made news in the preseason when he called out Arizona Cardinals quarterback Kevin Kolb for playing "scared:"
He is skittish. He is scared back there. Anytime anybody gets close to him he starts looking at the refs. As a defensive lineman you love a quarterback like that.
Pretty harsh words from a guy that has been completely invisible through Oakland's first four games. Not to mention that Kolb is leading a team that is 4-1, while Kelly has been a frivolous piece to the Raiders' abysmal defense that has helped the team to a horrible 1-3 start.
It's time to put up or shut up, Tommy Kelly.
Keep Reading

Oakland Raiders: Like this team?