Chicago Bulls: Complete Preview, Predictions and Storylines to Watch in 2012-13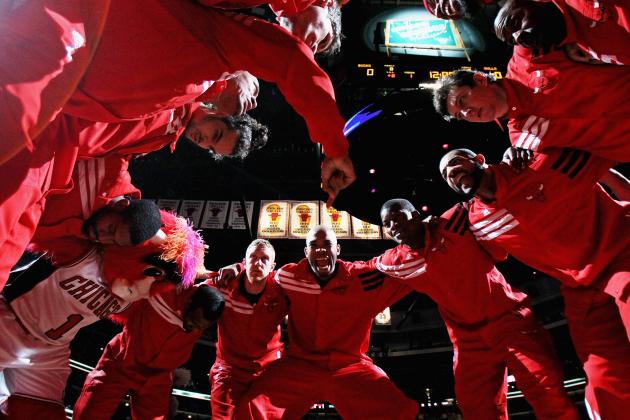 Jonathan Daniel/Getty Images

The Chicago Bulls had championship hopes in the lockout-shortened 2011-12 season, as they won the East and had an easy path to an inevitable conference finals match up with the Miami Heat.
Unfortunately, that all was derailed with Derrick Rose's injury in Game 1 of the Bulls' first-round match up against the Philadelphia 76ers.
The reigning MVP tore his left ACL and not only missed the rest of Chicago's failed playoff run, but also is expected to be out eight-to-12 months and will not return until he's ready.
This means that the Bulls will have to go into the 2012-13 campaign without their star, and many are questioning the viability of this roster without the superstar point guard.
Will they be able to make the playoffs in an improving Eastern Conference? Who will step up to fill the void left by their superstar? Do they have a chance to compete if Rose returns in time? Will D-Rose ever even be the same explosive and athletic player he was prior to the injury?
We'll try to answer those questions and much more in the season preview for the Chicago Bulls, which will address the franchise's free agency maneuvers, projected depth chart, strengths and weaknesses of the roster, a season prediction and much more.
Begin Slideshow

»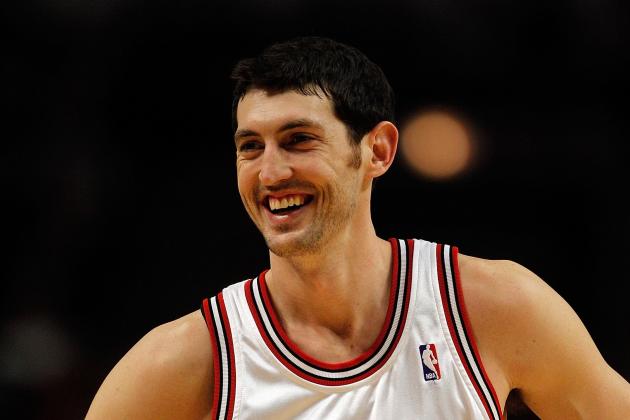 Jonathan Daniel/Getty Images

Marquis Teague (Draft)
Kirk Hinrich (Free Agency)
Marco Belinelli (Free Agency)
Nazr Mohammed (Free Agency)
Vladimir Radmanovic (Free Agency)
Nate Robinson (Free Agency)
The Bulls started the offseason by selecting Marquis Teague with the No. 29 overall pick in the draft. He's an athletic PG that represented great value for the position in which the organization drafted him, and he will be expected to contribute almost immediately.
While Chicago would have loved to bring Teague in to learn from and play backup to D-Rose, the reality is it likely won't have a star point guard for most, if not all of the 2012-13 campaign.
That hard truth facilitated the signing of Kirk Hinrich in free agency, a solid if unspectacular guard that has been around the block in this league. He's likely going to be the starter until Rose returns and will be backed up by the rookie PG.
Aside from those two moves, Chicago mostly concentrated on acquiring talent for its depleted bench.
Marco Belinelli, the Italian sniper, was poached from New Orleans to fill Kyle Korver's role of stretching the floor when he comes off the bench. Vladimir Radmanovic can also draw defenders out to the three-point line and can adequately sub in for either forward position, which makes him a nice bargain rotation player.
Nazr Mohammed is going to spell Joakim Noah at the 5, replacing Omer Asik—who was stolen by the Rockets via restricted free agency—while Nate Robinson can provide firepower and energy to the guard positions off the pine.
While the Bulls did address their main concern for the 2012-13 season (replacing D-Rose and adding depth at PG), they should have done more to get contributors for a postseason run. It seems that the organization does not believe it will be a serious contender come June and isn't willing to make moves until Rose is back and healthy.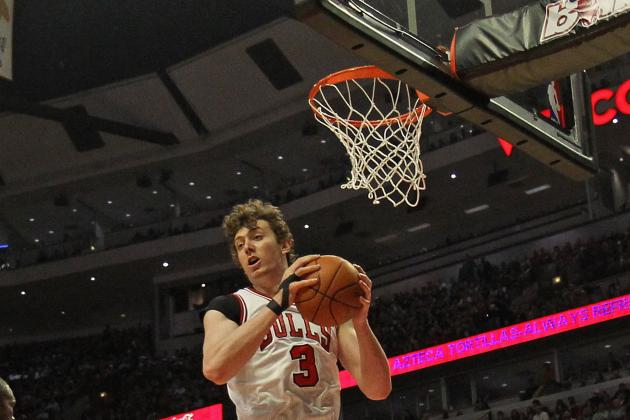 Jonathan Daniel/Getty Images

Kyle Korver (Trade)
Omer Asik (Free Agency)
Ronnie Brewer (Free Agency)
C.J. Watson (Free Agency)
John Lucas III (Free Agency)
Chicago lost a good portion of its solid second unit and had to significantly re-tool this summer. It looks like it was a net downgrade from what they had going last year, which will make this season one of the most difficult ones in the D-Rose era.
Korver—an elite three-point shooter—was jettisoned to Atlanta through a small deal with the Timberwolves, while the Rockets sent a Jeremy Lin-esque poison pill deal (a ton of guaranteed money in the third year) to restricted free agent Omer Asik.
Asik was a critical bench player and provided intense defense, great rebounding and outstanding shot blocking from the paint. He allowed Noah to take a breather and ensured the team wouldn't skip a beat on D.
Ronnie Brewer is now in New York, and Chicago is banking on Belinelli replacing his production at a much cheaper cost.
PGs C.J. Watson and John Lucas are also gone, replaced by Marquis Teague and Kyle Korver this season. That is the only true upgrade that Chicago was able to make, and it was out of necessity due to Rose's costly injury.
One of Chicago's strengths in 2011-12 was its bench depth, but that just doesn't look like the case for the upcoming campaign.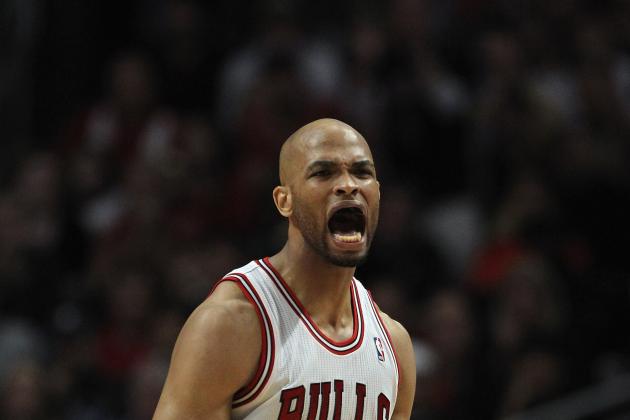 Jonathan Daniel/Getty Images

The Bulls have a well-rounded starting five that was made elite by Rose's presence. Now they have a solid unit from top to bottom that can hang with most teams in the league, but they don't have a go-to player down the stretch to close out games or hit big shots.
Hinrich will take over for the superstar and has the veteran know-how to run this offense. Rip Hamilton slots in at the 2 and should help stretch the floor and knock down mid-range shots. Meanwhile, Luol Deng is likely going to be the "star" of this team now from his small forward spot, and PF Carlos Boozer will hopefully improve on his mediocre play since joining Chicago. At the 5, Noah will provide heart and hustle for the whole squad.
Key reserves include Belinelli, Mohammed, Teague and Taj Gibson—one of the better backup forwards in the NBA.
If this roster can make a postseason push, there is a solid chance that Rose can get back on the floor and make some noise in a best-of-seven series.
| | | | |
| --- | --- | --- | --- |
| Position | Starter | Bench | Reserve |
| Point Guard | Kirk Hinrich | Marquis Teague | Nate Robinson |
| Shooting Guard | Rip Hamilton | Marco Belinelli | |
| Small Forward | Luol Deng | Jimmy Butler | Vladimir Radmanovic |
| Power Forward | Carlos Boozer | Taj Gibson | |
| Center | Joakim Noah | Nazr Mohammed | Kyrylo Fesenko |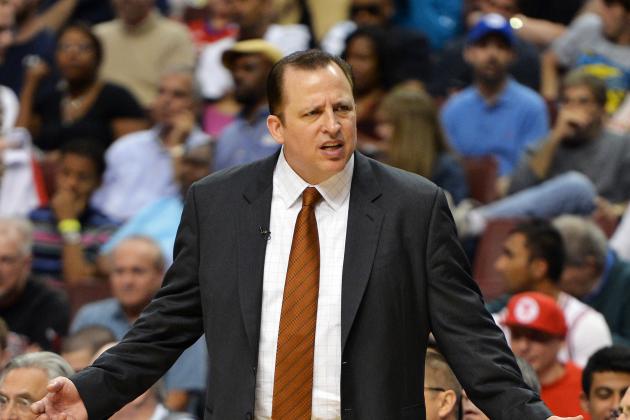 Drew Hallowell/Getty Images

The 2012-13 Bulls are going to have to rely on teamwork, coaching and a balanced game plan each and every night in order to earn a respectable record.
Fortunately, Chicago employs one of the best coaches in the league—Tom Thibodeau—and he has a great defensive mindset, one that is perfect for helping this current team (sans Rose) pile up W's.
If Thibs can get his roster motivated and playing elite team defense—as it was last season—there is a good chance that the Bulls are actually competing for the Central Division alongside of the Indiana Pacers.
Chicago's final standing will be a most direct reflection on its coach's ability. They are hoping that will be a glowing review for the former Celtics assistant.
Another key to success will be for members of the team learning to accept more responsibility and be willing to play more of a role on offense. Fortunately, that's something that many NBA players love to do and have no qualms with.
Starters like Luol Deng and Rip Hamilton will get more of a chance to score and create now that Rose is gone, which means they could be in for a surprisingly successful outing and—some nights—the fanbase might not even miss the superstar guard.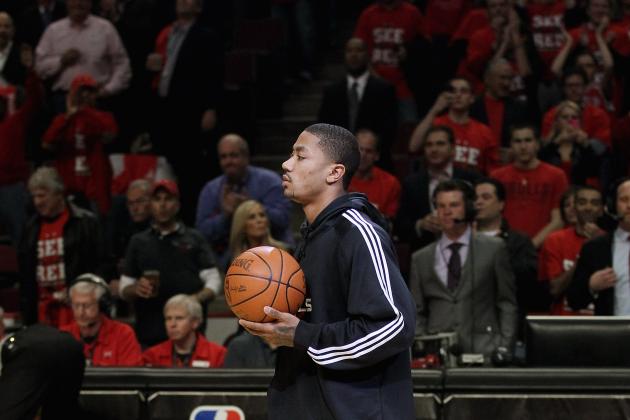 Jonathan Daniel/Getty Images

The Chicago brass decided to close the wallets this summer and made a lot of moves to save cap room and cut salary in a season that can be considered in limbo. However, this process has effectively destroyed the bench in the process of saving dollars and preparing for 2013-14.
What was once a second unit that could come in, spell the starters and keep a competitive pace is now a pockmarked group that has far more questions than answers. Asik, Korver, Brewer and the proven backup guards—Watson and Lucas—are now gone, replaced by cheaper or more inexperienced players that are unfamiliar with Thibodeau's complex systems.
Obviously, Chi-town's most glaring weakness is not having Derrick Rose on the floor. He's been the rock that the team leans on since being drafted No. 1 overall in 2008. Losing an MVP is not something that a franchise just overcomes and is able to adapt to without hardship and struggle. Look no further than what happened to the Cleveland Cavaliers after LeBron James took his talents to South Beach.
Until Rose is back and 100 percent healthy, this team is going to be inefficient, take lumps in close games and have little postseason success.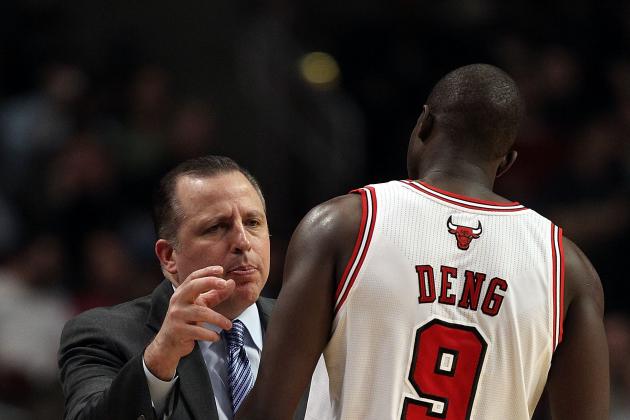 Jonathan Daniel/Getty Images

All Chicago fans are going to worry and wonder about is Rose's ACL until he's back on the court and making an impact at an MVP-caliber level.
It's going to be the most talked about and dissected story in the media and during broadcasts, and it will be painful for supporters to watch Rose in street clothes sitting on the bench, night after night.
Aside from D-Rose, though, there are still some interesting subplots surrounding the Bulls in 2012-13.
Tom Thibodeau finally signed a four-year contract extension, the first lengthy contract that the Chicago brass has doled out since its mediocre success and ugly breakup with Scott Skiles on Christmas back in 2007.
While there is little to suggest Thibs—who has posted a sterling 112-36 record with the Bulls—will mail it in, it's always worth watching the performance of an NBA player or coach that just got a massive payday.
One key contributor to monitor is Luol Deng, who is still dealing with a left wrist injury that bothered him since January of this year.
He's apparently getting healthy and back to 100 percent, with coach Thibodeau telling the Daily Herald:
"He's handling the ball. He's making plays with his left hand. He's fine. He's actually playing at a very high level."
If Deng can truly elevate his game and consistently play at an elite level, he might become the go-to guy in Rose's absence.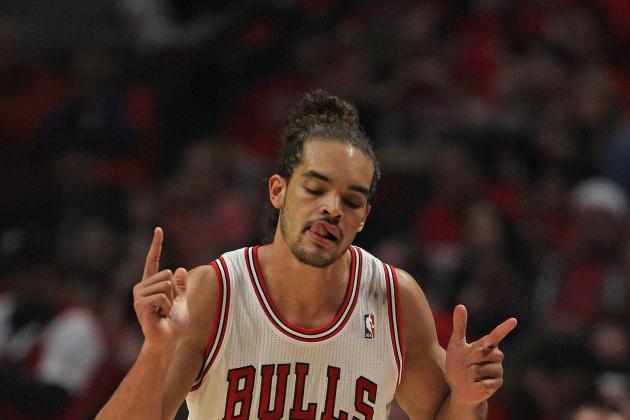 Jonathan Daniel/Getty Images

Every great outcome for the Bulls this season revolves around Rose getting healthy in time for the postseason.
Ideally, Chicago would earn the No. 6 or 7 seed, meaning it would play the No. 2 or 3 in the first round and avoid the No. 1 until the Eastern Conference Finals.
Assuming, and this isn't much of a stretch, that the Heat earn the top spot in the playoffs, the Bulls would be extremely wise (or fortunate) to skip out on playing them for as long as possible.
Should Rose return by the first round, it would allow the team to get acclimated to having its superstar back, and the games would help him get into game shape in time for the rematch of the 2011 conference finals.
This is all going to depend on the new "Bench Mob" figuring out how to contribute, Hinrich running the offense well and the proven options after Rose stepping up and leading this team to the playoffs.
Should all of that would work out and good health and fortune finds them, the Bulls will be sitting pretty come springtime.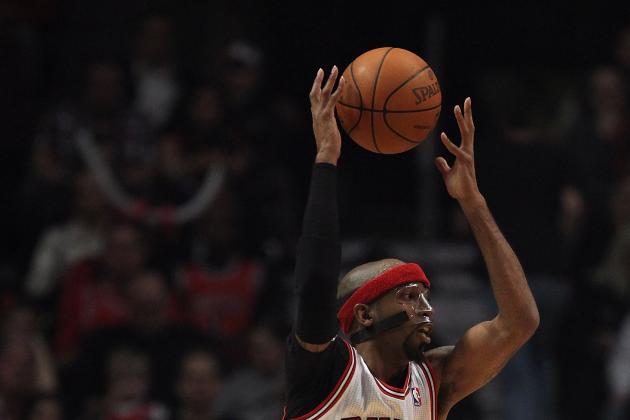 Jonathan Daniel/Getty Images

The worst-case scenarios in Chicago mostly concern injuries—a problem that has plagued the franchise in recent seasons.
Obviously, not having Rose for the entirety of the upcoming campaign plus the postseason will be disastrous and completely removes the Bulls from the list of contenders for a championship.
However, there is also Deng's wrist and Noah's ankle—an injury that kept him out of the Olympics—to be apprehensive about.
If one of those two suffers another injury to his weak area, or is forced to miss time with some other ailment, the Bulls will be significantly hindered.
It's hard to see Chicago competing for the Central Division, or even the No. 8 seed, without Deng or Noah—as the road it must travel is significantly tougher without Rose.
This will be a competitive bunch in 2012-13, but losing another key contributor will be disastrous and near impossible to overcome.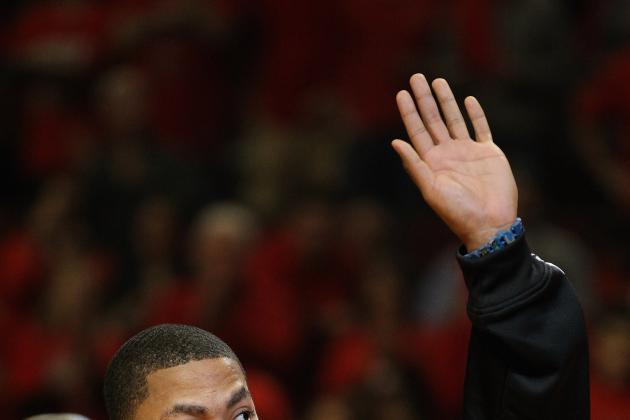 Jonathan Daniel/Getty Images

42-40, second place in Central Division, seventh seed in Eastern Conference
Chicago is going to have its ups and downs throughout the course of the 2012-13 campaign. This is a group that hasn't been without Rose for an entire season and will have to get adjusted to life without him, full-time.
They'll get into the postseason as a No. 7 seed, an ideal place and will likely matchup against a deep, talented Pacers team that will have run away with the Central Division and finished a few games behind the Heat in the conference.
It's going to be a tough, heated series regardless of whether D-Rose is back on the floor or not, and it is likely to go seven games.
Unfortunately, it's just not the Bulls' year and the team will not advance past that first-round matchup.
The Bulls are going to be a perennial championship contender, but they have been set back a year due to the absence of their best player, and their gritty season will mercifully end after being outclassed and overmatched by the Pacers in Round 1.
Expect a much better performance from this group in the 2014 postseason, which they will certainly be a part of and hungry for vengeance.